Discover more from The Pick and Roll
We're all about Aussie hoops. Independent, objective analysis and commentary. Insightful narratives built around Australian basketball. Read about our men and women in the NBA, WNBA, NCAA, Europe, national teams, NBL, WNBL, NBL1, prospects and more.
Over 2,000 subscribers
Lauren Jackson: Now setting the standard off the court
greatness
noun | the quality of being great; eminence or distinction.
---
When it comes to the arena of sport, and most certainly basketball, the definition of the word greatness could well describe Lauren Jackson.
Jackson is Australia's greatest ever basketball player - man or woman - and should be considered alongside the greatest athletes the land from down under has ever produced.
She was and still is the benchmark for Australian basketball, and now she is setting the gold standard off the court post-playing career.
https://pickandroll.com.au/the-legacy-of-lauren-jackson-goes-far-beyond-the-hardwood/
The daughter of two national basketball players, Jackson was almost destined to be the next big thing. She would set about redefining what was possible.
At 16, she was awarded a scholarship to the Australian Institute of Sport in 1997 and she would go on to lead that team to a WNBL championship in 1998, the first of five WNBL titles. Yet she was only just getting started.
Jackson's height, skills and determination set her apart from everyone else her own age. She was a future star in a hurry. She turned heads in being selected to the Australian under-20 team when she was only 14, before making the transition to the Opals squad at just 16. She became a star of Australian basketball, and a role model for all children to look up to, guiding the Opals to international relevance and uncharted territory.
National representation was important for Jackson, building a resume that includes four Olympics as well as Opals gold at the 2006 FIBA World Championship for Women in Brazil.
Jackson didn't just dominate at home, she did it everywhere she played, including the WNBA and in Europe.
Starring for the Seattle Storm she would become a two-time WNBA champion, three-time league MVP, and eight-time WNBA All-Star, with her number retired in 2016. She remains their most vocal fan, cheering on the Storm this season as they went on to win the 2018 championship.
https://pickandroll.com.au/aussies-in-wnba-lauren-jacksons-jersey-retired-in-seattle/
Jackson has left an indelible mark on basketball globally through her playing days. Yet with her playing career well and truly behind her, The Pick and Roll caught up with Jackson to revisit her career with an eye to what is in store in the future.
"At the height of my career I truly enjoyed playing and was relatively injury free and sometimes I still ask myself 'Did I really do that?'" Jackson beamed.
Yet her playing days were prematurely ended due to injury, not before succeeding on many levels along with many accolades. On retirement, she held aspirations of becoming a United Nations diplomat as well as an advocate for women. However she explained that her greatest goal was to become a basketball administrator and reinvest back into the sport that she is so passionate about.
"Where I put my time and energy is now crucial," added Jackson. "I want to get involved in the political side of sport rather than the media and I need to learn from the people who have been there before."
Just like she had set about in her playing career, she went about approaching the next chapter of her life with the same dedication and hard work she had been known for on the court. She would go on to head the women's division of the Australian Basketball Alliance, and now holds the role of General Manager for the Melbourne Boomers in her beloved WNBL.
Jackson is a huge advocate on the area of the differences between the men's and women's game with a view to working toward equality. Current Opals star Liz Cambage had recently reignited discussions surrounding the pay disparity between the NBA and WNBA, and it is something Jackson knows is a challenge.
"It's a real catch 22 at the moment. When I think about the gender gap in sport, I feel it is all about representation – giving women the same opportunities as the men, not necessarily the same money.
"If I didn't have to play year round, I feel I may have had a longer career. I would have taken better care of myself if I had that opportunity. For the women it is a real grind – they don't have seven months basketball and then time off. They have to go year round non-stop to maintain that living.
"The gender pay gap in sport issue needs to be discussed in a positive way to create effective solutions. It took time with the NBA, and they were not earning those wages straight away. The WNBA is doing the same now in building their brand and gaining more support and coverage. It will take time, but it is a great thing that the conversation keeps going."
Another passion of Jackson is to promote player welfare support and tertiary education opportunities for all players. While studying her MBA, it is a key motivator for her towards completion of studies.
"I have actually started the conversation with Anthony Moore (outgoing Basketball Australia CEO) about putting a program in place that allows female athletes to work on their post-athletic career opportunities," explained Jackson.
"I am really trying to get something like that going and being a part of something like that. I think that is a critical area at the moment – organisations have to focus on the needs of these girls in return of the great demands they place on them as athletes.
"Once you stop [playing] there really is no support. A lot of basketballers don't have the opportunity to build up their lives after their careers. More to the point - they don't have the skills to step into anything post-basketball because they spend their whole lives being athletes.
"When I retired I was thinking 'I cannot wait to do nothing and just relax'. Travel around Australia and go surfing - that was the ultimate for me. Then when I did retire I realised that if I didn't get focused on something I would actually go insane."
Jackson is now also a proud mother to her son Harry, recently announcing that she is expecting her second son due in January. As an administrator, mother and student, she has also turned author, with the launch of her memoirs, My Story.
As a role model, she remains humble, understanding what is truly important in this life.
"Remain focused and keep learning and growing as a human. I never wanted to end up being another statistic."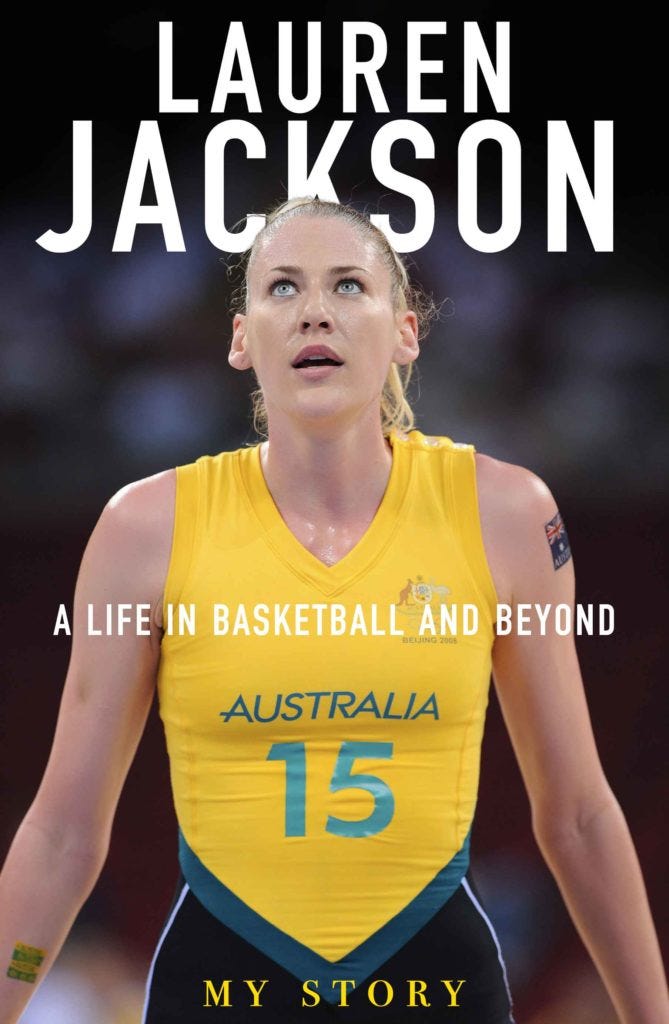 You can purchase a copy of My Story online by clicking HERE.