Kevin Lisch is better than ever
Whether it's simply maturity and added experience that he's collected over the past couple of years, or it's something else, Kevin Lisch is back and better than ever. Illawarra have won seven of their previous eight games and are clearly the hottest team in the league (prior to this round they were 3.5 points per 100 possessions better than anyone else this season per realgm.com).
Lisch has played in the league before, missed some games at the start of this season, and is also playing next to the current MVP favourite in AJ Ogilvy (as well as the sweet shooting Kirk Penney), helping him fly under the radar just a smidgeon. Here's a friendly reminder of how you could make the case that he's been the top guard in the league once again.
At last check, the Hawks offense was powering along at 9.3 points per 100 possessions better with him on the court than off (per Sam Garriock), and not only is his handle even tighter than previous years, his jump shot and finishing has been deadly. His FG% is currently over 60% from inside the paint, 50% from mid-range and 40% from three point land. Whilst these percentages are almost certainly unsustainable over a longer period of time, to do it over half of the regular season is still an impressive feat. To put it into perspective, these numbers have only been achieved over a season once since I've been tracking shot chart numbers (Reuben Te Rangi did it on very limited attempts in 2013-14). Add to this some Scottie Wilbekin-Cairns-esque playmaking numbers (5th in the league in AST% with a TOV% of just 11.0%), as well as some sound defensive effort, and it's hard not to fall in love with his game.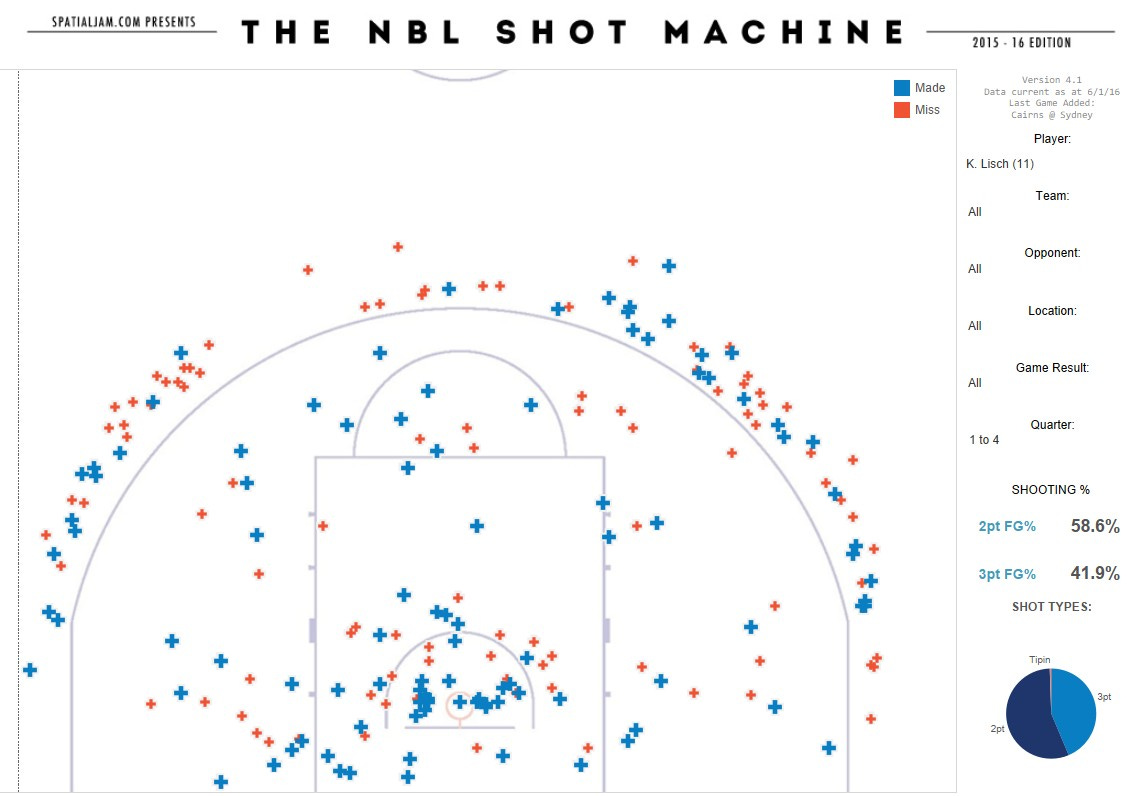 The mainstay of Illawarra's play has been their scintillating offense which is far and away the best in the league this season thanks to a mix of effective ingredients. The Hawks have taken the third highest combination of restricted area and three point attempts, which are the best two shots in basketball for efficiency, whilst they are also sitting in first and second in FT% and FTM. Spearheading the scoring is their three point shooting (No. 1 in 3PM and 3P%) where they have some historically great shooters as well as a good mixture of shot creation within their guards and a mobile and skilled target inside with Ogilvy.
Unlike their next opponents in Melbourne, who are the second ranked offense (but more isolation heavy), Illawarra's ball movement is a strength and in the top two in the league, whilst they're turnover percentage is still third best. It starts with the most assisted big man in the league in Ogilvy, who is a strong finisher inside, but they also boast the most assisted guard or wing player in Penney who only needs the smallest of gaps to get a jump shot off. These two combine to get on the end of 9.5 assists per game according to spatialjam.com.
During the recent stretch of wins, their defense has also picked up from a consistently bottom two team to now sit at a respectable fourth in the league in defensive efficiency on the season. A vital key to this has been their ability to generate turnovers when pressuring the opposition and as a result they now rank a league best in opponent turnover percentage. The defensive rebounding looms as a main factor of their defensive mediocrity, where they still rank dead last in DREB%, whilst athleticism on the wing and at power forward are question marks going forward against certain matchups.
There is plenty of shaping to do of ladder positions, with eight games against teams positioned one through five on the ladder still to play, and home court advantage for the finals will be a clear driving force in that run home. The health of Ogilvy (as well as avoiding foul trouble) looms as the obvious factor, whilst a guy like Cody Ellis knocking down shots at the right time of the year would be huge for depth to give them more two way players. After the offensive struggles of last night's encounter between Cairns and Perth, tonight should be a nice change of pace when the offensive heavy weights clash in Melbourne.
Any questions? Find me on twitter @crunchtimeshots
Team and player statistics via realgm.com
On/off statistics via Sam Garriock
Kevin Lisch shot graphic and Illawarra assist connections via spatialjam.com
Shot chart statistics via crunchtimeshots.com