Discover more from The Pick and Roll
We're all about Aussie hoops. Independent, objective analysis and commentary. Insightful narratives built around Australian basketball. Read about our men and women in the NBA, WNBA, NCAA, Europe, national teams, NBL, WNBL, NBL1, prospects and more.
Over 2,000 subscribers
Kate Gaze: What comes with the name?
"At the end of the day every chance I have I aim to live up to the name." - Kate Gaze
For most athletes the level of competitiveness and focus on the prize is the pinnacle. However, when your family is known for the sport, it adds a whole other level of pressure and expectations.
Kate Gaze is another in a long line of basketball talent hailing from the famous Gaze family.
The Gaze name is synonymous with Australian basketball – both as players and coaches they have a family tree emblazoned with NBL, WNBL, World Championships, Olympics and Hall of Fame recognition. Understanding the family's success in basketball, extreme pressure on the star guard would be assumed. Posing the question to her however, her response somewhat surprised me.
"I guess growing up there was always a little bit of pressure because the Gazes are so well known, it's expected that since you've got a last name like that you gotta be good and you have to be a great shooter," explained Kate.
"I have never felt too pressured however, but rather super lucky to have the family that I have and trust everything they have taught me and how they have brought me up in the game. I really appreciate that! I always have embraced it and it helps in a way that the majority of the success in the family has been from the male side of the family. So being the only female who is coming through from the younger generations in a league at these levels, it really helps relieve that pressure also."
Now 28 years of age, the passion and love of the game has never ceased for Kate. She reminisced about growing up and the point in which she began to understand the importance the sport would play in her life.
"I think since I was around it all my life it came naturally. At NBL post-game functions, mum would stick me under a table in my bassinet and it really just grew from there.
"I really didn't play any other sports; my parents were pretty open to me doing other sports, but I think the love of the game really helped me choose this sport from a very young age.
"I remember going to games to watch Andrew [Kate's cousin and current Sydney Kings head coach] play at the Glasshouse in Melbourne while with the Tigers, and I remember crying whenever they would lose. I was so passionate for the game back then."
Kate Gaze | Credit: Five Foot Photography
Just like her famous relatives, Kate brings an x-factor to any team she suit up for. An aggressive scorer, Kate has exhibited a capability to take over a game and compile some big scoring games. We discussed where this fierce competitiveness came from and she didn't have to look far when discussing the influence of her relatives.
"That style of play comes around from growing up around people like my grandpa [Tony Gaze, former Opals coach] who have always taught me and aimed to ingrain in me that you have to go get it and be that aggressive, assertive style of player. I am a very competitive person in every part of my life – so that had definitely helped."
Kate attended college at Saint Mary's, California (2009–2014) before returning home to line up in the WNBL for the Townsville Fire. It would not take long to taste success either, winning back-to-back WNBL championships in 2015 and 2016. The Fire would reignite her professional career and was led by Suzy Batkovic, one of the WNBL's all-time greats. As Kate would explain, this was an experience like none other and one she holds at the top of her career milestones to date.
"The two championships with Townsville are most definitely the biggest milestones in my career so far. I found myself in a great position coming back from college and being recruited for such a great team.
"The WNBL is a great league and to be surrounded by such great talent in that Townsville team was invaluable. The talent we had from the best players like Suzy and Mik [Micaela Cocks] down to the tenth signing player was amazing, as the talent was so high and made that part of my career so great and memorable."
Gaze would back those years with the Fire with a further two seasons with the Canberra Capitals, two seasons with the Logan Thunder in the Queensland Basketball League and four months in Germany with Sharks Würzburg. With each challenge she would deliver on court to reinforce her importance to any team, eventually signing for a season with the Adelaide Lightning. However her debut for the Lightning was unfortunately delayed.
Kate Gaze | Credit: Five Foot Photography
On 30 April 2018 while lining up for Canberra in the SEABL against the Melbourne Tigers, Kate suffered an injury mid-game. It was the second game of that road trip and the first time in a long time that Canberra had won two in a row while on the road. Thinking it was just a niggle in her knee that simply had to be rested, she let her coach know that she may need a few games off. However the diagnosis would eventually reveal a complete rupture of her ACL. The star guard was left shattered.
"When the physio called to tell me the extent of the injury that was really traumatic, as I realised I would be sitting out a year rather than a few weeks.
"For me it was mentally hard to deal with. It was a very hard thing to adjust to when my body was telling me that I was fine – playing, training and in the gym running. I actually played another game two days later against the AIS girls in the SEABL competition for 40 minutes and took 20 points! It was a unique position I found myself in because I have such big, stocky legs, so that helped protect my knee a lot.
"I had signed to go to Adelaide…it had me thinking, 'what happens now?' With that injury, obviously that contract was gone and I'm not under the safety net of being with a team, which meant I had to do it all myself – which in itself was something very new for me. Not only being without a team and those close relationships with teammates, but navigating through a complete ACL reconstruction – it's been a very hard period."
Putting the initial shock aside, her sheer mental toughness and focus on what was ahead has helped guide her through the past nine months of this rehabilitation and recovery process.
"Rehab is going great and the whole way along my body has been adapting pretty well. My goal is to be back on the court start of April. The strength around my knees are matching from my good to bad knee. So now it's just about taking the little steps to get back playing. I was lucky in a way because when it happened, I only ruptured it and had no other damage in my knee.
"I have been in contact with Chris [Lucas, Adelaide Lightning coach] throughout the season, and they are having such a great season! At the end of the day, you're not guaranteed to be playing anywhere until you sign a contract and stay healthy. That's the next challenge."
The passion is clear in her voice and her hunger for a return to the court was all but bubbling over.
"I cannot wait to come back! I want to score on somebody, I want to beat the shit out of the opposition and chase those threes and finish them right in their face!
"It frustrates me when I see players that I have played with or coached in the past smile when somebody scores on them. I simply cannot comprehend that! Competition drives me and I cannot stand not being good or my team not winning."
In reflecting on this difficult period of her life and career, Kate advised that she has learned many valuable lessons.
"It's ok to rest sometimes and reboot as well mentally. Being in it mentally every single minute can really be draining and I think that's what I have really taken from this time out with this injury.
"This period has really taught me a lot! I've had to buy a car, pay my own rent and get a real job so I go to work every day. I don't have time to have a coffee after my morning workout."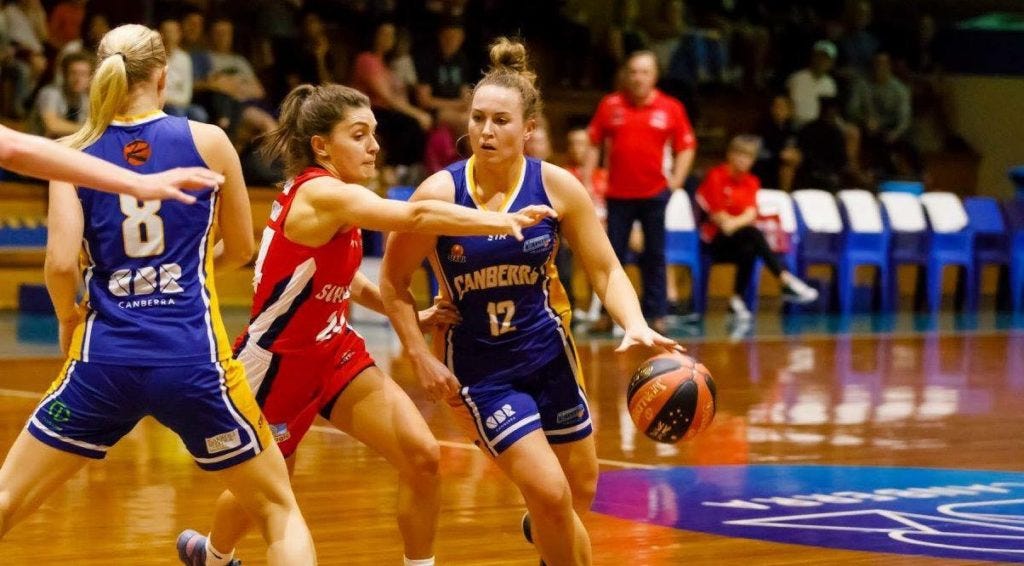 Kate Gaze | Credit: Five Foot Photography
She is currently working for the University of New South Wales at the ADFA Academy in their finance department based in Canberra. Through her employment, she has been able to utilise the qualifications she has gained previously – a Masters in Sport Management and Business degree.
"It's definitely been an adjustment – I have really enjoyed it but at the same time I have really hated it. Watching the WNBL is really hard as it makes me feel like I am missing out and I feel kinda sick knowing that I am missing out on a year.
"The biggest lesson I have taken from this time away is something that I don't like saying. For a long time basketball was my whole world but there is more to life! But at the same time I am not ready for the rest to be all there is. I want basketball to be my whole life again."
Having experienced so much already, Kate Gaze has taken this injury and time away from playing as only a minor setback, a challenge that now has her primed for a successfull return to the sport she loves.
"I want to come back from this injury into the WNBL and continue to play at the highest level as dominantly as possible for as long as possible. There has always been the desire for me to play for the Opals and wear the Australian uniform – I'm aiming to come back stronger and even more competitive than before and work towards that through a strong season or two in the WNBL. I want to show that I can still lead and be a key player for any squad."
A fit and motivated Kate Gaze returning to the court in 2019 is just what WNBL fans would all want to see.