Discover more from The Pick and Roll
We're all about Aussie hoops. Independent, objective analysis and commentary. Insightful narratives built around Australian basketball. Read about our men and women in the NBA, WNBA, NCAA, Europe, national teams, NBL, WNBL, NBL1, prospects and more.
Over 2,000 subscribers
John Rillie: Coaching is more than basketball
For many casual observers, the job of coaching is simple in concept - get the best performance out of your team. However, at its best, coaching can encompass so much more than the x's and o's of building a winning side.
For former NBL star and current assistant coach for the UC Santa Barbara men's team John Rillie, the most rewarding part of the job of coaching is shaping those under his wing into wiser and stronger people.
"When my playing career got done with, I really felt like coaching was something I wanted to get into," shared Rillie. "So I had a short stint dabbling in Queensland junior basketball, but that certainly wasn't something I was going to make a living on. An opportunity in the US came up, so I thought that was a great way for me to dive into the deep end and see if coaching was what I wanted to do."
Rillie's first port of call in the USA, and his first taste of coaching in the NCAA, was Boise State University in Idaho in 2011. Rillie spent the next six years as an assistant coach under Leon Rice before being hired by UC Santa Barbara to coach under Joe Pasternack.
https://twitter.com/UCSBbasketball/status/1215429813676040193?s=20
Over his time with Boise State and now with UC Santa Barbara, Rillie learnt the intricacies of assistant coaching, an often overlooked art in the sports world in general. It's a role that often sees him in that middle ground between the players and the head coach.
"[It's] Definitely about understanding what the head coach wants, and how he can best coach and what types of players he likes to play with," Rillie explained. "It's also about developing players into better players for our system but also giving them a little flexibility on working on their game.
"[Fundamentally] Good assistant coaching is about knowing what the coach wants without him having to tell you."
Although pleasing the head coach and helping him achieve his vision is a big part of the assistant coaching role, there are other things at stake when coaching young people that often go beyond performances on the court.
"[College] really shapes them for more than just basketball. If you can function in a high-pressure atmosphere, whatever they do after basketball they are going to be geared to be successful. So although in the here and now we tend to focus on basketball, when you're dealing with 18 to 22-year-old's, you're actually shaping a lot of their [lives], as far as how they become better people."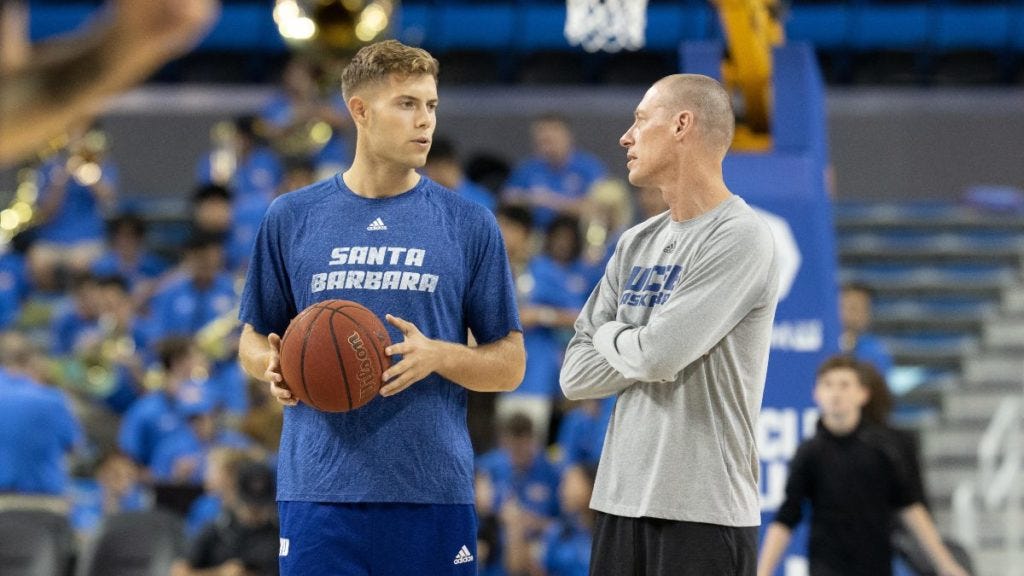 John Rillie | Credit: UC Santa Barbara Athletics
As a coach known for his ability to unlock the potential of his players, Rillie often refers back to his extensive NBL experience. He is able to speak to the players on their level with a heightened sense of understanding, because he is familiar with the high stakes of professional basketball and the life that surrounds it.
For some, like LaMelo Ball who grew up in the spotlight, navigating the potentially treacherous waters of elite-level basketball comes relatively naturally. Yet for most young players who develop out of the spotlight, transitioning into a world where there are few places to hide can be a jarring experience.
"The best thing I can do is reflect on different times in my career," added Rillie.
"It's not just how you deal with the down times. How, when you're really good and everyone wants to talk to you, or you might start to get a bit ahead of yourself - it's about understanding how to handle that as well.
"I try to educate [my players] on finding a balance."
Despite his assistant coaching role taking up much of his time and demanding most of his attention, Rillie has been keeping an eye on his old stomping ground back in Australia. As a player in the '90s and '00s, the former sharpshooter experienced both the highs and lows of Australia's NBL. Playing in the much-hailed golden era of the 90s and the dark ages of the mid '00s, Rillie saw it all. Now, in 2020, Rille sees the NBL borrowing from the 90s handbook to recapture some of the magic of the era and the secret sauce that made it so special.
https://twitter.com/NBL/status/1172348250499637248?s=20
"With the new teams and the stability [of the league], Australian guys won't have to look elsewhere to play unless they get the ultimate dream opportunity to play in the NBA," enthused Rillie. "When the league was at its best in the '90s, no [Australian] was playing in the NBA on a consistent basis except for Luc Longley, and no one went to Europe. Every [elite Australian] was playing in the NBL when it was at its peak."
Although the pull of the NBA draws the creme of the Australian crop, the NBL is once again a desired destination for the next level of Australian players, as well as high-quality imports. As Rillie put it, "When you've got your best local players plus great imports, your product is going to be pretty good."