Discover more from The Pick and Roll
We're all about Aussie hoops. Independent, objective analysis and commentary. Insightful narratives built around Australian basketball. Read about our men and women in the NBA, WNBA, NCAA, Europe, national teams, NBL, WNBL, NBL1, prospects and more.
Over 2,000 subscribers
Isaac White on Linsanity, the CBU decision and pro opportunities
Grab your popcorn - you're just in time for White's breakout year.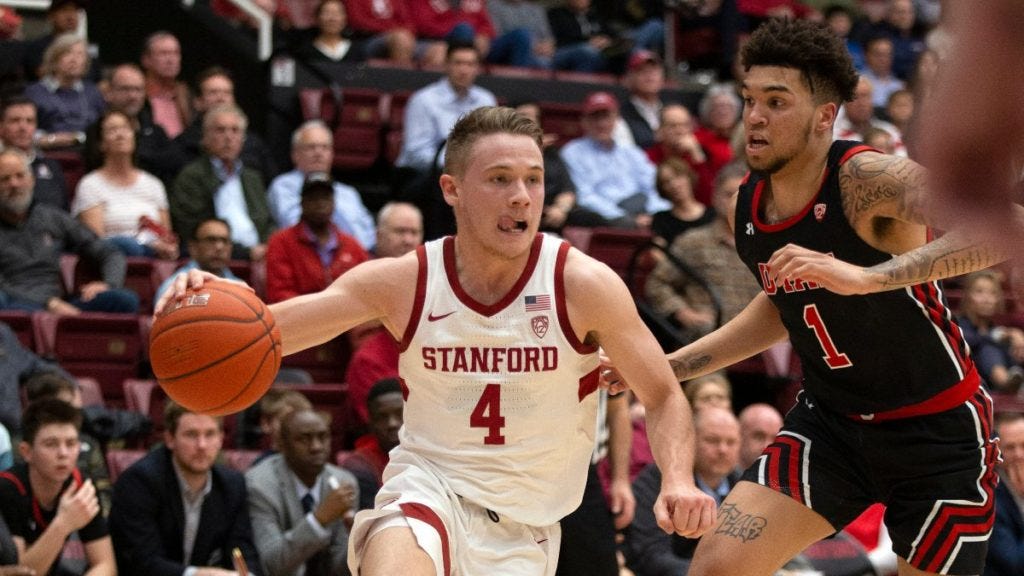 Credit: D. Ross Cameron-USA TODAY Sports
---
Like all of us right now, Isaac White is more or less housebound.
Not that he really minds. A month in, back home in Adelaide, the 21 year old guard getting valuable family time that he hasn't had in a long while.
"We basically go all year round, like we did summer school and all that sort of stuff so we only get two week breaks throughout. I usually go home for Christmas for around two days during the season and then I get maybe one more 1-2 week block, so this is the longest I've been at home in one sitting since before I went to college."
While the lockdown and uncertainty would undoubtedly be a frustrating time for an athlete, being home reminds White of his younger days, and an incident that brought him to this point in his basketball journey.
"... I got sick with something like pneumonia, and I was housebound for a little while, and I started going through YouTube and watching heaps of Jeremy Lin highlights, funnily enough.
"That kind of fired something in me and got me super motivated to try my hardest at basketball, so that was kind of the turning point for me [in deciding] I'm going to take this basketball route."
---
Since then, White became a mainstay on junior South Australia Metro squads and was selected to play for the Australian Emus in the Oceania Championships in 2016 - an accolade that White describes as his 'proudest moment' to date.
It was a junior career which would lead to White joining Stanford, where he would play for the next three seasons, gaining valuable experience in a quality program.
"I've had a lot of opportunities to develop especially in practice and stuff like that at Stanford, and I think I'm definitely a more well-rounded player than what I came in as."
Part of that opportunity was a competitive practice setting. Stanford has had its share of quality talent come through, including 2019 second round pick Chikezie (KZ) Okpala, and last season, projected 1st round pick Tyrell Terry. The latter would provide White with daily challenges in practice and demonstrate the path to success for an undersized, sharpshooter point guard such as himself.
"Playing against the guy day in and day out tested myself and I think I'm developing my game and ways to counter him. [Terry] is on draft boards and stuff like that, and he's definitely a player that despite his smaller stature, he has a game that can translate to the NBA level, and obviously that's what I aspire to be.
"Watching him play [helped me] learn the ways in which you can succeed with a smaller stature and without the tallest or most athletic build."
Having talented teammates offered plenty of development on the training floor, but it also meant the opportunity for game time would be harder to come by. White averaged only 13.4 minutes a game over his three seasons at Stanford, though he would excel in his role as a shooter off the bench, shooting 37.2% from behind the arc.
"Ultimately at the highest level of college basketball I was [brought in] for the main reason of shooting the basketball, and I kind of had to embrace that role to maximize my time on the floor."
It would be that desire for more playing time that would lead to his transfer to Cal Baptist University, which was announced last month.
"At Stanford I was competing against a bunch of guys who are now on draft boards, so obviously that has its benefits from a development standpoint, but I have one year of eligibility and I wanted to see the floor as much as I can and have a big impact.
"I think from a roster standpoint, CBU [has] a need for a guard who can come in and make an impact right away. I think they're an up and coming program, they actually had quite a successful year last year, but they have a bunch of guys graduating and have a lot of guys leaving so they have a void there that they need from an immediate impact guy. It was kind of a perfect situation, from that standpoint."
Right now, CBU does indeed offer plenty of backcourt minutes. Last season, the team was led by a dynamic guard duo of Ferron Flavors Jr and Milan Acquaah. Not only were they the coolest-named backcourt in the WAC, but the pair were first and second on the team in both minutes and shots per game. With Flavors entering the transfer portal, and Acquaah declaring himself an early entrant for the 2020 draft, their absence leaves a massive hole for White to come in and potentially be the Lancers' go-to perimeter option. It was a situation that White was well aware of when making his decision.
"I do a lot of research, this was a very educated and informed decision. Obviously every coach is going to tell you what you want to hear in the recruiting process and a lot of that may be true, but I kind of had to trust my own research and so I did look at the roster. Flavors was already in the transfer portal when I was too, and Milan had a great year, so I was kind of under the impression that those two would leave."
While Acquaah is still eligible to withdraw and return to the Lancers next season, White feels confident in the opportunities available.
"Regardless of whether they were staying or leaving, I think that plan was from the coach was that I was going to come in and play a lot and have the impact that I wanted to have, whether they were there or not, and obviously if each of those guys leave, there's even more of a space to help the team."
As for that expanded offensive role? White's ready to show that he's more than just a shooter.
"I think there's been a bunch of stuff [I'll be able to show at CBU I haven't in Stanford]. I've continued to work on other elements of my game throughout the last couple of years. The development hasn't stopped, I've definitely put myself in a position where when I'm given the opportunity to show what I can do, in multiple positions, and on both ends of the floor. I think I definitely will be able to show a lot more at CBU."
The rest of CBU's roster is littered with Australian talent - something that can likely be attributed to head coach Rick Croy, a former assistant coach at Saint Mary's. Bul Kuol, Tre Armstrong, Reed Nottage, Glenn Morison and Florida transfer Gorjok Gak will all join White on the roster next season.
While White will enjoy the company of some familiar faces, including friend Tre Armstrong, it wasn't something that factored into his decision making process.
"Ultimately, I decided to keep as level headed as possible. Every coach has their own pitch and their own way to best get to your heart, but it was mainly based on the relationship I'd built over Facetime and stuff like that. I tried to keep the fact that there were Australians and stuff like that out of my decision."
---
White is determined to finish off his collegiate career with a bang, and weigh up professional offers after. He's affirmed his goal remains locked on the NBA. Fall short of that, however, and we could see him back on home shores.
"There's so many pathways to the top, and I'm not afraid to take the longer route. If I have the best year ever and get drafted and play in the NBA, then that's awesome, but if I go to the NBL, that's also an exciting opportunity. It's definitely one of the top leagues in the world right now [...] it's an extremely impressive environment.
"If I had to guess, then probably [the NBL is my next step], but there's so much uncertainty, and things can happen very quickly in this sport. I'm always going to aim for the highest level possible, and wherever I go I'm going to commit to it and see what I can make of it, but that seems to be where I'd head."
Wherever White's path leads, he will face it with a good head on his shoulders, an insatiable work ethic, and the support of his family.
"My journey's seen a lot of highs and lows throughout the years and they've remained really steady, loving and supportive throughout that. It's something that's taken me time to mature and understand, but they've always been supportive parents, and my brother's been the supportive brother that I've always needed, so I'm very appreciative."
---
For now, White's a Lancer, and we have every reason to expect a big year from the senior. If you're an Australian hoops fan, keeping an eye on CBU's bevy of Aussies stars needs to be on your to-do list.
Grab your popcorn - you're just in time for Isaac White's breakout year.