Discover more from The Pick and Roll
We're all about Aussie hoops. Independent, objective analysis and commentary. Insightful narratives built around Australian basketball. Read about our men and women in the NBA, WNBA, NCAA, Europe, national teams, NBL, WNBL, NBL1, prospects and more.
Over 2,000 subscribers
Introducing Tre Armstrong: One of the best three-point shooters in NBL1
Tre Armstrong entered this NBL1 season with North-West Tasmania full of confidence after hitting over three three-pointers per game as an 18-year old in the SEABL last year, as well as experience as an Australian representative and a college commitment on his resume.
Eight long-range makes in under 23 minutes against the Southern Sabres meant that there was absolutely zero let-down after game one.
"My mindset hasn't really changed," Armstrong said.
"I was lucky enough to get an opportunity from Sam (last year) to play minutes and prove myself. The difference coming into this season is that I'm fully confident in my body and my ability to be a top player for my team".
In the Southern game, Tre moved well without the ball to position himself in good spots as the team let Lachlan Dent's drive and kick game at point-guard get things started.
Dent's ability to find teammates on the perimeter led to four of Armstrong's triples whilst Tre also worked in tandem with his bigs at the top of the arc to hit three more, including one off the dribble out of the pick and roll. The eighth came in more of a heat-check fashion as he caught it on the wing and launched from well beyond the line with the Sabres defender not closing out strong enough.
"At the NBL level, I follow Cam Gliddon closely. He is the player I want to mould myself around," said Armstrong.
If you take one look at Armstong and Gliddon's shot-charts and their three-point attempt rates then you'll immediately see there's some substance behind the Gliddon comment.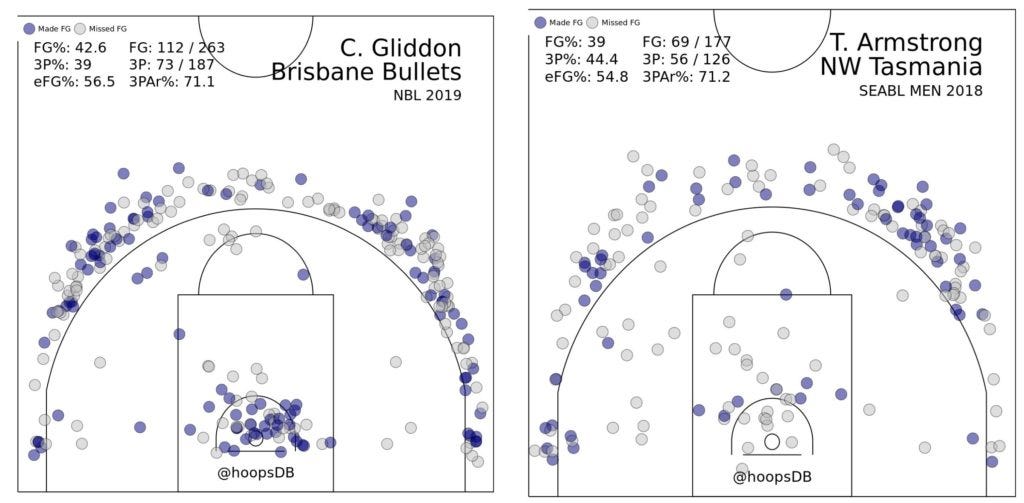 Shot charts via
Outside of Tre's shooting, he has plenty more to his game that needs mentioning. It's obvious that he's a smart player and one that has a team-first approach. He knows his strengths, his team embraces them, and he plays exactly to those strengths.
Armstrong doesn't waste any time with the ball in hand, either shooting it when he has space (he doesn't need much), or moving it quickly to another teammate.
He doesn't dribble for the sake of getting touches and on defense he is a willing defender with an energy and a bounce to him that means he is ready to try and impact the play.
"I definitely want to expand past three-point shooting," Armstrong said.
"A main focus for me is to develop to become a polished ball-handler and transform into a true combo-guard. Also, continuing to focus on the weight room so that I can absorb contact and finish around the rim. I've had a big emphasis on my body over the off-season."
In the Southern game there were flashes of improvement with a pretty crossover where he beat his man in semi-transition to get an easy layup, as well as a nice assist out of the pick and roll to the rolling Nick Banyard.
Even before developing these areas, Tre is a problem for opponents at this level and is obviously a key piece for the Thunder – their offensive rating was almost five points better with him on the floor than off the floor last season per HoopsDB data.
The Sabres were quickly reminded of Armstrong's ability to blow open a game and their trip down to Tasmania minus some key personnel was a small disaster as they lost both games.
Key personnel missing was a common theme in round one, with an average of one projected starter not suiting up for each team across the league, so there's still plenty of upside to the quality of play.
Missed my NBL1 season preview? Check it out here