Introducing the inaugural David Barlow All-Stars
Last season, David Barlow did something remarkable. At age 35, he managed to get nominated for Most Improved, earn a promotion to Melbourne United's otherworldly starting lineup, and turn into one of United's most indispensable players. Without his shooting, underrated defence, and versatility, who knows where last year's United side would've ended up?
He even got Liam Santamaria to compare him to Benjamin Button.
In the years preceding Barlow's rejuvenation, I thought it was only a matter of time until he parted ways with the sport. His Achilles injury, which forced him to sit out the entire 2015/16 campaign, clearly slowed him down. It didn't seem like he was anything more than veteran floor spacing presence off the bench — after all, he registered a measly 3.6 points per game during the 2017/18 campaign.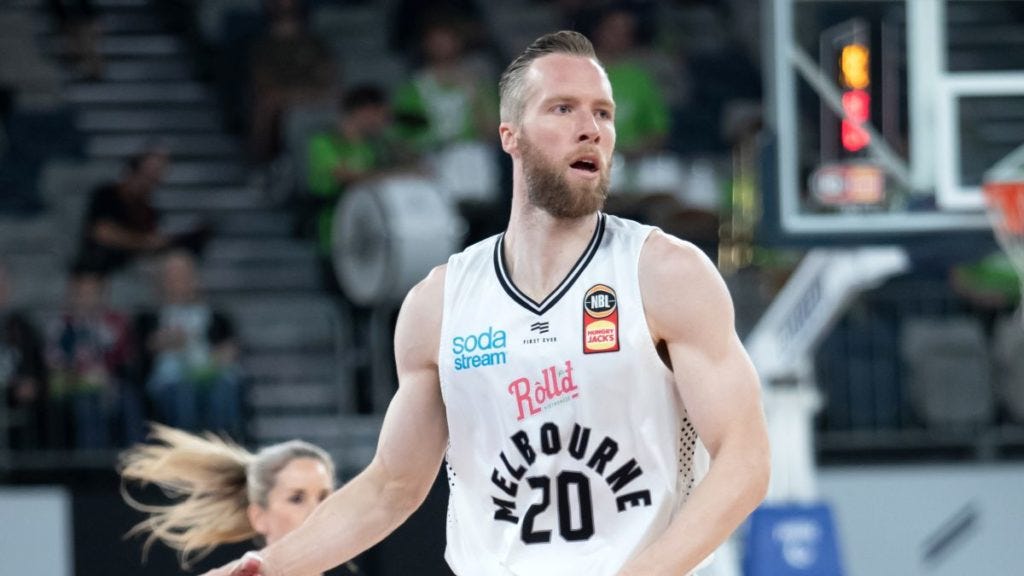 Credit: Michelle Couling Photography
Barlow has fallen back down to earth to some degree this season. His counting stats and minutes have fallen a touch from last season and he looks, understandably, slightly worse physically. Yet, Barlow remains one of Melbourne's most important players. Vickerman's side just aren't the same machine on either end when he's riding the pine — check out his ridiculous on/off numbers on Spatial Jam.
But regardless of what he's doing this season, his resurgence taught all of us basketball fanatics something important. Even if all the signs are pointing down, thinking that a veteran with Barlow's pedigree is finished is never a good idea.
With this in mind, I'd like to introduce you to the first-annual David Barlow All-Stars: a celebration of five 30-somethings succeeding in imitating Barlow's trip to the fountain of youth.
(All stats accurate as of the start of round 15.)
Daniel Kickert (Captain)
One of the key things that allowed Barlow to resurface was Dean Vickerman using him full-time at the four spot. Despite being a prototypical modern stretch four, Barlow had spent much of his career utilised in clunky, bigger lineups.
Kickert has experienced a similar transition into a more modern role under Will Weaver. During the 2018/19 season, Andrew Gaze basically didn't allow Kickert to play as a centre — 80% of his minutes came whilst playing next to Andrew Bogut or Dane Pineau, per HoopsDB. Under Weaver, Kickert has played just nine possessions total, next to Bogut in the frontcourt.
He may have a slender frame, but Kickert was born to play as a fully fledged centre in 2020. No lumbering behemoth is brave enough to leave him open from beyond the arc. Opposing giants are forced to scramble out of the paint when they see Kickert park himself along the line. His gravity is part of the reason why Jae'Sean Tate is converting 77% of his rim attempts.
On defence, Kickert has held up superbly against 'stronger', more athletic bodies who should bully him. He's rarely out of place and uses his length well at the rim. Any concern about rebounding when he subs in for Bogut can be put to bed — Sydney's rebounding rates suffer no significant decline with Kickert in, according to Spatial Jam's on/off numbers. On/off figures are never the be-all and end-all, but it's at least notable that Sydney are posting better numbers on both ends of the floor with Kickert on and Bogut off.
Playing next to traditional bigs over the last three seasons, Kickert wasn't nearly as potent as he could've been. Over the past three seasons, he has shot the ball superbly well for any normal human, with a true shooting percentage of 63.1%. For Kickert though, that number seems tame. Being guarded by smaller folk makes it harder for Kickert to get open from deep and he isn't one to punish those same defenders down low. Moreover, at this point in his career, he's too slow to chase around small-ball fours. Playing next to bigs has contributed to Kickert being a net negative in two of his past three seasons, per jordanmcnbl.com.
Not only is he a plus-minus monster this season but he has upgraded his shooting stats to truly historic levels. At the time of writing, he has canned an absurd 51% of his attempts from downtown, contributing to a 72.6% true shooting figure. According to the Spatial Jam database, only one player in history (minimum 200 minutes played) has ever matched that number…the great Dwayne Vale in 2007/08!
Back in the position he should call home, Kickert has become one of the very best reserves in the league. He's already 36, but with his shooting touch, he could probably play until he's 46. (I'm only half-kidding.)
Tom Abercrombie
Tom Abercrombie is 32. As a diehard Breakers fan, that's astounding to me.
I know how he's been around for yonks but, to me at least, it never felt like we saw Abercrombie's prime. Perhaps it's just that Abercrombie has been such a consistent and immovable presence in Auckland that I didn't realise the last 10 seasons have been his prime. But at the same time, it always felt like he had another level or two to unlock — he earned All-NBL First Team honours at age 25 and was supposed to get better.
A couple of untimely injuries (looking at you, Peter Crawford) hampered his development. Additionally, the ludicrous amount of talent the Breakers' squads over the 2010s contained didn't provide a ton of opportunity for Abercrombie to spread his wings. Instead of bursting through as a super-duper star, he is enjoying a long career filled with championships and success. He is an undoubted Kiwi basketball legend. Few would turn their noses up at the decade Abercrombie just had.
The last few seasons, though, have been tough for Abercrombie. Over the past three seasons he has looked markedly less dangerous as a scoring threat, with his shooting percentages a long way off his lofty standards. He sort of just stopped attacking the basket with any real force — over those three seasons, Abercrombie's at-rim finishing rate was 5% below the league average, per Spatial Jam.
If you asked me during the preseason, I would've told you that further decline was inevitable.
But then he kicked his season off by doing this.
https://twitter.com/NBL/status/1181829708591198209
(At the time, I was in a library watching along. This dunk quite literally caused me to leap out of my chair and yelp.)
That ridiculous highlight is Abercrombie telling me and anyone else who thought his decline was setting in to, quite frankly, get lost (even though Tommy would never ever say anything quite as rude as that).
The season that has followed on from that monster jam is arguably his finest work. Even with tremendous, self-inflicted, adversity facing the club, he's held firm through thick and thin. As the last remaining piece of the old guard, he's leading by example, doing everything that's asked of him.
Under Shamir, Abercrombie is legitimately guarding positions one through four. Amazingly ,he has frequently been their first choice when choosing someone to assign to the league's premier point guards. On the flip side, when Finn Delany was dealing with injury setbacks, he was guarding bulkier power forwards and succeeding. He's filling every gap that needs to be filled. He's Dan Shamir's favourite player for a reason.
Those aforementioned falling shooting percentages have picked back up and are better than ever before. If his free throw success improves by just two percent, he'll be on track to finish as the NBL's second-ever member of the 50/40/90 club (funnily enough, joining Kickert). There's hardly a spot on the floor that Abercrombie's not spitting flames from.
With his exceptional two-way game restored to its previous brilliance, Abercrombie no longer looks in decline. It wouldn't surprise me if we saw an even better version of Abercrombie next year, as he grows even more comfortable with the new coaching regime. Aside from his exceptional on-court exploits, I don't think anyone can overstate Abercrombie's importance off the hardwood. With everything that has gone on in Breaker land, having a calm, respected, professional, veteran like Abercrombie has never been more important.
Brad Newley
Newley hasn't been noticeably better than in years past, so he doesn't fit the criteria perfectly here. Still, it would feel like a disservice not to mention him here.
The swingman will be 35 by season's end and hasn't really skipped a beat. During the offseason, he was projected to come off Sydney's bench by most. Astonishingly, he's been so good that he hasn't left the starting five. Even Weaver doesn't quite believe how old he is at this point.
https://twitter.com/NBL/status/1203595190612578304
Instead of being a veteran presence for a contender off the bench, he's one of Sydney's very best and should be seriously considered for All-NBL honours. Being the best team's best wing and, arguably, their most consistent player must count for something.
Wings who rely on their athleticism, physical tools, and full-speed-ahead driving ability shouldn't still be this good at Newley's age. The weird part is that he's actually diversifying his game at this late stage of his career. Three-point shooting — a bugaboo for much of his career — is now a strength, with over half of Newley's field goal attempts coming from long-range. He's even nailing those attempts at a league-average rate and is en fuego from the corners.
Newley's 2019/20 season isn't really a revival or rejuvenation, but it absolutely should be. He's 35 next month. This shouldn't be happening.
AJ Ogilvy
It's easy to forget that AJ Ogilvy was a genuine MVP candidate less than three years ago. It's hard to overstate just how good he was in his first couple of NBL seasons; the list of players who have made three All-NBL first teams is incredibly slim. Since then, the combination of the Perth Wildcats and Andrew Bogut have, seemingly, swallowed his superstardom whole.
Since the start of the 2017/18 season, Ogilvy's effectiveness has declined across the board. His rebounding rates, scoring output, and efficiency have all waned. The eye test showed that his formerly formidable defence took a pretty noticeable step back in last year or two as well.
On the bright side, his Twitter game has only taken strides forward.
https://twitter.com/AJ_Ogilvy/status/1211945003477372933
Ogilvy is (only) 31, so he should still have plenty more left in the tank, but his trajectory looked grim. There wasn't a lot to love about his performances from last season.
With Matt Flinn installed as Illawarra's new coach, however, his role on the Hawks has been simplified, allowing him to become more effective as a result. He's being used far less frequently as a playmaker and has rarely been called upon to create his own shot. As shown on Spatial Jam, his assist and turnover rates have both plummeted this campaign. On top of this, Ogilvy has posted up less than twice per game this season, per jordanmcnbl.com.
Instead of initiating offence, he's doing more of the stuff that he's awesome at: rolling and cutting hard, crashing the o-boards at every opportunity, and giving maximum effort on the defensive end. Ogilvy's superstar days are now in the rear-vision mirror — transitioning him into a role player is absolutely the right move. As a result of his simplified role, his (inhale now) turnover, block, steal, defensive rebound, offensive rebound, and effective field goal percentages from last season have all been bested.
I'm not one to fawn over blocks and steals, but it's at least somewhat notable that Ogilvy is one of only two players (Obi Kyei being the other) who ranks in the top 10 in both block and steal percentage. The fact that he is 11th in Andrew Price's defensive box-plus minus rankings doesn't hurt his reputation either. His marks in these categories are a testament to his much improved activity and intensity on that end of the court.
Ogilvy may have been a superstar just a couple of years ago, but his conversion into an effective role player is outrageously important for him going forward. Last season it seemed like his continued decline was inevitable. This transformation, though, means his late-prime could last for far longer than many of us initially believed.
Adam Gibson
If you're a weirdo like me and stared at Adam Gibson's career tracker on Spatial Jam in October, you would've thought that he was in for a rough year. His production and minutes have fallen steadily since 2014 without much reprieve. His defensive ability was invisible to the naked eye last season, too.
However, moving situations and completely changing his role has allowed him to lift his falling production and minutes totals. He's now thriving in a brand new role in South East Melbourne, despite being 33.
During his final year in Brisbane, Gibson was Brisbane's ball handler off the bench who was there to make sure the offence didn't die when Lamar Patterson took a seat. Now, compare that with his current role of being a 6'2'' do-it-all wing on a team who love playing small. It's a drastic change, but it's one he's coping incredibly well with.
In fact, he's coping so well that the case can be made for him being South East Melbourne's most important non-superstar. Outside of Gibson, Simon Mitchell has basically no one else (excluding Mitch Creek, of course) who can stand in front of a ball-handler and make Phoenix fans feel somewhat confident in a stop. Draining triples at a ridiculous 44% clip, he's also South East Melbourne's most threatening floor spacer (excluding John Roberson, of course).
Their other wings are good but aren't currently offering Gibson's 3-and-D impact that Simon Mitchell desperately needs next to his star duo.
Without Gibson on the hardwood, the Phoenix struggle. Mitchell's men are over 14 points per 100 possessions better with Gibson on the court, per Spatial Jam. Remarkably, their best five lineups net rating-wise (minimum 20 possessions) all feature Gibson. To rub salt in the wounds, during their recent four game stretch without Gibson, the Phoenix went 1-3.
No matter what you think about lineup data and on/off stats, Gibson's importance to South East Melbourne's playoff chances is undeniable. Better yet, he's doing it in a way that didn't seem possible just a few months ago. He's managed to go from an OK gunner off the bench who I thought was closing in on retirement, into a thriving 33-year old 6'2'' swingman.
While he hasn't shown the statistical improvement across the board that guys like Abercrombie, Kickert, and Ogilvy have, Gibson's transformation might be even more impressive.