Who is Jordan Starr? A look at the U17 squad's mystery swingman
[dropcap]T[/dropcap]he selections for this year's Australian U17 Men's squad had all of the usual names. Most of the athletes chosen had proven themselves in earlier national tournaments, and, quite rightly, received the nods of acknowledgement.
There was one name, however, that took many by surprise. Not because the athlete wasn't deserving of a spot on the team, but because he was unknown to even the diehard Australian basketball fans.
Introducing, Jordan Starr.
Jordan Starr
---
[dropcap]B[/dropcap]orn in San Diego, California, Starr's eligibility for the national team is due to his father, who was born in Australia. Basketball Australia's involvement with Starr was thanks to some proactive college coaches, who gave the tip to Mark Watkins and his staff after watching the guard during his freshman year at Foothills Christian High School.
At 6'5, Starr brings a unique versatility to the team, having the ability to play in multiple spots on the perimeter. In an Australian team that's relatively thin at the point guard position, Starr feels as though his ability to play as the lead guard is something he can bring to the floor.
I would say I'm a pass-first point guard/forward that enjoys creating shots for his teammates. I am not as strong as I want to be right now, but my length and height help make up for that. I still need to get much stronger and become a more aggressive scorer.

I hope I can bring whatever the team needs, whether it be my passing, scoring, rebounding, or defence.
Attending an Australian camp for the first time is always daunting, but that level of unease was increased in Starr's case, entering the training camp as the 'new guy'. With the other athletes already accustomed to each other - having participated in camps and tournaments in the lead-up to the first trial - Starr's American accent proved to be enough of a divide during the first moments of the camp.
The first camp was pretty tough because I had to learn a new offence, adjust to the different style of play, and a deeper 3 point line. Also being from the states and not knowing any of the guys made it a little tougher.
Australian U17 squad - first training camp | Photo credit: Justin Schueller, via Instagram
Luckily, it didn't take long for Australia's newest guard to adapt to his new surroundings, developing a camaraderie with his teammates.
I think they're a pretty good group of guys and everyone gets along well. They were really friendly toward me, even though I was the new guy coming in, and I appreciated that. I think overall everyone works hard and they want to succeed.

In the second camp, I felt much more comfortable because I had a better grasp of the offence and I was more familiar with the coaching staff and my teammates.
---
[dropcap]S[/dropcap]tarr, a class of 2018 product, attends Foothills Christian High School in El Cajon, California, a team coached by Brad Leaf, a former pro in the Israeli national league. The school's varsity team is led by TJ Leaf, an elite power forward heading into his senior year - and also the coach's son. Attending a school of this calibre has its benefits: the ability to put together a competitive schedule, with college coaches flocking to watch the team play.
With Starr still early in his development, he expressed excitement about his upcoming sophomore year, looking to enjoy the process as much as possible.
This school year, I really hope I can get after it and continue to get better. We have a really great schedule - [playing against] St Anthony (NJ), Chino Hills, Bishop Gorman, etc - and a really good team. My goal is to go out be aggressive and help my team win.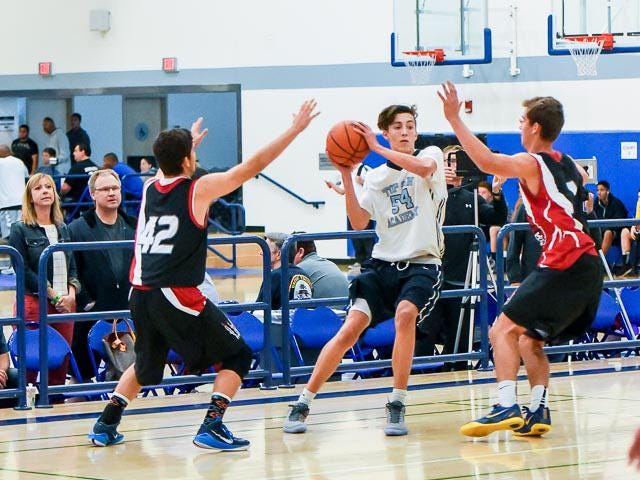 Jordan Starr playing for his AAU team, Top Gun Academy
[pullquote-right] "Jordan has phenomenal court vision - puts passes right on the money and his head is always up. He has a very good handle for his size and rebounds & defends well. For the Australian national team, I think he can set up scorers, knock down threes, and has a great go-to floater move with both hands." - coach Brian Hershman, owner of Top Gun Academy [/pullquote-right]
Along with experiencing success while playing for his high school, Starr has also had a lot of success playing for his AAU program, Top Gun Academy. Playing under head coach Brian Hershman, Starr has impressed during the NCAA Live Viewing Period this Summer, picking up interest from the likes of Boise St, Saint Mary's, UC Irvine and Rice University.
Starr cited his time at Top Gun as an important part of his development, joining the program after his younger brother, Caden, and his father, introduced it to him.
My younger brother, Caden, actually played for Top Gun before me, and my dad does some work with the Top Gun AAU program. My old AAU team broke up so I decided to go play for Top Gun with Coach [Brian] Hershman. It has been great, because Coach Hershman really cares about you getting better as a player. He invests so much time into his players, so he's great to play for.
---
[dropcap]H[/dropcap]aving been born, and raised, in San Diego, the upcoming FIBA Oceania U16 Championships will be the first time that Australian basketball fans get the chance to watch Starr in action. The Championships, held in New Zealand, will see Australia face Tahiti, New Caledonia and New Zealand, with the winner of the event qualifying for the 2016 FIBA U17 World Championship, to be held in Spain.
The gold medal match – should they qualify – will be played as a curtain-raiser to the FIBA Oceania Championship game between the Boomers and the Tall Blacks on August 18.
Starr is relishing the privilege of donning the coveted green and gold jersey, and he's already looking toward what the future may hold.
Right now, I am just hoping to be the best player I can be, and hopefully play Division 1 basketball at a high level.
If he keeps up the level of success that he's experienced of late, playing Division 1 basketball would just be the tip of the iceberg, and Jordan Starr will no longer be a mystery.