Discover more from The Pick and Roll
We're all about Aussie hoops. Independent, objective analysis and commentary. Insightful narratives built around Australian basketball. Read about our men and women in the NBA, WNBA, NCAA, Europe, national teams, NBL, WNBL, NBL1, prospects and more.
Over 2,000 subscribers
The Importance of the Flourishing China/Australia Basketball Relationship
The NBL and the Chinese Basketball Association are continuing to forge a strong relationship with the announcement of two Chinese teams competing in the NBL's upcoming re-branded preseason tournament.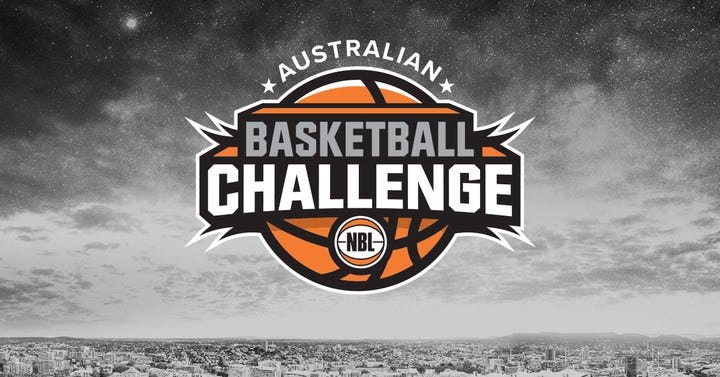 The Zhejiang CB Golden Bulls and the Tianjin Ronggang Gold Lions will travel to Brisbane next month to challenge for the inaugural Australian Basketball Challenge (ABC) title against all eight NBL clubs.
The ABC will kick off with the reigning NBL champion Perth Wildcats taking on Tianjin Ronggang on September 23. Each club will play three games over four days, with a dunk contest and three-point shootout also featuring during the revamped preseason challenge.
"We are delighted to have teams from both Zhejiang and Tianjin attending this year's tournament," NBL General Manager Jeremy Loeliger said.
"They're (China) an important market for us and we have significant aspirations in that part of the world in the short term."
Loeliger also revealed the NBL's ambition of turning the ABC into a world renowned basketball tournament, with the hope of luring clubs from Europe, South America and the US next year.
"We had looked at doing a much bigger international tournament this year, but we probably didn't give ourselves enough lead time to land the teams from all around the world we'd like to bring here," Loeliger revealed.
The announcement comes on the back of a successful joint venture between China Basketball and the NBL earlier this year. An 'All-Australian' squad made up entirely of NBL players traveled to China to take on a version of the Chinese National Team. The All-Australian team was led by current Boomers and Brisbane Bullets head coach Andrej Lemanis and star NBL players such as Adam Gibson, Daniel Kickert, David Barlow and Clint Steindl.
Over the course of the three game series that the All-Australian side won 2-1, viewership totals topped over 30 million.
Executive director for the NBL, Larry Kestelman, accompanied the squad to China and was blown away by how popular basketball is in the country.
"They welcomed us like we were superstars," Kestelman told Fox Sports.
"There were people waiting at every corner for the buses. It was very NBA-like."
The NBL is actively targeting the Chinese market. While exhibition games between the two nations domestic teams is an achievement in itself, both Loeliger and Kestelman are thinking bigger. They are working hard with their CBA counterparts to have a full-time NBL club based in China within the next few years.
They recognise the untapped potential awaiting the NBL in China.
It is estimated around 300 million people play basketball there, more than 10 times that of Australia's total population. As far-fetched as it may seem, that is potentially hundreds of millions of future NBL fans.
All Zhejiang and Tianjin games in the upcoming ABC will be streamed live into China, with vast numbers potentially set to tune in. This gives the NBL an opportunity to showcase the league to a multitude of passionate basketball fans.
CBA teams seemingly have the financial capabilities to be able to lure imports that would have previously taken their talents to Europe. The 2015/16 CBA season saw former NBA players MarShon Brooks, Michael Beasley, Andray Blatche and Andrew Goudelock suit up, among others.
A Chinese based NBL squad may very well be able to attract high caliber talent to the league.
Basketball in China dates back further than most would anticipate. The sport was introduced to China in 1895, just four years after Dr. James Naismith invented it in Springfield, Massachusetts.
The game grew steadily in the nation. Basketball was one of the very few Western pastimes the Communist Party of China were in favor of when they gained power in 1949. Many members of the party were impressed by the sports ability to encourage group cohesion, hard work and effort.
The Chinese Basketball Association was later established in 1995, with 10 teams total. That number has ballooned to 20 as of the 2015/16 CBA season.
Of course, the biggest impact on basketball in the worlds most populated country was when, in 2002, Yao Ming was selected number one overall in the NBA draft by the Houston Rockets.
While injuries limited China's greatest ever player to just nine NBA seasons, his impact on both basketball in China and the NBA were humongous. Yao took what was an already rapidly growing sport throughout the 80's and 90's and sent it into overdrive in China.
It was when Yao was drafted that the NBA recognised what Loeliger and Kestelman have; that basketball is big business in China.
Including the upcoming NBA Global Games to be held in October between the New Orleans Pelicans and Houston Rockets, 13 NBA teams will have played a total of 22 games in China since 2004.
The explosion of basketballs popularity since Yao was drafted has brought with it the emergence of elite level talent coming out of China.
Up until 2007, only Yao Ming, Mengke Bateer and Wang Zhizhi had represented China in the NBA. Since then, four Chinese players have been drafted into the Association. Yi Jianlian and Sun Yue were both taken in the 2007 draft while Zhou Qi and Wang Zhenin were taken in the most recent NBA draft.
With Australia and New Zealand set to be grouped in FIBA Asia in 2017, Australia and China will see much more of each other on the international level, as well as domestic.
Much like the NBL/CBA relationship, this is a move that greatly benefits both nations, and basketball in the region. It offers up a greater challenge to China, who have traditionally had a stranglehold on the FIBA Asia region. For Australia, it offers something fresh. The countries men's and women's teams will be exposed to more than just New Zealand in qualifying tournaments.
Most importantly, it will elevate the level of play in the region. FIBA Asia may one day be perceived as just as strong as Europe.
Australia and China are building an incredibly important and exciting basketball relationship. With the upcoming ABC featuring two Chinese teams, the prospect of a future full-time NBL team based in China and the upcoming FIBA Asia Cup in 2017, basketball in Australia is set to be exposed to millions of new fans on the domestic and international level.