Discover more from The Pick and Roll
We're all about Aussie hoops. Independent, objective analysis and commentary. Insightful narratives built around Australian basketball. Read about our men and women in the NBA, WNBA, NCAA, Europe, national teams, NBL, WNBL, NBL1, prospects and more.
Over 2,000 subscribers
How Kane Pitman became the Milwaukee Bucks' most unexpected beat writer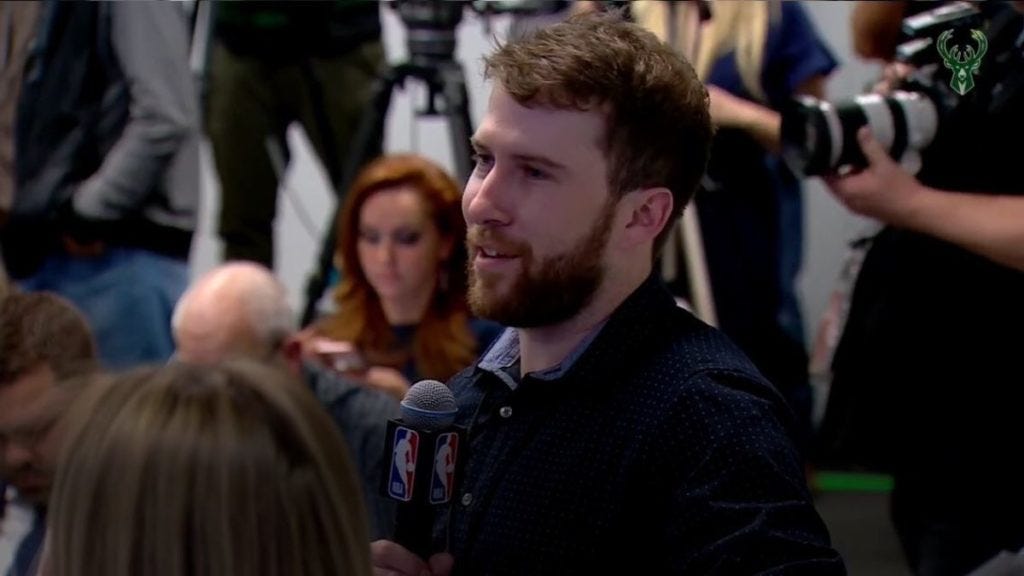 It's been well documented how Kane Pitman fell in love with the Milwaukee Bucks. Heck, it's even been broadcast across the United States and to the rest of the world. An 11-year-old boy growing up in Geelong turned into a basketball fanatic in the span of one NBA game caught in a channel surfing session on his parents' couch. Milwaukee's 2001 playoff series win against the Charlotte Hornets was as good as it got for more than a decade, but Pitman was there through good times and bad from that point on.
It was a similar scene almost 17 years later; Pitman was still watching the Bucks from Australia, albeit with a little more dedication than his younger self. Once again, it would prove to be a transformative moment in his life. This time, though, it wasn't Ray Allen that caught his attention—in fact, it wasn't a player, a coach or even a moment in the game. It was a somewhat familiar voice, emerging from the media throng at Milwaukee's post-game press conference.
"I remember thinking 'who's that Australian guy asking that question?'"
It was The Pick and Roll's own Ben Mallis, who was in the United States and covering the NBA on the ground. Seeing a fellow Australian working in the NBA grabbed Pitman's attention - after all, he was an aspiring journalist himself. After friends had suggested that he find an outlet for his obsessive Bucks viewing schedule and extensive knowledge of the game, he had already dabbled in writing for a few different blogs and websites.
Writing had became hobby, albeit one he threw himself into with plenty of gusto. "Pretty much any time I decide to do something, it's either I'm doing it or I'm not— it's never really half-hearted," Pitman said. Even so, it's hard to imagine he knew then that it would take him all the way to Milwaukee, Wisconsin, where he spent the entire 2018/19 season working on the Bucks beat.
Before that, he'd been working at an oil refinery since four days after his high school graduation, but the summer days spent toiling in 40-plus degree heat began to take their toll. Seeing Mallis chasing his dream in the US gave Pitman the first inkling that his hobby could potentially turn into a career. Up until then, it might have seemed like an unlikely dream for someone who came out of high school without the slightest interest in writing. "I didn't actually really enjoy school at all… I didn't like writing, I didn't like doing English classes or anything like that," he said.
Still, Pitman was an obsessive NBA fan even by American standards. With most games tipping off in the middle of the Australian working day, he would go into lockdown to try and avoid results until he could watch a replay. As he told Boston's WBUR, it became something of a running game among his friends to try and send him the final score ahead of time.
It was those same friends who first nudged him towards writing about the Bucks. Why spend so much time on NBA message boards, they argued, when you could just publish those thoughts for a bigger audience? So Pitman started working for a handful of fan-driven websites like Cream City Central, the beginnings of what would quickly become an impressive portfolio. While his written skills were rusty at first, he didn't let it deter him.
"I found that first of all, I didn't know what I was doing, but secondly I was having fun. It was enjoyable and it's something that I was having fun doing," he said.
Wheels in motion
It was that postgame question from Mallis, though, that would accelerate Pitman's timeline. Some background research led to conversations with Mallis, which eventually saw Pitman get in contact with The Pick and Roll. In co-founder and editor Kein Chua, Pitman found a mentor to guide him in a pursuit he had already dove into headfirst.
He always tried to be open to feedback, for one simple reason. "I didn't want to be bad at this anymore, and as soon as I got into that sort of mindset I was like 'okay, who can help me improve and be better at this?'" he said. "If people are willing to help you and give you tips and give you pointers on your work and what you're doing then you really need to take that on board."
That willingness to listen is a quality that hasn't gone unnoticed by those around him. In his early days writing for The Pick and Roll, he picked the brains of everyone on the team as he found his feet. "Kane has never been too difficult to manage. He's always been very receptive to feedback and focused on bettering himself," Chua said.
It's a trait that seems to have endeared him to every peer he's worked with along the way, which can be make or break when chasing freelance work. Pitman admits that he's continuing to learn on the job, and ESPN AU/NZ editor Stuart Randall says that sort of self-awareness can be rare among his colleagues. "There are a lot of writers out there that will put something in and then they get a bit defensive around feedback," Randall explained. "They kind of think that there's no way it can really be improved, whereas Kane is so open to that kind of stuff."
That attitude, along with what Chua describes as "significant improvement" in his writing, gave The Pick and Roll team the confidence to throw Pitman in at the deep end. A trip to NBA Summer League in Las Vegas in 2018, a few short stints in the US during the regular season—they could be called baby steps compared to what was still to come, if they weren't such huge leaps for Pitman to make. He knows it would never have happened without the help of his editor. "I took every bit of advice that [Kein] gave me, and I think it would've been within six months probably that I was in America," Pitman said.
First impressions
While those trips were a taste of the business side of the NBA media, Pitman's first look at the city of Milwaukee came on a solo holiday in 2015. A torn ACL meant he was stuck home from work, but it also meant he could watch as the Bucks scraped into the playoffs. Maybe it was luck, maybe it was a sign from above. Either way, Pitman jumped at the chance and flew to Milwaukee for the first round series against the Chicago Bulls.
Aside from Wisconsin's cold weather, he immediately felt right at home. "Milwaukee suited me—I'm from Geelong, Geelong's pretty lowkey, it's a slow-paced town and Milwaukee's much the same," he said. "It was certainly a trip that made me sure that I would be going back to Milwaukee again pretty regularly."
He could have been forgiven for thinking he was still in his hometown, even while he covered his first game on a West Coast road trip. The Bucks were in Los Angeles to face the Clippers, and they held their morning shootaround in a Beverley Hills gym packed with reporters. Every Buck was present, but the media only had eyes for one man. "Basically everyone was there and they wanted to talk to Giannis. He walked through and didn't talk to anyone," Pitman said. As soon as the Greek Freak exited, the waiting throng followed. That left Pitman as basically the lone media member in the building, with one player still shooting around on court—Aussie basketball icon, fellow Victorian and former Buck Matthew Dellavedova.
Pitman approached him for an interview, and they hit it off right away. They chatted about AFL football—Pitman is a born-and-bred Geelong Cats fan—before locking in for his first interview on the ground. "For my first practice to get a one-on-one like that was a good opportunity," he said. "It's always good over there when you see other Australians."
He'd dipped his toes into the water, and Pitman was ready to plunge right in when the opportunity arose. After seeing Mallis take a similar route in Philadelphia, Chua was happy to play his part once again. "I saw the same pathway for Kane as well, that he would likely be able to make the most of his potential if he was actually there and working every game," Chua said. While Pitman still lacked the experience of some of his contemporaries, he had everything else his editor needed to give him the tick of approval. "Despite not being media-trained, Kane's at an age where he's more mature and independent than a lot of other aspiring writers. He handled himself really well in his early trips to the US."
Touching down in Milwaukee
Even getting to Milwaukee, and giving himself some amount of security once there, took a serious grind in the lead up. After all, Pitman was planning for the worst case scenario. "I knew in year one that it was going to be a huge financial loss," he said. So he saved like crazy, working 70-hour weeks for nearly three months straight before jetting to Milwaukee on a one-way ticket.
With only sporadic freelance work to rely on once there, those savings needed to be stretched over the entire season. That meant some cost cutting along the way, mostly on travel; taking a red eye flight to avoid an extra night in a hotel or sitting through a ten-hour bus trip rather than a one-hour flight. "Stuff like that, it adds up at the end of the season," Pitman said. "It was tough and it was uncomfortable and you were tired and wondering what the hell you were doing, but in the end the money saved probably helped me last that season."
Those unpleasant moments are easier to stomach when you're spending the rest of your time around one of the NBA's best teams. The timing couldn't have been any better for Pitman, as the Bucks stormed the league on their way to a 60-22 record and their winningest season since 1980/81. At the forefront of that was Giannis Antetokounmpo, the NBA MVP who was suddenly the most in-demand superstar in the league.
As one of just three reporters working on the Bucks beat, Pitman had easy contact with players suddenly being hounded by the national media. "When you're there at every single practice and every single game the players know who you are and they get a level of comfort with speaking to you," he said. "They understand you're not just flying into town to do a quick hit piece on them and then go out. It's hard to explain—you're not friends with them, but they get some sort of level of respect for you."
It helped that the Bucks had a group of players widely regarded as some of the friendliest in the league. There's someone there for everyone—Pitman says the Lopez brothers are the comedians, Giannis is quiet at times but always thoughtful, and there's a healthy mix of youngsters and veterans. He especially enjoyed talking to Khris Middleton. "This guy now is a two-time All-Star but he was always just so polite and willing to talk, and always gives thoughtful answers," Pitman said. In a way, it makes sense that they would get along-- there are similarities between Pitman's rapid rise as a journalist and Middleton's trek from the fringes of the NBA to a pair of All-Star appearances.
Some players might just put on a show for the cameras, but Pitman has seen that that's not the case for these Bucks. He's told the story of his walk from practice with Giannis to The Ringer and other outlets, but it doesn't end with the Greek Freak. When he returned to Milwaukee earlier this season, Bucks head coach Mike Budenholzer paused his pre-game scrum after spotting him in the crowd and welcomed him back to the city. When Team USA came to Melbourne for a pair of games last year and Pitman was covering the event for the Bucks, he ran into Middleton in the lobby of Crown Casino. The star guard stopped him in his tracks with a high five and a quick catch up, before moving on and leaving Pitman to wonder when such strange occurrences had become so normal to him.
The Three Buck-sketeers
The biggest reason for that type of rapport? It's probably the fact that Pitman's was one of just a handful of faces the Bucks would see every single day. In terms of unaffiliated media, there was just three regulars; Pitman, The Athletic's Eric Nehm and the Journal Sentinel's Matt Velazquez. Pre-game and at practice, it would usually be the three of them asking questions. "The only way to stand out in a crowd and get the work done that you want to get done is if you ask questions, and it's a lot easier to do so with a smaller pack," Pitman said.
On the job, Pitman says the three writers made sure to take care of their own business. "They're trying to do their best job and keep their job, and we know that working in sports media is pretty volatile, so it was never that they were really helping me out with work-based stuff," he said.
Despite that uncertain environment, he was welcomed with open arms. "I know that I never saw Kane as a direct competitor to me since everything he was doing was running in Australian publications," Velazquez said. "On the Bucks beat, at least, we are all usually pretty collaborative in terms of transcribing quotes and Kane fit right in." Having clocked plenty of NBA road trips, Velazquez also became Pitman's guide through the mazey tunnels of opposing NBA arenas.
Even more important was their bond away from the game. The trio became close friends during the season, catching up for drinks and meals on a whim and keeping in touch even when Pitman returned to Australia. "It made the move from Australia to Milwaukee so much easier, just having guys that I genuinely really get along with," Pitman said. "It just made it fun… when I wasn't making good money, to be able to have fun and create those friendships."
The next step
The work may have come sporadically at times, but Pitman certainly made an impact during his time in Milwaukee. A following of over 10,000 people on Twitter grew organically as he found his feet on the Bucks beat. Even now, when he's cooped up at home in Geelong and the NBA is on hiatus, he is one of the most trusted sources for Bucks fans.
He's also branching out into new fields and continuing to learn and evolve. Local radio spots would pop up occasionally in Milwaukee, and once the initial nerves wore off Pitman found that he enjoyed sharing his thoughts on the air. Now, as host of the Locked on Bucks podcast, he's working to find daily content and recording from Down Under. Broadcasting may not be his first profession—but then again, neither is writing.
Most importantly, he's keeping his options open. "Whether it's writing or talking, if I can make a living out of that as a career then I'll do it," he said. Given the current COVID-19 pandemic and its bearing on sports globally, that flexibility may be less of a choice and more of a necessity.
Despite that and the cutthroat nature of sports media, it would surely be a mistake to bet against Pitman finding success. After all, he went from the graveyard shift at an oil refinery to working an NBA beat in record time. When the sporting world eventually reemerges and restarts competitions, Pitman will be waiting in the wings and ready to scrap for his place.
A quick conversation with anyone he's worked with speaks volumes as to why he'll win that fight. "I think Kane is just a genuine person. He's drawn an audience in Milwaukee and on social media because he is honest, down-to-earth and deeply passionate about his work, particularly the Bucks," Velazquez said.
His editors, those who are meant to be highly critical, both agree. "There's significant improvement from when he started with us, to where he is now. There's less of what I call casual writing, and a focus on nuanced, tighter deliveries that presents actual value to the reader," Chua said.
"He's got a good eye for a news angle, and a good eye for turning what can be some very basic quotes from monosyllabic athletes sometimes into something that's a little bit more compelling," Randall said. "I wouldn't have guessed that he had a more unconventional background coming into it just from the standard of his writing."
Pitman knows that nothing is certain, particularly in the industry he's chosen. "I've got a long way to go before this is a genuine career or something I can be comfortable," he said. "To this point, I still wonder at times where this is going to go or whether it's going to work out." Time will tell whether he'll return to Milwaukee full-time, but he's given himself a chance that would have seemed impossible not that long ago.