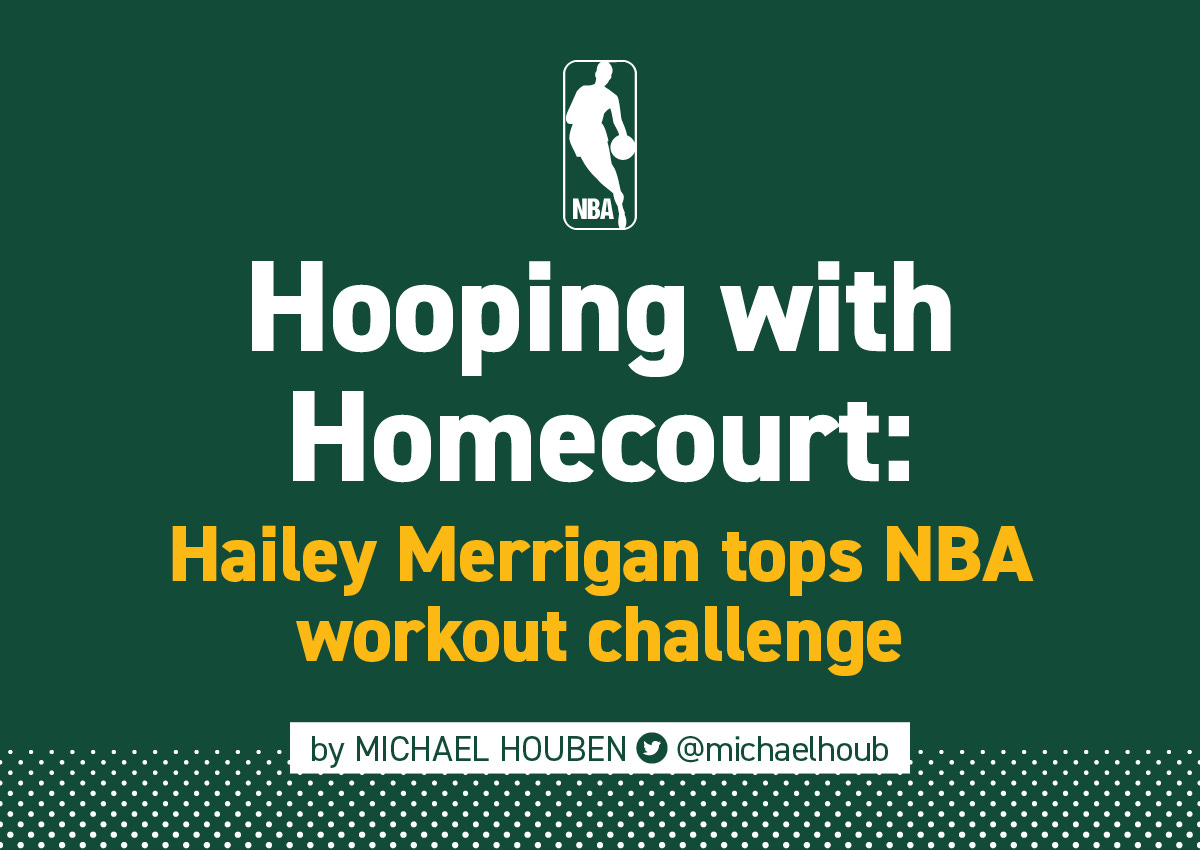 The COVID-19 lockdown in Victoria has let down many young hoopers hoping to return to the sport they love anytime soon. For Hailey Merrigan, being stuck at home isn't going to stop her from chasing her dreams.
The Dandenong Rangers young gun may not be playing with her 18/1's or Youth League side right now, but she's still been putting in plenty of work. After logging 8 hours and 44 minutes using the NBA's Homecourt app, Merrigan was named as a winner of the NBA Academy Challenge.
Thea Awad 🇦🇪 and Hailey Merrigan 🇦🇺 WENT HARD this week 💪💪💪
#SheGotGame
Read below to see how 12-year-old Thea 🇦🇪 has been spending her time at home!
Nowadays, due to covid-19 I am spending most of my times at home. My days start with online school and studying till almost 4PM, a quick break and then I start my daily home workout wich contains fitness training (
@OWQLO
and
@homecourtai
) and ball training (
@homecourtai
) for around 1.5h-2h. Leaving the rest of my day for TV and entertainment (social media, family games...). Sports wise I'm looking to improve my fitness and ball skills (gain ball speed, reflexes...). Moral wise I'm looking forward to improve appreciating everything I have; starting from my family, basketball academy, school..."
The app, which provides basketball workouts and challenges to players, puts results up on leaderboards, which was enough to get the competitive juices flowing for Merrigan. The 30,000 dribbles recorded were, from her recollection, more than double anyone else on the app.
"I wanted to make it clear that I was first", Merrigan said. "It was very motivating - moreso than beating my own score, beating other people. There were other people that were really good at ball-handling, so I was just trying to beat them."
It's that hard work and competitiveness that has gotten her to great places in basketball already. Despite starting representative basketball as a top age under 12, Merrigan said she was largely overlooked until top age under 16's, when she made her first 1's team.
"I've been a bit of a late bloomer, I guess. I think more so just being noticed, I think when you're in the lower teams it's hard to get noticed, and once your in the stronger teams it gets easier - there's more people watching."
Fortunately for her, she's got plenty of eyes on her now. The 16 year old was named to the Under 18 Victorian side for the unfortunately cancelled 2020 Australian Junior Championships, as well as the 2020 Australian National Performance Camp earlier this year.
At 6'0, Merrigan has great size for a perimeter player her age. With great athleticism, she excels attacking the rim on offense, and uses her tools to bother players on the defensive end. With such a skill-set, it's no shock who she models her game after.
"My favourite player is Kawhi Leonard. I think we're kinda similar in the way I'm not talking to the refs or other players, I'm just focused on the game. I'm seen as fairly defensively oriented, and I think he's good at that. Paul George is my other favourite player, so when they teamed up it was like the best thing ever."
Looking forward, Merrigan's current plan is to continue rising up the ranks of basketball in Australia, going to University after year 12 and planting her sights on the WNBL in the process.
"I've always said I wanted to play for Dandenong in the WNBL, but now they're the Southside Flyers, so I'll hopefully get to play for them. They're a pretty good team at the moment, so that would be a pretty big goal."
Beyond that, Merrigan's goals are lofty - but with her talent, and demonstrable work ethic, the sky is the limit.
"Like anyone else, I want to represent Australia, and the ultimate goal would be to go to the Olympics."