Here's why Duop Reath's EuroLeague debut is one to watch out for
Before Reath's EuroLeague debut in Istanbul this weekend, we preview what will be a watershed moment for the South Sudanese Australian.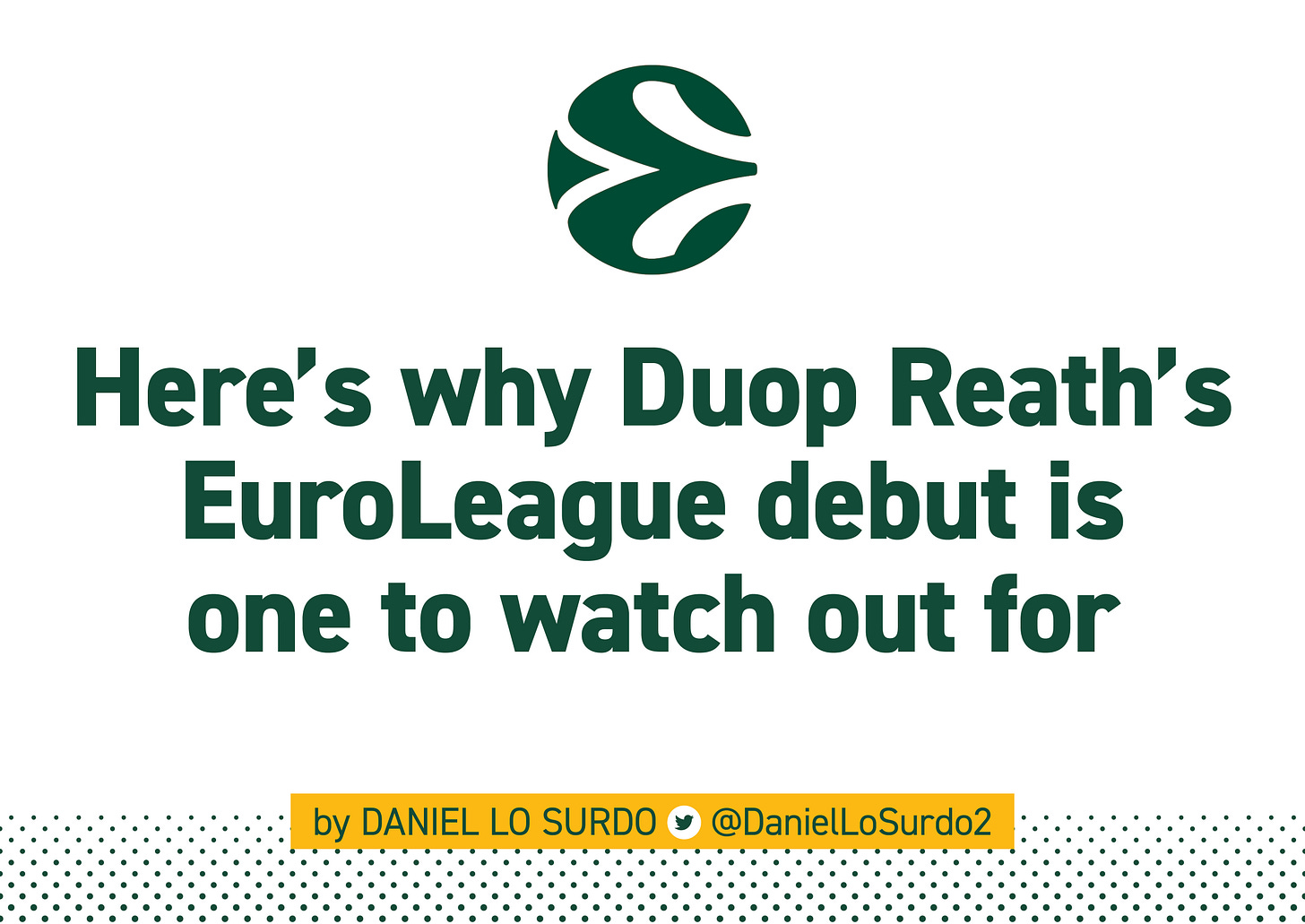 Duop Reath will embark on his first EuroLeague campaign early on Saturday morning (3:45 AEST) with Serbian powerhouse KK Crvena Zvezda (Red Star) against Turkish side Fenerbahce at the Ulker Sports Arena in Istanbul. Earning his spot on the continent's highest stage after two impressive seasons with Belgrade neighbours FMP, Reath stands as the sole Australian man on the EuroLeague stage this season after fellow countrymen Brock Motum and Jock Landale moved on from continental sides Valencia and Zalgiris, respectively.
Before Reath's first appearance on the highest European stage, we prepare you for what promises to be an enormous moment in the 24-year-old's career.
A colossal matchup
A matchup against reigning EuroLeague MVP Jan Vesely awaits Duop Reath on the Bosphorus Strait. Since arriving in Istanbul after a three year NBA stint, the Czech Jet has announced himself as one of the continent's true elite, earning All-EuroLeague First Team honours in 2016, 2018 and 2019, while taking out the competition in 2017. The 30-year-old talisman has thrived as the focal point of Fenerbahce's offence, where his craftiness and basketball IQ has seen him excel in both half court actions and the open floor.
While projected starting centre Ognjen Kuzmic will begin the clash on Vesely, Reath's athleticism and energy promise to make the NBA lottery pick earn every point.
Vesely (#24) enjoys playing in the open court, where his quickness often results in uncontested dunks that frustrate opposition centres unable to match the pace of their defensive assignment.
If called upon, Reath can offer a unique coverage of Vesely that could limit Fenerbahce's dominance on the fast break. Reath's speed and lateral quickness as a 6'11" centre promises to mitigate his opponent's success in transition, as he will be able to clog the defensive paint to alter shots or be able to block attempts from smaller opponents funnelled into the paint in semi-transition to begin Red Star's counterattack.
In the half court, Vesely receives the majority of his touches either in the paint or at the top of the key where his handle and strength against mismatches often has devastating effects for the opposition.
It is more than likely that Red Star will elect to 'ice' the ball screen in pick and roll actions involving Vesely, where the on-ball defender will force his opponent away from the screen and towards the sideline, a similar coverage that CSKA Moscow used in the clip above. The success of this defensive scheme is largely predicated on the screening defender's lateral quickness and positioning, as getting caught between a blitz and drop coverage (see above clip) will allow the offence time and space to develop quality shots. Reath presents an ideal skillset for this pick and roll coverage, as his club will be hoping his agility and defensive versatility will force Fenerbahce to progress to alternative looks that will keep the ball out of Vesely's hands.
While the 12-time Turkish Champions may attempt to keep Reath away from their lethal two-man game, it is as a weakside help defender where the fringe Boomer causes the most disruption at the rim. During last season's campaign with FMP, ABA League coaches typically ran their pick and roll actions with Reath's defender in the weakside corner to exploit poorer defenders. If Fenerbahce implements similar tactics on Saturday morning, Reath will be poised to either alter or reject shots at the rim, where he can to return to the 1.7 blocks an outing registered in his first year in ABA competition (2018/19).
Notice in the clip below, Reath cancels Slovenian side Koper Primorska's initial pick and roll action with an aggressive hedge to force the ball back to the middle before he then blocks the opposing guard at the rim through a strong weakside read.
A chance to prove his value on the highest stage
In his first year with the Crveno-beli, Reath will be battling against Kuzmic and Emanuel Terry for the bulk of minutes at the five in Belgrade. After winning respective NBA and EuroLeague championships with the Golden State Warriors and Real Madrid, Kuzmic is widely projected to occupy the starting role to begin the side's campaign on the continent, leaving Reath and former Miami Heat five Terry to fight for time off the bench.
As a 43.4 per cent three-point shooter, Reath can offer Coach Saša Obradović a fast-paced brand of basketball with the Perth native at centre. While starring for FMP in the 2019/20 season, Reath's rim protection combined with his formidable athleticism allowed his side to develop a strong transition offence. In the open court after a defensive stop, his ability and willingness to rim run saw the Australian catching alley-oops for his teammates, capitalising upon mismatches in the post against sides unorganised in transition, or receiving outlet passes from the backcourt to finish in an uncontested paint.
While Reath has all the offensive tools to shine on the continent's highest stage, it will be defensively where the Australian can cement his place in Red Star's rotation. He can be used as a defensive fulcrum against sides implementing five out motion offences, where his lateral quickness as a seven-footer can nullify any mismatches that may be created without compromising the side's rim protection without a traditional centre in the unit. If Reath can prove that he can fill this 'small ball' role for Obradovic, the LSU alum will be primed for a strong career in the Serbian capital.
In a star-studded lineup boasting 2016 EuroLeague MVP Nando de Colo and Vesely, Reath's first introduction to the continent's elite will be anything but simple. Fenerbahce plays a smothering brand of defence, where they prey on deflections and turnovers to capitalise on an open court where their stars enjoy uncontested baskets at the rim. With Reath's athleticism and speed, a genuine opportunity for extended minutes beckons against the 'Run and Gun' style of Fenerbahce basketball. Inserted as a small ball centre matched up against either Vesely or Trinidadian Johnny Hamilton, Reath will typically be positioned either in a dunker's spot or on the perimeter in Red Star's half court offence. From these areas of the court, Reath will be crucial to stopping either the outlet pass that will start Fenerbahce's fast break or the easy baskets of the Efsane at the rim, as Reath's speed in transition will allow shot contests in the painted area to nullify what is an integral part of his opponent's offence.
In Red Star's offensive system, Reath has a chance to shine against a Fenerbahce front court questionable on the defensive glass. Anchored by Vesely at centre, Fenerbahce registered the third-worst defensive rebounding rating (21.11 a game) across last season's EuroLeague competition. While the Istanbul-based side has brought in German forward Danilo Barthel to strengthen their physicality in the key, Fenerbahce's tendency to concede second-chance points presents a perfect opportunity for Reath to provide his side with extra shots or even make a highlight play for himself.
In last year's EuroLeague campaign, Red Star found considerable success in their 'five out' motion offence, where they manipulated the defence's man-to-man coverages to create quality shots out of their two-man game. At the five, Reath will be tasked with finishing around the rim when his defender blitzes the ball handler or will be afforded looks to continue his hot shooting form while slipping or fading out of ball screens.
Reath's capability from the perimeter will strengthen the potency of his new club's offence, as his sharpshooting exploits will create driving and cutting lanes for the American backcourt of Langston Hall and Jordan Loyd to exploit in a deserted painted area.
A landmark occasion for the South Sudanese-Australian basketball community
A new chapter in Reath's career will begin Saturday morning, where he will be competing every week in the second-best league in the world. And the journey that Reath has endured to reach this stage makes this achievement all the more impressive.
Reath was born in the village of Waat in the Nyirol County of what is now South Sudan. He fled his home at the age of nine after the Sudanese civil war broke out, landing in Brisbane before settling in Perth with his family.
After initially picking up a basketball in the northern suburbs of Perth as a teenager, Reath left his home in Girrawheen to forge a collegiate career, initially at Lee Community College in Texas before rising to NCAA Division I basketball at LSU, averaging 12.5 points, 5.3 rebounds and 1 block an outing in the 2017/18 season, his senior year.
Reath's debut in the European top-flight signals another significant occasion for the South Sudanese basketball revolution in Australia. Reath will join the likes of Thon Maker and Mangok Mathiang as war refugees now plying their trade at the highest levels of their profession, displaying to the rest of the world the immense cultural diversity and multiculturalism celebrated in modern Australia.
While Reath continues to develop his craft in Belgrade, it looks that his European adventure is only just starting to take form and that the challenges that he has been forced to overcome in the first 24 years of his life will only strengthen what promises to be a fruitful career.
---
Duop Reath's debut can be viewed on EuroLeague TV. Tipoff is scheduled for 3:45 am (AEST) on Saturday the 3rd of October.