Discover more from The Pick and Roll
We're all about Aussie hoops. Independent, objective analysis and commentary. Insightful narratives built around Australian basketball. Read about our men and women in the NBA, WNBA, NCAA, Europe, national teams, NBL, WNBL, NBL1, prospects and more.
Over 2,000 subscribers
Headed North: Katie Ebzery ready to lead the Lynx
We caught up with Ebzery ahead of her third season with the Lynx. She shares her thoughts on the WNBL hub, Perth's new coach and much more.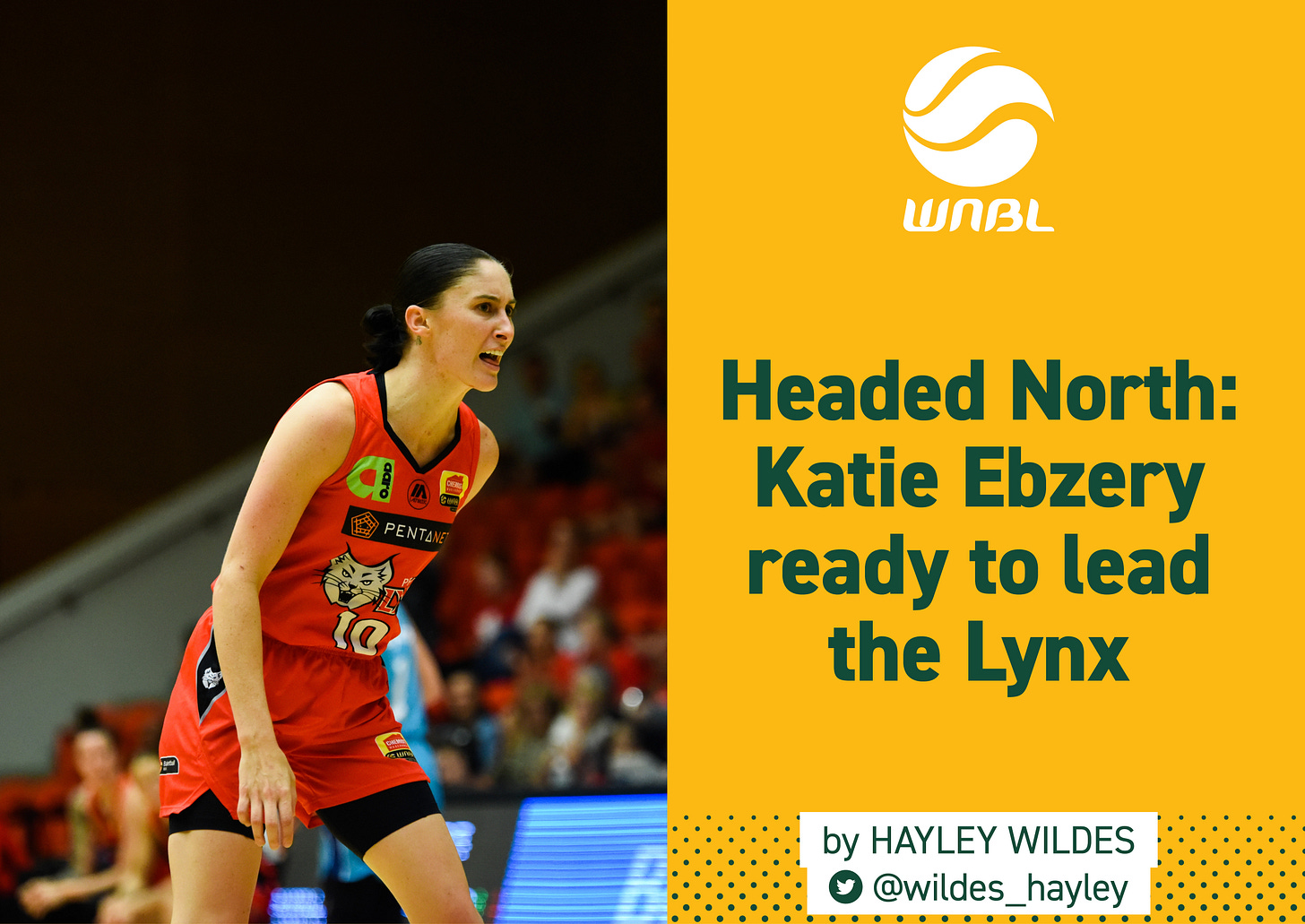 Credit: JBC Studios
---
Katie Ebzery is the type of player you love to have on your team. The Perth Lynx star is tough, leads from the front and can produce some outrageous stat lines – as proven by a clinical performance last season against Adelaide which saw her finish with 22 points, 15 assists and 7 rebounds.
Gearing up for her third season with the Lynx, Ebzery knows many things will be different. Perth has a new head coach in Ryan Petrik, which results in a new game plan, a host of new players and of course the biggest change of all is that all WNBL games will be played in a North Queensland hub.
Ebzery knows these changes will require time to adjust to, but she's excited about what lies ahead for the Lynx.
"There's going to be a lot of learning with a new coach, new system and a new team as well, but I'm excited. We've got some really exciting attacking weapons this year and I think there's going to be a super aggressive and attacking style with obviously some defence in there as well," Ebzery said.
"We have some pretty tall guards too, so we'll be able to junk it up a bit defensively. I think we'll be super potent offensively, then we just need to get our defence right as well in order to compete with the best."
Ebzery spoke about Petrik —who had been an assistant in Perth since 2015— taking over the reins as head coach.
"He's very much a student of the game – he watches a lot of basketball, has his own philosophies and how he wants to play. He's very much created a team that suits how he likes to play and he's going to put people in the best position to be successful based on their skillset," she said. "He's been really great so far, super positive and he plays an up-tempo, spaced and fast style of game, which suits the team we have, so it's very exciting."
Despite the Lynx missing out on Finals last season, Ebzery's play was tremendous. She did it all on her way to averaging 16.3 points, 4.4 rebounds and 4.2 assists per game, which saw her claim club MVP honours.
When asked what worked for her last season, Ebzery highlighted spending the majority of her time at the shooting guard position as being key.
"I kind of slotted back into my natural position at the two a bit more last year, which obviously opens you up a bit more to scoring, compared to playing point guard sometimes. I think that definitely helped me have the season that I had last year."
Her glittering season was rewarded by being named once again to the Opals squad. Despite the Olympics having been postponed, Ebzery —along with all of her Australian teammates— remain locked in on the goal of medalling in Tokyo next year.
"We've done a lot of Zoom calls in this time away and apart because it's obviously hard to stay connected when we can't physically be together. The coaching staff have worked really hard to maintain that connection and obviously keep that goal at the forefront of our minds, especially because it is coming around really quickly," she said. "A lot of us have been together for a long time now, so when we do get together it doesn't take long for us to get back into a groove."
Speaking of Opals, there is certainly some superstar Aussie talent coming back to the league this season and Ebzery knows that's a great thing for the WNBL.
"It's always exciting. Those girls have really done well on that platform over in America and I think it's pretty cool that they're Aussies and representing us on that stage," she said. "It's cool to have them in the league, especially on my team rather than playing against them all the time! I'm definitely looking forward to having Sami [Whitcomb] back with us, and it's always great to play against the talents like Leilani [Mitchell] and Liz [Cambage], and Ezi [Magbegor] as well."
When describing what it's like to have a flamethrower like Whitcomb on your team, Ebzery got straight to the point.
"It's helpful – I'm sure anyone would say that about Sami," she said with a laugh.
"It's very helpful having someone like that on your team and it helps other players out because the defence is so mindful of her that it opens everything up and opens up other opportunities for players too. It's great that she can shoot the ball like she can, but she also opens up space because of her ability to shoot the ball."
There's no doubt that this WNBL season will be unusual, but for Perth, perhaps the biggest positive is the fact that there will be no travel.
"I'm looking forward to [the hub] – I think eliminating the travel will be a big one, especially for us being in Perth. Being able to concentrate on games and maximise those days in between with recovery and not having to travel I think will be of benefit," she said.
"On the other hand, it is going to be hard – a lot of us haven't played this many games in this kind of format for a long time, since our juniors, so it will be interesting for sure to see how everyone manages it."
As the saying goes; the more things change, the more they stay the same. With Katie Ebzery, you can expect the same consistently terrific output night in, night out in what is sure to be a memorable WNBL season.