Discover more from The Pick and Roll
We're all about Aussie hoops. Independent, objective analysis and commentary. Insightful narratives built around Australian basketball. Read about our men and women in the NBA, WNBA, NCAA, Europe, national teams, NBL, WNBL, NBL1, prospects and more.
Over 2,000 subscribers
"He should be in the NBA!" Could Sam Froling be drafted this year?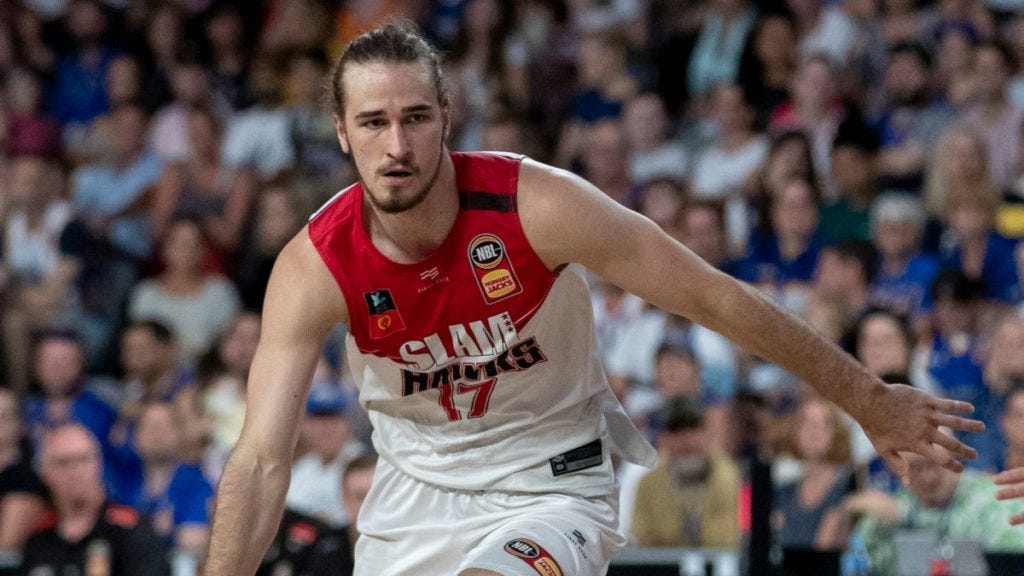 For several years now, Sam Froling has been one of Australia's most promising juniors. Through participation in the 2017 Basketball without Borders Camp and the 2018 Global Camp, Froling's name hit global scouting shortlists.
With strong performances across many high level junior competitions, he consolidated himself as a prospect to keep an eye on. In the 2018 Australian Junior Championships, Froling averaged 19.7 points, 11.8 rebounds and 4.5 assists per game.
When playing for the Centre of Excellence (CoE), Froling averaged 11.4 points and 7.3 rebounds over 9 games during the 2018 SEABL season. He also represented Australia in the 2018 FIBA Under-18 Asia Cup to the tune of 14.2 points per game on 64.4% from the field, 9 rebounds and 2 blocks per game, and knocked down 5-7 from three. Later that year, in the 2018 Albert Schweitzer Tournament, he also impressed, averaging 14.9 points per game, 8.3 rebounds an efficiency rating of 17.6.
Froling had quickly cemented himself as one of the most productive junior players of his class in the world, and landed himself at #1 on The Pick and Roll's incoming freshman list for the 2018-2019 season.
Despite such an impressive resume of production, it's been an unusual course for the big man since. After a quiet freshman season at Creighton, he returned to play in the NBL1 for the Dandenong Rangers, followed by a rookie NBL season with the Illawarra Hawks.
It's been an unconventional route, sure, but it's continued to be a successful one at every stop since leaving the college system. With Dandenong, Froling averaged 16.9 points, 7.6 rebounds and 1.8 assists per game. He also featured at the FIBA Under 19 World Cup, putting up a team-best 11.4 points and 7.7 rebounds, with a handy 3.1 assists per game which ranked him second on the team.
2019/20 NBL season
At Illawarra, Froling only played 12.6 minutes per game and was in and out of the lineup with different injuries, but it was still an impressive feat for the 19 year old, and he was very productive when he hit the floor. Per Spatial Jam, On a per 36 minute basis (and excluding Lachlan Dent, who only played 5 minutes all season), Froling was fourth in scoring at 17.1 points and third in rebounds at 9.6.
In a respect, this is a level of production that rivaled Next Stars like LaMelo Ball, RJ Hampton and Didi Louzada. Obviously making a linear extrapolation from 12 minutes per game, which doesn't account for lineups, stage of game, and a variety of other factors is not foolproof, but looking at the box scores, his numbers don't appear to be skewed by low minute outings and instead point to more favorable production in games where he played a bigger role.
Froling's modest season appeared to have more to do with opportunity and fit than capability. At 6'11, it would figure that Froling's natural position was the five, as it has been at every other previous level, but the Hawks already had AJ Ogilvy and import Josh Boone filling the centre rotation. Fortunately, Froling's mobility and skill-set allowed him to slide into minutes at the four, but it was also a position with plenty of competition. David Andersen, small-ball minutes from Tim Coenraad and Todd Blanchfield, jumbo minutes from Ogilvy, and a three game cameo from import bust Billy Preston kept the rotation in a constant state of flux, and Froling found his minutes to be inconsistent.
It also didn't help that Froling was on by far the worst team in the league - the 5 win, 23 loss Illawarra Hawks, led by a 18 year old point guard. Not only was his minutes and role all over the place, but he was on the most ill-fitting and talent deprived roster in the league. It wasn't the ideal environment to show out ahead of a chance to put his name in the draft.
Scouting report
To assess Froling's draft chances, we need to break down what's made him so successful over the levels of play we've seen him at so far.
Primarily, Froling has a really high skill base. His modern skill-set allows him to play both inside and out. As a scorer, Froling has the ability to face up, hit the jump-shot or drive and finish. Alternatively, he also frequently switches to a back to the basket game, where he has a versatile post-up repertoire and can finish with either hand, including hooks. His value is boosted by a high feel and IQ, exhibited by his exceptional assist numbers for a big across FIBA competition.
This versatility is more scarcely found the bigger prospects are, and at 6'11 (it should be noted, some sources have him at 7'0, but there isn't a recent measurement on him), it's quite a rare combination. Beyond his size, Froling has a smooth mobility to his game that allows him blow past slower-footed fives on offense, and doesn't automatically relegate him to more crippling drop coverages defensively which can often be a deal breaker in modern NBA prospect evaluation.
Even more crucially, Froling brings these elements to the table without sacrificing size or effectiveness on the boards. Froling has been a strong rebounder across multiple levels, and his still able to employ his size advantage and interior game against more small-ball fives or fours.
Whilst Froling lacks the flash or standout run-jump athleticism or physicality that so typically defines stereotypes of top draft picks, his size, functional mobility, and skill-set make him a truly modern big. His versatility makes him a potential match-up problem, and more and more NBA teams are taking note of these attributes during prospect evaluation.
Part of the reason for this shift in evaluation has been the recent success of less conventionally athletic bigs. Nikola Jokic's rise to super stardom has smashed conventions of what it takes to be a successful NBA big, as his lack of foot-speed and leaping ability has done little to stop him from becoming a bonafide franchise player.
While Jokic is the 99th percentile example, there's been plenty more that fit the mold. Marc Gasol, Nikola Vucevic, Kevin Love, Domantas Sabonis, Al Horford, and Joakim Noah have all experienced success as high end starters with All-Star appearances through intelligent 2-way play and versatile skill-sets, despite a lack of high end athleticism.
Comparison: Domantas Sabonis
While the list of established All-Stars is a high-end outcome that realistically, Froling is highly unlikely to achieve, it does paint a blue-print for success at the NBA level for players of their archetype. I want to focus on one particular player from that list for comparison, and that is the Indiana Pacer's Domantas Sabonis.
Sabonis may be a 2020 All-Star this season, but at 19, he was a college player for Gonzaga university, and from there, some parallel's can be drawn to Froling as a prospect.
Firstly, I want to touch on the physical comparison. At 6'10, Sabonis actually measures up slightly smaller than Froling, and with a 6'10.5 wingspan, he's not a particularly long athlete. While Froling doesn't have an official wingspan on record, his length passes the eye test quite soundly, so it's safe to say that Froling has an advantageous profile in terms of dimensions. Neither are above the rim athletes, but both are reasonably mobile and are reasonably athletic in a more holistic sense.
Skill-set wise, there's a lot of similarities, and these are particularly apparent through footage because of their left-handed aesthetic.
Both players operate in a variety of areas. Sabonis can pick and pop, where he has range out to the three point line, and the mobility to straight line drive if overplayed and score in the paint. He can also pick and roll, where he is a capable mid-range shooter, an adept passer off the short roll catch, and a versatile finisher around the rim with either hand and great footwork, much like Froling. Both players' passing can also be utilised through higher dribble-hand off situations, and the combination of skills and physical traits for either front-court spot allow them to play in a myriad of different lineups. For instance, Sabonis has shown success working in tandem with fellow centre Myles Turner, as well as with smaller power forwards.
To draw too many parallels would be to mislead into a hyperbolic comparison, however, so it's important to note the differences. For all of Froling's tools, he's yet to really refine any particular skills to an elite level.
Froling shot 26.7% from three in the 2019-2020 NBL season, on a 4/15 sample, and we've yet to see his playmaking, recording only 8 assists in 17 games. His role as a rookie certainly had a part to play in the latter, and his volume of three point attempts was extremely small, so neither figures are particularly damning, but it leaves a level of mystery as to whether those elements of his game will translate to a higher level. His three-point shooting in particular appears to be a work in progress, as he also only shot 21% through the NBL1 season with Dandenong.
There's certainly positive indicators - his shooting from three has been efficient on small volumes across junior competitions, he was a good free throw shooter in the NBL season (16/22 - 72.7%), and his form is functional.
The other notable difference between Froling and Sabonis is the frame. Listed at 104kg, Froling isn't excessively lighter than Sabonis, but, (even college) Sabonis has a large, chiseled frame and a strong base that makes him a really tough cover in the post for top level athletes, a formidable screener, big time rebounder and someone more than capable of playing the 5 spot in the NBA. One of Froling's biggest swing factors when it comes to his development and upside will be to get in optimal playing shape, putting on size whilst retaining his mobility.
Statistically, Sabonis was putting up 9.7 points and 7.1 rebounds per game in only 21.6 minutes as a freshman, and doing so on a whopping 66.8% from the field, so it should be noted that both players were at extremely different stages of production for their age, even as 19 year old's. What is worth highlighting, however, is that Sabonis did not shoot a single three his freshman season, and took only 15 his sophomore year (hitting 4), and his assist rate, per 40 minutes, was only 1.6 a game his freshman year, and 2.2 his sophomore season. This shows that while those elements were not present or given the opportunity for at that time, he was still able develop those aspects of his game to a point where they are both clear assets for him at the NBA level (Sabonis averaged 5 assists this year for the Pacers and is a knock-down mid-range shooter who occasionally steps out to the three).
The other statistical factor worth highlighting is the block rate. So often, defensive value for bigs is gauged by block rates, and whilst it is often a strong indicator of rim protection, it's only one of many factors that make up a big man's defensive identity. While Sabonis' lack of vertical pop and outlier standing reach limit his ability to block shots (Sabonis averaged 0.6 blocks a game over his two seasons at Gonzaga, and averages 0.4 a game over his NBA career), he's an intelligent team defender who has good positioning and physicality.
Froling's block rate over junior play (1.3 a game in the Under-19 World Cup, 1.8 per game in the 2017 Oceania Championship, and 2 a game in the Under -18 Asia Cup), as well as superior height (and presumably wingspan) are all positive indicators that Froling can serve as a better rim protector, but this was another statistical negative over Froling's NBL season, recording only 1 block over 215 minutes of play.
Fortunately, Froling also has a reputation as a solid team defender. Basketball NCAA described Froling in 2018 as a "better defender than he seems, not very quick or athletic, but good time-reaction and steps slides covering space.
Also knows how to use his long arms to block driving lanes or to wall up match-ups in the post."
There's plenty of differences between the two, but there's also enough similarities, so it's an NBA comparison worth drawing. That's not implying Froling's career trajectory is anything similar, but if he can develop his game in a similar way, he may be able to turn himself into a valued NBA player.
Draft chances
Sam Froling's name hasn't had much buzz relating to the 2020 draft, but he's an auto entrant, and you never know what team has been doing their due diligence and has an eye on the 20 year old as a potential diamond in the rough.
Every year, teams like to take international 'sleepers' and use them as draft and stash or two way candidates. Last year, examples include Didi Louzada (#35), Deividas Sirvydis (#37), and Vanja Marinković (#60), and in 2018, Issuf Sanon (#44) and Arnoldas Kulboka (#55).
We've also seen a bunch of young players in a similar mold get plenty of draft hype over recent years - in particular, Jontay Porter and Allen Smailagic. Both players aren't particularly big or athletic, but are highly skilled bigs, and the league continues to show that it values those attributes in the modern NBA game.
Whilst his brother didn't have any luck last year, Sam is more mobile on his feet, has a more promising frame to develop physically, and has less potential question marks regarding his career history. His situation should also appeal to NBA teams, as they can choose to either stash him back in the NBL going forward and watch for his development, or sign him to a two-way deal and have him develop with their G-League affiliate.
Also helping his cause, the 2020 draft projects to be one of the weakest in recent memory. Whilst the top end is notably weaker than prior years, the depth of talent is also lacking, and it opens up greater opportunity for Froling to be picked up somewhere in the 2nd round.
This week, I spoke to Maceoballer, who has written for Eurospects, Basketball NCAA and Courtside Diaries. He's been following Froling for many years, and he remains intrigued at Froling's long term potential.
"Samson Froling has been always an intriguing prospect in my book because of his appealing mix of size, offensive versatility and IQ.
"He's got plenty of moves with his back to the basket, is skilled with the ball in his hands, and has a sweet 3pt lefty stroke that fits with the modern stretch-5 type.
Not athletic but long, he and knows how to use his body and length on the defensive end; walling up and contesting shots, blocking a good amount.
"Not a natural playmaker as a 7'0 footer, but he has enough bounce to make his way in the lane, has always shown an eye from pass in the low blocks, and also developed his passing ability on the move and in high post situations of late."
With some luck, NBA evaluators feel the same way, and take a chance on the young big man. If we're particularly fortunate, we may even see him drafted and returned to the NBL to develop.
Every year, fringe prospects declare for the draft, but Sam Froling has a chance to sneak in to selection this year. If not, he's shown plenty of promise to develop in to a star NBL player, and should he remain playing domestically, he can always play himself into Summer League or NBA contract opportunities down the line.
Either way, we have a promising young Aussie on our hands. The next step, assuming he signs, is to take his game to a new level in the NBL1 this off-season. Should he be back in the NBL next season, it would be great to see him in an expanded role, potentially as a starter, and given opportunities to flex his passing vision and overall skill-set.