Discover more from The Pick and Roll
We're all about Aussie hoops. Independent, objective analysis and commentary. Insightful narratives built around Australian basketball. Read about our men and women in the NBA, WNBA, NCAA, Europe, national teams, NBL, WNBL, NBL1, prospects and more.
Over 2,000 subscribers
Shawn Redhage: Wildcats Mt Rushmore?
It was a moment, like so many during the course of a regular season game, that led to a turnover. Tellingly, this moment could have crystallised in the eyes of many, the end of the line for a legend of the sport.
Instead, it helped encapsulate why he is a legend.
Many here will recall Tim Duncan, battling Father Time better than any elite sportsman before him. Timmy was leading the count for 18 years then overnight looked 55, a battered and broken down old man, gasping on the last vapour fumes in the tank.
It happens to all the great ones eventually.
To observers of this moment, his time was up. He obviously didn't have "it" anymore. Was he now doing more harm than good being on court?
There he was, top of the key. Ball in hand and 4:52 left.
It's the last quarter. "Winning time" as Magic Johnson once famously said.
A hero was still to be cast and they live for these moments.
The Perth Wildcats are only up four, clawing for room, trying to hold off a suddenly electrified foe making one last gasp effort.
With a record of 11-12, a monumental game in the attempts for an historic 31 straight playoff bout.
The Wildcats in a tight and tense battle. It was deja-vu for them in a topsy turvy 2016/17 season; another winnable game was slipping from their grasp.
'The Jungle' as tense as ever; the once frenzied atmosphere is much quieter now. Stressed, not really understanding the implications of missing a post-season would mean as many had never felt the disappointment.
In this pressure filled environment, his team in need, the old workhorse's tank was now seemingly empty. Despite his best intentions of providing a winning play, a spark, he had nothing to give. The still proud warrior could no longer conjure any magic from within.
His body, a cruel millisecond behind the mind.
With 4.52 left, the officials whistle resonated. The high pitched shrill echoing up to the cheap seats for a moment.
Offensive foul, number 42 - Shawn Redhage.
Melbourne United ball.
Father Time was drawing ever closer to another victim.
Clinching victory in front of the close-knit Red Army, a delirious following captivated by his prowess for so long, would need to be cajoled by someone else tonight.
He was done, and probably doing more harm than good now.
Like so many weary champs before him, Shawn Redhage still had one more great moment left.
A mere seven seconds later, Chris Goulding casually and forcefully knocked down another three. Perth's lead was now down to one. Melbourne was coming fast and Perth needed a saviour.
Up step number 42, Shawn Redhage.
For the last few minutes of action, he wanted it more than anyone else. He literally had a hand in everything.
Two clutch free-throws. Three enormous steals. A rebound. An assist. One Huge Floater.
It was his only field goal for the night and it proved to be the difference; Wildcats victorious and still in the hunt for history.
---
The Man. Shawn Redhage.
Shawn Redhage competes on the edge.
He is scrappy and loves to niggle his opponent with a lot of unnecessary pushing (flailing) and shoving (flopping). Always in your face, looking for a way to get inside your head and put you off your game, even just a bit. You have to be mentally strong and wary when you play Shawn. He has been known to fool an official, with his craftiness, he'll suck you in too if you're not ready.
Often, these tactics blur the line between being a hardcore competitor or a thuggish, flopping cheat. It is the sole reason he is both reviled and revered in league circles.
Putting that aside, it is the dogged determination and relentless edge which enabled Shawn to come back from career-threatening hip surgery in 2011. It's what enabled him to forge a stunning 13-year career many thought a fairytale.
Following 11 lacklustre games for the NZ Breakers, then playing in the SEABL, to now retire as an NBL great was clearly going to require every ounce of effort and gamesmanship...if we can call it that.
---
The Resume.
When you glance over his career numbers, they are phenomenal yet under appreciated. They highlight his longevity and consistency for one of the NBL's best franchises.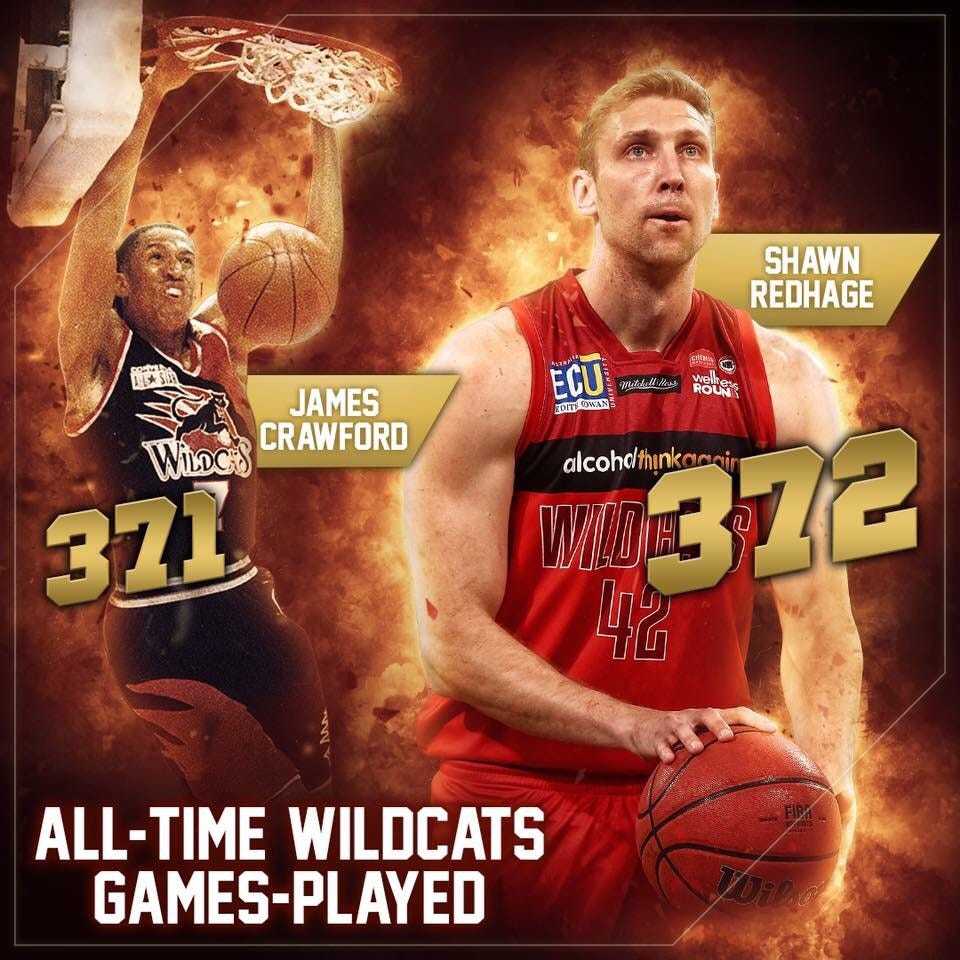 Career Totals and Wildcat All-Time Rank (as at the 4th Feb 2017. Includes playoffs):
2nd in games played - 372

3rd in points scored - 5649 (15.2)

4th in rebounds - 2076 (5.6)

4th in assists - 1006 (2.7)

8th in steals - 254 (0.7)

5th in blocks - 179 (0.5)

2 X All-NBL 1st Team - (08, 10)

3 X Championships - (10, 14, 16)

6 X Gordon Ellis (club MVP) Medal - (06-11)
NB: It must be noted, from the 2009-10 season the NBL's 40 minute era began. All other players at the top of most of the career leader boards played 48 minute games. Shawn's final numbers and averages would almost certainly be higher. Alas, the missing 8 minutes is far larger debate for another time.
---
Hanging From The Rafters.
There is little doubt the number '42' will rightly hang alongside the other greats of Wildcats lore. With his recent retirement announcement bringing a finality to one of the franchise's great careers (was it a final call to arms?), plans should already be underway to celebrate this all-timer and retire his number as early as next season. Why waste time?
So who will 42 be sidling up to, in this most rarefied of air?
The current list of hanging names have gone well beyond 'household' to became legendary. Each, is synonymous with a tireless devotion to excellence and a fervent pursuit to winning. They are - Number 6 (Mike Ellis), 7 (James "the Alabama Slammer" Crawford), 14 (Scott Fenton), 15 (Ricky "amazing" Grace), 21 (Andrew Vlahov) and 30 (Scott Fisher).
Shawn Redhage won't be out of place.
---
Mount Rushmore.
Whenever the final buzzer sounds to bring a close to #NBL17 for the Wildcats, Shawn Redhage, will hang up the sneakers and gingerly waddle off the court a champion. Of the NBL, not just Perth.
One of America's favourite things is ranking the best. It could be for anything. To categorise the best of the best, meant you had to be on Mt Rushmore and if you are on someone's Mt Rushmore, that means you are one of the four greatest to them.
Has Shawn had the type of career that would usurp one of the incumbents on the Wildcats mountaintop? Has he built a strong enough legacy to cause a re-modelling of Cat Rushmore?
Today, (hidden away in a secret location 18 km NW of Perth Arena) the hypothetical Cat Rushmore is carved with the silhouettes of: the rock solid brute - Andrew Vlahov; the handsome and chiselled bag-o-walnuts - Scott Fisher; the blurred lines of speedy, hubcap thief - Ricky Grace, and the carnage left below from a soaring Alabama Slammer - James Crawford. Seriously, those four and me... still winning titles.
There is no debate or disputing their standing within the Wildcats pantheon. They are the cream of the crop. They are the cream and the crop!
Until now.
It is the view of many (one that I share) that Grace, Crawford and Vlahov are untouchables as Perth's three greatest ever players. Most have Scott Fisher and Mike Ellis rounding out the top 5. The combined imprint on the Wildcats story by these five, can be seen all through the NBL history books.
Given Shawn's career numbers and the chance (even a slim one) at a 4th Championship, it's getting pretty hard to deny him pushing past first runner-up, Mike Ellis, and probably Scott Fisher too (which almost sounds sacrilegious to even contemplate).
If Perth had Scott during his North Melbourne Giant days, when he was an otherworldly basketball colossus (he once had 37 pts and 29 rebounds in a final!!), then we wouldn't be having this conversation. At all.
Scott Fisher compiled Wildcat averages of 17.4 PPG - 8.6 RPG - 2.6 APG and 1.1 SPG. They are slightly superior averages compared to Redhage, but he played more minutes. Where Shawn is able to separate himself is: the 6 MVP's compared to 2 MVP's for Fisher and the 3 championships (from 5 Finals) as opposed to 2 championships for Scott.
It's a tough call, thankfully it's hypothetical and there is no right or wrong here.
---
Writer's note: Shawn, should you ever read this, you should be immensely proud - as all of the Wildcat fraternity is - for what you accomplished in this foreign land that became your home. Like Grace, Crawford, Vlahov, Fisher and Ellis before you, your legacy - one forever entwined with the Perth Wildcat franchise - will endure for many a year.
You are one of us.
Well done, mate.