Six Aussies to participate in Basketball Without Borders 2020
Six Australians will be participating in the sixth annual Basketball Without Borders (BWB) Global Camp, as announced by the National Basketball Association (NBA) and the International Basketball Federation (FIBA) on Friday. The top 64 boys and girls from 34 countries and regions will travel to Chicago, USA for the event, which will be held 14-16 February at Quest Multisport as part of NBA All-Star 2020.
Coaches this year will include current NBA players like 2020 NBA All-Star Pascal Siakam (Toronto Raptors; Cameroon; BWB Africa 2012), Davis Bertāns (Washington Wizards; Latvia), Tacko Fall (Boston Celtics; Senegal) and 2017-18 NBA All-Rookie First Team member Lauri Markkanen (Chicago Bulls; Finland; BWB Europe 2014. Siakam, Bertāns, Fall and Markkanen are also joined by former WNBA players Ashley Battle, Michele Van Gorp and Ebony Hoffman, as well as select players participating in NBA All-Star 2020.
The camp will feature 15 current prospects from NBA Academies, the league's network of elite basketball training centers around the world for top male and female prospects from outside the U.S., and 12 prospects who participated in The NBA Academies Women's Program, a series of basketball development camps for top female prospects from outside the United States at the league's academies.
On the girls roster, Victorians Jade Melbourne and Olivia Pollerd, both also from the Centre of Excellence (CoE), will be representing Australia. Male prospects participating in the upcoming camp, that hail from Canberra's NBA Global Academy includes Josh Giddey as well as Biwali Bayles, Blake Jones and Tamuri Wigness, all of whom have represented Australia previously at the national level. Wigness, who had joined the fifth annual BWB Global Camp in Charlotte, was crowned three-point champion at the conclusion along with fellow Australian Gemma Potter last year.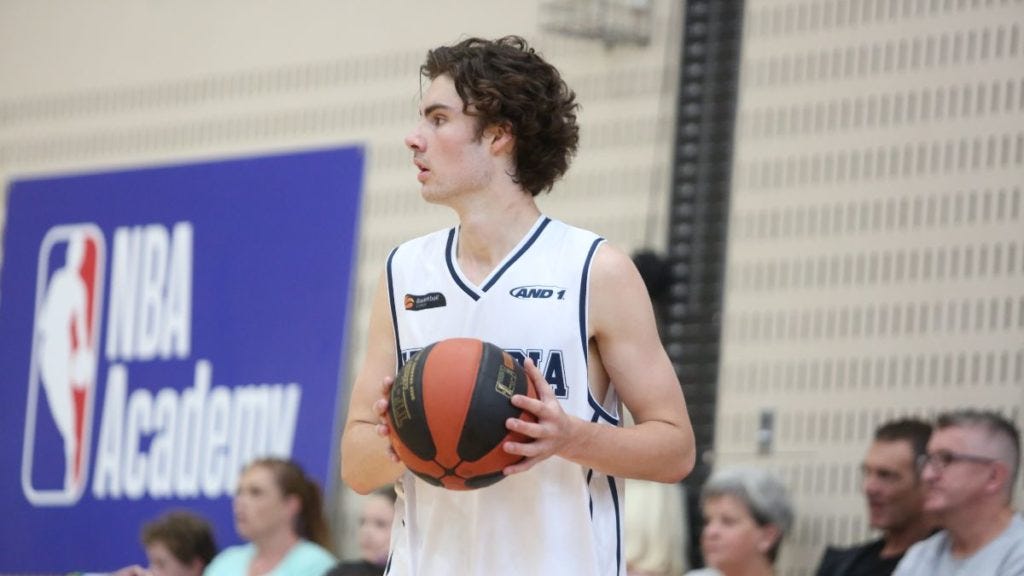 Credit: Basketball Victoria
According to Fox Sports Australia's Olgun Uluc, forward Mojave King decided to not participate at the camp - no health issues were noted. Giddey, an all-around 6'8 point guard with excellent playmaking vision, was recently crowned MVP at the 2020 Torneo Junior Ciutat de L'Hospitalet in Barcelona, Spain. He has yet to declare his commitment to college or other options, which could include going pro and heading to the NBL's Next Stars program.
The campers will attend State Farm All-Star Saturday Night and the 69th NBA All-Star Game at United Center. Nike, a global partner of BWB since 2002, will outfit the campers and coaches with Nike apparel and footwear.
Follow the camp using the hashtag #BWBGlobal on Facebook, Twitter and Instagram. Find out more about NBA Academies at nbaacademy.nba.com and on Instagram (nbaacademy).