Discover more from The Pick and Roll
We're all about Aussie hoops. Independent, objective analysis and commentary. Insightful narratives built around Australian basketball. Read about our men and women in the NBA, WNBA, NCAA, Europe, national teams, NBL, WNBL, NBL1, prospects and more.
Over 2,000 subscribers
Gems cruise past Korea to remain undefeated | FIBA U19 Women's World Championship
The Australian U19 Women's squad cruised past Korea to finish the group stages of the FIBA U19 Women's World Championship with an impressive 3-0 record.
Kristy Wallace led the charge with an impressive 8 points and 6 assists in the Gems' 87-38 victory to remain undefeated in the tournament.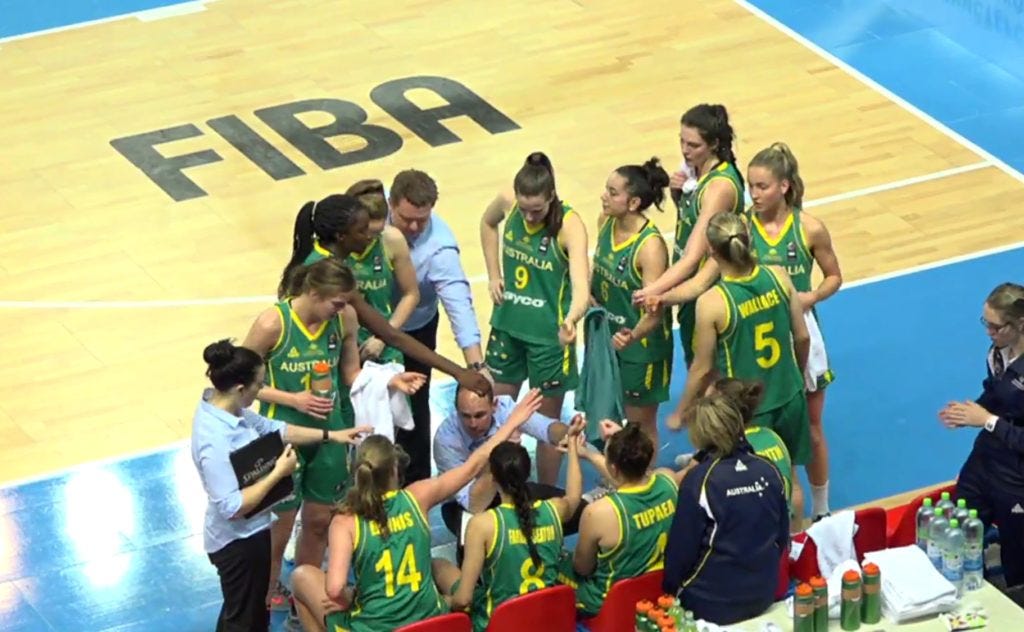 ---
Coming into the game as the clear favourites, the Gems were looking to be aggressive on the offensive end. Despite a good start for Australia, Korea was able to knock down a few shots from the perimeter, giving them a 7-6 lead early in the period.
Back-to-back 3-pointers from Alanna Smith and Kristy Wallace saw Australia regain their confidence, and the lead, with the Gems leading 20-15 at the end of the first quarter.
The Gems began the second quarter on an 8-0 run, led by Lauren Scherf and Chantel Horvat to extend their lead to double-digits. Scherf, in particular, asserted her dominance inside the paint, while also doing a great job passing from the top of the key.
Despite the Gems' fluidity on the offensive end, they struggled with their execution, but their defence held up, with Australia heading into the main break with a 33-19 lead.
The third quarter began with some impressive play from the Gems. Despite giving up a layup to start the period, the Gems responded with a 10-0 run, capped off by some impressive team play in transition, leading to an Alicia Froling layup. This extended Australia's lead to 41-21, forcing a Korean timeout.
Froling continued her great play throughout the quarter, with the Gems leading 58-26 at the end of the period.
It was smooth sailing for the rest of the game. Wallace did a great job leading the charge offensively for the rest of the game, while the Gems remained firm on the defensive end. Chantel Horvat also finished the game on a high, scoring 10 of her 12 points in the fourth quarter alone.
The Gems would ultimately cruise to an 87-38 win, holding Korea to just 21.4% from the field.
Lauren Scherf and Alicia Froling would each put up 13 points apiece, while Ezi Magbegor posted 12 points and 4 rebounds.
---
Watch a full replay of the game below. The boxscore can be found here.
---
The Gems will face Mali during Wednesday's action, tipping off at 10:15pm (AEST), with the winner of that game qualifying for the quarterfinals.