Discover more from The Pick and Roll
We're all about Aussie hoops. Independent, objective analysis and commentary. Insightful narratives built around Australian basketball. Read about our men and women in the NBA, WNBA, NCAA, Europe, national teams, NBL, WNBL, NBL1, prospects and more.
Over 2,000 subscribers
Garbin and Madgen: The Fire is stoked and ready to engulf the WNBL
After being founded in 2001, the Townsville Fire has become a powerhouse in the WNBL.
Behind the star power of Suzy Batkovic, the Fire won three championships in 2015, 2016 and 2018 to dominate the league. However the 2019/20 season will see Townsville step out without the star that underpinned their golden run, having retired at the end of last season.
In what is being referred to around basketball circles as the 'post-Suzy era' the squad has recruited fiercely and will sport a distinctly different, albeit potent look this coming season.
Having fought her way back into the Opals team at the recent FIBA Asia Cup, Abby Bishop is a huge addition a dominating the QBL for the Townsville Flames. The ever competitive and versatile Kate Gaze also makes a welcome return following a recovery from an ACL.
The squad also sees a change in coach following the departure of Claudia Brassard, with former Coach of the Year, Shannon Seebohm, taking charge.
The Pick and Roll spoke with two of its stars in Darcee Garbin and Tess Madgen about their thoughts on the upcoming season and how the squad was preparing.
Darceee Garbin is passionate about calling Townsville home as well as calling the Fire her team. Having grown up in country Western Australia she feels comfortable in what Townsville represents with a country vibe but with a supporter base who is passionate about their team.
"Moving to Townsville from the Waves was a massive change in terms of the level of professionalism and the way that the club was run," Garbin explained in speaking with The Pick and Roll.
"I love how this place is a tight knit community and everybody kinda knows everybody and when you're out and about people will come up and have a chat with you."
The 25-year-old forward made her professional debut with the Australian Institute of Sport during the 2011–12 season before playing for three seasons for the West Coast Waves (now Perth Lynx) in her home state. Her on court performances led to her being recruited by the Fire as well as being called up to represent her country at the FIBA Asia Cup this year.
"It's an absolute honour every time you get to represent your country," Garbin added. "So to be named in that squad was massive and it has always been a goal of mine.
"We were a little disappointed with the outcome but really enjoyed the tournament and coming away with a medal."
Garbin acknowledged the absence of Batkovic was a huge loss for the Fire this season, but she explained that the program was confident moving forward.
"We did have a little taste of how we could get on last year while she had that injury for a lot of her last season," she outlined. "Although we are fairly prepared from that its going to be really weird not having her there."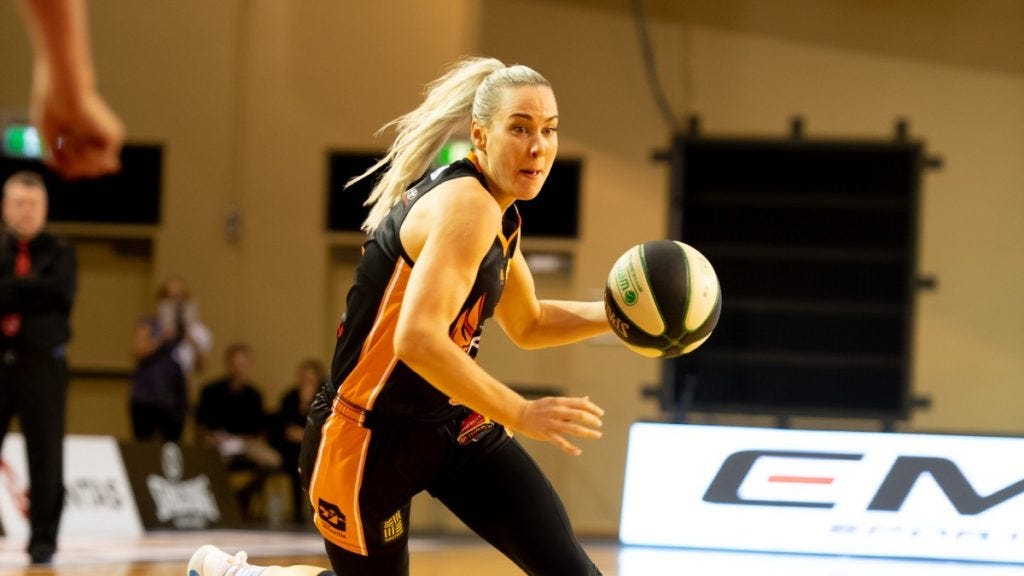 Tess Madgen | Credit: Neale Winter
Tess Madgen returns to the squad for a second season and also had high expectations ahead of the first game of the season.
"You obviously will never be able to replace Suzy but I think the club has done a great job in recruiting and recruiting a great new coach. It's a new era for the club and we are excited about that," Madgen explained.
Madgen understands that the change in squad will require her role to evolve to reflect the changes to the team.
"I am going to definitely have to look at scoring a lot more and I have been doing that in the pre-season along with attacking the rim," added Madgen. "While we don't have a giant inside we are adapting to other ways of getting the ball inside, such as penetration, which really suits me. We have a lot of players who can shoot the ball and the coaches' style I feel will really matches me."
With Seebohm hired as coach, Madgen advised that the squad has been positively buying into his plans for the season.
"Shannon is a great coach who puts players in positions where they are most confident," said Madgen. "He has put a lot in place and we have all bought into that style. Although he didn't put the team together, it is pretty crazy how much belief he has in everybody, and that will really make us keep playing at our best."
With the Fire commencing their 2019/20 WNBL campaign against the Southside Flyers on Saturday night in Dandenong, Garbin could not resist the opportunity to challenge both her team and the rest of the league.
"I believe we are a top four team but we are going to be doing everything we can to get ourselves in the best position possible for February," she enthused. "It's about us as a group and what we want to get out of it."
After an effective off-season that has seen strong recruitment and the addition of a new coach, the Fire is stoked and ready to engulf the WNBL.