Discover more from The Pick and Roll
We're all about Aussie hoops. Independent, objective analysis and commentary. Insightful narratives built around Australian basketball. Read about our men and women in the NBA, WNBA, NCAA, Europe, national teams, NBL, WNBL, NBL1, prospects and more.
Over 2,000 subscribers
The future of the WNBL without the ABC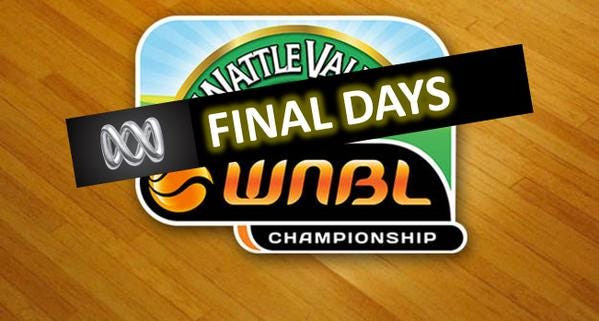 The WNBL was projected to be in a better state than ever before. The league was able to attract high-quality Australian and international players back to play in Australia. A naming rights sponsor in Wattle Valley was found, and viewers of the weekly game broadcast by ABC was at an all-time high. The WNBL was performing so well, it managed to attract Cappie Pondexter - a legend of women's basketball, and currently playing in the WNBA for the New York Liberty.
Currently, the WNBL's ability to be broadcast nationally is in turmoil. Reductions have been imposed on the ABC by the federal government, who have requested the national broadcaster to find cuts of $254 million over 5 years.
ABC's broadcasting vans were a critical tool for the broadcast of women's sports. However, a decision was made to sell its vans, unfortunate victims to these cost-cutting reductions. ABC will no longer broadcast the WNBL, thus ending a 35-year partnership between both organizations.
These cuts put the league in fear of a loss of sponsorship, lack of ability to retain and attract players, as well as an overall decline in those attending the games.
Loss of sponsorship due to decreased exposure would be horrendous for the WNBL, and women's sport in general. In an age where the media landscape is heavily driven by the exploits of male athletes, large organizations fail to see the positives in investing into women's sport when compared to male sport. Male sport dominates media attention, providing organizations with increased air-time and exposure towards their brands.
The sponsorship that the WNBL is able to attain is of high importance to cling onto, as it's difficult to obtain. This sponsorship from organizations is then put into not only producing a better match-day experience for the viewer, but it's also required to produce payment for our female athletes. If sponsorship is revoked, the WNBL and its eight clubs will also be forced to make cuts in order to remain financially competitive.
It has been suggested that if the league receives no broadcasting exposure, league salaries that are currently on average $300,000 per team will drop sharply to only $120,000. This represents a 60% decrease in the salaries of each individual club, limiting its abilities to retain and attract players, where there are more lucrative deals to be found in playing overseas.
This would lead to a trickle down effect in the overall match-day experience of those who choose to attend WNBL games, the only possible outlet to view the WNBL after the ABC chose to cut the broadcasting of this exceptional league. The quality of play which we're currently experiencing will decline heavily as players leave to earn higher-paying deals overseas. Clubs may also have to increase prices on admission and food and drink prices, in combination with other various cuts such as half-time entertainment in order to avoid the same fate as the Logan Thunder.
Increasing venue hiring charges, throw further concern onto the future viability of the league without public broadcasting, with Adelaide Lightning owner Vince Marino raising these concerns this off-season.
"A very dark day for Women's sport" - Lauren Jackson, ABC to cut coverage
Lauren Jackson, arguably Australia's current most prominent female basketball player described the WNBL as a "sacrificial lamb" to the Federal Government's decision to slash ABC funding. As one of the prominent female players who has arrived on Australian shores this off-season, including WNBA Finals winners Cappie Pondexter and Penny Taylor, Jackson is understandably outraged. The league was on its most positive level in decades in terms of competitiveness and public awareness. She had been drawn back to Australia, only to have the league come under threat.
Public interest in the league will dissipate unless a practical alternative is found. Young women need to be able to look to the TV and see role models to base their lives upon, providing an outlet for young women everywhere to succeed. A lack of broadcasting for the WNBL will lead to a drop in interest levels from its younger female demographic, which has raised widespread fears that young basketball players could be lost to netball.
All of these is an unintended impact of the federal government's decision to impose reductions on the ABC's public broadcasting.
The future of the WNBL lies with its ability to convince another broadcaster to televise the league. Channels 7, 9, 10 and Fox Sports have all been floated as possibilities to televise the WNBL, as well as new Australian subscription sports channel beIN sport by those concerned with the future of Australia's premier woman's basketball league.
A live streaming service similar to the NBL's "nbl.tv" which will live broadcast every WNBL game has also been suggested as a potential option.
The Opals, Australia's national women's basketball team are currently ranked 2nd in the world. The men's team is currently 11th, which is a small indicator of the wealth of talent that is being developed within Australian basketballing circles. The Opals are coming off a bronze medal placing in the FIBA World Championships, after a loss to first-ranked USA in the semi-final set the Opals up with a 30-point win over the home nation Turkey in the bronze medal game.
Ten of the twelve who represented Australia in the tournament have currently returned to play in their home nation. The strength of the WNBL to retain and attract players is rapidly increasing. Hypothetically, it shouldn't be difficult to find a broadcasting deal with another station.
The popularity of the league is increasing too, with WNBL broadcasts frequently beating out its older brother the NBL in viewership. The November 15th game played between the University of Canberra Capitals and West Coast Waves produced 46.000 viewers, whereas the NBL broadcast between Perth and Townsville on November 14th only attracted 36,000 viewers nationally.
"Is it a disappointment and is it inappropriate women's sport is cut? Yes it is in my view. Does it provide another opportunity? Absolutely." - Carrie Graf, ABC cuts tragic but produce new opportunity
Carrie Graf's response to the news that the WNBL would no longer be shown on the ABC has been perfect. Instead of dwelling on the scenario brought upon us, we should see this broadcasting issue as an opportunity to produce a better result for the league in the long-term. Through encouraging fans to "vote with their eye-balls", Graf is actively promoting those concerned to tune in towards the public broadcasting and attend games as often as possible for the rest of the 2014/15 WNBL season.
For the league to secure a new broadcasting deal, it's imperative that the final few games on ABC and in-stadium attendances produce large viewing numbers, to prove to the next potential broadcaster that signing a deal to televise the league is in their best interests.
The decision to cut public funding for the ABC is horrendous. Through the cuts that have now indirectly affected the WNBL, the ability to reach out towards rural and regional markets especially is diminished. Those in regional cities that aren't in adequate distance of attending games will no longer have an outlet to view the league, which is a cruel injustice.
Instead of dwelling on unfortunate circumstances, it is time to prove that the WNBL is well deserving of being publicly broadcast. Netball has been the beneficiary of a fantastic broadcast deal with Fox Sports, and it can't be hard to argue that basketball isn't as equally as deserving as the talented netball superstars to be shown nationally.
Throughout the final eleven rounds and consequent finals this season, have Carrie Graf's words consistently flow through your head.
"Vote with your eyeballs" - Carrie Graf, ABC cuts tragic but produce new opportunity
Doing so will give the WNBL its best opportunity yet.