From Victoria to Valencia: Dale Ryan's coaching journey
With over 20 years on the sidelines, we sit down with the Valencia coach to discuss his journey to Spain and the EuroLeague.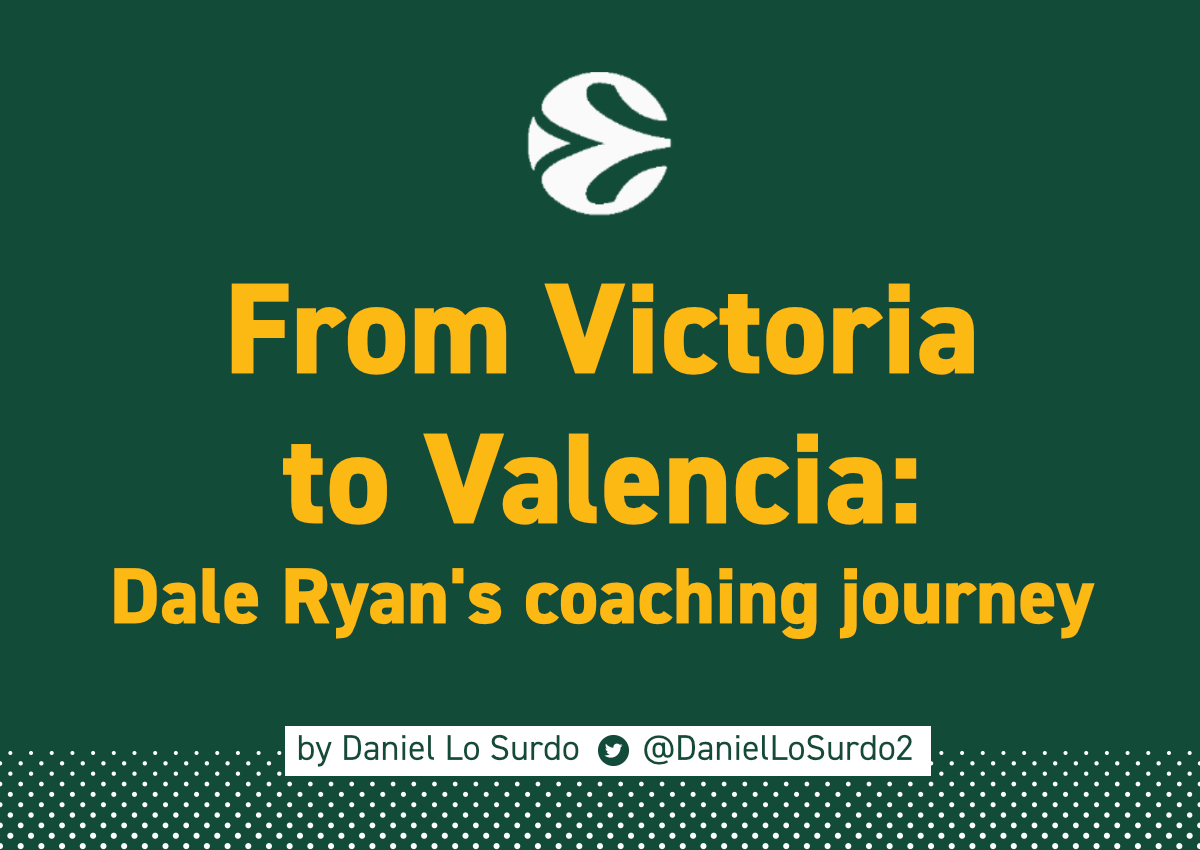 Dale Ryan stands as an Australian basketball coaching pioneer like no other. 
In a coaching career stretching over two decades, Ryan has left his philosophical and strategic imprint all over the basketball world. His journey has led him to Spain, where he now oversees player development as an international coach for Valencia, one of the only clubs in Europe boasting both male and female representation in the continent's top flight. 
But Ryan's journey to the Taronges was anything but straightforward. 
Growing up on the outskirts of Melbourne, Ryan was first handed a basketball at his family home as an eight year old. As the eldest of three boys, it was under that hoop where some of his most cherished memories in the game were formed.
"There were no indoor courts in the town we lived in, so we played predominantly in our driveway," Ryan told The Pick and Roll in an October conversation. "It was something that was a big part of our childhood growing up, as well as playing football and cricket, but basketball was what we were introduced to at a reasonably young age."
The resilience and versatility developed in his backyard saw Ryan represent the esteemed Victorian basketball program on countless occasions in the late 1980s. He then signed on as a development player under ex-Boomers coach Brett Brown at the North Melbourne Giants, where he helped his side win the 1994 NBL title. 
"[Brown] was always there to impart his knowledge and experience," Ryan said. "His approach was probably ahead of its time in Australia now, we're talking early 1990s, and I think that reflected in the success the team had."
After playing nine years in the Victorian State League, Ryan's focus switched to coaching in 2001, joining Basketball Queensland as their Lead High Performance Network Coach. A year later, Ryan accepted the head coach position of the Northside Wizards in the Queensland Basketball League (QBL). An impressive three-year stint led Ryan to the NBL, where he joined Joey Wright's Brisbane Bullets staff as an assistant coach. It was Wright that helped Ryan influence many of his basketball philosophies that were still materialising after only a handful of years on the sideline. 
"I'm always grateful for the opportunity that Joey did give me as a coach who was very young, and Joey, in one of his first coaching experiences to put that level of trust in someone like me, it's something that I'll always be indebted to," Ryan said. "The big things that I learnt from Joey was that ability to challenge players, to get the best out of them as individuals, as teams, but also maintain a level of connection with players both on and off the court that I think was a large part of the successes that we had as a team."
Reciprocally, Wright has been extremely complimentary of Ryan's coaching ingenuity and eye for talent.
"[Ryan] carries real skills in thinking outside the box and coming up with different drills to push guys to do things they normally wouldn't do," Wright told the QBL in July of 2009. "His scouting and ability to identify tendencies of teams —players and coaches— along with his player development and ability to identify and correct issues are things he does exceptionally well."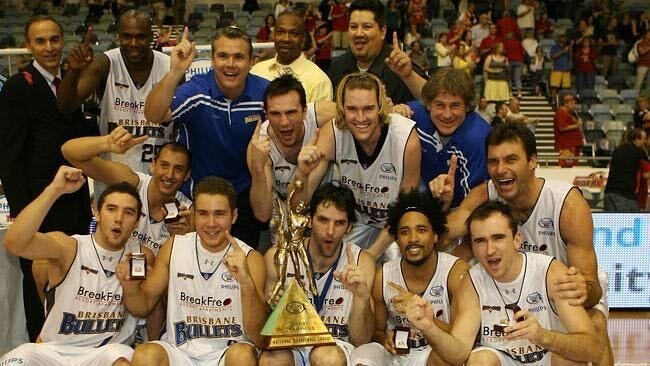 Image: Supplied
After the Bullets disappeared from the NBL in 2008, Ryan returned to the QBL, this time with the inner city-based Brisbane Capitals. Initially joining as the Director of Basketball Operations and Development, Ryan took the head coaching reins in January of 2009, where he earned plaudits for his management of personalities and motivating a squad absent from any imports. 
Ryan made the move back home after four years with the Capitals, enjoying stints as Hawthorn Basketball Association's General Manager, SEABL men's assistant coach at Knox, and High Performance Coach and Mentor at Maribyrnong Secondary College. While in his home state, Ryan served as the assistant coach for the Under 20 Victorian men's side that was crowned National Champions in 2016, led by Tournament MVP and now Collingwood AFL player Tom Wilson. 
It was in January of 2017 when Ryan decided to trade Australia for Europe, when he travelled from Melbourne to England's West Midlands, joining both the University of Worcester and British Basketball League (BBL) club Worcester Wolves as the Director of Basketball. Growing the sport in a nation still finding its love for the game was an opportunity that Ryan felt was too tempting to refuse. 
"The game in Britain, for me, both in the lead up to and during my time there, reminded me a lot of where Australia was at probably 20, 25 years ago," Ryan said. "There's a lot of exciting potential there [Britain] and hopefully it will be supported in infrastructure so awareness in the country will increase, and we can see the successes similar to what Australia had over the last 20 years within the United Kingdom."
It was in Europe where Ryan came to appreciate the similarities between the Australian and European philosophies of the game. 
"The biggest thing, first and foremost, is the types of athletes that European and Australian basketball systems work in," Ryan said. "The ability to pass, the ability to find the open man, the ability to play within a five-on-five team setting is definitely something that there is great comparison between Australian and European basketball."
In Ryan's first year in Worcestershire, the Wolves finished the regular season fifth with a 20-13 record, managing to cause a playoff upset against the fourth-place Sheffield Sharks before missing out on a finals berth by two points against the Newcastle Eagles. Following his first season directing basketball operations at Wolves, Ryan was appointed head coach of the British Under 18 3x3 men's team and appointed as National Program Manager for 3x3 basketball. 
"It [coaching 3x3] was a great learning curve for me and a very fast-tracked learning curve about the game," Ryan explained. "You've got a lot more space to work with, you've got a lot less options, so you have to be quite skilled and be able to finish well at the basket." 
Travelling across Europe and coaching in the distinctive arenas of 3x3 FIBA competition was an unforgettable opportunity for Ryan, who had to alter his coaching style for the faster-paced game.
"It was a fantastic setup, the spectacle — especially at night when the lights were on, it was a really cool experience," Ryan said. "During the game itself, you don't really have the interactions with the players that you typically do in a five-on-five scenario, you don't call substitutions, you're sitting in the stands like the rest of the crowd. From the start to the finish, the game is totally in their control."
Ryan held this position throughout his second year with Worcester, where the Wolves bowed out of the BBL playoffs in the first round after finishing the regular season with a 19-14 record. Through two seasons in England, Ryan was a crucial figure in strengthening the connection with eventual employers Valencia that developed both the professional and personal growth of the Wolves and Valencian athletes. 
"We [Worcester] had a very early stage partnership with Valencia Basket," added Ryan. "I was involved in an offseason summer basketball camp, where we brought players over from Spain with some of the Valencia coaching staff to conduct a week-long, live-in basketball camp in the UK. Bringing Spanish and UK players together to use basketball as a platform to develop both basketball skills, basketball knowledge but also to aid language development and cultural experience."
Through visiting and working with the Spanish club, an appreciation for Valencia's culture and philosophy was cultivated. 
"During my time at the University [Worcester], I was very fortunate to come to Valencia on a number of occasions and develop a relationship and partnership with the club. Every time I came [to Valencia], in the back of my head I'm thinking that I have to find a way to get here."
Ryan eventually did find his way to Valencia in September of 2018, where his international pedigree is proving to be an invaluable piece to player development at the Taronges. In the third-largest city in Spain, Ryan is exposed to the world class infrastructure of the European elites, highlighted by the club's L'Alqueria del Basket Training Facility. The centre, only unveiled in 2017, covers 15,000 square metres, boasts 13 courts, and reportedly cost over $36 million. 
"I've been very fortunate to travel the world and to see facilities at an NBA, a US college, at a professional level in Australia, and this facility [L'Alqueria] is right up there," Ryan said. "The opportunity to each day step in the doors and work there is a privilege."
Ryan has been trusted with sharing the club's basketball culture with the rest of the globe, using L'Alqueria as a crucial element in assembling programs at all levels of the game.
"One of the big things is to bring people through the facility and to experience the Spanish approach and the Valencia Basket way," Ryan said. "It's a great environment to capture, the way they approach things, and to share with the greater basketball world and to have a lot of relevancy, from the beginner coaches right to coaches who want to be full-time professionals."
In over two years in Spain, Ryan has conducted coach and player development tours in Australia, launched the Assist Prep Academy helping 18-21 year olds navigate the next chapter of their careers, provided Australian coaching tours at Europe's most successful clubs, and most recently developed an education portal connecting coaches at all levels to Valencia's philosophy and resources.
But while Ryan transitioned seamlessly into the Valencia organisation, living in Spain proved hardly as smooth. 
"It's been challenging," Ryan explained on living in a country where English is a second language. "It's been a learning experience for me to try and develop my Spanish language skills and to integrate myself and our greater family into the Spanish way of life." 
Despite being over 17,000 kilometres from home, Ryan has found some underlying similarities between Valencia and Australia. 
"Spanish people enjoy family, they enjoy their time away from their work, and that's something that goes hand in hand with what happens in Australia. There's aspects of it that are similar and are very easy to integrate." 
As for the future, even Ryan is unsure where the game will take him next. 
"You never know what the next opportunity is," Ryan said. "Working in basketball and the global growth of the game, you've got to be willing to move and travel."
While his future remains somewhat unclear, Ryan won't rule out a return to the sidelines back home. 
"It does excite me what's happening in the NBL at the moment," Ryan said. "That's definitely something that would influence a move back home, to get back into coaching."
But in the present, Ryan continues to enjoy the adventure that has led him to the other side of the planet. 
"As someone who grew up in a small country town in the outskirts of Australia to now be on the world stage and experience all these things, it's been an honour and something I've been really appreciative of."