Friday Five: Simmons' scoring streak, Baynes' hidden talent, Ingles fun and Exum's maturity
Welcome back to the Friday Five. Let's bounce around the NBA and cover five of the very best storylines in the league this week.
1. The subtle brilliance of Aron Baynes
It has always been impossible to quantify Aron Baynes' impact through traditional counting statistics. The subtle ways in which Baynes facilitates winning basketball – or one percenters to borrow a phrase from AFL parlance - don't shine through when looking at points, rebounds and assists.
Thanks to the NBA's oversaturation of analytics we now have means of measuring Baynes' impact to the Boston Celtics. Beyond being a plus player by every advanced metric, Baynes is among the NBA's elite in three key hustle statistics.
On a per minute basis, Baynes ranks first in the NBA for screen assist points created (18.7 per 36 minutes), second for screen assists (7.9) and second for charges drawn (0.8).
When it comes to setting screens, Baynes, standing at 208cm and 117kg, is one of the most lethal distributors of a hard screen in the NBA. Even from just standing in the middle of a half court set, the stocky Australian is able to clear out space better than most. Watch here as Jayson Tatum is able to walk into a clean jumper after Baynes cuts off his defender.
https://gfycat.com/CloudyMassiveDuiker
This was a constant sight in Boston's game against Atlanta over the weekend, as Baynes racked-up a bounty of screen assists against a slight Hawks front line.
This next play might be my favourite Baynes related moment of the season, as he not only clears a shooting pocket for Marcus Morris by stonewalling Taurean Prince, but he also draws the most quintessential of frustration fouls in the process.
https://gfycat.com/PaltryFinishedKestrel
Frustrating is an appropriate descriptor for Baynes' offensive game. He continues to annoy opponents through his ever-expanding talents. With Baynes now shooting the basketball better than ever, he is also a consistent off-ball option for the first time in his career.
One final note on Baynes: his defence remains criminally underrated. Athleticism has never been his trump card, but a strong intellect has allowed Baynes to leverage his robust frame into great defensive angles. This possession, full of rotations and movement from Baynes, is flawless from an NBA five man.
https://gfycat.com/wanshinylice
2. Ben Simmons' scoring boost, warts and all
Let's start with the positive. Ben Simmons recently completed the best scoring run of his NBA career. Over a four game stretch to end last week, the Australian scored at least 19 points in each, and averaged 21.5 points per game. Both marks are career-high totals across any four game stretch as an NBA athlete.
More important than the scoring itself, was the fact Simmons averaged 14 field-goal attempts per game. This represents the most shots Simmons has taken over a prolonged period since his early days as a rookie.
Look into the numbers and you quickly identify that there hasn't been a change in how Simmons does his work; the uptick in personal offence can be tied directly to his more aggressive disposition. The majority of his shots are coming from familiar spots, with 80% of Simmons' field goals attempts this past week coming from inside of five feet to the basket.
Simmons attacking the rim with greater regularity is a good sign for the Sixers. Especially considering his finishing numbers have increased after a poor start to the season. But the fact Simmons' jumpshot remains non-existent means the Sixers offence is still prone to momentary ugliness. Case in point was this play from Brooklyn on Sunday.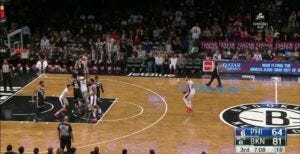 Regardless of how well Simmons can shoot the ball, he needs to start taking these shots. Simmons' shooting woes are largely overblown, but there comes a point where attempts are needed and plays like the above represent these very moments.
Brett Brown was asked on Wednesday night if he would like Simmons to take more outside jumpshots to deter opposition teams from packing the paint.
"I don't think his jumpshot is going to define him and then now, all of a sudden things, are going to change. I saw Rajon Rondo win a Championship and do a lot of great things without that.
"My mind is still… how do you play defence at the level we want? His post game. He is 6'10". Whether it is a turn and face out of an isolation spot or a pound pound jump hook. And his free throws.
"He is 22-years-old. That's not delivered as an excuse. That's a really young player. Sometimes we forget, because he is that good, that he is 22-years-old. It will happen. It's going to happen more on his terms than the coaches. He's just got to feel comfortable. He didn't do it at LSU either. He's pretty good even without it.
"I do concede that he is going to need it at some point but I definitely don't think it is going to define him."
3. Simmons and Butler – tied at the hip
We are two weeks into the Jimmy Butler experiment and a clear trend has developed within Brown's rotation. The Sixers are staggering their four best players, with Joel Embiid and J.J. Redick forming one tag team, and Butler and Simmons being the other.
With Butler on the team, Redick has played 188 of his 219 minutes with Embiid, while Butler has played with Simmons in 234 of 245 minutes. It's still early, but there is one noteworthy development within the Butler-Simmons pairing, and that's a disastrous defensive output. When Embiid sits, the Butler-Simmons pairing has a defensive rating of 125.3, per Cleaning the Glass.
That is an anaemic figure. Many issues characterise the Sixers defence – namely an inability to contain opposition guards in the pick-and-roll – but any lineup featuring Butler and Simmons has to be better. Both have the ability to defend at an elite level and these results are unacceptable. Butler has only been a Sixer for seven games but this is something to watch.
According to Brown, the Sixers defensive woes start at the point of attack.
"The obvious things are the pick-and-roll and the water bug guards that are dynamic in the pick-and-roll," Brown explained on Wednesday.
Brown is also cognisant of the workload being forced upon Butler.
"When you study it, Jimmy Butler is now our primary defensive player on ball carriers. Robert Covington used to do that. That's a hard job. To have the demands and expectations offensively that Jimmy does, then come back and have that job defensively, where you're really asked to do it all.
"With Covington, he'd be dogged on the ball and make his occasional three and do other things. Jimmy is doing it all. He has been in more pick-and-rolls with us than he has been in the past. We are trying to help him more."
4. Dante Exum on his role and growing up in the spotlight
The Pick and Roll caught up with Exum on Utah's recent road trip, and asked the Australia to describe his mindset in the face of Utah's difficult start to the NBA.
Q: Your minutes have remained somewhat inconsistent this season. What is the mindset as you look to secure a reliable role?
Just about getting that consistency. Making sure that when I come in, I do what I am supposed to do. Just value every minute. That's the main thing.
Q: You have always been a point guard but your team has a plethora of great ball handlers. Players like Ricky Rubio, Joe Ingles and Donovan Mitchell. What is the mindset when you are playing away from the basketball with these guys?
For me, I like to get out in the open court so if one of these guys get the ball, then it gives me the opportunity to run the floor. Try use my speed and try get ahead of the play. That's the biggest thing I am trying to develop. Trying not to come back to the ball every time, but trying to get it into my head that sometimes I can run the floor.
Q: You've been in the NBA for five years now. What's the feeling knowing that you are almost a veteran at this point?
It's weird. Even media day, I was like 'man, this is my fifth time going through this.' It's crazy to think. Time flies. I'm just ready to keep going. I still love it. Willing to keep growing as the season goes on.
Q: You mentioned earlier this season that you've matured plenty during your five years in Utah. In what ways have you matured, both on and off the basketball court?
I've lived alone for most of it. Just learning how to take care of myself. 18-year-old Dante is so different to what I am doing now. Learning how to take care of my body and getting ready for games.
5. Joe Ingles: living fun and free
Joe Ingles lives a blessed life these days. #HeadbandJoe is an NBA star, owner a richly deserved long term contract and one of the funniest men in basketball. He is also the front runner for best banter athlete in the NBA. No serious NBA analytics to close out this week, just some trademark antics - mixed with a little good fortune - from Ingles.
https://twitter.com/DraftstarsAU/status/1067586448411582464
---
That's another week of basketball in the books, and another Friday Five complete. Did we miss anything? Let Ben know on Twitter if there is anything you would like to see next week.