Discover more from The Pick and Roll
We're all about Aussie hoops. Independent, objective analysis and commentary. Insightful narratives built around Australian basketball. Read about our men and women in the NBA, WNBA, NCAA, Europe, national teams, NBL, WNBL, NBL1, prospects and more.
Over 2,000 subscribers
First take: Checking the Australian Boomers out in NBA 2K17
Finally it's September 16th. After months of waiting it's finally here, not the iPhone 7, but NBA 2K17.
For the first time in NBA 2K history the Australian Men's national basketball team are playable in the game. Players who pre-ordered get their hands on 2K17 today, however those who didn't will have to wait till the 20th.
Apart from Team USA, the Boomers are the only other national team featured in the game. A demo called 'The Prelude' that allowed you to get a headstart on MyCareer mode came out last week. Those who completed it got the bonus of playing for Team USA against the Aussies.
Player likeness is always a hot topic when it comes to any sports game. All of the current NBA players on the Boomers roster are very accurate, in terms of their appearance. However, when it comes to the Aussies not in the NBA there were some interesting player recreations.
https://twitter.com/aloserful/status/774075743470968832
Cameron Bairstow turns into a Larry Bird lookalike, while Chris Goulding and Ryan Broekhoff look like 40 year-old versions of themselves.
Luckily for David Andersen, he has the best resemblance of those outside the NBA.
From L-R: Dellavedova, Baynes, Exum, Andersen, Lisch, Goulding, Martin, and Bairstow
Andrew Bogut is the highest rated Aussie on the Boomers list at 77 overall, while Mills, Dellavedova, and Baynes are not too far behind all at 75. 2K developers don't seem to have much affection towards Cameron Bairstow, who is the lowest on the list at a 67.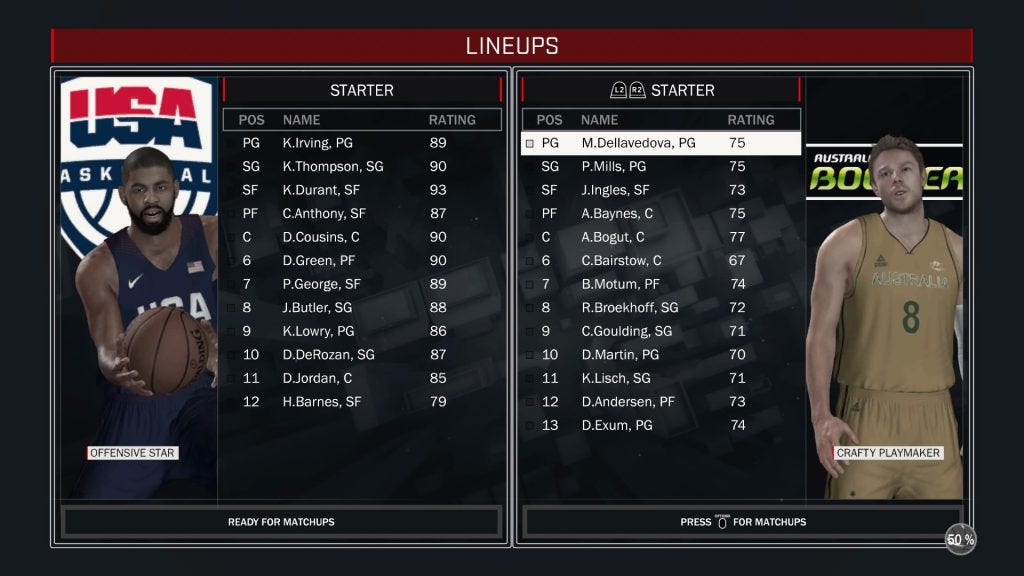 Player attributes are pretty spot on, with David Andersen's post fadeaway (64) and Brock Motum's lack of shooting ability, the only areas which could be different.
Despite not playing an NBA game yet, Ben Simmons (79 overall) is the highest rated Australian in the game. He doesn't feature on the Boomers team, most likely because of his unavailability in regards to the Olympics. Dante Exum is playable in the green and gold, as if it were not for injury he undoubtedly would have played in Rio.
https://twitter.com/BenSimmons25/status/768620681298907136
If you decide to play a home game with the Australians, you get to see their amazing home court. The Basketball Australia logo acts as the centre circle, while the rest of the court is littered with all things Boomers.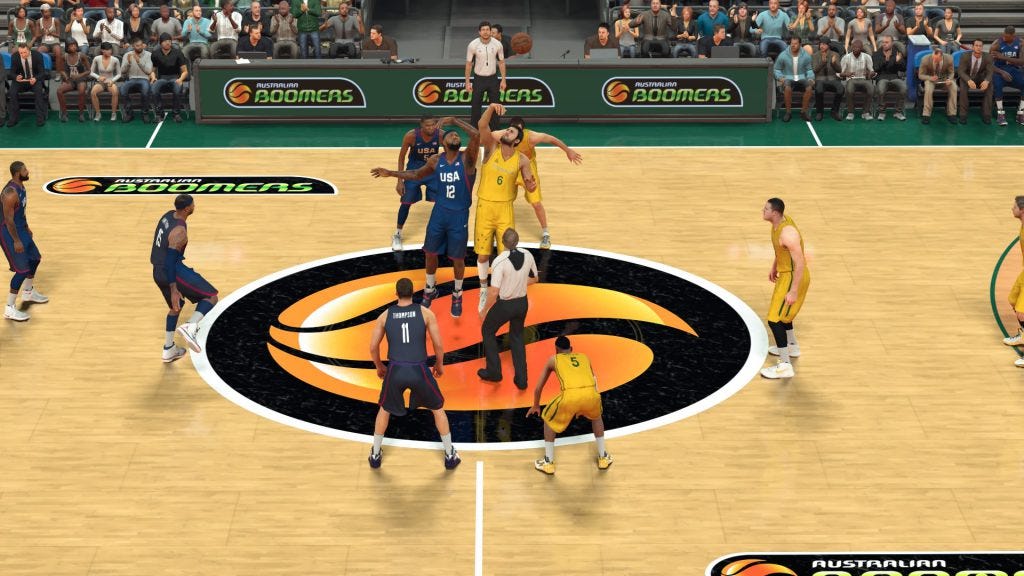 Time to warm up those hands, pick up your controller, and get to it. Here is your chance to rewrite the history books and take down Team USA. Go Boomers!