Discover more from The Pick and Roll
We're all about Aussie hoops. Independent, objective analysis and commentary. Insightful narratives built around Australian basketball. Read about our men and women in the NBA, WNBA, NCAA, Europe, national teams, NBL, WNBL, NBL1, prospects and more.
Over 2,000 subscribers
Fighting Spirit: Cassidy McLean makes post-ACL return to Bendigo
Having missed a Waratah League championship and a WNBL season, the Novocastrian has learned plenty about herself and her love for basketball.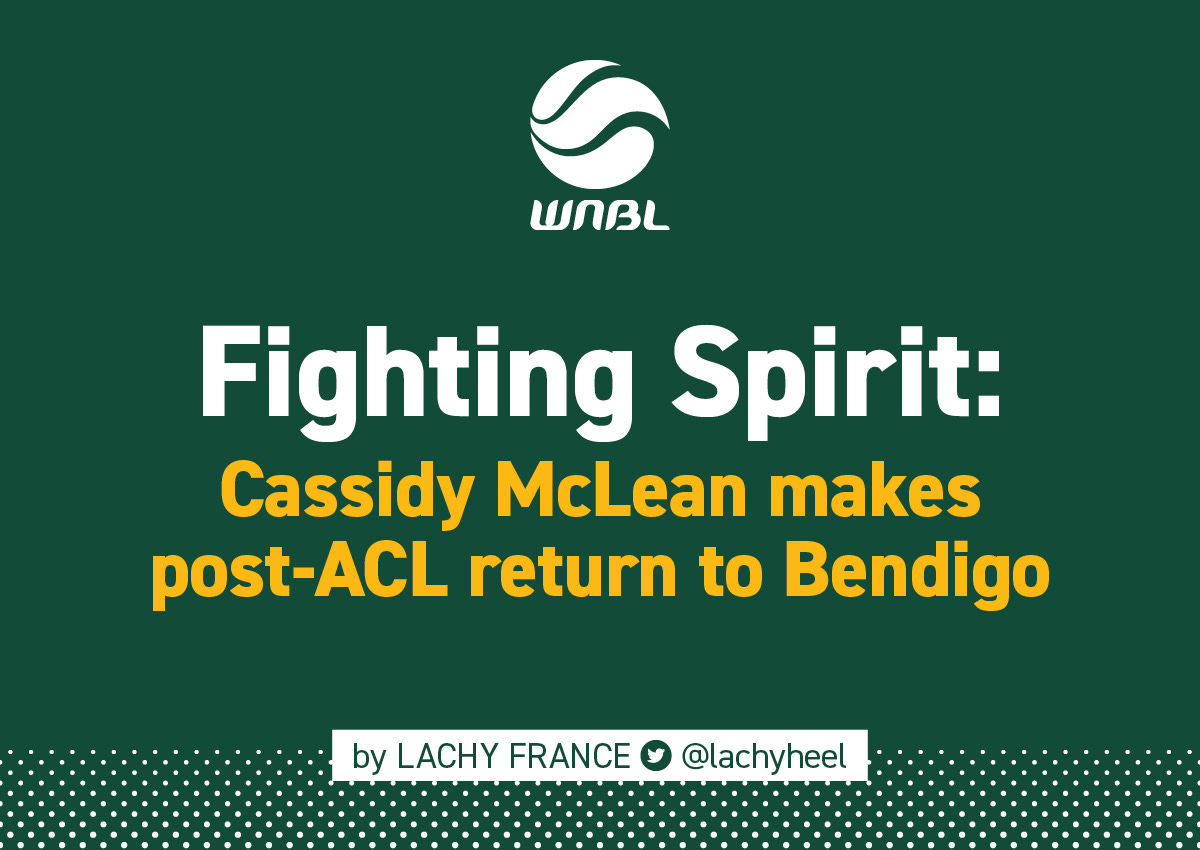 It's a widely known fact that they breed them tough in Newcastle, and Cassidy McLean is no exception. Having watched her Hunters teammates win a championship and a WNBL campaign with Bendigo fall by the wayside after tearing her ACL in the first game of the 2019 Waratah League season against Norths, the Newcastle junior stepped back on court in July against the same opponent, playing 36 minutes. Her verdict?
"I'm glad I got the **** kicked out of me in that game."
It was certainly a tough re-initiation into basketball against a Bears side known for its tenacious defence, as the former Australian junior representative finished with five points and four rebounds. But it proved to McLean that she was ready to return, after spending the best part of 18 months out of the game.
"If I can get through a game like that where it's very physical, hopefully I have the confidence to get through any game. I literally got the worst in my first game back. My knee, ACL-wise it was fine; a bit battered and bruised. It was good to get through that and be able to back up next week."
It's been a long journey. After finishing up her first WNBL campaign with the Bendigo Spirit since moving from the Sydney Uni Flames, McLean suited up for a Newcastle team that looked to be among the championship favourites, with Shannon Seebohm taking the reins of a roster with a number of WNBL players. However the point guard's season finished almost as quickly as it started when her ACL decided that it no longer wished to be fully intact. It left her to watch from the sidelines as her teammates marched to a title, before the WNBL season also passed her by. Mercifully, the remainder of McLean's knee remained untouched.
"First Waratah League game, I think I lasted seven minutes.  Just in a fast break, went to do a layup, and just obviously was in the wrong position, had some weaknesses in certain spots. It just happened — just like that."
"I call it a 'good ACL tear'," McLean laughs. "I did probably the least long-term sort of injury. I guess if I had other injuries with it as well —the meniscus and MCL are pretty common to go with the ACL— if I had done that too who knows where I would be now. So, I'm back to normal health now, where I'm pretty chuffed that I just did the ACL. I guess I would prefer none, but in this instance I'm pretty happy just doing the ACL and how the surgery went as well."
"It's really tough, and you can tell yourself before all that sort of stuff starts that you're going to be fine, that it's not going to affect you, but it does. I think the hardest thing for me was especially missing the WNBL season and knowing that everyone else is still playing, they're still training, and I'm sitting at home with ice on my knee. It was just hard to kind of swallow that they're getting better every day where I'm not being able to walk properly.
"So, I was struggling with the fact that maybe I'm not going to be able to get back to the standard I was before; what if everyone else kind of overtakes me and I'm not at the WNBL level anymore?
"I look back at those thoughts that I was thinking back in early 2019, saying that's silly to think that. But for the Waratah League it was pretty tough when the final buzzer went off and we were all champions. I got a little bit upset at the Grand Final, just afterwards. It's devastating but I was also pretty happy for the girls.
"It's kind of like a running joke. I keep saying, 'Yep, that seven minutes at the start of the season definitely contributed to our grand final win. if it wasn't for that, who knows where we would've been? We just won't ever know!'"
Although there is no such thing as good timing for an ACL injury, circumstances combined to see McLean not make her return to the court for almost 18 months, which allowed her to continue to rehab and strengthen her knee and leg for far longer than originally envisaged. Rather than become frustrated at the prolonged absence, McLean used the time to ensure she would be as ready as possible for a return, not only to the court, but to the WNBL.
"As everyone who's done an ACL knows, it's more mental than physical. If I came back when I was supposed to I think I would've been extremely nervous and not as confident on my knees and on my legs as I am now.
"Having that extended time, I've just been able to really, really make sure that I'm secure that I'm never going to do an ACL again, hopefully! And just that aspect of confidence as well. Going out on the court, you might be fine but unless you have that confidence, you're not going to make a difference on the court. So, I think now, having that extended period, even having those few games that we did in Waratah League, I've been able to get over my fear of doing fast break lay-ups, I guess. Now, it's not so much confidence on the knee, but confidence in my own ability and skill, whether I still have it or not.
"I guess we'll see when WNBL starts back up again!"
One person who believes in McLean is Tracy York. The Bendigo Spirit head coach called the young star the day after she suffered the injury in the first instance, but it wasn't a sympathy call. Having already played one WNBL season with the Spirit, York was hoping to bring McLean back for the 2019/20 campaign.
"It's actually kind of funny, so I got a call from Tracy the day after I did my ACL, and it was pretty much just beginning the talks of a potential contract back down in Bendigo.
"I thought she was ringing me because she might have heard about my knee but at the same time I was like 'I don't know how she would've found out'.  I didn't even know if it was the ACL yet, because we didn't get it checked straight away, we waited a couple of days for the swelling to go down.
"So, it was just the biggest coincidence that she called me the next day, pretty much just seeing where I was at, if I was wanting to go back down to Bendigo. Then a couple of days later when I got my results from my scan and it was confirmed that it was the ACL, I let Tracy know. But I couldn't physically call her because I was so upset, and I couldn't talk on the phone so I sent her a quick message just letting her know what's happened.
"Bendigo was really great, they checked up on me constantly during my rehab, they sent me a little gift and some flowers which was really sweet and nice, and I guess it goes to credit how much of a community and family everyone is down in Bendigo. So, it was really good to kind of have that come from them, and obviously it's good to hear as well. I was hoping that I made a little bit of an impact on them, and it's good that I've left that impression where we can have that relationship from player to club.
"I've really enjoyed living down in Bendigo, I love the community, and I love the sport they have there. The programs and everything they have there is so amazing. everyone there is so willing to help out and it just makes the transition – I've lived at home for most of my life – and they just made that transition so easy. It didn't even feel like I was living out of home, and now I have lifelong friends down there. It's become a little bit like a second home that I like going back to."
In fact, Bendigo were so keen to have McLean back in town that they signed her to play NBL1 South for the Braves. McLean was just as pumped to be heading back to the Goldfields, but unfortunately, as with most things in basketball recently, COVID-19 cut that short.
"I was there for three weeks before I had to turn around and come back home because of COVID, but I was really excited for that season. I just really love playing down in Bendigo, and with the club and the community, so it's very sad that we couldn't play that season out. We know we would have had a really good team and we would've all gotten along, but you know, what's happened has happened, and we can't really change it."
Home to Newcastle, where McLean would play Waratah League under her father and Newcastle Falcons legend Marty, who would take over as head coach following Shannon Seebohm's move to Townsville. Marty was perhaps the one person who wasn't too upset about the NBL1 cancellation, as his Hunters team received a boost with not only Cassidy but several WNBL players returning to Newcastle. However, that too was short-lived as Newcastle withdrew from Waratah League, citing COVID-19 and the risks involved in travelling to Sydney.
"So, I came home, and my dad was pretty chuffed to hear that the season down in Bendigo had been cancelled because he was the head coach back here. So he was looking forward to getting to coach a couple more WNBL players in his team. Then three games in, we pulled the pin.
"At the time, Newcastle didn't have any COVID cases, and we've got to think of the bigger picture here. Our juniors had just been cancelled, and community and local sport in Newcastle is really important and we just didn't want to put that at risk. So, I think the best decision was made by Newcastle. No hard feelings; we've just got to keep working on our games, but not in games, I guess."
And work McLean does. Between training with other elite players at Newcastle and online sessions with her Spirit teammates, the former Under 17 World Champion is doing everything possible for a WNBL season that, whilst having an announced start date of November, is currently in a state of flux.
"There's a lot of us competing against each other, we train a heap during the week, there's a lot of one-on-ones, three-on-threes, stuff like that. But with Bendigo, we've got a great system we've got going. Twice a week we meet on Zoom, and do a quick skills session, a bit of conditioning and all that sort of stuff, which is really good.
"We also get homework to do from them, making sure we're staying on top of our fitness when it does come game time, whenever that may be. It could be next week, it could be next year. We just don't know at this point, but we're just making sure we're in the best position possible to go into the WNBL. I think the most successful teams will be the most fit teams, the most prepared teams, so that's what we're just trying to get a jump on, so just trying to stay in the gym as much as we can.
"With how everything's changing so quickly with coronavirus, you just can't make any assumptions. I guess we're just preparing that we could play tomorrow. Not literally, but we've just got to prepare like we can play at any second, anywhere, at any time. So, we've just got to make sure that our preparation is in line with whenever the WNBL wants to start, and it's just a waiting game from now, I guess."
Of course, McLean is in an entirely different situation to most players. Whereas the vast majority have last season's body of work in the WNBL under their belt, McLean is coming in almost as a new addition to the roster after missing the 2019/20 campaign.
"I guess in any WNBL team, you've got to earn your spot, and with the really short season and short preparation time, you've really got to show it straight up. That's why I think this extra training we've been doing back here in Newcastle and with the Spirit is so important because you've only got a little bit of time to prove yourself and show where you're at and that you've been working in this offseason.
"So, I think for me I've just got to stay on top of everything I've been working on and really bring it to training when we do start up in preseason. But I'll play whatever role the coaches and staff want me to play. Whether it be defensively, offensively, anywhere, I'll just play that role, and I'm happy to do that and obviously be the best teammate we can.
"We're going to be playing a number of games a week, so it's going to go very, very, quick, it's going to be over before you can blink. It's going to be tough, but we've got a tough team, and a very competitive team as well, so this will be really good for us as a team. I'll just see where I fit in and what role I'm given and just do it as best as I can."
As McLean prepares for the next stage of her already storied basketball journey that has involved an Under 17 World Cup gold medal in 2016 and a WNBL championship with the Sydney Uni Flames in 2017, the Novocastrian has taken some major lessons from this chapter, none greater than this: cherish every moment.
"What I've learnt is that I can use these things as a motivator. At the start I really thought I might've been down about it and I guess I kind of used it to push me along and made sure I was doing my rehab properly to get back on the court. Because it makes you realise how much you do love the sport, whether you're liking it at the time or not. It really makes you realise that you take the time you do have on the court for granted, and the time playing at the elite level, and when you've got a healthy body you take it all for granted.
"I think, also, I realised how strong physically and also mentally I was. Because obviously, these things aren't easy to go through and I think just having that little bit of motivation to get back on the court inspired me to really work hard in the gym and it's definitely helped me now, 21 months later I've realised that focusing on those little things that I didn't have right to begin with has really taken me a step above of where I was before.
"So, I think I've learnt to really love the game while I've been out of it, but also learnt that I have that strength to push on and get back to where I was or hopefully better."
Bendigo Spirit. Perhaps no team name is more fitting for a player who has shown plenty of it over the last couple of years.