Discover more from The Pick and Roll
We're all about Aussie hoops. Independent, objective analysis and commentary. Insightful narratives built around Australian basketball. Read about our men and women in the NBA, WNBA, NCAA, Europe, national teams, NBL, WNBL, NBL1, prospects and more.
Over 2,000 subscribers
FIBA U19 World Championship - Australia's Group C Preview
The Australian U19 Emus have arrived in Heraklion, Greece for the FIBA U19 World Championship, with the campaign set to kick off tomorrow against Canada.
Australia is in Group C at the event, going up against Canada, Italy and Tunisia. We take a look at how the Emus may fair in the group phase.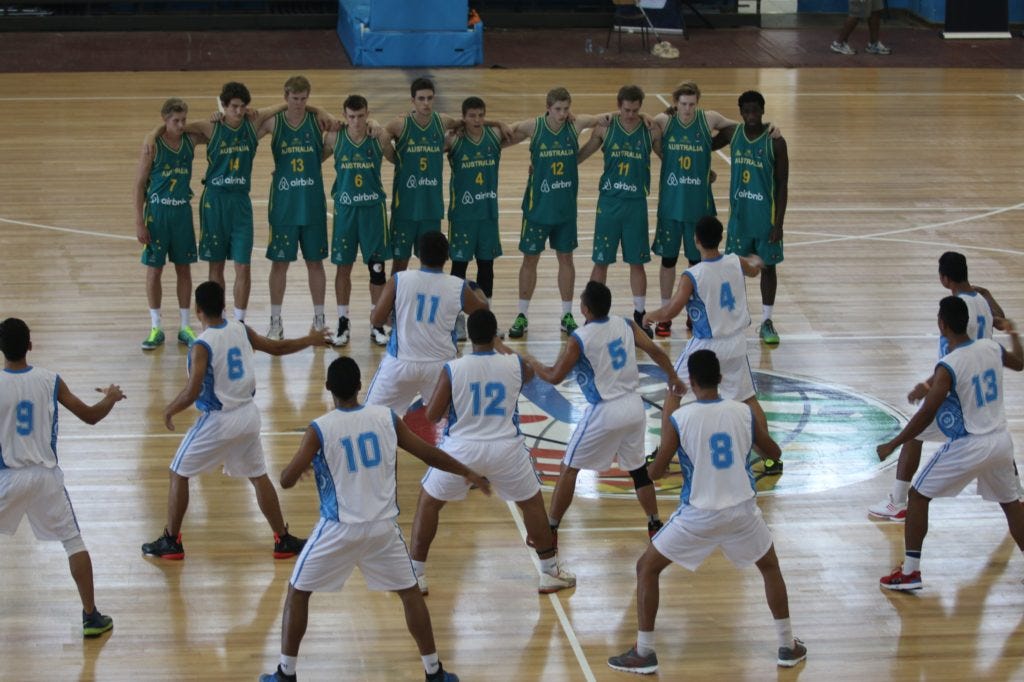 ---
Canada
Time: Saturday, June 27th | 10:30pm (AEST)
Like Australia, Canada is missing a number of key players for this year's tournament. New Kentucky commit Jamal Murray, as well as starting point guard Munis Tutu, haven't made the trip to Greece, so look for Nevell Provo to play an important role as one of the lead guards. With Canada's lack of depth at the guard position, Dejan Vasiljevic, William McDowell-White and Tom Wilson - whose experience will play a big factor, particularly against Canada's young and inexperienced backcourt - should be looking to be aggressive from the get-go.
Canadian wing, Justin Jackson
It's also likely that Justin Jackson (UNLV commit) will get some time playing lead guard for the Canadians. The 6'7 wing has just completed an impressive year at Findlay Prep and has been praised for his combination of size and vision. The Emus are in a fortunate position in regard to handling Canada's versatile wings, with Jack White, William McDowell-White, Jack McVeigh and Tanner Krebs all capable of guarding multiple positions.
At 6'8, Christopher Egi (Harvard) will challenge Australia's young - and shallow - front court, but, to the Emus' advantage, Canada also has a lack of depth at the centre position. Small forward Dillon Brooks (Oregon) should see a lot of time while Jaylen Poyser, another Canadian to commit to UNLV, will likely play a secondary scoring role.
The Emus faced Canada in their pre-Worlds tournament, coming away with a 78-69 victory. Both squads are extremely similar, with a plethora of shooters and athletic wings, so this game is expected to fast-paced - with no clear favourite to win.
Key Players: Dillon Brooks, Justin Jackson, Christopher Egi
Missing Players: Jamal Murray, Montaque Gill-Caesar
---
Italy
Time: Sunday, June 28th | 8:45pm (AEST)
Italy is another squad that must solider on in this tournament, not being able to bring a complete team to Greece. Heralded point guard Federico Mussini, who was a member of the World Select Team at this year's Nike Hoop Summit, as well as being the top scorer at last year's U18 European Championship, will miss this event due to a foot injury. Italy will also be without Daniel Donzelli, one of the premier young wing players in Europe.
Diego Flaccadori | Photo credit: adidas
These unfortunate omissions will give Diego Flaccadori the chance to step up and be the leader of this squad. Recently named to the 2015 adidas All Euro-Camp 1st team, Flaccadori has a great knack for shooting the ball. The lefty has the ability to score in a variety of ways and is adept at attacking off the dribble.
A trend that seems to be gaining popularity, not just among the teams in this tournament, but also amongst the entirety of the sport, is the idea of playing small-ball. Italy has also chosen to adopt trend, with no player on their squad exceeding 6'9. In a plan that is similar to Australia's, Italy will rely on their wings to do their due diligence in the front-court on both ends of the floor. 6'8 Andrea La Torre is a great ball-handler for his size and does a great job pushing the ball in transition, while Luca Severini also bring some versatility to that role.
Australia's young big-men - Deng Gak and Jordan Hunter - will be challenged by Leonardo Tote who, although is still a raw talent, has developed immensely over the past year.
Key Players: Diego Flaccadori, Andrea La Torre, Leonardo Tote
Missing Players: Federico Mussini, Daniel Donzelli
---
Tunisia
Time: Wednesday, July 1st | 1:15am (AEST)
This year's Tunisian squad may be Australia's best chance at getting easy points in this tournament. With a lack of big-men, Tunisia will be looking to play at a fast pace - playing right into Australia's hand. The African nation is currently in a development stage with their program, evidenced by the youth in this squad.
Younes Saidani | Photo credit: FIBA Africa
Younes Saidani will be one of the leaders for Tunisia through this tournament. Born in Germany, the 6'6 forward has a great basketball body and will look to bang inside against Australia's big-men. He has spoken extremely highly of Australia's junior national squads and is looking forward to facing that calibre of opponent.
Another player that will look to be effective for Tunisia is Soufiene Guebellaoui, a 6'5 power forward who has looked impressive in pre-tournament play. Despite his small frame, Guebellaoui uses his length to be disruptive on the defensive end, whilst also being a key rebounder for his small squad.
Key Players: Younes Saidani, Soufiene Guebellaoui
---
Live stats for every game can be found on FIBA's official U19 website.
The group stage and Round of 16 games will be live-streamed on FIBA's Youtube Channel. The quarter-finals, semi-finals and grand-final will be streamed on livebasketball.tv.
We'll add links to streams and statistics on this page as they become available, so make sure to stay tuned with our coverage of the tournament.
Note: A big thank you to David Hein (FIBA/heinnews), Halil Can Pelister (TrendBasket) and Mark Bairos (Hoops Hype Canada/Canadian Ballers) for their insight. Make sure to check out their work in the lead up to the FIBA U19 World Championship.
---
More
Australian U19 Emus squad chosen for FIBA U19 World Championship (May 28th)
Australian U19 Emus show signs of promise in pre-Worlds tournament (June 23rd)