FIBA 3x3: Australia places 4th, run ends with loss against France
Despite a loss in the bronze medal game to France, and placing 4th in the FIBA 3x3 World Cup, our girls in green and gold have done us proud.
Riding a wave of domination through the Asia Cup, Australia's women headed into the FIBA 3x3 World Cup in Amsterdam with hopes of securing that Olympic qualification spot.
Going through the pool stages, having only dropped a single game to France by a point they entered the quarter-final against Russia. With individual efforts from Asian Cup MVP Bec Cole (8 points) as well as Alice Kunek (7 points) they got the win 19-13 and qualified for the semi-final against China.
https://pickandroll.com.au/garricks-dagger-takes-australia-to-fiba-3x3-semis/
The match up against the Chinese outfit was gritty and showed how this particular format of hoops pushes the athletes' scoring ability and the need to shoot from far out at every opportunity.
Once again, Bec Cole led Australia's scoring with 7 points and her driving ability was clearly on show. Alice Kunek led the court on rebounds in a combined team effort that showed the tenacity that this group has to offer.
Australia fought back to lock it up 13-13 at the buzzer and send it to overtime, but lost on the back of a game-winner by China's centre, Zhang Zhiting.
https://twitter.com/FIBA3x3/status/1142776375884963840
China went on to beat Hungary 19-13 to take out their first ever FIBA 3x3 World Cup title.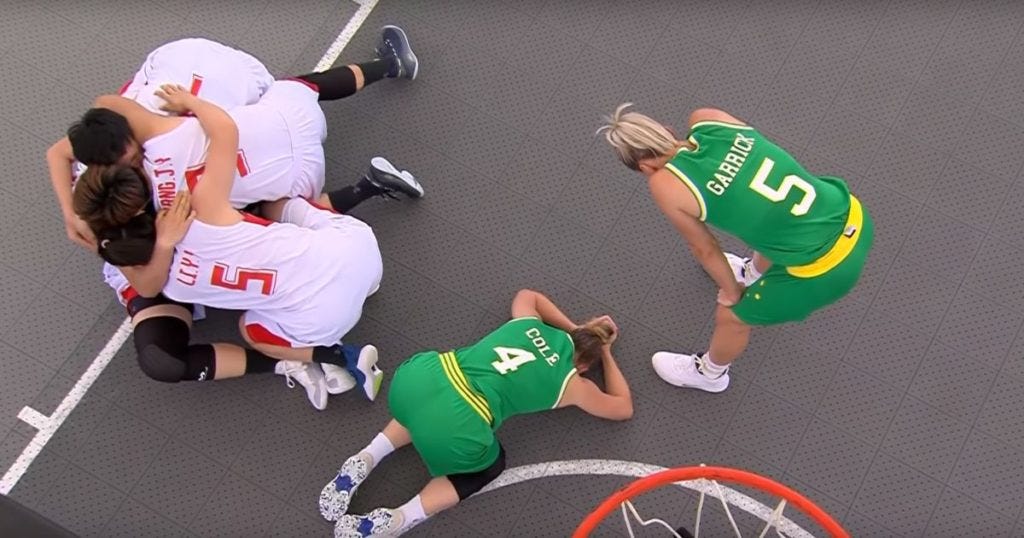 In the bronze medal game, France took third place with a dominant defensive performance, beating Australia 21-9.
https://twitter.com/BasketballAus/status/1142827359365582850
This means the team will now regroup and look to the Olympics in Tokyo next year, but their dominance will be on show once again in the near future.
---
Full replays
China v Australia
https://www.youtube.com/watch?v=YJt5szIMcOc
France v Australia
https://www.youtube.com/watch?v=LGNzT-LlOKk
---
Australia's results at the 2019 FIBA 3x3 World Cup (all times AEST):
June 19: Australian men def. Brazil 21-15 June 19: Australian men def. by Poland 14-16 June 20: Australian women def. Andorra 22-9 June 20: Australian women def. Switzerland 20-14 June 21: Australian men def. by Latvia 16-20 June 21: Australian men def. Japan 22-12 June 22: Australian women def. Japan 18-16 in OT June 22: Australian women def. by France 16-17 June 23: Quarter-final- Australian women def. Russia 19-12 June 23: Semi-final- Australian women def. by China 14-15 in OT June 24: Bronze medal- Australian women def. by France 9-21