Aussies in the NBA: Exum demonstrates the future of Jazz basketball with Gobert
Rudy Gobert has undoubtedly cemented his role on the Jazz as starting center for the foreseeable future. Meanwhile, fellow rookie Dante Exum has had a somewhat rough season that's best viewed as a developmental process, filled with both awkward moments and flashes of brilliance in equal portions. (I lied. The bad outweighed the good.)
Exum knows the importance of the coming off-season, and the massive leap that could await his game, with the right amount of work.
"I think it's going to be a real important offseason for me," Exum said. "One thing I didn't have last season to go off was game tapes to be able to watch and start working on things. I've got 82 games basically to go off and try to learn and improve from." - source
We all know it's about the future. An agile, yet towering, big man who blocks shots with ease, and has good awareness on offense. The long, rangy point guard who has shown a keen and unselfish eye when it comes to passing, and is slowly developing an outside shot. Put them together, and you might just have a glimpse of Utah's basketball aspirations in the years ahead.
---
The Jazz defeated the Kings today at home, 103-91. It's worth noting that Exum looked really comfortable shooting the corner three today, and made four of his nine three-point attempts today, ending the game with 12 points, 3 assists, a rebound, a block and four unfortunate turnovers.
In case you missed it, this gem of a shot was Exum's only non-three attempt of the night.
[gfycat data_id="MemorableReflectingBluejay" data_autoplay=true data_expand=true] Thankfully, the rebound came Gobert's way, and Exum got the ball back for a made corner three.
Gobert on the other hand, had a well-rounded night. He scored a double-double with 12 points, 10 rebounds (4 offensive), and also had three assists, two blocks and a steal.
---
The Exum/Gobert connection
What I really liked about Exum's performance today, happened in the first quarter.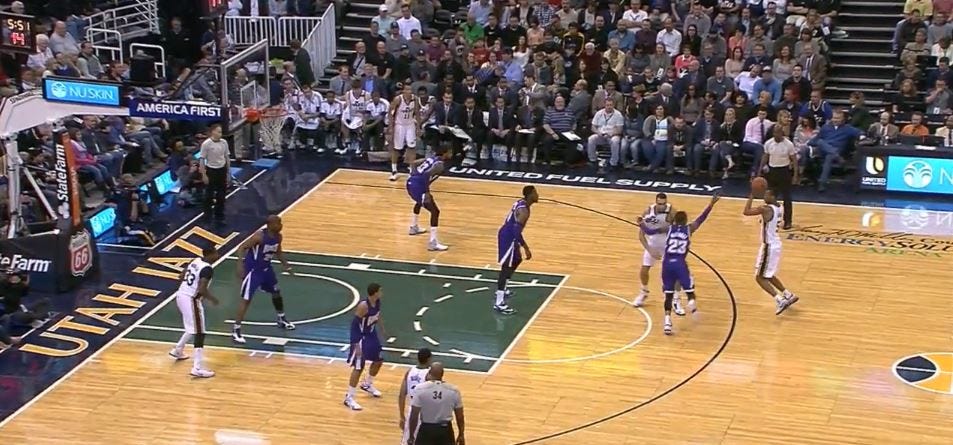 In this possession, Hood curled off baseline and received the ball from Gobert. He faked, and drove right when McLemore was still trapped behind a hulking Mount Gobert screen.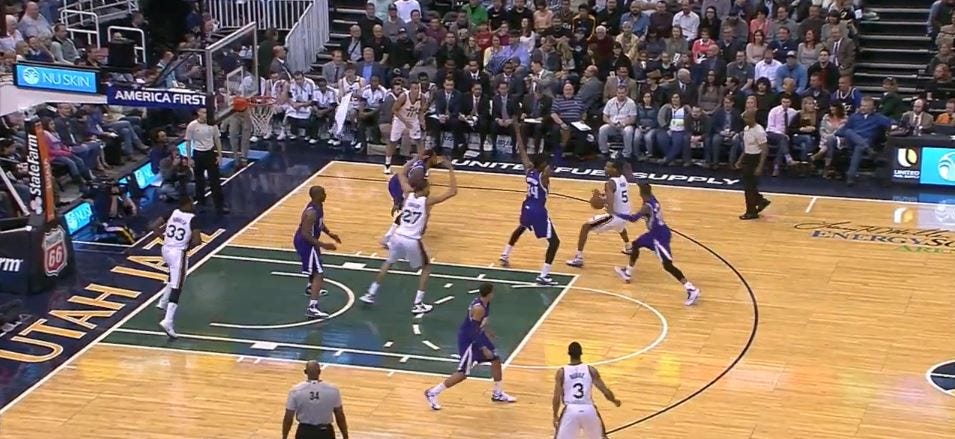 Well, what do you know? Turned out the drive was a bad idea. Hood faced a double (potentially triple) team on the right elbow. He could have thrown it in to Gobert, who was open with only a single defender (an undersized Carl Landry) protecting the rim, and calling for the ball hard.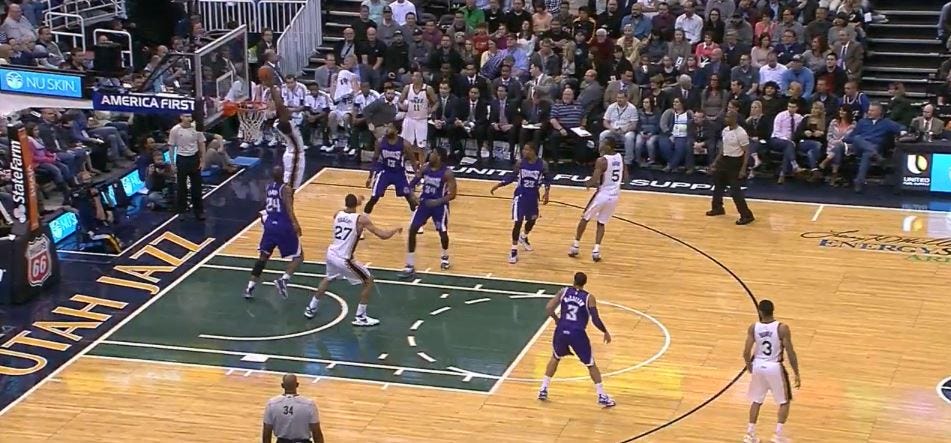 NOPE. The ball went to Booker instead, who had sneaked in along the baseline, and caught it on the low block.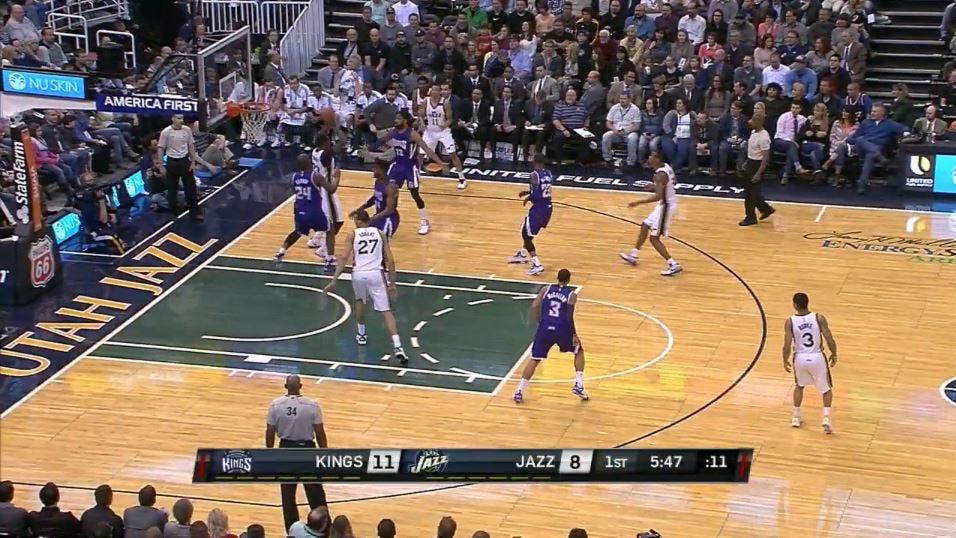 Realising the defense was going to swarm him in a matter of seconds, Booker smartly passed it out to Exum on the baseline, and ran up to set a screen, possibly to reset the play. They had ten seconds left on the clock.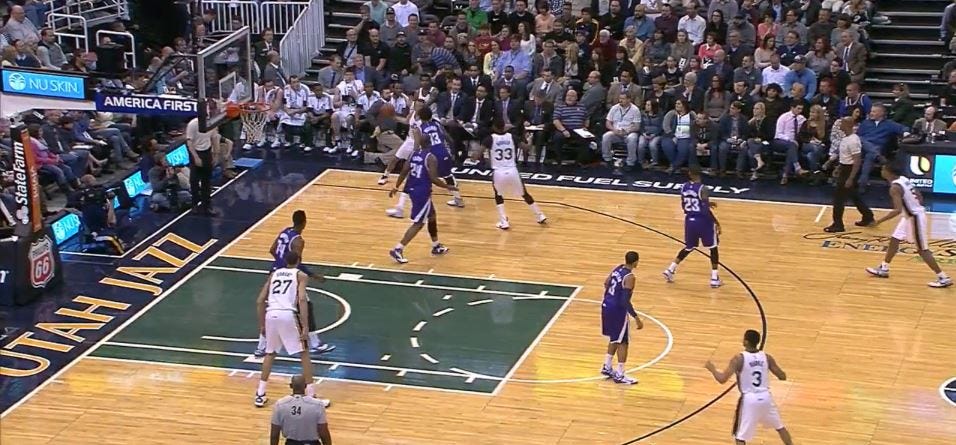 Instead of passing it off or bringing the ball back up, Exum saw the driving lane available, and chose to attack the baseline.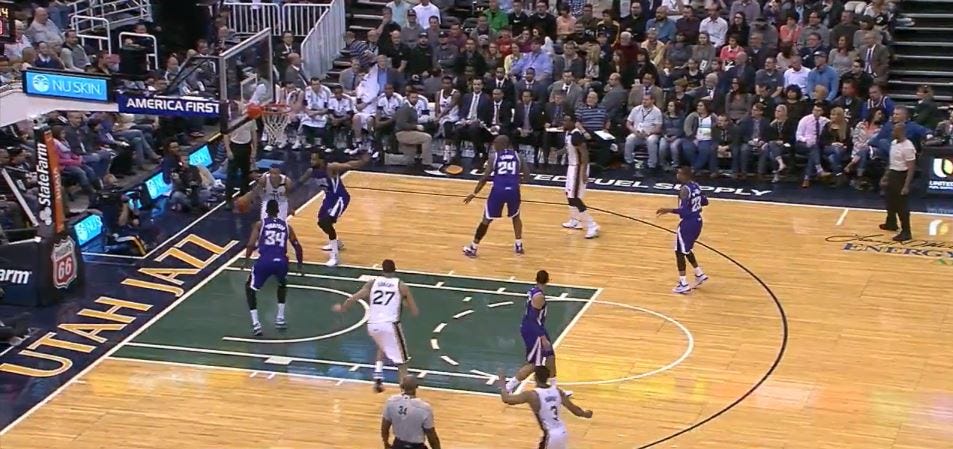 Cue help defense. Exum found himself facing two defenders, and threw a bounce pass to the cutting Gobert for a dunk. The rest like they say, is history.
Here's the full sequence:
[gfycat data_id="TautTornAiredaleterrier" data_autoplay=true data_expand=true]
---
Obviously, this is a really basic action that happens all the time in the NBA. I like that Exum chose to stay aggressive and make the drive instead of passing it off, and that he recognised the trap. Most importantly, Exum recognised Gobert's movement, and had served the ball even before Gobert got to his desired spot.
The Jazz have plenty of room to improve, and a promising young roster to work with. There is no question at all, that the team will undoubtedly flourish with Exum and Gobert's growth and improved chemistry. Comparisons to Stockton and Malone might be a little too awkward and premature, but it's great to see possibilities in having another dominant tag team in Utah.