Discover more from The Pick and Roll
We're all about Aussie hoops. Independent, objective analysis and commentary. Insightful narratives built around Australian basketball. Read about our men and women in the NBA, WNBA, NCAA, Europe, national teams, NBL, WNBL, NBL1, prospects and more.
Over 2,000 subscribers
What to expect from our NBL Olympians
In the darkness that enveloped Australian team sports at these Olympic Games, the Boomers emerged as a shining beacon of hope. Ultimately, they fell agonisingly short of an historic first ever Olympic medal.
A disappointing semi-final implosion against Serbia cost them a free swing at Team USA for gold. Then, in the bronze medal game... well, hopefully you know what happened there, because I'm prohibited from writing about it, for reasons both emotional and legal. If you really must, here is a reminder.
Despite the heartbreaking way in which their campaign ended, the Boomers unquestionably captured the hearts and minds of the nation during their mesmerising run in Rio. And while most of the limelight was reserved for our 'big three' NBA exports - Bogut, Mills and Dellavedova - let's not overlook the fact that five of our Olympic Boomers will suit up in the NBL this coming season.
Although they mostly took a backseat to our all-NBA starting five, when given the opportunity, David Andersen, Cam Bairstow, Kevin Lisch, Damian Martin and Chris Goulding all showed glimpses of the immense value they will look to bring to their respective NBL clubs. So, what exactly can we expect from our NBL Olympians when they take to Australian courts in 2016-17?
---
David Andersen (Melbourne United)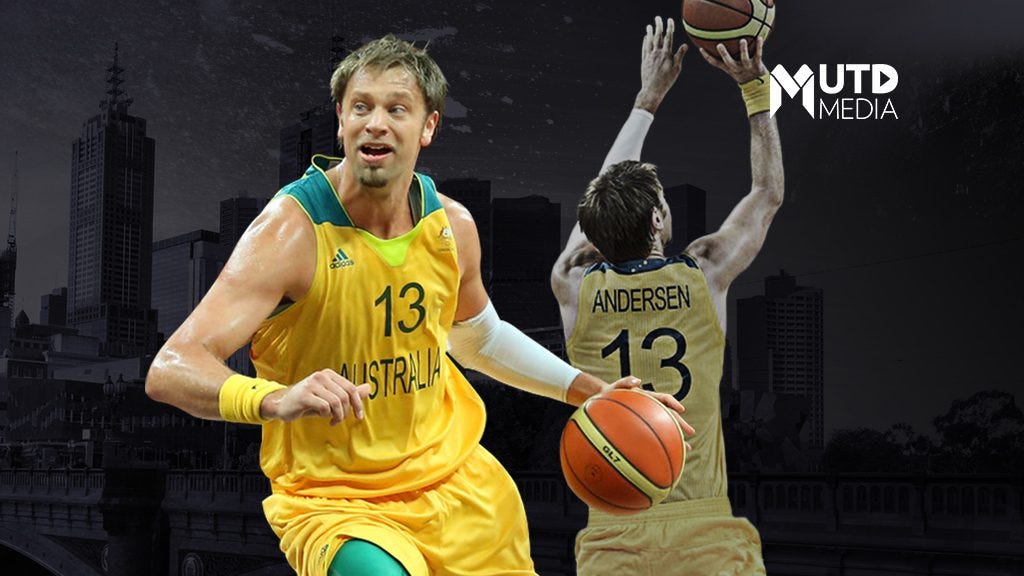 Credit: United Media
Last time David Andersen played in the NBL, he poured in 6.2 points per game. Not exactly the most intimidating stat, is it? The thing is, that was SEVENTEEN years ago.
In the intervening period, either side of an NBA stint, he has been hanging in Europe, basically winning everything there is to be won. Championships of the Euroleague (2001, 2006, 2008), Italian (2001, 2004, 2012), Russian (2005, 2007, 2008), Spanish (2009), and, most recently, French (2016) varieties. Throw in an Italian Serie A Finals MVP (2004) and an All-Euroleague First Team (2005) for good measure. On top of all that, his efficient offensive game (59.0 FG%) in Rio was so eye-catching that reports of NBA interest started swirling. For the NBL's (and our) sake, let's hope he stays put in Melbourne.
Andersen essentially joins United as a replacement for Daniel Kickert, who left for the Brisbane Bullets. There are significant similarities in their games; both are offence-first power forward/centres who can stretch the floor.
Andersen is craftier with his back to the basket; his turn-around fade away jump shot is money, and virtually unstoppable. When he gets the ball in the mid-post, he is going to get buckets. His three-point shot is not quite as deadly as Kickert's (a blinding 46.9% last season), but it's pretty darn close (41.4% across all competitions with French club ASVEL Basket last season).
Andersen is a better rebounder (he grabbed 6.14 rpg last season in just under 24 mins per game), and help on the glass is something that Melbourne centre Majok Majok desperately needed last season. A 90-68 deficit on the boards over two games in the semi-final series against New Zealand was a major factor in United's early exit.
The defensive end is where Andersen will face greater challenges, his mobility understandably on the decline given he is bordering on seniors card eligibility. Melbourne will be relying on their young new import, Devin Williams, to contain the more mobile opposing big.
Andersen has huge shoes to fill at Melbourne. Kickert was a weapon last season and deserved his All-NBL First Team inclusion. It's scary to think that, in Andersen, they have more than likely upgraded.
---
Cam Bairstow (Brisbane Bullets)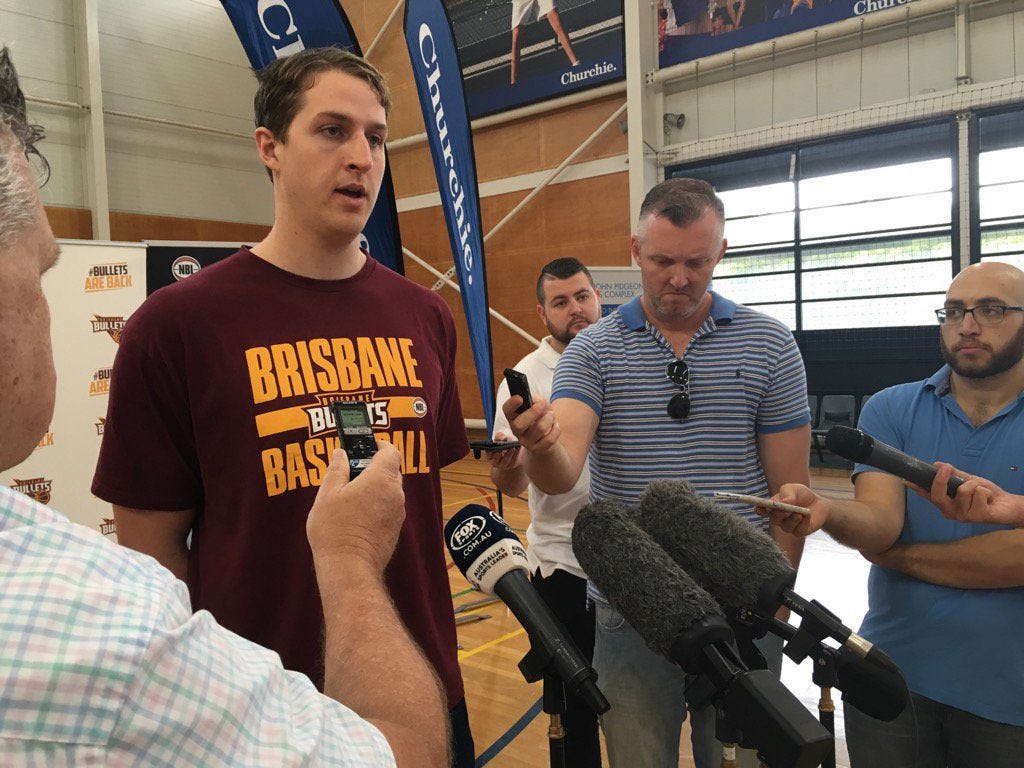 After two seasons mostly riding the pine in the NBA with the Chicago Bulls, Cam Bairstow must be looking forward to a more prominent role with the Bullets. He will start alongside Daniel Kickert in a stacked Brisbane frontcourt, with Anthony Petrie, Tom Jervis and Mitch Young clamouring for backup minutes.
Bairstow's preparation for the season has been hampered by the shoulder dislocation he suffered against Venezuela in Rio. Brisbane's front court depth should allow them to take a cautious approach to ensure Cam makes a full recovery.
It's difficult to predict how Bairstow's game will translate to the NBL. In his breakout senior college year with New Mexico, he was a surprise offensive force (20.4 ppg), combining a deadly mid-range game with an impressive ability to get to the free throw line (8.8 FTA per game). A top-scoring, 17-point game against China in Rio was a microcosm of Cam's ability to turn energy, efficiency, and 'right place-right time' into points.
While Brisbane will certainly need him to contribute on the scoreboard, keep an eye out for the less noticeable grunt work he can bring to the team. Tough screens, smart decision-making and physical defence are what coach Andrej Lemanis will want to see most from his ex-NBA recruit.
Bairstow's defensive physicality will be needed, with some potent offensive big men coming his way this season. Going up against the likes of A.J. Ogilvy, Julian Khazzouh, Nate Jawai and David Andersen, he will need to hold his own if the Bullets want to make some noise in their first season back in the NBL.
---
Kevin Lisch (Sydney Kings)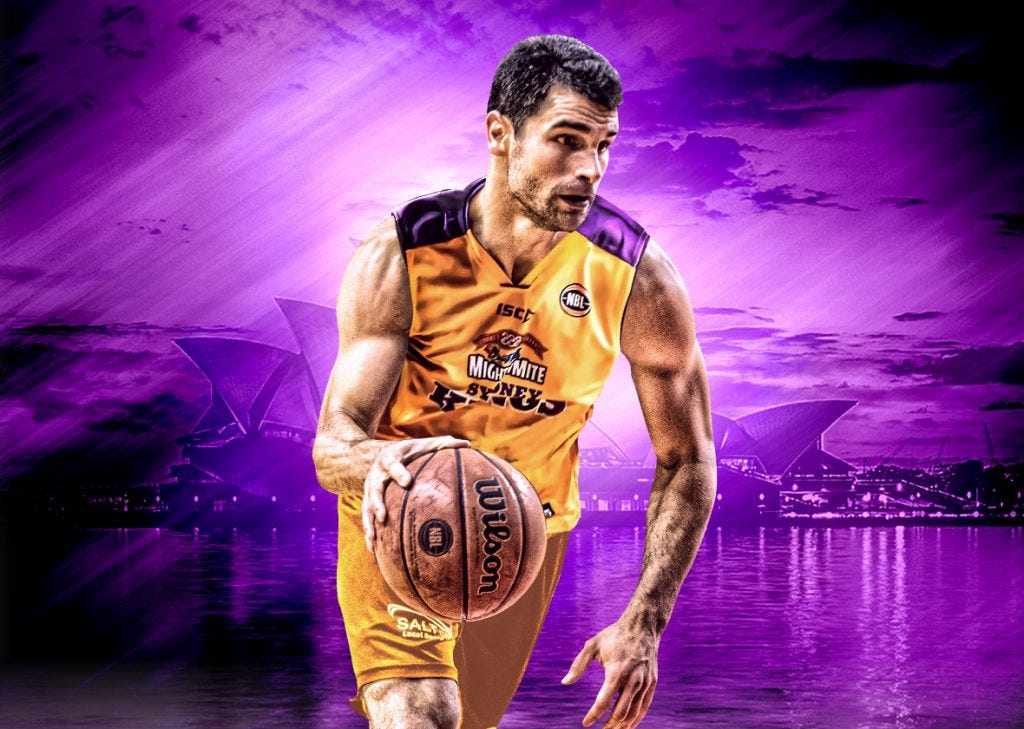 For the first time in his NBL career, Kevin Lisch is not taking instructions from Rob Beveridge. How will the reigning league MVP and Best Defensive Player adjust to rookie head coach Andrew Gaze?
Unsurprisingly, Gaze has indicated the Kings will borrow heavily from the famed Melbourne Tigers shuffle offence. As starting point guard, Kev will be responsible for ensuring his new teammates execute what is not the most simple offensive system.
Lisch has toggled between point and shooting guard throughout his NBL career, but in the past he had the assistance of pass-first floor generals like Damian Martin and Rhys Martin. In Sydney, Jason Cadee is currently the only other point guard (although they do still have two roster spots to fill).
Cadee, like Lisch, at times looks a more natural scorer than facilitator. It was a problem for Sydney last season, often failing to find enough touches for a red hot Julian Khazzouh. With all the scoring talent on this 2016-17 squad, Kev must ensure everyone is involved.
Similarly, on the defensive end, Lisch needs to set the tone for this team. In Illawarra, last season, we saw how effective he can be within Bevo's extended pressure system. Can he have the same impact under a coach who, when asked about 'offensive and defensive systems', neglected to mention the latter?
Individually, we're at a point now where we basically know what to expect from Kevin Lisch. He's going to do MVP-type things. His challenge at Sydney will be to bring the best out of his teammates. He joins a team under new management, with a new rookie head coach, and only four players returning from last season. He joins a team desperate for success, having endured a painful 58-112 record since re-entering the NBL in 2010. But he joins a team stacked full of talent, and if he can lead the way, the sky's the limit for these Kings.
---
Chris Goulding (Melbourne United)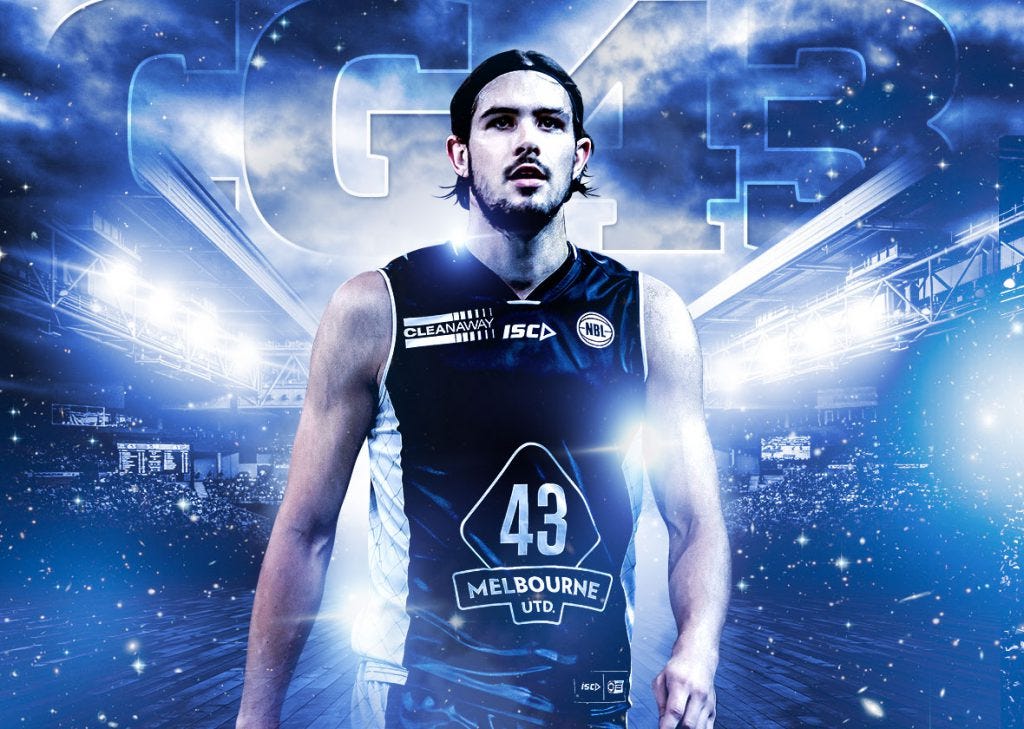 Photo Credit: NBL
The face of the franchise (and, some would argue, the league) returns to try to help Melbourne United erase the disappointment of last season's missed opportunity.
Melbourne has an embarrassment of riches at the wing positions in 2016-17. Goulding and Todd Blanchfield are joined by import recruit Ramone Moore, as well as David Barlow, who returns from long-term injury. Coach Dean Demopoulos will have his hands full juggling minutes and combinations amongst the talented foursome.
Goulding finished fifth in scoring in 2015-16 (18.6 ppg). He is now joined by the man who led the league in assists last season (6.3 apg) in Cedric Jackson. So, if you do the math, well... that's a pretty scary prospect. If Jackson and Goulding mesh, the man known as CG43 could treat United fans to some truly spectacular offensive performances in 2016-17.
Having said that, Goulding isn't the only scorer that Jackson will need to service on this team. This team is deep, and the challenge for a scorer like CG43 will be knowing when to defer to his teammates when they're rolling. There will be nights when a guy like David Andersen is unstoppable, and Goulding needs to play facilitator. Melbourne ranked dead last in assist percentage last season. Jackson will change that, but he needs his teammates, including Goulding, to follow his lead if they are to challenge for a title.
Goulding has been open about his effort to improve at the defensive end, often a target of criticism. It was a big focus of the time he spent playing in Italy, where he was asked to play the role of defensive stopper, between last NBL season and the Boomers' Olympic campaign. With an influx of athletic import wings in 2016-17, Goulding will have no shortage of opportunities to show off his defensive improvement.
---
Damian Martin (Perth Wildcats)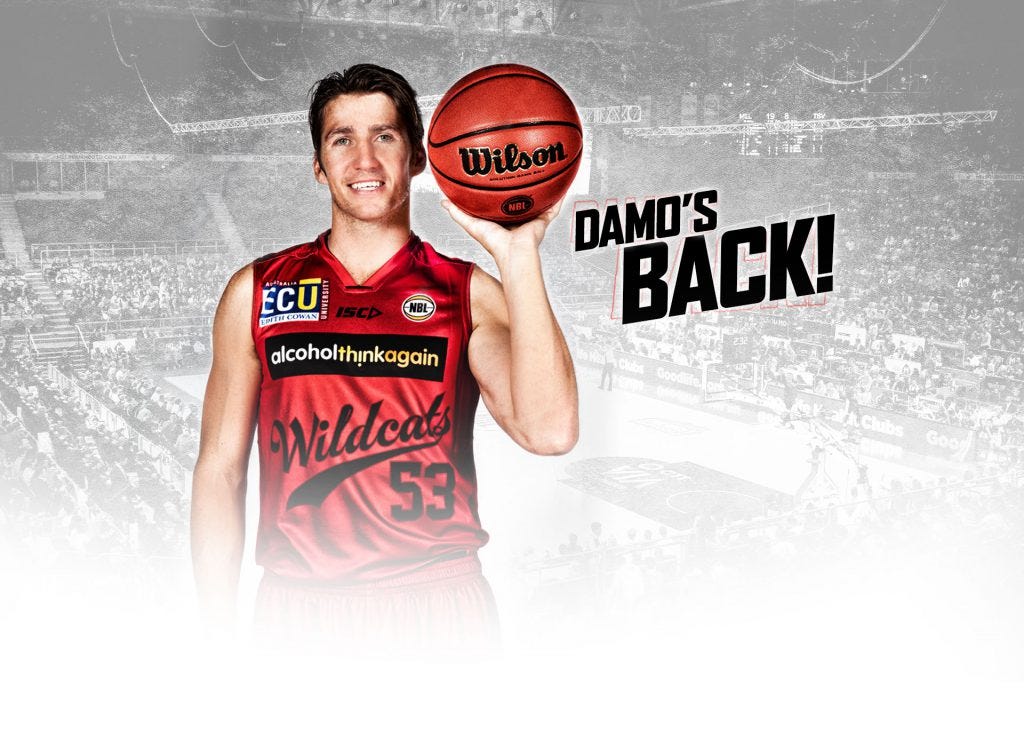 Credit: Perth Wildcats
The five-time NBL Best Defensive Player showed that his skills on that end of the floor are elite even at the international level, leading the tournament in steals per minute at Rio 2016.
On a personal level, the 2015-16 NBL season got off to a rocky start for Martin. A pre-season calf injury restricted his contribution early, and a flying Brian Conklin elbow in Round 5 meant another stint on the sidelines. No disrespect to Kevin Lisch, but there's little doubt that if Damo doesn't miss time through injury, he's the proud owner of a sixth consecutive Best Defensive Player trophy. Of course, he overcame the rocky start to finish the season in supreme style, winning his third NBL championship, and first Larry Sengstock Trophy for Grand Final MVP.
Martin returns to lead Perth's title defence with the core of the team largely intact. There are sure to be some offensive adjustments, with Jermaine Beal and Nate Jawai replaced by imports Jaron Johnson and Jameel McKay. But the equation doesn't change much for Damo; everything flows from him setting the tone defensively.
One stat to watch out for will be Damo's lobs per game; his alley oop to Andrew Bogut against Lithuania was one of the highlights of the Olympic campaign. Surrounded by three high-flying imports in Johnson, McKay and Casey Prather, expect Damo to be tossing it up around the rim with reckless abandon.
Martin will be 32 when the 2016-17 season kicks off, so the only question is, when will age start to take the edge off his furious defensive intensity? Let's hope the answer is not yet, because it will be a treat to watch the most impactful defensive player the NBL has seen at the peak of his powers for as long as possible.