Discover more from The Pick and Roll
We're all about Aussie hoops. Independent, objective analysis and commentary. Insightful narratives built around Australian basketball. Read about our men and women in the NBA, WNBA, NCAA, Europe, national teams, NBL, WNBL, NBL1, prospects and more.
Over 2,000 subscribers
EuroView: Andersen is back in Europe and Ingles is back in form (06-Feb-14)
Since we last checked in, a lot has happened with our hoop stars in Europe. Aussie 7'0" veteran David Andersen has found himself a home in France with ProA top of the table team Strasbourg. According to Polish side Stelmet ZG's website, Swingman David Barlow has parted ways with the club due to a persistent injury. They agreed on contract termination terms and he is now back in Australia recovering and preparing himself for a tilt with the Boomers later in the year at the World Championships in Spain. Firstly, we will check in on our two guys left in Euroleague action and then take a trip around Europe and see how the rest of our stars have been playing.
Euroleague
Joe Ingles and Maccabi Tel-Aviv have played two Euroleague games recently. The first game saw the Israeli's host Partizan Belgrade in a Group F clash. It was the home side who controlled the whole game running out eventual winners 88-67. Aussie forward Joe Ingles had 8 points for the victors going 1-3 from the field including an efficient 2-3 from behind the arc. Ingles also dished out 5 assists and pulled in 1 rebound.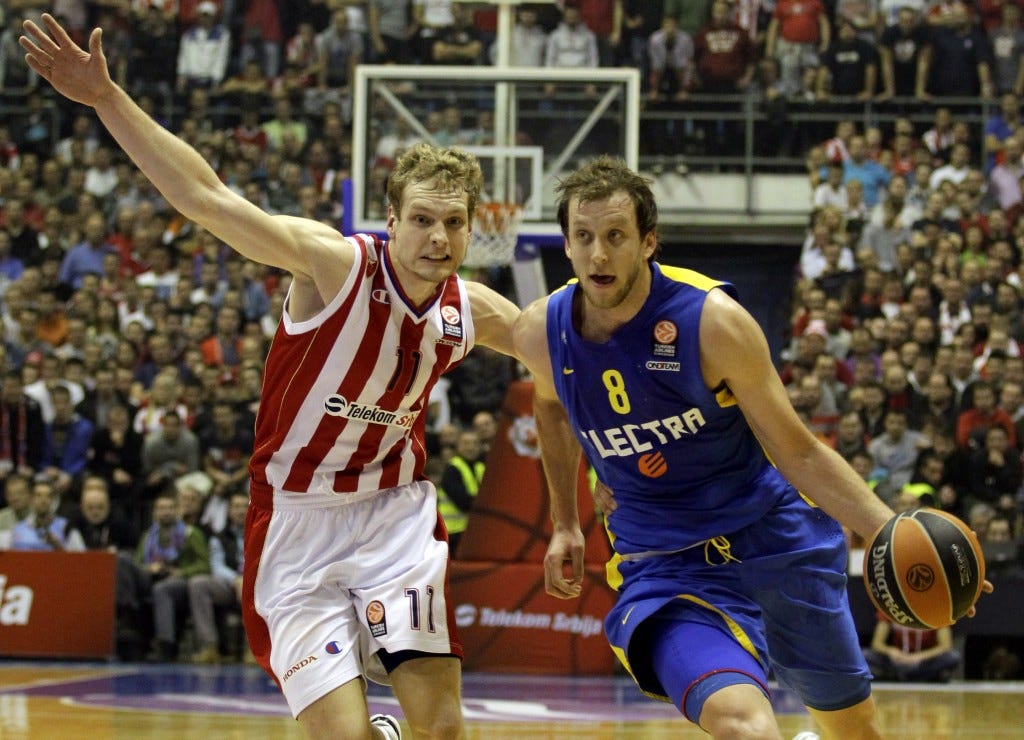 On the 30th of January, Ingles and Maccabi Tel-Aviv played in one of the most anticipated games of the year, traveling to Madrid to play arguably the best team outside the NBA this year in Spanish powerhouse Real Madrid which were coming off their first loss of the year in all competitions and were also 1 game behind the perfect 4-0 Maccabi team in Group F of Euroleague. Ingles and Maccabi Tel-Aviv entered the fourth quarter ahead by a point after a see-sawing first three-quarters. Unfortunately they couldn't hold off a fast finishing Real Madrid side, eventually going down 68-74. Aussie Joe Ingles played 18 minutes off the bench contributing 7 points, 1 rebound and 2 assists in a quiet outing. Maccabi Tel-Aviv now share the top of Group F with Real Madrid on identical 4-1 records. Ingles and Maccabi Tel-Aviv play host to German side Bayern Muenchen on Feb 13 in their next Euroleague top 16 match.
Aussie big man Aleks Maric and his Russian side Lokomotiv Kuban have also played two Euroleague games since the last EuroView. They firstly hosted Group F rivals Zalgiris and thanks to a 22-10 run to end the game they got heir second win of top 16 Euroleague action 80-75 to improve to 2-2. Aleks Maric was his usual efficient self putting up 10 points on 4/7 shooting and a perfect 2 from 2 at the charity stripe. He also pulled in 4 rebounds and dished out 4 assists in a great all around performance on the big stage of Euroleague.
Lokomotiv Kuban and Maric next up traveled to Belgrade to play in front of 16,000 screaming Serbian fans in a true road test. The Russian outfit stole a 87-81 victory to improve to 3-2 in Group F only 1 game behind the group leaders Maccabi Tel-Aviv and Real Madrid. Maric got 20 minutes of court time and put up a stat line of 7 points 2 rebounds and 1 dime. Lokomtiv Kubans next Euroleague game is also on Feb 13 where they will host Group F leader Real Madrid.
Around Europe
Over in Israel Joe Ingles exploded in a return to form as 2nd placed Maccabi Tel-Aviv hosted 5th placed Ironi Nes-Ziona. In the 99-91 victory, Ingles dropped 22 points in 22 minutes of court time on a hot 6/6 shooting from the field including 2/4 from behind the arc to go along with 4 assists. Not only did Ingles contribute on the offensive end but he did some damage on defence recording 5 steals to lead his team to victory. Maccabi Tel-Avic lost their star center Shawn James for the season with a herniated disk. This should see some more responsibility given to Ingles with a chance to shine as the season culminates.
Meanwhile, over at Las Palmas (or heaven as some may refer to it) in Spain, Aussie forward Brad Newley and his 5th place side Gran Canaria hosted 6th ranked Laboral Kutxa in a tight contest. Thanks to Newley's 24 points on 6/9 shooting while also dropping 4/5 from behind the 3 point line and 4 rebounds, the hosts claimed a tight 3 point victory to move up to 3rd place in the Spanish ACB. On a side note, the Australian Boomers have been designated to play in Las Palmas for their group games of the world cup. With Newley playing in the side, the Aussie team will have a gracious host during their stay.
From Spain to Mariupol Ukraine, Daniel Kickert and Azovmash hosted Hoverla who were tied with the Aussie's team with a 8-7 record in the Ukraine Superleague. In what ended up being a one-sided affair, the hosts ran away with a 90-69 victory. Kickert was the top scorer for his side with 19 points on 5/9 shooting and the hot hand behind the arc going 3/4 in his best Dirk Nowitski impersonation. Most of the time we focus on the positive performances by our Aussie hoop stars. In the last EuroView I mentioned a streak that Kickert was on for games scoring in double digits. The streak was ended the day after it was published, with Kickert not troubling the scorers against Ferro-ZNTU on the 22nd of Jan. It was however a remarkable streak that lasted 16 games and dated back to 9 November last year! I must apologize to Daniel as I can't help but feel partly responsible for the streak ending. I promise to all our Aussie hoopsters that I will never again mention any hot streak that they or their teams may be on!
Rookie sensation Ryan Broekhoff has been playing some outstanding basketball for someone who is just beginning their professional career. Broekhoff and his Turkish outfit Besiktas hosted Galatasaray in a TBL clash where Ryan and his 9th place team started the game as underdogs against the 2nd ranked Galatasaray. No-one told Beiktas that they weren't meant to win as they pulled off the upset 82-78. With Broekhoff in the starting lineup, he finished with 13 points on 2/2 from the field and 3/6 from behind the 3 point line.
Our other Aussie rookie Brock Motum and his Italian side Virtus Bologna hosted Montepaschi in a game that they were also expected to lose. Once again it was an upset as Bologna won in a low scoring affair 57-54. Motum started the game for the hosts on the back of some strong recent play and didn't disappoint as he finished the game with 15 points on 5/10 shooting along with a perfect 5/5 from the free throw line. Motum also managed to pull in 5 rebounds in what can be said has been an outstanding rookie campaign by the big Aussie. The future of Aussie hoops looks bright when we have two rookies this year in Motum and Broekhoff, who have stepped in and made immediate impacts.
As mentioned in the beginning of the article, Aussie veteran David Andersen has found himself a home in France with ladder leader Strasbourg. Andersen last played for Turkish side Fenerbahce in the 2012-2013 season. Strasbourg play in the French league where they are currently sitting on top of the table with a 12-6 record and also in the Eurocup where they currently sit fourth in Group N with a 1-3 record. Andersen will inject a lot of experience into the side along with a bucket load of talent at the center position. In his first game for his new side he went for 20 points in 23 minutes of action shooting hot 4/5 from the field and an outstanding 4/5 from behind the arc against LeMans helping his team to a 86-79 victory. This is the type of play the Strasbourg fans can get used to seeing from our big Aussie.
This week, I would like to give my player of the week award to Joe Ingles who bounced back to form with a 22 point performance. If Joe can continue that type of form it will not only help Maccabi Tel-Aviv in their endeavours, but will also go along way in helping the Boomers medal chances come World Championship time in August in Spain. Thanks for taking the time to read the latest edition of EuroView. If you have any thoughts or comments please feel free to leave below. Who was your player of the week?
Steve Tibb
You can follow Steve Tibb on Twitter: @tibba_02