Discover more from The Pick and Roll
We're all about Aussie hoops. Independent, objective analysis and commentary. Insightful narratives built around Australian basketball. Read about our men and women in the NBA, WNBA, NCAA, Europe, national teams, NBL, WNBL, NBL1, prospects and more.
Over 2,000 subscribers
Australian U19 Emus Squad selected for training camp
A 16-man squad has been named for the Australian U19 Men's squad in preparation for the 2015 FIBA U19 World Championship in Heraklion, Greece later this year.
The camp will be held from the 23rd-27th April at Basketball Australia's National Centre of Excellence in Canberra. The Australian Emus squad will play in two scrimmages (on the 25th and 27th of April, respectively) against the Chinese U19 Men's team, who begin a tour of Australia a week prior to the camp.
Centre of Excellence head coach Adam Caporn will take the reigns of the squad after leading them through an exhilarating FIBA Oceania campaign late last year.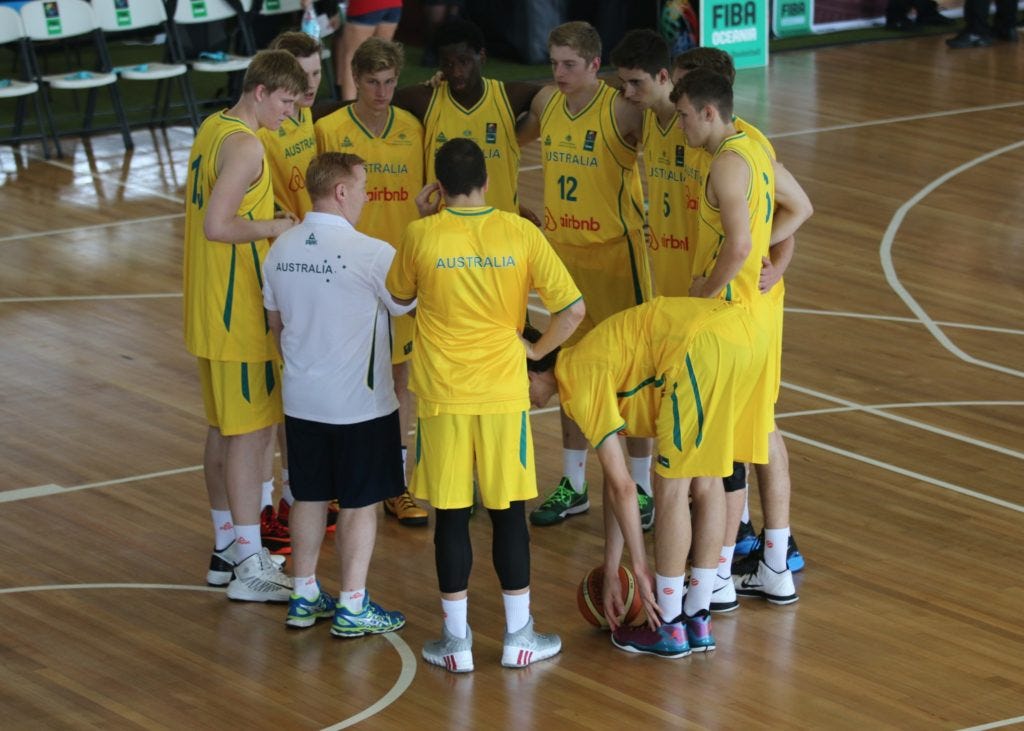 ---
Australian U19 Emus Training Camp Roster
Kyle Clark - TAS
Harry Froling - QLD
Deng Gak - NSW
Angus Glover - NSW
Jordan Hunter - NSW
Jayden Hodgson - NSW
Matthew Kenyon - NSW
Tanner Krebs - TAS
Matthew McCarthy - VIC
William McDowell-White - QLD
Jack McVeigh - QLD
Jock Perry - VIC
Rhys Vague - WA
Dejan Vasiljevic - VIC
Jack White - VIC
Tom Wilson - VIC
---
Despite some of the great talent on the squad, what's most notable are the players who are not on the squad - namely Ben Simmons, Thon Maker and Isaac Humphries - all of whom have commitments in the US that unfortunately overlap with U19 squad commitments and won't be a part of any portion of this campaign.
Ten members of this year's Centre of Excellence squad have been selected, led by Jack McVeigh and Tanner Krebs, who are the most senior members and have considerable amount of national team experience.
Also included in the squad, and likely to play significant roles, are Tom Wilson and Dejan Vasiljevic. The two Victorian guards attended this year's NBA Basketball Without Borders Camp and recently led their Victorian side to an U20 Australian Junior Championship. They'll be joined by fellow U17 squad members Harry Froling, Jack White, Kyle Clark, Deng Gak and Jayden Hodgson.
Tom Wilson | Credit: FIBA via Basketball Australia
Contrary to earlier reports, William McDowell-White has been named to the roster and will likely be the x-factor throughout this campaign. As arguably the most talented guard in the country, McDowell-White has the chance to prove his worth after an absence from national team play in 2014.
With Simmons, Maker and Humphries unable to participate, this camp provides ample opportunity for Rhys Vague, Jock Perry, Jordan Hunter and Matthew McCarthy to show that they can compete as the big men on this team. Perry has looked to have returned to form after some unfortunate injuries while Hunter has emerged in the recent months, showing that he's more than capable at competing of this level.
Rounding out the squad are two guards out of NSW Country - Angus Glover and Matthew Kenyon. Glover has the ability to step out and knock down shots from the perimeter with consistency while Kenyon, at 6'4, provides impressive size and athleticism at the guard position.
Other notable omissions include George Blagojevic (injury) and Abiola Akintola (college commitment). Deng Adel, who trained at the CoE earlier this year, isn't currently in the country but is expected to attend the second training camp. It's still unclear whether UCLA forward Jonah Bolden will commit o the campaign.
The squad is expected to be trimmed in time for the second training camp, to be held on the 25th of May.
The expectation is that there will be a final camp in the first week of June before departing for Spain on the 10th of June for a Pre-Worlds tour. The tour will consist of practice games in Spain and Croatia, before the team flies out to Heraklion, Greece on the 22nd of June for the World Championship.
The Australian U19 Emus will be in Group C at the event, going up against Canada, Italy and Tunisia in the group stage.