Discover more from The Pick and Roll
We're all about Aussie hoops. Independent, objective analysis and commentary. Insightful narratives built around Australian basketball. Read about our men and women in the NBA, WNBA, NCAA, Europe, national teams, NBL, WNBL, NBL1, prospects and more.
Over 2,000 subscribers
The EDJBA - A junior basketball goldmine
Australian basketball in the last twelve months has seen a huge boost in media coverage, which has been many thanks to the influence from both national and international levels. In the past two years Australia has witnessed both the 2016 Rio Olympic Games and the National Basketball League find a new level to its now reenergised state.
The glowing success of the Australian Men's National Basketball Team, albeit including their controversial finish which shattered dreams of an Olympic medal; the enormous desire of another Opals Olympic medal plus Larry Kestelman and his team at NBL HQ, has ultimately raised the profile of basketball as a major sport in the country.
In turn, the ever successful junior basketball scene has continued to grow into a never ending goldmine.
That is, until now.
"As a community based club, we've been built on the concept of developing a program for all ages and abilities. We have underpinning introductory programs with 200-220 kids per term participating in basketball, learning basics before joining our teams." - Eltham Basketball CEO Greg Jeffers
The Eastern Districts Junior Basketball Association (or better known as the EDJBA) is a junior basketball association which provides a competition for both boys and girls between the age of under 8 to under 20's in the Eastern suburbs of Melbourne, Victoria.
Photo Credit: Boomers Media
Boasting clubs that are recognised nationwide such as powerhouses Eltham and Bulleen, the EDJBA is played all year round and currently hosts an astounding 1,282 teams.
However, as 15 member associations (clubs) take to the court for the upcoming Summer season; these associations are now having to knock back interested future junior basketballers due to exhausting all of their resources.
An influential rise over recent time has seen this wishing well rise to its (current) maximum potential. In the 2011/12 season, the EDJBA fielded 942 teams - with the 1200+ in 2016, that's a 36% rise in participation in just five years.
The biggest movers have seen what were once small establishments, such as Banyule and Koonung nearly doubling their participation (Banyule 86% rise, Koonung 81%) in such a short amount of time.
In addition to those clubs, Park Orchards, another quiet suburb in the East of Melbourne, also found quite a rapid growth rate within the area and plays a vital role in the incremental rise of participants in the Manningham area.
Collingwood All Stars have also found their straps in the basketball world, starting with just a handful of teams, to really making an impact in the community around them. With such a multicultural community within the Collingwood area, basketball has found a common ground for many children.
Furthermore, the All Stars have most recently entered senior team's in Victoria's state league competition the "Big V", further providing a pathway for players under their wing.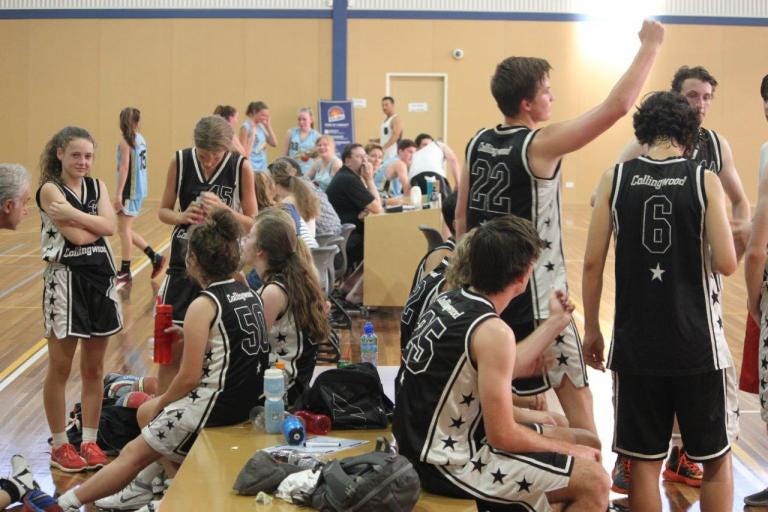 Collingwood Basketball manager Megan Rouse makes mention of how special it is to have the whole community involved under the one roof.
"Our growth has been as much as 60% in four years but has slowed as we struggle to get court space so have limited our promotion. But we are still growing!" Rouse explained.
"We have an after school program and many (young) kids start at that then progress. We try to minimise barriers by supporting financially as needed, and loaning uniforms. We have a Community Liaison Officer, Akech Manyiel, and he provides a link between the club, players and families.
"We encourage others in the club to support by providing transport – that is the biggest barrier.
"I think we retain players because they feel comfortable and supported, and many of the families appreciate that their children are having fun and being engaged. But some families would prefer that their children were concentrating on their education, and some of the girls particularly are expected to help with younger children, so there are many challenges and we get Akech to help with those."
So the question still remains, with a record number of participants ready to hit the floor over the next period of time: how does the next batch of junior stars participate if there is no availability?
Eltham Wildcats CEO Greg Jeffers explains where the buck has stopped.
"As a community based club, we've been built on the concept of developing a program for all ages and abilities. We have underpinning introductory programs with 200-220 kids per term participating in basketball, learning basics before joining our teams.
"We have grown 30% over the past five years, so despite development (of three schools basketball courts nearby), we are now at capacity.
"Being an indoor sport that is affordable, that is safe and where all players on the court are involved all of the time, makes it an attractive option for families. The popularity of our sport has seen us reach capacity, whereby we are having to knock back children from participating in basketball because we just have no courts for them to train or play.
"In today's environment with all the negativity surrounding obesity and our youth, to turn young people away from not only physical sport, but from an environment that encourages goal setting, learning how to deal with positives and negatives in life; it is a sad state of affairs.
"The Eltham Wildcats, incorporating the surrounding suburbs from Viewbank through to Research is in urgent need of more facilities to allow our sport to continue to grow and keep the positive local involvement."
Photo Credit: Boomers Media
Local venues, court space, coaching appointments and even referee quantity and availability are just a number of various factors that are limiting this basketball boom.
Clubs love to have a place to call home, it's what makes a player or participant feel part of a family. With the latest stretch of venue availability, there are a number of clubs that are now having to share facilities to make an attempt at fulfilling the large demand that is out there.
Short term fix? Sure. But how will clubs continue to forge an identity among their competitors if they are all sharing multiple venues?
Collingwood's Megan Rouse is also pleading the same statements.
"We get complaints from families about training being too far away or families being split across multiple venues. The management of the venues, and even liaison with so many venues is very time consuming.
"There are no Council stadiums in the City of Yarra, or nearby councils, except Carlton Baths (City of Melbourne). Almost all the venues we use are school venues."
Basketball courts and gymnasiums are the perfect multi-purpose building for councils to facilitate as it appeals to the masses.
It's not just the EDJBA which has this problem either, the focus is on this competition due to its outstanding rise in participation over recent time. The association is ready to take the next steps and propel the next bunch of potential Australian Boomers, Opals, NBL & WNBL stars.
Photo Credit: Basketball Victoria
Basketball Victoria have even jumped on the cause, rallying with 'Vote One for Basketball' in your local council. You can read more information about it, here.
For the Collingwood All Stars, that relationship is already blossoming with their council, as they receive some support from the City of Yarra through their grant program.
That's only the beginning.
Grassroots is the most important part of the process.
---
Steve Chalmers is a basketball writer for The Pick and Roll, you can follow him on Twitter @cp_chalmers