Discover more from The Pick and Roll
We're all about Aussie hoops. Independent, objective analysis and commentary. Insightful narratives built around Australian basketball. Read about our men and women in the NBA, WNBA, NCAA, Europe, national teams, NBL, WNBL, NBL1, prospects and more.
Over 2,000 subscribers
Recruiting Update - Early NCAA Signing Period (UPDATES)
The early signing period has begun and a number of Australian Class of 2015 prospects have made their commitments official by signing their respective NLI's (National Letter of Intent).
Make sure to bookmark this page to stay updated with all of the signings throughout this period!
Last Updated: Monday, November 24 - 4:00am (ET)
---
Men
Ben Simmons - Louisiana State University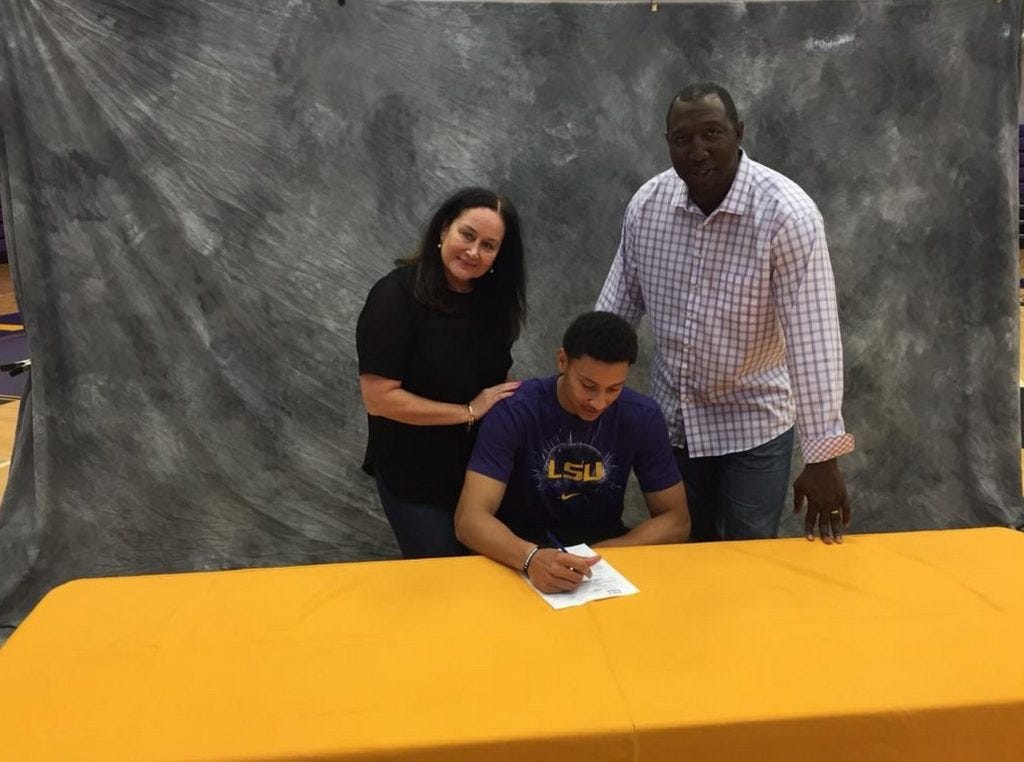 Ben Simmons signs his NLI to LSU
Ben Simmons, the 6'10 forward out of Melbourne, officially signed his NLI to Louisiana State University (LSU) this afternoon at a school assembly. It comes after speculation that he may forego college and enter the NBA Draft early as an international prospect - speculation that Simmons shot down numerous times.
"We are thrilled to have Ben Simmons and his wonderful family officially join the LSU basketball family," said LSU Head Basketball Coach Johnny Jones. "His talent level, hard work and passion for the game will allow him to make an immediate impact on the program."
Last season, Simmons averaged 18.5 ppg, 9.8 rpg and 2.7 apg while shooting 69 from the floor and 77 percent from the free throw line. He enters his senior year at Montverde Academy as the undisputed #1 player in the nation.
Michael Wearne - Eastern Washington University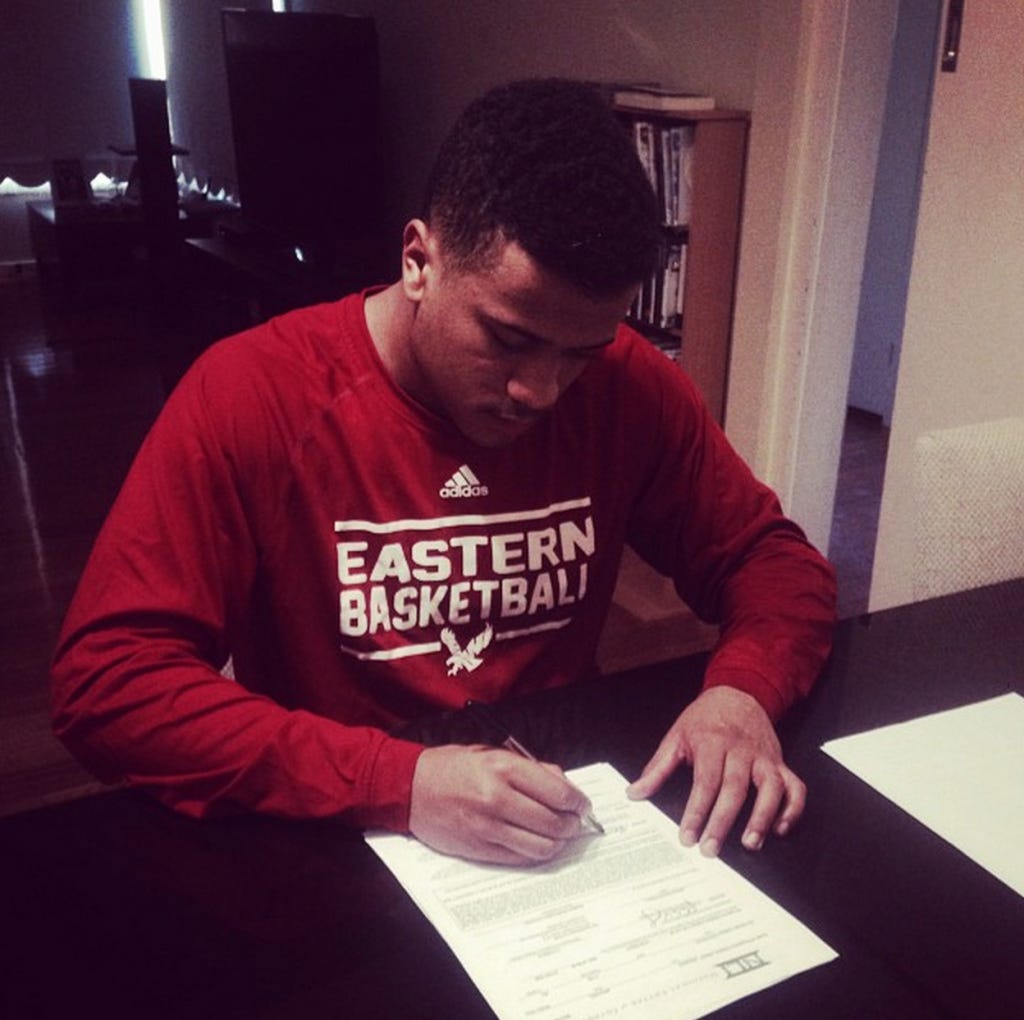 Michael Wearne signs with Eastern Washington University
Michael Wearne, the 6'1 guard out of Melbounre, officially signed his NLI to Eastern Washington on Wednesday night. The signing makes him the 4th Australian on the roster, joining Venky Jois, Felix Von Hofe and Daniel Hill.
Wearne comitted to Eastern Washington late last month. He officially visited the campus in early October and had plans to visit the University of Montana, however the chance to potentially start for Eastern Washington and make an NCAA Tournament run was too good to pass on - describing it as 'a perfect fit'.
A member of the most recent Australian U19 Emus training camp squad, Wearne was key for the Dandenong Rangers during this year's SEABL campaign, averaging 3 ppg, 2 rpg & 1.2 apg over 20 games.
Chier Maker - University of Portland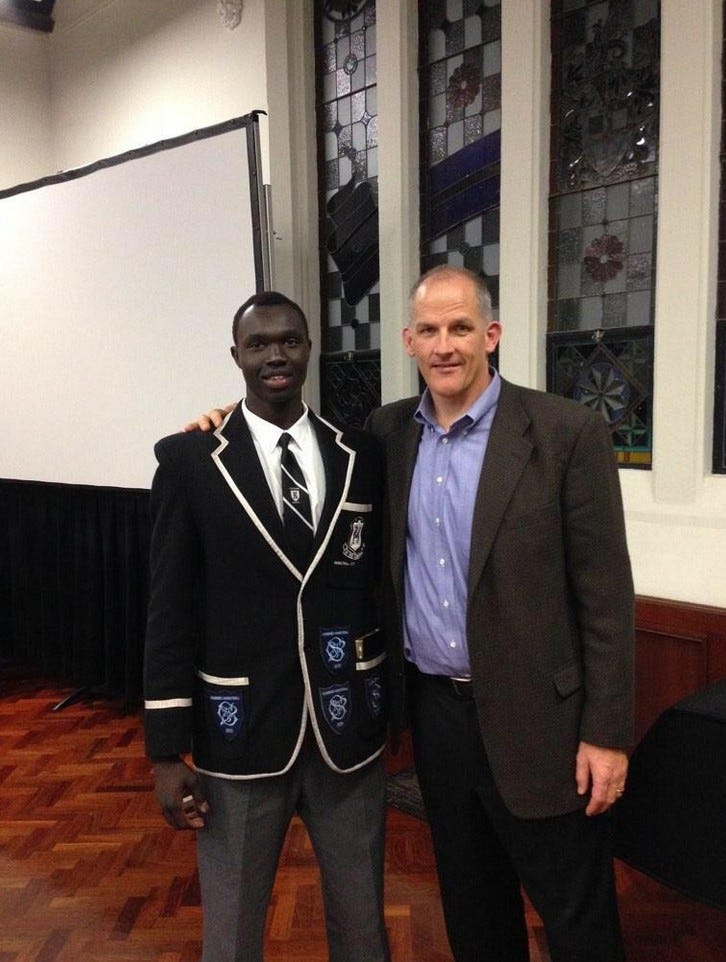 Chier Maker with University of Portland Head Coach, Eric Reveno
A signing that has seemingly gone under the radar is Sydney's Chier Maker officially signing his NLI to the University of Portland.
Eric Reveno, University of Portland's Head Coach, announced the signing via his twitter page earlier today.
Here is a picture of me and our first signee of the day. Any guesses on who it is? pic.twitter.com/SkKrDHa20E

— Eric Reveno (@CoachReveno) November 12, 2014
Maker has attended Newington College for the past few years, helping them achieve powerhouse status in Sydney's AAGPS competition. A cousin of Class of 2016 phenom Thon Maker, Chier Maker has been an important figure amongst the South-Sudanese basketball community in NSW - both on and off the court.
Deng Adel - University of Louisville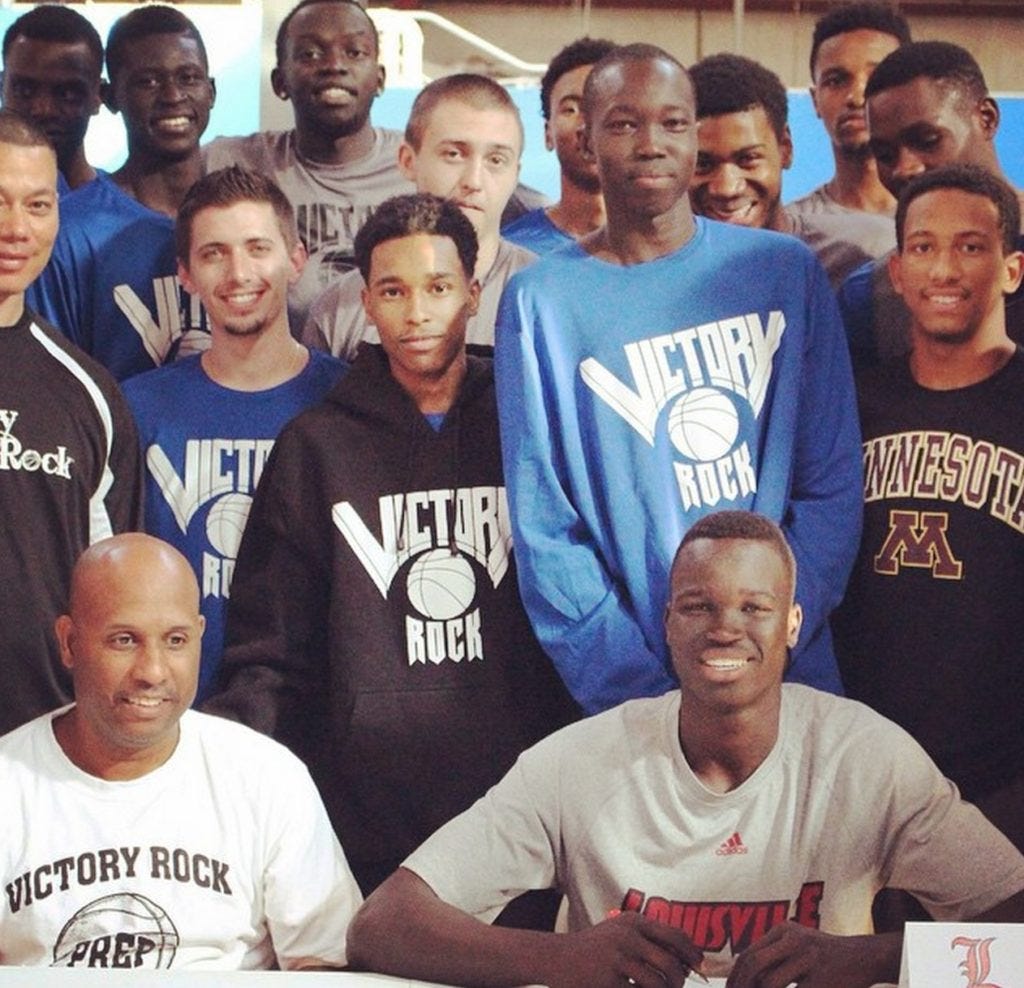 Deng Adel signs his NLI to Louisville
Deng Adel has signed his NLI to Louisville, making him the first of their star-studded 2015 recruitment class to officially sign.
The 6'7 small forward out of Melbourne committed to the Cardinals in August, with Head Coach Rick Pitino stating that he, "hadn't been more excited about a prospect in 10 years."
Adel was extremely impressive on the AAU circuit during May and June, starring for Florida Elite on the adidas Gauntlet circuit. He's been described as a player who could end up being a 5-star prospect by the time his senior year begins.
A Sudanese native who grew up in Australia, Adel averaged 22 points and eight rebounds in his first season at Victory Rock Prep and is primed for another great season as he enters his senior year.
Tanner Krebs - Saint Mary's
http://instagram.com/p/vVRsRNhyz5/
Tanner Krebs officially signed his NLI to Saint Mary's today, continuing the tradition of Aussie talent joining the program.
Krebs will join fellow Aussies Emmett Naar, Jock Landale and Dane Pineau at the California program after committing in April.
A member of the Australian U19 squad that will play at the FIBA Oceania Pacific Youth Championships in early December, Krebs has been a big piece of this year's Centre of Excellence program - averaging 12.3 ppg, 4.1 rpg & 1.8 apg in SEABL competition as a senior member of the squad.
Kyle Clark - Saint Mary's
Joining Krebs at Saint Mary's is his Tasmania counterpart Kyle Clark, who signed his NLI on Friday morning.
Kyle Clark signs his NLI to St Mary's
Clark was the 6th man for the silver medal winning Australian U17 squad, averaging 5.9 ppg & 2.9 rpg in significant minutes off the bench. Clark also had an impressive SEABL season this year, posting 10.7 ppg, 4 rpg & 35% 3pt for NW Tasmania.
A member of the Australian U19 squad that will play at the FIBA Oceania Pacific Youth Championships in early December, Clark will bring an impressive skill-set to Saint Mary's - his size and shooting ability likely giving him the chance to contribute to the Gaels from the get-go.
Joseph Acuil - Baylor University
Joseph Acuil, the 7'0 centre out of Melbourne, has signed with Baylor University.
Joseph Acuil signs his NLI to Baylor University
Acuil has spent the past 2 years at Neosho County Community College, leading them to their first trip to the National Junior College Athletic Association Region VI playoffs since 2005.
He's averaging 19.2 ppg, 9.5 rpg and a conference leading 3.8 bpg in the Neosho Panthers' 5-1 start to this college season and is expected to join Baylor beginning in the 2015-16 season.
"Jo brings a great skill set and shot blocking ability, Baylor head coach Scott Drew. "He can shoot the three and can dribble and pass very well for a seven foot player. We also love his intangibles. A great person on and off the court. A very humble and hard working player."
Acuil committed to the Baylor Bears in early August after a great showing at the Nike 100 camp in St. Louis, impressing with his versatile skill-set and elite shot-blocking.
He won't be the only Australian on the Baylor roster, joining fellow Melbournian - and junior college product - Deng Deng, who has had a very impressive start to the season for the Bears.
Jordan Hunter - St Mary's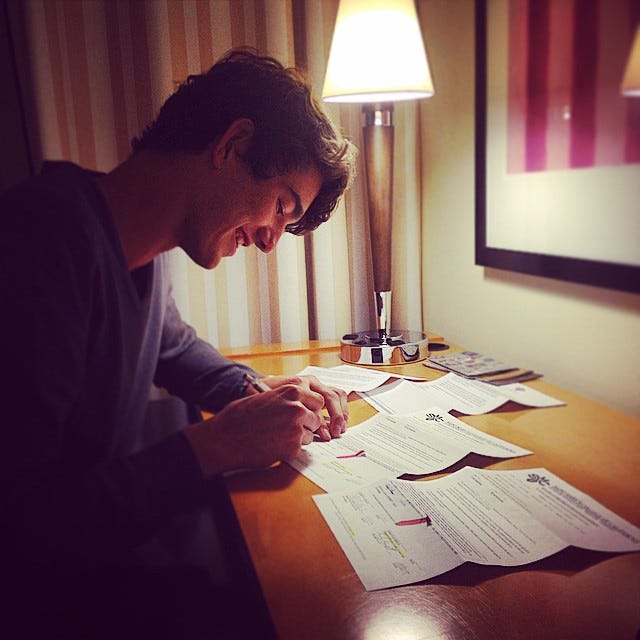 Jordan Hunter signs his NLI
St Mary's 2015 recruiting class has added its 3rd Australian as 6'9 centre Jordan Hunter has signed with the Gaels.
Hunter emerged late this year as one of the better big men in the country, an invitation to trial for the Australian U19 squad in October proof of his recent improvement. Although he didn't end up making the final squad, an invite was extended for him to attend the 2015 Australian Development Camp.
Hunter had a very impressive showing in the NSW Waratah Junior Metro League, leading Norths to a championship. He recently visited the CoE to train with the current scholarship holders and didn't look out of place at all.
Joining fellow Australians Tanner Krebs and Kyle Clark at the Californian program, Hunter will likely be a contender to make the Australian U19 squad that will compete at the FIBA World Championships in June of 2015 - should they qualify.
Listen
Listen to Olgun break down some of the signings on this week's episode of The Flag Flyers, Melbourne's SEN 1116 sports radio broadcast, on 18 November 2014 (from 15:26 onwards).
https://soundcloud.com/sen1116/the-flag-flyers-1811
---
Women
Alanna Smith - Stanford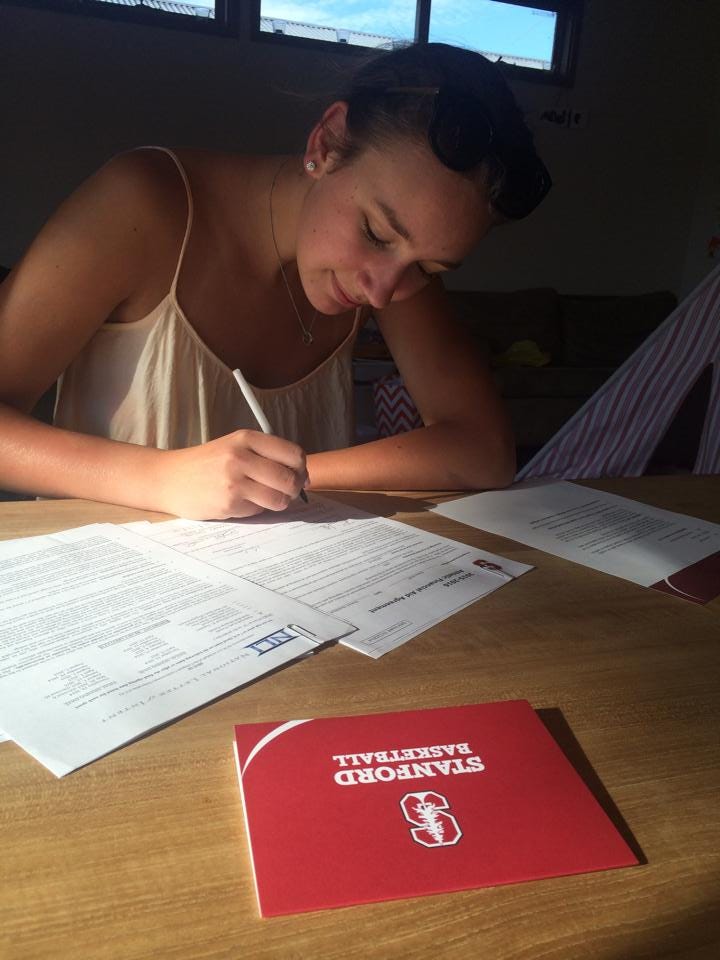 Alanna Smith signs to Stanford
Alanna Smith, the 6'3 forward out of Hobart, has officially signed to Stanford University in what is an extremely strong recruiting class for the Cardinals.
Smith was born in Hobart but played the majority of her junior basketball for the Nunawading Sprectres in Victoria. She announced her commitment to Stanford late last month.
A member of the Australian U17 Women's squad back in 2012, Smith playing a key role at the 2012 FIBA U17 World Championship for Women in Amsterdam – averaging 5.6 ppg, 5 rpg & 1.8 bpg in 8 games.
Smith was also named to the Australian U19 Gems squad for the 2014 FIBA Oceania Pacific Youth Championships. A successful showing at that tournament would see the Aussie 'Gems' qualify for the 2015 FIBA Under 19 World Championship for Women in Chekhov, Russia next July.
Megan McKay - Saint Mary's
Megan McKay has signed her NLI to Saint Mary's, with Head Coach Paul Thomas announcing the signing on Friday.
"Megan is someone we identified a couple years ago and thought her to have an extremely high ceiling," said Thomas. "She will fit very well into our system and style of play. She is a physically and mentally strong kid that will thrive at Saint Mary's College as a student and athlete."
The 6'4 forward out of Perry Lakes in Western Australia was a member of the Australian U17 squad for the 2013 FIBA Oceania Women's Championships, averaging 8 ppg & 5.7 rpg on 63% FG.
McKay was arguably the most productive player at this year's U18 Australian Junior Championships. She was 2nd in scoring (20.8 ppg), 1st in field goal percentage (65%) and 1st in rebounding (15 rpg), leading the WA Metro squad throughout the tournament.
McKay will join the Gaels beginning in the 2015-2016 season where she'll join fellow Aussies Lauren Nicholson, Hannah Kaser and Carly Turner.
Bridget O'Brien - Winthrop
Bridget O'Brien, the 6'1 forward out of Queensland, has signed with Winthrop University.
O'Brien announced her commitment to the Eagles back in August and has since been a part of the Australian U17 'Sapphires' during their FIBA U17 World Championship campaign, averaging 0.7 ppg & 1.7 rpg in limited minutes off the bench.
It was a tournament held in Rock Hill, South Carolina that first saw O'Brien come to the attention of the Winthrop head coach Kevin Cook and his staff. She competed in the 2013 Y.C. Winborn Classic, a tournament hosted annually by Rock Hill High School, where she was named the tournament MVP.
"We are thrilled that Bridget has decided to become a Winthrop Eagle," said Cook. "Bridget is an extremely athletic and versatile performer. She has the ability to play multiple positions and will fit perfectly into our style of play when takes the floor next year as a freshman. Bridget is an honor student, and is also the type of individual who will represent Winthrop in an elite manner."
O'Brien is expected to enrol at Winthrop in January of 2015 and will sit out the Spring semester before competing during the fall semester.
Courtney Woods - Northern Illinois
Another Queensland girl who has made her signing official is 6'1 guard Courtney Woods, who has signed her NLI to North Illinois.
"Courtney's a guard that can play the point and can run the show. She has the European mentality of how to score and has great feet. She really pushes the ball in transition and can shoot the three. She's just a very complete guard with some size and can help us immediately," Said Kathi Bennett, Head Coach of the Huskies.
Woods had an incredible campaign for Queensland South at this year's U18 Australian Junior Championships, averaging 19.6 ppg, 6.4 rpg & 1.9 apg on 43% FG.
Sara Anastasieska - University of Texas at San Antonio
Sara Anastasieska, the 5'11 guard out of Sydney, has signed with the University of Texas at San Antonio (UTSA).
Sara Anastasieska | Courtesy FIBA - via Basketball Australia
Playing for Norths Basketball Association in North Sydney, Anastasieska was a member of the Australian U17 Women's squad that competed in the 2013 FIBA Oceania U16 Championship for Women - averaging 5 ppg, 6 rpg & 1 apg in 3 games.
Anastasieska was also a key part of the NSW Metro squad at this year's U18 Australian Junior Championships, averaging an impressive 10.3 ppg, 6.2 rpg & 1 apg.
With an offer from University of Texas–Pan American also on the table, Anastasieska went with UTSA because she felt a lot more comfortable with what the program had to offer - she also cited the location, coaching staff and players as factors that led to her decision.
She is expected to begin her stint at UTSA in the Summer of 2015.