Discover more from The Pick and Roll
We're all about Aussie hoops. Independent, objective analysis and commentary. Insightful narratives built around Australian basketball. Read about our men and women in the NBA, WNBA, NCAA, Europe, national teams, NBL, WNBL, NBL1, prospects and more.
Over 2,000 subscribers
Deng Gak to attend Blair Academy in New Jersey
Following in the footsteps of fellow South Sudanese athlete Luol Deng, Australian centre Deng Gak will attend Blair Academy in New Jersey.
Deng Gak | Photo credit: FIBA
---
As one of Australia's most talented athletes in the class of 2017, Gak has finished his time at Basketball Australia's Centre of Excellence and will begin his junior year at Blair Academy, starting in September.
Blair Academy has boasted such NBA talent as Luol Deng, Royal Ivey and Charlie Villanueva, with veteran coach Joe Mantegna continuing to have success running the elite program.
Mantegna and Luol Deng were both in Melbourne earlier this year, attending the South Sudanese Australian National Classic. Gak cites Luol Deng as one of his biggest influences, and a factor when making his decision to move to the United States.
I've spoken to [Luol Deng] heaps about his time at Blair. It's huge because he's also Sudanese, so he's pretty much been through the same stuff I've been through, and am currently going through. He's definitely somebody I look up to.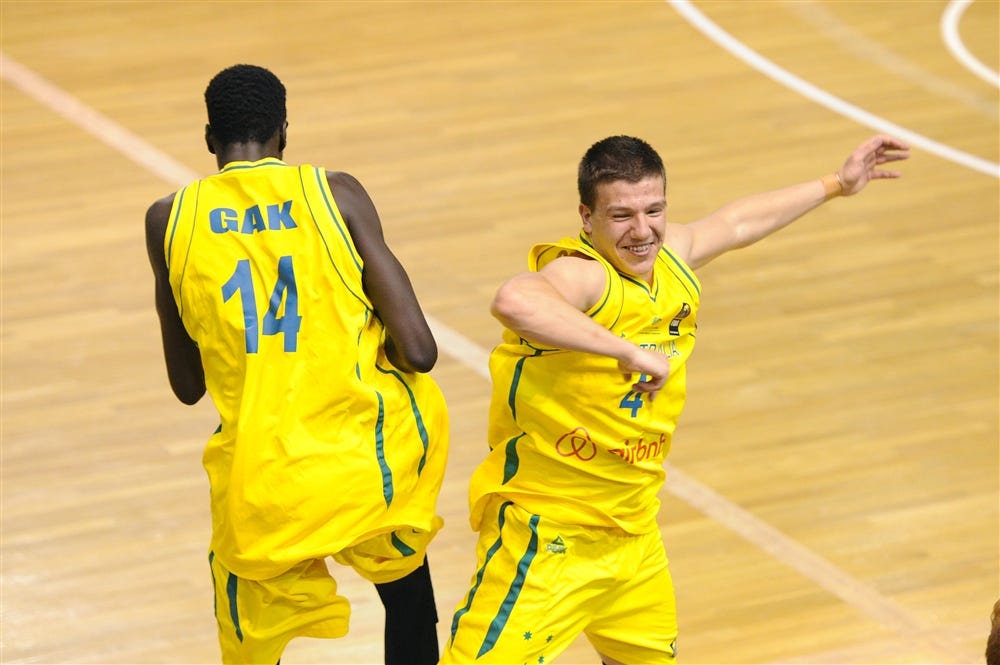 Deng Gak and Dejan Vasiljevic @ the FIBA U19 World Championship | Photo credit: FIBA
Originally born in Cairo, Egypt, before moving to South Sudan, then ultimately Sydney, Australia, Gak was a member of the Australian U19 Men's squad, averaging 4 ppg, 4.1 rpg and 0.7 bpg as a starter, helping the Emus to a 7th place finish. With his combination of size, length and athleticism, Gak's recruitment picked up while playing for Emus, with his ultimate goal being to attend a high-level college.
My goal going to Blair [Academy] is when I finish, to play at a high major college.
As he joins the many Australian athletes who have moved to the US to continue their high school basketball careers, Gak is also continuing the trend of Sudanese-Australian athletes choosing this path - with Thon Maker, Matur Maker and Daniel Mading among the high-level Sudanese-Australian athletes playing high school basketball in North America this coming season.
Gak will leave for New Jersey on September 11th, arriving at the Blairstown campus for the very first time.