Discover more from The Pick and Roll
We're all about Aussie hoops. Independent, objective analysis and commentary. Insightful narratives built around Australian basketball. Read about our men and women in the NBA, WNBA, NCAA, Europe, national teams, NBL, WNBL, NBL1, prospects and more.
Over 2,000 subscribers
Day 2 wrap of the 2014 NBL Pre-Season Blitz
A big day of competition has wrapped up on Day Two of the 2014 NBL Pre-Season Blitz that saw both sessions again played in front of sell out crowds at NAB Stadium in Brisbane. With all eight teams taking to the court - Cairns, Melbourne, Adelaide and Townsville all enjoyed victories.
In the opening match of the day, Cairns withstood a 3rd quarter charge from defending NBL Champions Perth to secure a 99-89 win. Cameron Tragardh led the Taipans with 24 points in just 21 minutes of action after succumbing to foul trouble in the 2nd half. For Perth, Jermaine Beal looked ready for the season proper to get underway nailing 6/8 from 3-point land on his way to 24 points.
Perth enjoyed an early 15-9 advantage behind consecutive Beal 3-pointers in the first quarter before Cairns import Scottie Wilbekin scored 6 consecutive points of his own in reply. Perth forward Shawn Redhage received an unsportsmanlike foul for running through Tragardh on offense that would see Perth Coach Trevor Gleeson pick up the first of what would be two technical fouls for the game.
Going into the 2nd quarter leading 29-25, Cairns would continue swinging the momentum their way on back to back Tragardh hook shots as part of a 15-5 run. It was during this stretch Gleeson would pick up his 2nd technical foul resulting in being ejected after showing his displeasure with the officiating. Perth assistant coach Paul Woolpert expressed his displeasure on Gleeson's exit after the match.
I've never seen a coach get a technical foul for saying "be consistent please" and the second one he said "sheeeesh", Woolpert said.

Maybe the officials were a little rusty as well. Trevor was obviously frustrated with the way we were playing.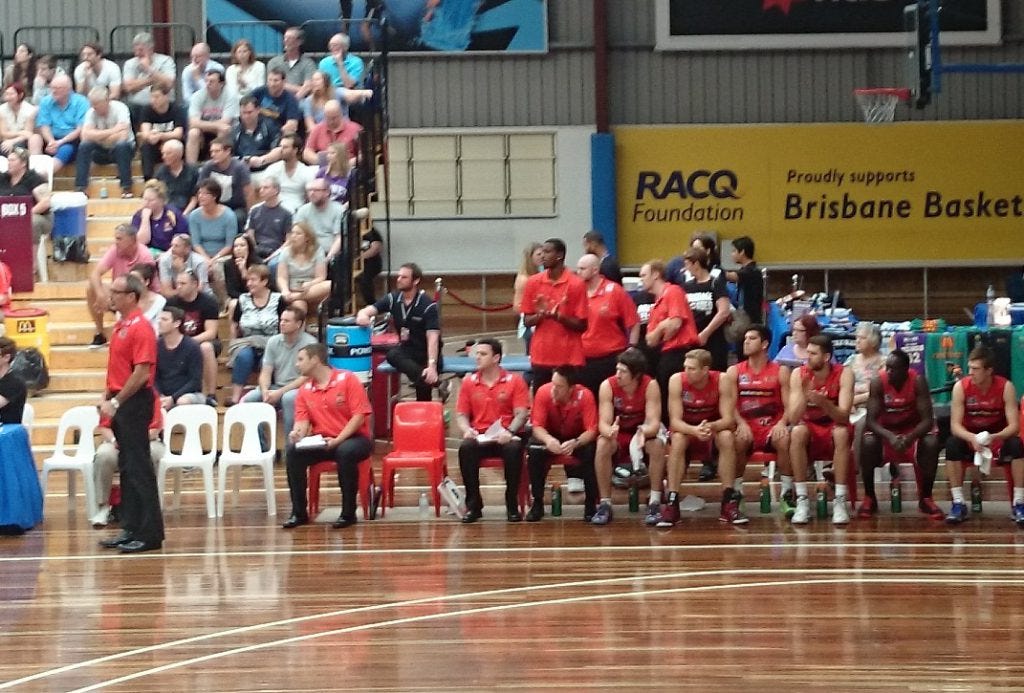 Perth Assistant Paul Woolpert takes the reigns after Trevor Gleeson was ejected.
A huge Mitch Young blocked shot late in the quarter would see the ball fall into the hot hand of Beal for another 3-pointer before Young would gain his revenge taking a charging foul on Beal on the next Perth offensive set. With Beal playing a lone hand on offense for Perth, Tragardh was the man for Cairns scoring 18 points for the half as Cairns had pulled away for a 57-41 lead at half time.
Tragardh would pick up his 4th foul early in the 3rd quarter that would see the door open for Perth as Cairns scoring had temporarily dried up. Perth had pulled within striking distance before Torrey Craig dropped two late term 3-pointers in a quarter where Perth outscored the Taipans by 8.
Cairns would manage to keep the Wildcats at bay through the final term with late triples from Damian Martin and Beal putting some respectability on the scoreboard for Perth as Cairns ran out eventual 10-point winners.
Cairns Coach Aaron Fearn was particularly happy with his side's performance in their opening match at the NBL Blitz.
"This was our first game together as a group. Our two imports and (Cameron) Glidden haven't played a game together this year so it was a pretty good first up performance," he said.
Perth assistant coach Woolpert was realistic in what winning last year's NBL crown means for the Wildcats this year.
"They outplayed us. I told the guys at first day at training camp we were going to have a target on our backs given the fact we are defending champions," he said.
"We haven't responded well to that. At this point of the season it's not about your opponents but about where we are and we are not at the level we need to be at."
Fans were at again at the centre of the NBL Blitz experience on day 2 as Cameron Tragardh and Matthew Knight signed autographs.
In the next match of the afternoon session, Sydney took on Melbourne United who were backing up less than 24 hours after dropping their opening Blitz match the night before against Townsville.
Melbourne's Jordan McRae picked up where he left off in that match where he had 28 points in his United debut by scoring his team's first 10 points in an even first quarter that was tied 18-all at its conclusion.
With Sydney staying in a zone defense that Melbourne struggled against in their opening match, United looked to push the ball that resulted in a 23-5 run. With all cylinders firing on both offense and defense, Melbourne Coach Chris Anstey even found time to launch a shot from the sidelines after catching a wayward pass. It looked good out of the hand but was just to the left much to the amusement and appreciation of the crowd.
Melbourne continued its dominance on both ends of the floor in the 3rd quarter. Holding Sydney to just 5 points through the first 9 minutes of the term, Melbourne forward Mark Worthington combined with McRae on multiple possessions resulting in slam dunks for each of them in a quarter dominated by United 32-12.
The task would ultimately be too much for Sydney as Melbourne started to spread the minutes in the final term while forward David Barlow sat out the match having been unwell during the week and pulling up sore from the match the night before. Daniel Kickert continued to learn the way of the NBL officials by fouling out in less than 18 minutes of court time but this would be academic as United took the game 96-58.
McRae again led the scoring for Melbourne with 28 points while Worthington was dominant across all aspects of the game scoring 26 points to go along with 12 rebounds and 7 assists. Tom Garlepp came off the bench for Sydney to lead the Kings with 15 points.
Mark Worthington on his way to another basket in what was a dominant all round performance.
Melbourne coach Anstey was happy with how his team had bounced back from their defeat at the hands of Townsville the day before.
"We were better (today). We moved the ball better and we got into the creases better," he said.
Anstey has also been impressed with what he has seen from import McRae in his first two games with Melbourne.
"We love his ability to get on the rim," he said.
"He probably hasn't shot the ball as well as we know he can but that's an adjustment. He's getting to know personalities and where shots are coming from in our structure."
Meanwhile Sydney Coach Damian Cotter was disappointed in what so far has been a successful pre-season for the Kings.
"For us that's our first loss in 8 games in the pre-season. It was disappointing from the standpoint that I felt we played well two nights ago (against Perth in Ipswich)," he said.
"I am looking forward to seeing how the guys bounce back after such a disappointing game."
In the first match of the evening session, the Adelaide 36ers were up against a Wollongong team making their 2014 NBL Blitz debut after Adelaide lost to New Zealand on the opening night.
Adelaide would use a 34-18 3rd quarter romp to see them through to a 106-81 victory while in the process showing how to look after the ball committing just 11 turnovers on the way to 26 assists for the game. Mitch Creek led the 36ers with 27 points with Jamar Wilson producing a solid all round effort with 23 points, 8 rebounds and 7 assists. Tyson Demos managed 19 points including 4/4 from 3-point territory.
Both victorious in their opening matches of the Blitz, the Townsville Crocodiles and New Zealand Breakers brought a long day of competition to a close. The Crocodiles would prove too much for the Breakers winning 91-64 and moving to the top of the Blitz table with a 2-0 record.
Box Scores and Full-Match Replays
Perth Wildcats v Cairns Taipans
Sydney Kings v Melbourne United
Adelaide 36ers v Wollongong Hawks
Townsville Crocodiles v New Zealand Breakers
2014 NBL Pre-Season Blitz Schedule – Sunday September 21st – Day 3
12:00pm: Cairns Taipans v Sydney Kings - Click here for live streaming and box scores
2:00pm: Wollongong Hawks v Perth Wildcats - Click here for live streaming and box scores