Discover more from The Pick and Roll
We're all about Aussie hoops. Independent, objective analysis and commentary. Insightful narratives built around Australian basketball. Read about our men and women in the NBA, WNBA, NCAA, Europe, national teams, NBL, WNBL, NBL1, prospects and more.
Over 2,000 subscribers
How David Andersen's absence will affect Melbourne United
With the announcement of David Andersen's six week absence, the question to ask now is how Melbourne United will do without him. Given the return of Todd Blanchfield and David Barlow, together with Andersen and the team's form, plus the depth of the roster, the likely answer is that they'll be just fine.
Melbourne are at 4 wins and 1 loss in the Casper Ware era with his arrival timing perfectly with the return of Chris Goulding. These two have quickly established themselves as the barometers of the team with high volume and high quality shot-creation and shot-making. It's absolutely a make-or-miss league when these two are controlling the offense with a bunch of quick trigger spot-ups or off the dribble deep threes. The result has been enthralling thus far with an offense that has net an awesome 120 points per 100 possessions over a five game stretch.
Andersen's return to the league has been more of a struggle than first anticipated though as he's failed to find his groove in the offense, even when United were desperate for scoring in Goulding's absence. Given Andersen's age and mobility issues on defense, his offense simply must carry him or he will be a negative on the court (his minus-4.1 on-off court rating per 36 minutes certainly matches the eye test on this occasion). His patented mid-range jumper has been getting results but he's finished at a below average rate in the paint and hit only a quarter of his three point attempts.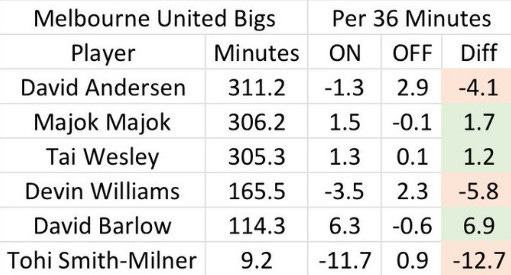 David Barlow was the recipient of the vacant starting spot that Anderson's absence created against Sydney on the weekend and he produced a tidy stat line in what Melbourne fans can certainly be encouraged by. His presence next to Majok Majok is a vastly different look with his smaller stature allowing Melbourne to put more versatile line-ups on the floor that can play faster, be more interchangeable on both ends, and space the floor even more for Goulding and Ware to work on the ball. Todd Blanchfield's return also pushes Owen Odigie's minutes down again in what provides Melbourne with a clear upgrade (United went minus-37 in 187 minutes with Odigie on the floor) and another legitimate option if Dean Demopoulos decides to play small.
Devin Williams is the next interesting discussion point with some extra minutes potentially available as the sole true big on the floor when Majok takes a breather. He's struggled to stay in the rotation this season but he should be able to find a role around their play-makers doing the dirty work, setting screens and crashing the glass. Melbourne are currently last in offensive rebound percentage and it's Williams who can be the factor if he's good enough and the coach believes in him.
Their record might still be mediocre overall, but United are starting to resemble last season's squad that burst out of the blocks on the back of an offense with low turnovers and high volume three point shooting (as well as a solid defense). The gravity of Ware and Goulding's shot-making (Ware is also at 5.8 FTA and 4.8 AST, whilst Goulding can be a talented passer) should be enough to maintain a strong offense given the floor spacers and slashers on the roster, as well as Majok Majok feasting on easy looks at the rim.
Whether they are ready for a title push though is still likely dependent on their bigs with Devin Williams desperately needing to add an extra dimension to the roster and (or) David Andersen needing to be playable on the back of some bucket-getting when the playoff grind takes effect. If Andersen can't make plays, he'll be played off the court when it matters most and Melbourne will have to take their chance on smaller line-ups or the high usage and sometimes inconsistent scoring of Tai Wesley.