Discover more from The Pick and Roll
We're all about Aussie hoops. Independent, objective analysis and commentary. Insightful narratives built around Australian basketball. Read about our men and women in the NBA, WNBA, NCAA, Europe, national teams, NBL, WNBL, NBL1, prospects and more.
Over 2,000 subscribers
David Andersen: Australia's most successful European export
Andersen discusses his trophy-laden European career, NBA stint and life abroad in a retrospective celebrating the most successful European export Australia has ever produced.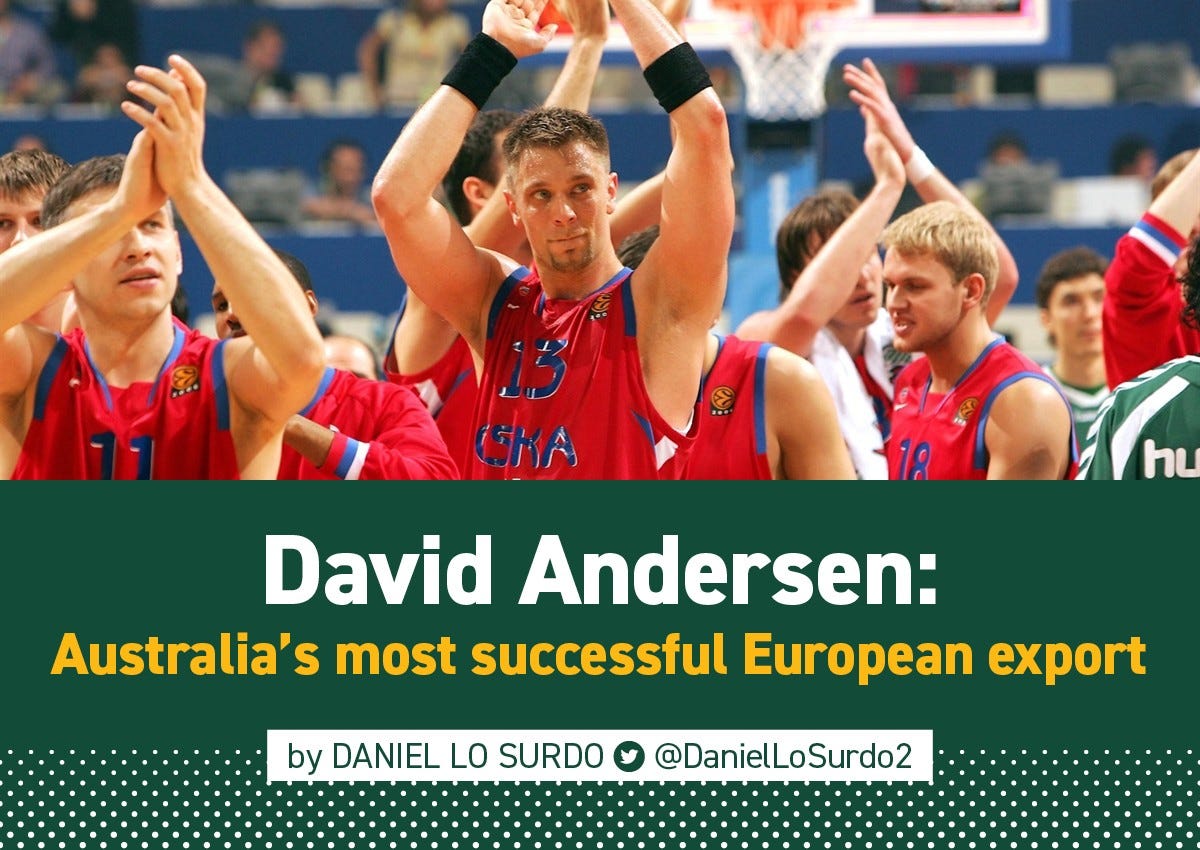 Credit: EuroLeague
---
Sitting in his home on the Mornington Peninsula, David Andersen reflects on his 22-year career - a career that made the Australian a household name for Europeans living over 15,000 kilometres from suburban Melbourne, where the 40 year old first picked up a basketball. 
At times, even Andersen struggles to believe what he's been able to achieve after picking up that round ball for the first time. 
"I [was] just a kid from Frankston that loved playing sport and got beat up by my brothers playing basketball out in the front yard," Andersen told The Pick and Roll. "If you told me when I was 15 that I would be an Olympian, you're going to be one of the best players of basketball in Australia, one of the longest-serving basketballers I would have been like, 'mate you're crazy'." 
While the Boomer, who last played for the Illawarra Hawks in the 2019/20 NBL campaign, looked to have had all the makings of a typical Australian child, the formative years of Andersen's boyhood were far from ordinary. 
After moving to Canberra to play at the Australian Institute of Sport (AIS) on a three-year scholarship, Andersen began his professional career in the NBL with the Illawarra Hawks, turning down prestigious college programs to remain at home. 
"I had big offers from UCLA and Arizona," Andersen said. "I wanted to stay in Australia and keep that sense of versatility, and I think it paid off for me."
The Italian job

Credit: EuroLeague
The four-time Olympian swapped the beaches of Wollongong for Northern Italy in 1999, joining national powerhouse Kinder Bologna (now Virtus Bologna) to begin a trophy-laden European career. The then 18-year-old touched down in a city featuring two clubs dominating the rest of the continent, where Andersen recalls the hostility shared between his side and fierce rivals Fortitudo Bologna at the turn of the millennium.
"We had the two biggest teams in Europe, the two biggest budgets in Europe, playing in one town. The derby rivalries were massive, we had six, ten thousand essentially diehard fans. They were swearing, they used to call me pezzo di canguro di merda - piece of shit kangaroo," Andersen recalled. "The passion of these fans and the ways they act, you don't see that in Australia or America."
It was in Bologna that Andersen won the Italian League, two Italian Cups and his first EuroLeague trophy in just his second year on the continent. He was a key contributor on a side led by future Hall of Famer Manu Ginobili. 
"Some of my best memories with [Ginobili] were winning the championships and watching him perform, and even on the court playing against him in training," Andersen recalled. "He'd sneak past you like a plastic man and lay it up on the other side, and you'd be like, 'how did you get around me?' And then, to make me feel a little bit better five years later, I've seen him do it in the NBA, and I was like 'oh, okay, so it probably was pretty good of him.'"
Andersen shared a close bond with the four-time NBA champion off the court too, a friendship nurtured over their shared game day routine. 
"Every pregame we played at home, I'd always eat with [Ginobili] and have a good time," Andersen said. "He's just a real down to earth kind of guy, a bit like an Aussie really."
A gentleman in Moscow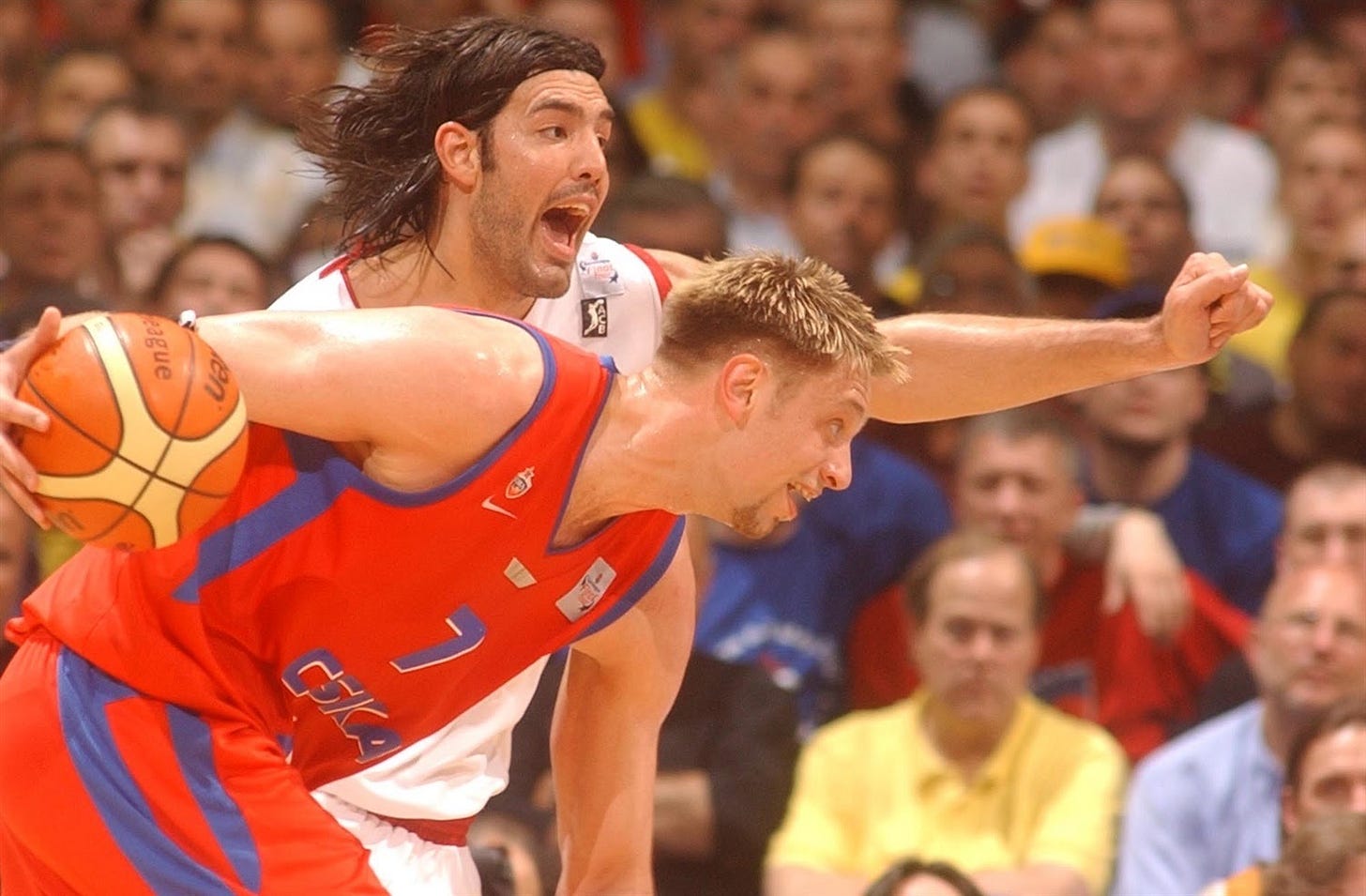 Credit: EuroLeague
After winning Finals MVP and the Italian League championship with Montepaschi Siena (now Mens Sana 1871 Basket) in 2004, and fresh off his Olympic debut with the Boomers in Athens, Andersen made the switch to Russian powerhouse CSKA Moscow in search of a new challenge in a city like no other. 
"I tell everyone that it [Moscow] is like LA, New York and Miami rolled into one," explained Andersen. "It was a big step up for me."
In his four seasons in the Russian capital, Andersen led an utterly dominant side to successes both domestically and throughout the continent. 
"We had a great time, we were killing everyone," he added. 
The Australian would add two more EuroLeague trophies to his silverware cabinet in 2006 and 2008 to complement four domestic league championships and three consecutive Russian Cups (2005-2007). The Australian was also selected to the All-EuroLeague First Team in 2005, where he led his club to a perfect 14-0 regular season while averaging 12.4 points and 7 rebounds, in a season where the Army Men bowed out in the semifinals of the competition. 
"They [CSKA] look after you like an NBA player, but they demand a lot out of you too," Andersen explained. "We were treated like absolute stars, it was a different experience."
Coming to America
A lone season for Spanish powerhouse Barcelona silenced any hesitations that NBA executives may have had on Andersen's fit in the American game. The 6'11 Aussie helped the Catalan giants secure their 15th domestic crown, registering a match-high 21 points in game one of a best-of-five finals series that took the Blaugrana only three more games to capture the title. After winning every domestic championship at each of his European stops, Andersen felt ready for the theatre that is the NBA.
"Playing in the NBA is like a show," outlined Andersen. "I was 29, and I thought the timing was right." 
But Andersen had to make many difficult decisions in order to fulfill his childhood dreams.
"I was actually going to get paid more in Europe, so I probably took a million-dollar hit to go," Andersen shared. "It was a dream of mine to go [to the NBA], and I sacrificed, but I was happy to go — it prolonged my career and kept me motivated, and I also got that recognition in Australia too once I went to the NBA."
Andersen inked a three-year deal with the Houston Rockets in August 2009, after the Atlanta Hawks, who selected the Australian 37th in the 2002 NBA Draft, traded their rights to the Texas club a month prior. Andersen was brought into a Houston side embarking on their third campaign under general manager Daryl Morey, an NBA executive who has been influential in the small ball revolution of modern basketball. Under Morey, the Rockets prioritised perimeter shooting and versatility, informed by analytical data that position Houston to outscore opponents, a style where Andersen believes he would have thrived. 
"It was on those teams [Houston] recognising the data collection of corner threes and higher percentages, and this and that, and if I had known that and did that when I was 25, now I'd probably be on a good roster earning a bit more money. That's the style of the game now, those taller, bigger, versatile players that can defend and obviously run the floor and do things like that."
In a two-year stint where Andersen played with Houston, Toronto and New Orleans, the Australian posted 4.9 points and 2.8 rebounds in just over 12 minutes an outing. While shooting a commendable 38.5 per cent from beyond the arc in 30 games in New Orleans, continual trades made it difficult for Andersen to establish himself as a consistent rotational piece in a nonstop NBA season. 
"You have to be emotionally level the whole time. You can have a big victory and you want to celebrate, but you have a game in 24 hours, so you have to get back off your high horse and get ready to play again, and you're going against someone who's as good or if not better."
But while the NBA presented a series of new tests for Andersen, it didn't stop the Australian from enjoying the dream he once imagined as a junior playing back in Frankston. 
"'One day I will play in the NBA' - I had it written down and my parents kind of looked at it and laughed at me. I met some really great people there [in the NBA], playing with teammates like Shane Battier, Luis Scola, Kyle Lowry, DeMar DeRozan, Jose Calderon in Toronto, moving to New Orleans — Chris Paul was there. Some of those relationships I cherish a lot because they were good people and you only see one side of them when you're on the outside looking in. The stars act a bit different in front of crowds, but when you get to know them they're really just good people."
Return to Tuscany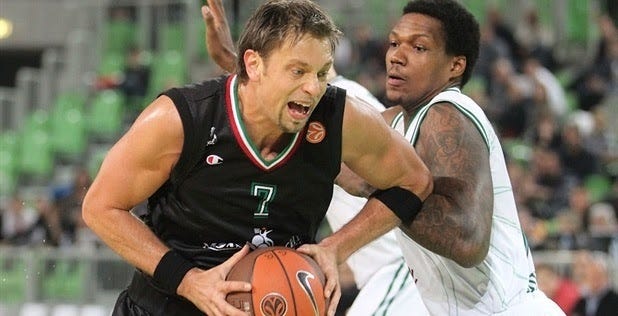 Credit: EuroLeague
With an uncertain NBA season brewing before a crucial Olympic year, Andersen decided to return to Italian side Montepaschi Siena after leaving for Moscow seven years prior. 
"One of the big factors going back [to Siena] was I was playing for New Orleans, not playing a lot of minutes," Andersen shared. "The London Olympics were around the corner, the NBA was in a lockout, and it was all up in the air."
Andersen reunited with a Siena side on a domestic warpath, looking to win their sixth Italian championship in a row. The club's hunger to add to their growing trophy cabinet was reciprocated by Andersen, who was excited to renew his reputation as one of the continent's elite. 
"I wanted to be reestablished in Europe and I wanted to win more championships. In my mind it was winning another EuroLeague championship, winning more Italian championships, the Italian cups, and getting ready to have a big contribution with a team to play in the London Olympics."
While Siena bowed out in the quarterfinals against eventual continental champions Olympiacos, Andersen won his third Italian Cup, leading his side to an 88-71 victory in the final against Bennet Cantu to earn MVP honours. The Australian also collected his third Italian League title against Olimpia Milano, wrapping up the best-of-seven series in just five games*. 
Strong performances in Italy earned the Boomers star a starting nod in his third Olympic campaign, where he averaged 12 points and 6 rebounds a game on 40 per cent three point accuracy. Australia finished in fourth place in Group B with a 3-2 record, where they were beaten convincingly by the eventual gold medallist United States squad.  
"One of the biggest things with going back to Europe was to give another round at the Olympics and rekindle my basketball. London was a bit disappointing, but there was a guy named Kobe Bryant, but that's why he was what he was."
More European silverware
Andersen left for new shores at the conclusion of the 2011/12 season, making the journey east for Istanbul-based Fenerbahçe in hopes of adding an elusive fourth EuroLeague title with the Efsane. In his only season with the club, the Australian continued filling up his trophy cabinet, earning his side the Turkish Cup while collecting the MVP award for his exploits in Fenerbahçe's 63-57 victory against local rivals Galatasaray in the tournament's final. 
After being eliminated in the EuroLeague's Round of 16, Andersen left the Marmara Region on less than friendly terms with Fenerbahçe, embarking on a new chapter of his European adventure in France. Andersen signed with SIG Strasbourg briefly before inking a deal with national powerhouse ASVEL in September of 2014. 
It was at Lyon-based ASVEL where Andersen grew as a star in France. Under future Hall of Famer Tony Parker's ownership, the Australian was a key figure in the Astroballe, helping the side deliver its 18th French League championship, earning Andersen a domestic trophy in each of his five European stops. Individually, Andersen added 11.3 points, 6.4 rebounds and 1.8 assists while shooting 39.1 per cent from deep to earn selection as a starter for 'The Foreigners' in the French Pro A's annual All-Star game. It would prove to be a final honour for Andersen on European shores, before finally deciding to return home down under.
Coming home
After overflowing his trophy cabinet with 23 pieces of European silverware, Andersen returned to the NBL after a 17 year absence, signing and captaining Melbourne United in his home city. While returning for second stints with both ASVEL and Strasbourg in 2017 and 2019 respectively, Andersen registered his first professional Australian silverware in 2018, where United fought off a strong Adelaide 36ers side in a five-game classic to capture their fifth NBL title. The 37 year old Andersen became the oldest player to win their first NBL championship, cementing the Australian's legacy as a serial winner. 
"Chasing championships is something I love to do, and my trophy cabinet is quite full with medals and championship trophies. I'm not going to have to work and haven't really had to work for many years, but I love the game." 
Following his championship run in the Victorian capital, Andersen embarked on a fairytale return to Wollongong, signing with the Hawks 20 years after originally leaving the Illawarra region. Andersen's experience on the highest basketball stage became particularly valuable in his second year with the side, when the Hawks lured high-profile NBA prospect LaMelo Ball to Wollongong under the NBL's Next Stars program. 
Andersen became a mentor for Ball in Wollongong, where the 19 year old's demeanour away from the cameras quickly impressed his new teammate.
"I think [Ball] understood that I've been around the block and I know what's going on and I know what's needed to be a pro. You can see his humbleness, he wants to be successful, he wants it and that's what you can see. From the outside, you can't see that, you can only see the star."
Andersen is confident that his former teammate has the attributes that can form a strong career in the NBA, comparing Ball to another one of his teammates that found success in America after playing overseas. 
"He's long, similar to a Ginobili, maybe even longer arms, but he's got the talent. There's always those factors of how much do you want it, how hard can he fight back off injury, but there's a lot of factors that go into being a successful pro, and he's got all the tools."
Andersen's legacy
Andersen's future, just like many other Australians, remains up in the air.
"A bit in limbo is a way to put it. With the pandemic and all the issues going on in the world it can change the landscape a lot, so I'm enjoying my family time and taking control of my business ventures."
But despite Andersen's uncertain future, the Australian knows his presence in the game won't end once he finally hangs up his shoes. 
"I do want to be around the game, even in an ambassador role, a mentor to younger guys. I have a lot of knowledge and a lot of stories to tell and knowledge to pass on to the next generation."
When asked for advice from the new crop of Australian basketball talent, Andersen's central message revolves around his life mantra developed as a teenager at the AIS.
"Go hard or go home. I had the ignorance and recklessness to just continue on with what I was doing with winning championships to blending into teams and that's probably why I'm still playing, because I love the game."
Andersen takes a moment to contemplate how he would like to be remembered by the Australian basketball public. 
"Three things would be the feather in my cap; being a great teammate, being a true pro, and being one of the guys that steps up when needed or when called upon."
Andersen also hopes for a newfound appreciation of European basketball on the national broadcasting agenda, where the Australian's dominance on the continent went severely underappreciated. 
"I think people in Australia don't understand the context of winning the EuroLeague. I tell all young guys in Australia that I know the NBL and NBA is what is broadcast but if you go to Europe there is a lot there, there is a lot of money to be made. You can step up all the way to EuroLeague, and that's the second tier to the NBA, there's a whole world of basketball out there."
Despite a limited coverage of Andersen's European successes, the Australian takes pride in his time on the continent, where he used his achievements to enrich the lives of his loved ones that had sacrificed for his career. 
"All those Final Fours, my parents would come, my brothers, sisters, you name it. All these guys that I've had some kind of support, I flew them in, I paid for everything, I wanted them to experience these things and it was great.
"To support your family and help the people you love can really change a lot of the lives of the people around you by being successful in your sport, and that's probably one of the proudest things for me."
While this may not be the end for Andersen, the Australian is proud of his achievements over two decades in the business. As a pioneer for Australians in the European game, Andersen piloted a new pathway for his countrymen, inspiring the likes of Joe Ingles, Aron Baynes and Ryan Broekhoff to pursue their careers in Europe, elevating all three Boomers to the highest stages of the profession. 
Andersen concludes his career on the shortlist of one of Australia's best basketball exports ever. Collecting 23 major European trophies while opening up a whole continent to Australian prospects, helped establish the foundations for a golden generation of Boomers talent. 
But Andersen is, and perhaps always will be, heavily indebted to that basketball he discovered one day on the courts of Frankston as a boy. 
"I've experienced a lot in my career, and there's a lot of things I'll never forget and are things that I never had the opportunity to do without that orange ball in my hands."
---
*Following an investigation for accounting and fiscal fraud in 2016, the Italian Basketball Federation revoked all the domestic titles won by Siena during the 2011/12 season.