Discover more from The Pick and Roll
We're all about Aussie hoops. Independent, objective analysis and commentary. Insightful narratives built around Australian basketball. Read about our men and women in the NBA, WNBA, NCAA, Europe, national teams, NBL, WNBL, NBL1, prospects and more.
Over 2,000 subscribers
Data Kings - Which NBL1 players are impacting their team's offense or defense the most?
The NBL1 season has reached the half-way point for some teams so it's time to check in on which players are impacting their rosters the most on either end of the floor.
To drive the conversation and add some extra detail, I've looked at how each team has performed both offensively and defensively when a player has been on and off the court – data via hoopsdb.net.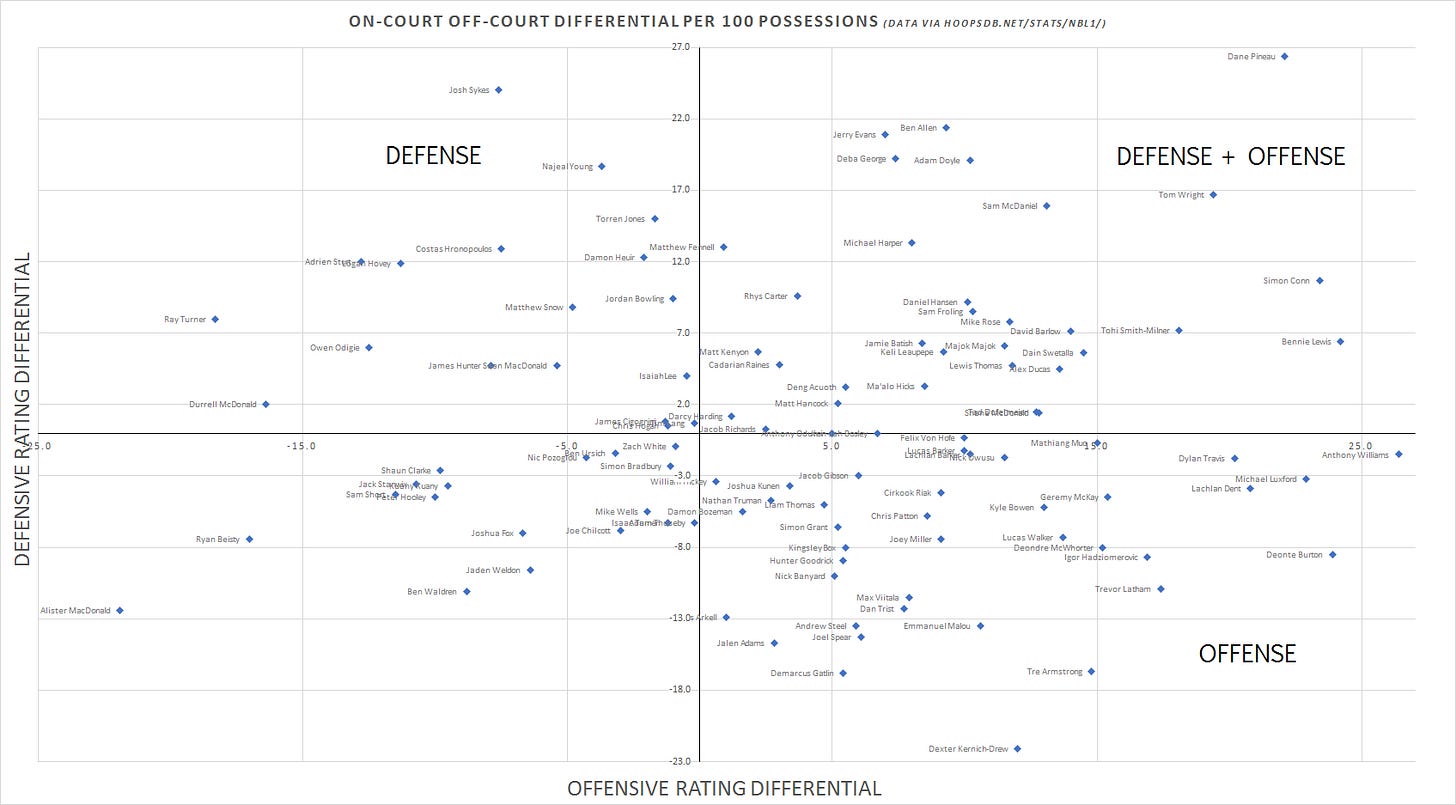 Click the graph to open it in a new window for easier viewing.
TALKING POINTS
Josh Sykes' two highlight blocks per game and crazy athleticism for his position has certainly translated to consistent stops for Eltham on defense.
Offensively, he is still really raw and inconsistent with the ball in hand but obviously he is a huge lob threat. Sykes hasn't benefited from the Wildcats personnel and oversized line-ups on offense.
Tom Wright was labelled "by far the best defender in the game right now" by Nunawading Head Coach Dave Biwer (in reference to the 3x3 circuit) and that rings true in the numbers here as well. Wright is a two-way star and has contributed to a number of quality defensive teams over the years.
Waverley's Michael Harper was awarded the Defensive Player of the Year in the Big V last season and he and the Falcons have continued that form with him on the court in the step up to NBL1.
Offensively, one of the best roster moves of the season has been the addition of Tad Dufelmeier to Hobart. He's been an elite shot-maker and play-maker for the Huskies and has elevated their offense even higher in what is turning out to be a credible season for them.
Anthony Odunsi isn't exactly the type of guard that Diamond Valley needed but they were certainly desperate for some back-court help. Despite his low-volume outside shooting and the fact that he has posted more turnovers than assists so far, the offense has still received a bump in the right direction with him on the floor.
With a limited sample size for this data, there are certainly some outliers and plenty to factor in:
Total minutes on AND off the floor

Line-up combinations

Injuries

Schedule

Quality of backup players

General good or bad luck
Despite this, the data does do an OK job of pointing you in the right direction though.
Before you overreact to one number, first stop to think about the why and see if the player is indeed playing poorly (or well) or if the above factors are at play.
For example – Geelong's defensive rating is still ~6.5 points better than league average with Demarcus Gatlin on the floor (despite his poor defensive on-off number) – find full line-up data at hoopsdb.net.
One thing this early season analysis definitely does nail is that Dane Pineau is arguably the most important player in the league.
Pineau has played at a high level on both ends of the floor and Melbourne has no legitimate backup option for him. The Tigers next test comes this weekend with Dane away on NBL duties.