Could Josh Giddey be Australia's answer to Luka Dončić?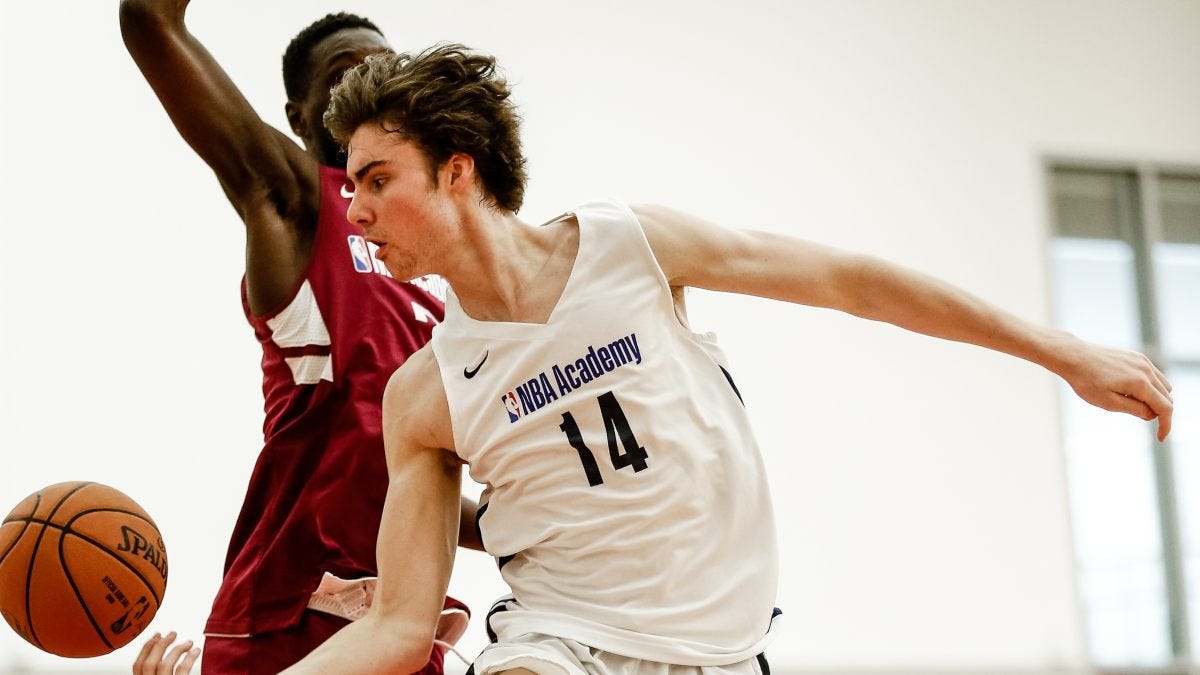 Credit: NBA Academy
---
If you haven't heard the name Josh Giddey by now, it's time to catch up. The 6'7 point guard is shaping up to be one of Australia's most skilled offensive prospects in recent years. Originally from Melbourne, Giddey is currently based at the NBA Global Academy in Canberra. He also happens to be the son of NBL stalwart Warrick Giddey, a two-time championship player with the Melbourne Tigers. Basketball Australia listed the 17 year old as a returning 2020 scholarship holder at their Centre of Excellence, which is home to the NBA Global Academy.
Numerous Division I colleges have been courting Giddey, who looms as a leading prospect in the class of 2021. Read about his rise to prominence in 2019 here. Arizona, Baylor, Colorado, Ohio State, Oklahoma and TCU have all tabled offers to the 17 year old. In addition, he has received interest from Louisville, Marquette, Georgetown and Iowa State. With the aforementioned laundry list of potential suitors, Giddey kicked off his American tour by visiting Colorado in early December.
Despite the rise of the NBL's Next Stars program, Giddey appears to have little intention of turning professional in the near future. Speaking about his visit to Colorado, the 6'7 point guard indicated that he prefers the college route. As a class of 2021 prospect however, Giddey should be in no rush to make a decision.
"More than likely it's going to be college," Giddey said in an interview with 247 Sports. "I went on an official to Colorado, and I got to see what college was like. Thinking more about it, I realize the pro door is always going to be open, where the college door closes."
"I'm going to wait until after this and see what schools contact me," he added. "I'll probably take some more visits at the beginning of next year."
Unlike father, unlike son
Known primarily for his defensive hustle, Warrick Giddey averaged 4.3 points and 3.4 rebounds per game across a 15-year NBL career. His son Joshua couldn't be any more different. The younger Giddey is a stat sheet stuffer who ticks virtually every box in terms of offensive skills. His game can be broken down into a long list of strengths and very few weaknesses, with accompanying video footage below.
Strengths
Doesn't shy away from contact at the rim - Giddey has a knack for picking up the and-1.

Comfortable hitting the FIBA 3 - Giddey shot 38% from beyond the arc at the Australian Under-18 State Championships in April. With over four attempts per game across eight matches, the sample size is reasonable.

Shooting form passes the eye test - Giddey achieves full elbow extension and has a reasonably quick release on his three ball, making for a beautiful stroke.

Efficient scorer - Not only does Giddey hit threes at a solid clip, but the nifty point guard is near-unstoppable in the paint. He shot 55% from the field at the Under-18 State Championships, before torching New Zealand at the FIBA Under-17 Oceania Championships, where he made 14 of 18 two-point field goals.

Adept at finishing with his left hand - You can't help but cringe every time a raw offensive prospect only finishes with their dominant hand, even in the most awkward places. Giddey has no such issues, putting his dexterity to use when driving from the left side.

Shoots free throws in the 75-80% range - This figure may not sound remarkable, but it suggests reasonable consistency in Giddey's shooting form.

Incredible vision - Giddey has the passing gift. He averaged six dimes per game throughout the Under-18 State Championships, ranking 2nd on the competition leader board for assists. The passing wizard then recorded 12 assists in two games against New Zealand at the 2019 FIBA Under-17 Oceania Championships.

Ball Security - Giddey averaged 3 turnovers per game at the Under-18 State Championships, before recording a total of just four TOs across two games against New Zealand in FIBA play. These are impressive numbers for a player who essentially runs his team's entire offense. A few turnovers can be forgiven considering the amount of touches Giddey gets.

Handles in the open court - Giddey is comfortable dribbling with his off hand, a key determinant of ball security.

Rebounding ability - The 6'7 guard averaged over eight rebounds per game at the Under-18 State Championships. He thrives in transition after collecting a defensive rebound, which is reminiscent of Slovenian star Luka Dončić.
Weaknesses
This wouldn't be a balanced report without at least a few weaknesses.
Largely plays below the rim - Giddey is capable of elevating for a dunk, but rarely seeks the highlight reel play. He doesn't quite have NBA-level explosiveness.

Lacks top end speed in the open court - Although Giddey is dangerous in transition, he won't be outpacing the likes of Russell Westbrook or John Wall any time soon. The Melbourne product appears to play the game in slow motion at times, relying on his crafty dribble rather than speed.

Almost too efficient at times - Houston Rockets general manager Daryl Morey would be a fan of Josh Giddey. The 17 year old tends to either shoot a three pointer or take the ball inside the paint. For all we know Giddey could be a lights-out mid range shooter, but he rarely shows it. At the professional level, where opposition teams will have scouting resources, the mid-range shot can enable a less predictable offence.

Relatively thin frame - This is admittedly very harsh on a 17 year old. Giddey seems to have little trouble finishing through contact, and will benefit from a professional strength and conditioning regime at the next level.
For those unfamiliar with Josh Giddey's game, look no further than his scoring highlights below. This video contains footage from the 2019 Under-18 State Championships, the 2019 FIBA Under-17 Oceania Championships and the 2019 NBL1 season.
Luka Dončić 2.0?
Josh Giddey's play style resembles that of Dallas Mavericks star Luka Dončić. However, before perpetuating the hype any further, Dončić is a very unfair comparison for the 17 year old. The Slovenian wonderkid is quite possibly the greatest player in the history of basketball at his age. He achieved virtually everything in European club basketball by the age of 19, and even won EuroBasket with Slovenia. The comparison with Giddey is based on play style alone, and not intended to be a crystal ball prediction of the Victorian's future.
Like Giddey, Dončić has good size for a point guard, standing at 6'7. The reigning NBA Rookie of the Year is also proficient rebounder, especially on the defensive boards. Dončić often pushes the ball in transition off a rebound, much like Giddey. Another similarity is that both players have elite vision - see below for some of Giddey's playmaking highlights. Furthermore, Dončić balances passing with a sizeable scoring workload. Giddey is no stranger to this either, often serving as the #1 scoring option on his team.
In a December interview, Giddey spoke of his admiration for Luka Dončić - see below. This should come as no surprise, with both players sharing numerous common tendencies on the court.
Giddey is yet to appear on NBA draft boards, possibly due to a lack of exposure. In the coming years, he will have opportunities to compete on an international stage. Hopefully he will represent Australia at the Nike Hoop Summit and the 2021 FIBA Under-19 World Championships. The future looks bright for one of the most skilled offensive prospects to ever come out of Australia.