Discover more from The Pick and Roll
We're all about Aussie hoops. Independent, objective analysis and commentary. Insightful narratives built around Australian basketball. Read about our men and women in the NBA, WNBA, NCAA, Europe, national teams, NBL, WNBL, NBL1, prospects and more.
Over 2,000 subscribers
Could a move to the wing help Exum reach his potential?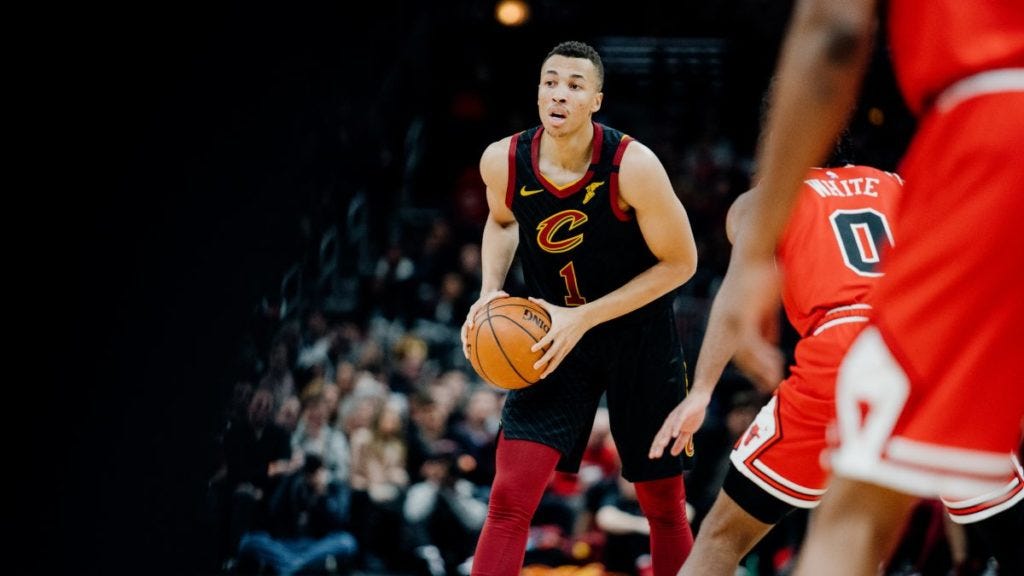 Credit: Sam Tolhurst
---
Dante Exum was drafted fifth by the Utah Jazz in 2014, with many having high hopes that the 6'6 Aussie could blossom into a future star. Known as the "mystery" prospect coming into the league, Exum had eye-catching speed, athleticism and length that made him one of the higher touted prospects in recent memory.
While the Australian has shown some signs of becoming an above average starter in his first six seasons, Exum's career has mostly been plagued with a series of major and minor injuries. After his rookie year, which saw the guard promoted to the starting team after the halfway point of the season, he tore his ACL training with the Boomers. Since then, a handful of injuries have stopped Exum gaining any sort of meaningful consistency with playing time, and as a result, performance.
The injuries and inconsistencies didn't stop with his new squad, the Cleveland Cavaliers, where he was traded to during the 2019/20 season. According to Basketball Reference, in the 24 games he has participated in for the Cavs, the combo guard has averaged 5.6 points and 1.4 assists, albeit in only 16.8 minutes per contest.
While this is only just below his career average of 5.7, many thought a change of scenery would finally allow him to flourish on a more extensive level. Twice with his new squad he has gained momentum, only to be halted by injuries. After a 28 point performance in January he missed four games with sickness, and after the appointment of a new coach J.B. Bickerstaff in March, Exum had delivered 10 and 14-point outings, only to injure his ankle the very next game.
While the NBA season was brought to a halt by COVID-19, the season is now scheduled to return on 31 July using an adjusted, shortened format. The top 22 teams taking part in the remaining part of the 2020 season, essentially ending the other eight teams' seasons.
The Cavs are one of those eight teams who will now enjoy an extended off season, and Exum specifically, will have more than enough time to recover from his latest ankle injury setback, if he has not already. His focus will shift to next season, and possibly develop a blueprint that may enable him to solidify his place with the Cavs, but also the NBA.
Is it time to wing it?
A way in which Exum can excel in Cleveland next year is playing and excelling on the wing, as it seems unlikely that he will leapfrog Garland or Sexton at his natural position of point guard. Being equipped to play shooting guard and perhaps even some minutes at small forward (as part of a small-ball lineup), will give him a better chance of succeeding. While Cedi Osman, Kevin Porter Jr and possibly even Dylan Windler next season, will be competing with Exum for minutes, he still has a better chance of reaching his ceiling on the wing comparatively to being on the bench, where he would be behind two point guards (Colin Sexton and Darius Garland).
Playing on the wing theoretically suggests Exum will need to be adequate off the ball. While Exum is a solid cutter, he could become more effective from beyond the arc. According to Basketball Reference, this season Exum is averaging a career high in three-point percentage, shooting at a clip of nearly 35%, which is about the average across the Association. While the improvement is worth noting, he is only putting up 1.5 threes per game, nearly two fewer than he did in his rookie year. If Exum wants to solidify wing rotation minutes, he simply needs to shoot and hit more threes. Getting up to 38% on four attempts, for example, would put him in good stead to extend his minutes on the court. Gaining confidence from shooting will in turn allow Exum to stay on the court longer, and thus give him more on-ball opportunities, where he can use his quickness and skill to operate effectively in the pick and roll, something he has shown glimpses of in the past.
Defensively, Exum might benefit most from spending more time at shooting guard or small forward. If there's anything he has proven in his tenure in the league so far, it's that he is a capable on-ball defender. His long arms and lateral quickness allow him to stay in front of shifty ball handlers and potent slashers/scorers. This might be the most obvious reason to move Exum to the wing for the Cavs - Kevin Porter Jr's effort has been questioned many times and Cedi Osman's attributes don't include quick feet.
If Exum is to make his mark in the league, now is the time for him to finally do it. On a rebuilding team, Exum may well receive the opportunity to get away with trying new things, being excessively aggressive or taking more risks; the team doesn't have high expectations right now. These conditions might create an environment in which Exum can gain more confidence and perform more consistently - as long as his body holds up.
While his situation in Cleveland now is more suited to reaching his potential than it was in Utah (due to their need to win now), it does come with some limitations. The back court jam is an issue, but arguably more concerning is the questionable competence of the Cleveland front office.
Drafting Garland, who is similar and plays the same position as the sophomore Sexton, raised some eyebrows. The same can be said about their decision to trade for the large contract of Andre Drummond, a centre who does the same job as Tristan Thompson, a player that is already on an expensive contract.
Exum will be on the final year of his deal next season (US $11 million), so it is very possible he is thrown into a trade as an expiring contract, especially if the Cavs don't have any plans to resign him. If it indeed doesn't pan out in Cleveland, all is not lost - if he is moved, maybe it will be third time lucky for Exum, with more stability in the front office and a less crowded back court possibly being the difference.
One thing is for certain, though – if Exum can't prove to be durable for an extended period, he may struggle to ever be able to prove his worth. Staying healthy may be the biggest hurdle Exum has to overcome in his basketball career, if he wishes to be a relevant player in the NBA for years to come. With an extended off season and delayed Olympics until 2021, he has plenty of time to get himself right, and it may all start on the wing.