Discover more from The Pick and Roll
We're all about Aussie hoops. Independent, objective analysis and commentary. Insightful narratives built around Australian basketball. Read about our men and women in the NBA, WNBA, NCAA, Europe, national teams, NBL, WNBL, NBL1, prospects and more.
Over 2,000 subscribers
College Player Insights Day 1: Meet Jackson Aldridge and Matt Hancock
With the 2013/14 NCAA college basketball season officially commencing on Saturday, 9 November 2013 (Australian time), The Pick and Roll will be providing a unique series that provides player insights daily!
Damian Arsenis has secured Australian's Jackson Aldridge of Butler and Matt Hancock of Lamar to provide their insights into the build up to and including their season opener against each other on 10 November 2013 (Australian time).
---
Day 1 | Monday (US time)
Butler opens their season against Lamar in 5 days' time. Jackson Aldridge (Butler) and Matt Hancock (Lamar) blog about their time before college, their progress throughout the pre-season, and provide insights into their daily routine at college.
Jackson Aldridge | Butler
Courtesy Butler University Sports Information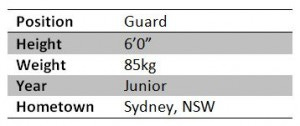 Hello, my name is Jackson Aldridge and I'm 21 years old. I grew up in a suburb called Longueville in Sydney and I'm currently a junior at Butler University. I went to high school at Saint Ignatius College and I played junior representative basketball with Norths. From there I represented New South Wales, Australia, and finally in 2009 I was lucky enough to attend the Australian Institute of Sport (AIS) in preparation for the 2011 FIBA U19 World Championships.
The pre-season has been a long one so far, even longer than usual as we were lucky enough to travel back home to Australia and play a series of exhibition games! We were lucky enough to play against a Norths invitational team, Sydney Kings (NBL), Cairns Taipans (NBL) and finally a near full strength Australian Boomers team! The Australian trip was awesome and I got to show my team mates where I lived whilst my family and friends were able to see us play. Since the tour, we have been practicing heavily in preparation for our upcoming season which is a big one for our program in moving to the Big East conference. Pre-season consists of timed miles, strength testing, suicide sprint tests plus more! Sometimes it not a whole lot of fun . . . I just can't wait until the season actually starts.
So far we have played two exhibition games, against Nova South Eastern and DePauw University. They were both great tests for us to get ready for non-conference opponents coming up in November and December. For those basketball whizzes out there, Nova runs a Princeton style offense, and conveniently we play Princeton in a few weeks! Fortunately we won both exhibition games pretty handily and it was a good hit out for us to remove the cobwebs. I'm excited for our season to get underway; moving into a new conference we play top teams in the country night in and night out, something which every kid dreams about growing up (or at least I did!).
Today is possibly the worst day for me to be writing this, but it's all part of college basketball. My room-mate and best friend on the team has decided that the best thing for him moving forward is to transfer (Andrew Smeathers). Of course I want him to do what's best for him and I will support him, but at the same time I'm losing my best friend over here at Butler which is disappointing. The news was announced to our team before practice, keep in mind it commenced at 6:00 am. So my alarm was set for 5:00am this morning, we practiced for two hours, then lifted weights immediately afterwards. From there I had a chance to eat breakfast at the best breakfast spot in town, Patachou, and see how my good buddy was doing.
This is my first time 'blogging' so please be patient with me for the first couple; I promise they will get better throughout the week and as we get closer to playing Lamar. Right now I am sitting waiting for my next class which is corporate finance, and I think a nap is much-needed this afternoon following the 5 am wake-up call! Bye for now.
Matt Hancock | Lamar
Courtesy Lamar Media Relations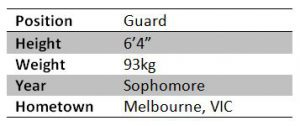 Whilst growing up I predominantly lived in Sydney where I played mainly Saturday domestic basketball until High School which is when I moved to Melbourne. I attended Scotch College from year 7 through 12, and played in the #1 team from years 10-12. It is during that time that I began to take my basketball more seriously. I managed to earn school MVP honors for my last two years which was pretty good. Outside of school I played for two clubs at the representative level; the Waverley Falcons and Sandringham Sabres, both very strong associations.
Our preseason work began back in July where we commenced lifting weights 5 days a week alongside general conditioning. Once official team practice was allowed to commence, our team hit the ground running and has improved every week and in every aspect. Our new players have been learning their roles in the team along with the returners, where we have all begun to find our place which is encouraging. Late last week we had our first exhibition game against McMurry University, a Division 2 school. After a rusty first half, we trailed by 1 at the main break. We were still finding our feet as it was our first chance to play together all on the same team compared to practice where we are split and playing against each other. We did however manage to pull it together throughout the second half to nudge ahead with a 66-62 win.
Being Monday, I usually have an early 6:00am weights session. However as we don't play until Saturday, Coach ruled that we will be lifting Tuesday and Thursday instead, s0 the sleep in this morning was much needed and appreciated! An advantage of living on campus is the dining hall, especially in needing a big breakfast such as eggs, yogurt, fruit, milk and toast; we do pretty well - you name it and they pretty much have it! Most days I have lunch and dinner in there too, although we do have places to eat off campus to add some variety. Today was a late start to class with my first one at 10.20am but then my day doesn't finish till 3.10pm. After classes, it's back to the room for a snack and a nap before our 6.30pm practice.
Being the first day of practice for the week we usually use the full amount of time allowed and there was no exception today. Practice ranged from individual skills through to a full team 5-on-5. Focusing on no single areas, so both offence and defences were tested. Coach also lightly touched on our scouting report during our pre-practice meeting - something that is very important in tackling some very good teams. Now onto homework and getting a good meal and rest, ready for a 6:00am weights session tomorrow morning. I'm looking forward to sharing the rest of my week ahead in the lead up to our season operner!
---
Check back tomorrow for a further update from both Jackson and Matt in counting down to their season opener against each other.