Discover more from The Pick and Roll
We're all about Aussie hoops. Independent, objective analysis and commentary. Insightful narratives built around Australian basketball. Read about our men and women in the NBA, WNBA, NCAA, Europe, national teams, NBL, WNBL, NBL1, prospects and more.
Over 2,000 subscribers
CLB3X3 delivers Darwin hoop-fest
CLB3X3 basketball ventured to Darwin for their second leg of their 2016 National Tour on 25 June, with the city putting on great weather and an even better event.
The Darwin Convention Centre car park proved the ideal venue to host a day of basketball out in the brilliant sun. Such was the overwhelming support for CLB3X3 basketball, the event turned into a festival of sport, also showcasing the Darwin Roller Girls, Territory Gymnastics, Squash NT and Netball NT.
With two basketball half-court's set up, a relaxing BBQ garden with cool DJ vibes supplied by The Precinct, it was a basketball nirvana.
Darwin Convention Centre was the location for CLB 3X3 | Source: Supplied
Many braved the unusually high temperatures of the Darwin dry season to deliver some exciting, fast-paced 3X3 action. Play commenced from 9am with finals taking place at 5:45pm, with everyone involved enjoying a great time and a chance to earn valuable FIBA 3X3 Planet ranking points.
"It was a great day, everyone enjoyed it and we got a lot of positive feedback," shared CLB3X3 event organiser and former Australia Opal Tracey Browning.
"The kids had a ball, and the open men's and women's competitions were fiercely contested. We probably had 500-1000 people come through watching us. It got quite hot around 3 or 4pm, but the grandstand was full earlier in the day. Next time we will plan for that."
Darwin Basketball Association's Reece Turner was the event MC, with departing CEO Joe Tertzakian on deck for his final duties in Darwin. Tertzakian left Darwin that night to take up the position of General Manager for the Adelaide 36ers in the NBL.
Winners of CLB 3X3 Darwin Open categories | Source: Supplied
The event saw BirdogZ and Jetlove take out the men's and women's events in what proved highly competitive fields. Also boasting mixed and underage competitions, it was a basketball feast for the local Darwin community, with the event finishing just as the sun was setting over the crystal blue waters of the Timor Sea.
Jake Kirby took out the three-point shooting competition, accounting for ex-NBL player Tim Duggan.
CLB3X3 also set out to leave a lasting legacy for Darwin basketball, conducting a basketball clinic at Palmerston Senior College while also providing free basketball at the Darwin Triple Crown V8 motor racing event at Hidden Valley. CLB3X3 are planning to return to the top-end in November this year, holding a tournament at Tiwi College and potentially hosting a second major event in Darwin.
"It was an amazing event" further explained Browning who guaranteed that CLB3X3 will return to Darwin sooner rather than later.
"We're very thankful [for the support from the local Darwin community], but we do also know that next time will be a lot bigger and better,"
---
Darwin CLB3X3 Champions
Men's Open BirdogZ - Rohan Cropley, Shannon Barlett, Travis Ellis & Henry Rainger
Women's Open Jetlove- Kylie Duggan, Tania Dhu, Sam Rioli & Danielle Totham
Mixed Open Divers - Koula Halkitis, Emmanuel Mavros & George Mavros
Under 15 Garam Masala - William Schloss, Jayden Christie, Joel Park & Braith Schloss
Under 13 Ansett Ballerz - Rowsey 54, Carter 15, Jacob NT 47 & Toohey
Cash Prizes were generously sponsored by Akron Group NT, while AND1 donated the CLB3X3 Grand Final jerseys.
---
CLB3X3 Dates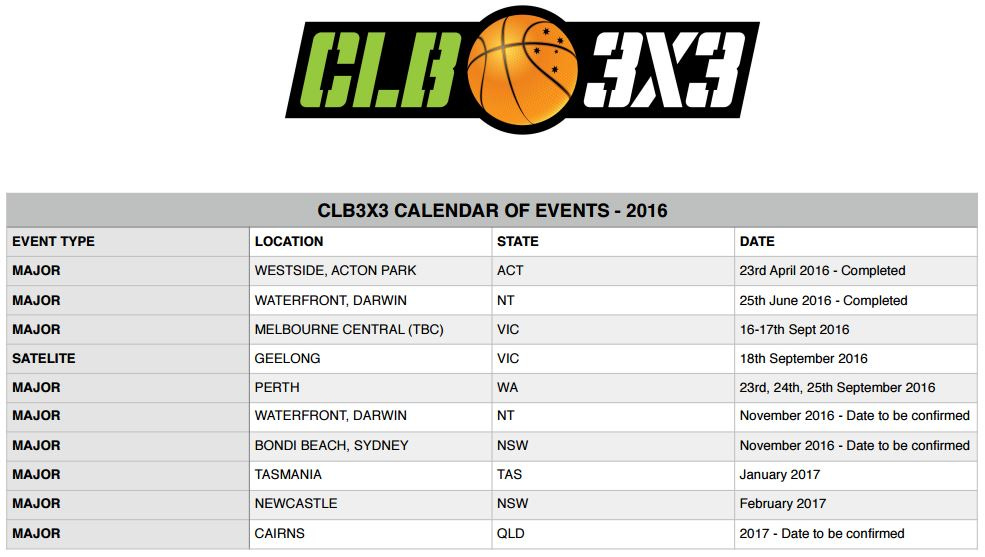 For details on how to register a team for upcoming events, CLICK HERE