Discover more from The Pick and Roll
We're all about Aussie hoops. Independent, objective analysis and commentary. Insightful narratives built around Australian basketball. Read about our men and women in the NBA, WNBA, NCAA, Europe, national teams, NBL, WNBL, NBL1, prospects and more.
Over 2,000 subscribers
Chris Goulding: How defence ignited Melbourne United's rapid resurgence
A little less than three weeks ago, it seemed like Melbourne United might be in crisis mode. They had two of the NBL's top three scorers and one of the most explosive offences in the league, and yet they had crashed to a 1-4 start after a shock loss to the Cairns Taipans. For a team with title aspirations and a truckload of talent on the roster, the inexplicably slow start seemingly threatened to derail their season.
Internally, though, no one was looking to hit the panic button. According to United's star guard Chris Goulding, the playing group remained confident in their ability to bounce back.
"We never got to a situation where we were worried about where we might end up at the end of the season because it was right at the start of our campaign," Goulding told The Pick and Roll. "Of course we were down in the dumps when we weren't winning the games that we should've been winning, especially the Cairns one, [but] everyone's been really positive with their response and how they've come to training ready to get better."
That positive response has paid off in spades on the court, as United reeled off four consecutive wins to climb back into the finals picture. Making that run even more impressive is the quality of wins, as they handed the Sydney Kings their first loss of the season, blew out their local rivals, the South East Melbourne Phoenix and ground out a tough road win against the New Zealand Breakers.
"We're 5-4 now. If we'd looked at that at the start of the year we'd probably say, 'hey, we want to be a little bit better off than that', but to be honest when we look back now and go from 1-4 to 5-4 I think we're in a positive position," he said. "We're a club that prides ourselves on being towards the top of the ladder these days… I think we're in a positive position, but I think we could be in a better position and it's on us as a club and players and coaches over these next few weeks to keep putting us in a better position."
Early season struggles
United's fast turnaround and red hot form may make their slow start seem even more peculiar, but it doesn't take much digging to find a few factors. The FIBA World Cup in China significantly cut their preseason down, as five United players were there representing Australia or New Zealand. They lost import Casey Prather to a knee injury early on --whose recent return has definitely made a difference-- and suffered other minor niggles to key players that further interrupted the team's preparation. Add in a host of new faces joining the roster, including changes in all three import slots from last season, and it was a less-than-ideal situation to start the year.
"We couldn't really get that consistency from having the guys on court together for weeks at a time, so in some ways when we were two weeks into the season we were still having growing pains that we should've been having in September or August," Goulding explained.
A jam-packed early schedule only added to that struggle, as United opened the season with two games in round one, jetted to the United States for a pair of NBA preseason games, and then were left playing catchup with three games in eight days. While the lack of rest wasn't ideal, it wasn't the team's biggest issue.
"We were losing games by small margins and we would go back and look at the tape and realise that there was so much to fix up, so we kind of blamed ourselves, we never wanted to blame the travel schedule," Goulding shared.
Retooling the defence
It was clear to most onlookers that those fixable mistakes were mostly coming on the defensive end. After that loss to the Taipans, Melbourne ranked dead last in the league in defensive rating while allowing their opponents to shoot 46.7% from the field and 40% from three, according to SpatialJam.com. That forced the players, coaches and staff alike to take a long, hard look at their play and re-evaluate their plans.
"After that Cairns loss we watched some video, we got pretty honest with each other about how we'd performed up there," Goulding said. "Deano [coach Dean Vickerman] laid it out there. He said, 'I'm a defensive coach, I can't have the performances that this team is dishing up', so we went back to the drawing board."
That involved retooling some of their defensive coverages to better suit the personnel at hand. While Vickerman has a long history of success with good team defenders, he now has a pair of stars in Melo Trimble and Shawn Long that often struggled to adjust on the defensive end in their respective first seasons. That never meant they weren't capable of defending at a high level, and Goulding says the coaches realised they needed to unlock some of that untapped potential.
"To the coaching staff's credit, we tweaked some things with how we defended or how we were defending, and the guys really bought in. I think that the way we changed too suits us a hell of a lot better - we're more aggressive, we're more engaged," he said.
While the coaches have shown the way, Goulding is also quick to credit his newest teammates for the strides they have taken in a short amount of time. The numbers certainly back up the praise and the eye test, as Long has had the team's third-best defensive rating over their win streak (114.8), while Trimble has seen his defensive rating drop significantly from the 1-4 start (121.9) to the last four games (118.7).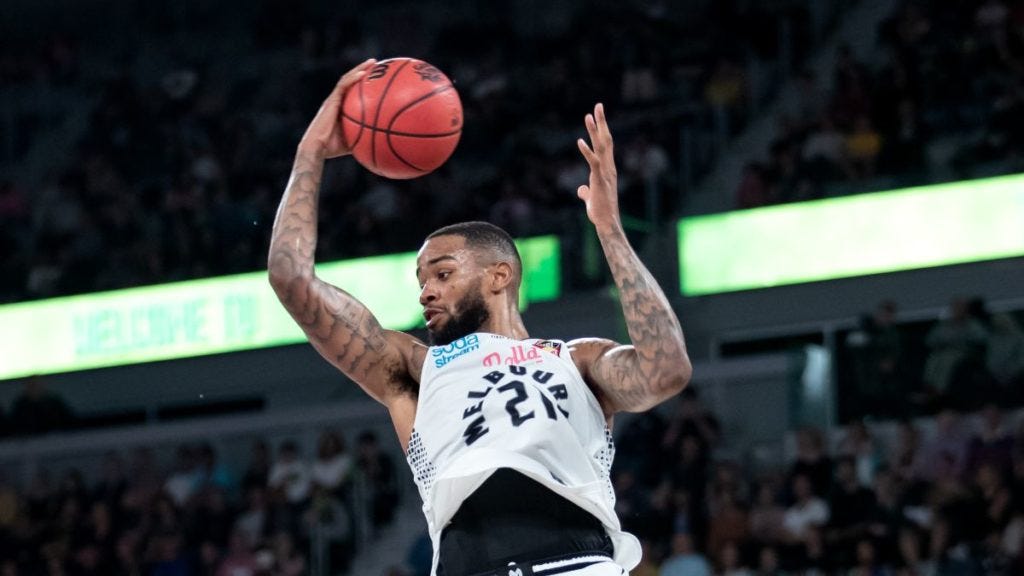 Credit: Michelle Couling Photography
"Shawn said, 'Look, I want to be aggressive, I want to get after the ball handler'… that's the way he feels the most engaged, when he's being aggressive. Of course we want him to be engaged, we want him to feel comfortable," Goulding elaborated. "That's another thing that Shawn spoke about coming in is he wanted to be known as a good defender and he's trending in that direction. Our analytics and our numbers say that he's one of our best defenders.
"Melo's a young guy who in his second professional season has been handed the reins to our offence, and what comes with that is also a massive responsibility on defence. What I've loved from him over these past few weeks is the way that he's locked down and really tried to limit his matchup on the other end."
Those defensive improvements have come without any sacrifice to their offensive output, as Long is second in the league with 21.9 points per game and Trimble sits just below him at 21.7 points per game. Their scoring ability was well known heading into the season, but Goulding says it may not even be the most important aspect of their game for United.
"We know that these guys can score the ball and can dunk the ball and they're fantastic on offence, but what we're starting to see from them on the defensive end is what's going to help us later on," he said. "Shawn and Melo are two of the best imports in the league and in their second year in the NBL I think we're seeing how much better they are even from last year, which is really positive for us."
Looking ahead to the next round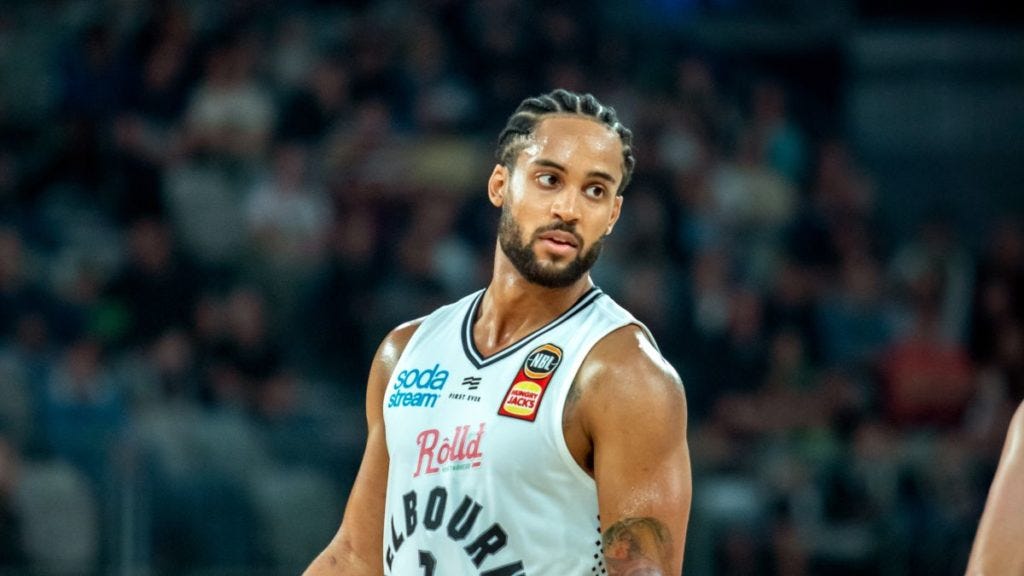 Credit: Michelle Couling Photography
Trimble in particular faces another tough task in round seven, as Melbourne prepares for the third Throwdown instalment against the Phoenix, where he will face off against star guard John Roberson. United will be playing without Prather, as the team sits him out as a precautionary measure, following back spasms on Tuesday.
With plenty of feeling shown already across their matchups this season, Goulding says the rivalry with the Phoenix has the chance to be something special.
"Melbourne's a big city and it's great to have another team… I think rivalries and derby games are kind of what makes sport, and hopefully we can keep getting this to a level where it's a real rivalry and for years to come they're going to be heated matchups that people want to watch," he said.
As far as the rest of the season beyond that goes?
"To be honest, we're not even close to where I think we can get to."
*All statistics referenced were obtained via SpatialJam.com.