Chloe Bibby transfers from Mississippi State to Maryland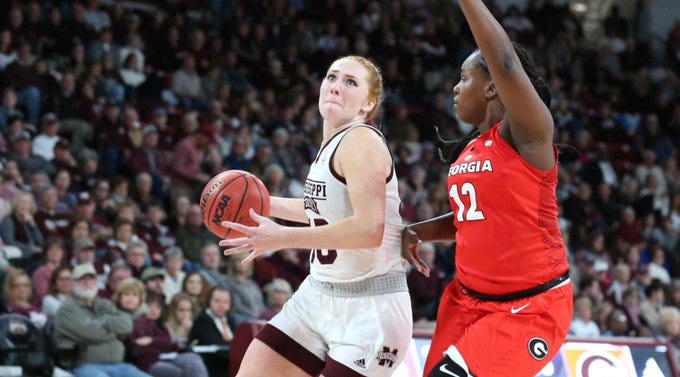 Credit: Mississippi State University
---
Talented Australian forward Chloe Bibby has transferred from Mississippi State and will join reigning Big 10 champion Maryland Terrapins for the 2020/21 season.
"I'm so excited to begin this new adventure at the University of Maryland," said Bibby in the official release. "With the passion Coach B and her staff have for their players, fans and the game, I feel truly blessed to have this opportunity to be a part of such a great and competitive program. I look forward to meeting you all and joining the Terp Family. Go Terps!"
Her new head coach Brenda Frese was equally enthusiastic in adding Bibby to bolster an extremely thin roster for next season despite winning the 2020 Big 10 Championships last season and amassing a
"Chloe is another proven winner that will bring a ton of intangibles to our program," explained Frese. "Her experience in the SEC and internationally will be invaluable to our young team. At 6-1, Chloe is a very versatile player that can play inside and out. She can shoot the three and will be another strong rebounder for us.
"Hailing all the way from Australia we are thrilled to welcome Chloe and her family into our Maryland family. The future is so bright."
The 6'1 forward from Victoria played 88 games for the Bulldogs and averaged 9.1 points and 4.8 boards per game over the past 3 years. In that time. Bibby also suffered an ACL injury from which she is fully recovered as the junior transfer demonstrated last season.
Bibby helped lead Mississippi State to second place in the SEC with a 27-6 record before head coach Vic Schaefer left the Bulldogs for Texas. During the season, Bibby started all but two games and led her team in three-pointers made on 45% shooting, while averaging 7.5 points and 5.2 rebounds per game.
When she first arrived for her freshman 2017-18 season, Bibby was a rotation player coming off the bench on a team that was just one win away from the national championship, falling short to Notre Dame.
Not only has Bibby been an integral player for the Bulldogs, but she has been a shining light on the international stage for Australian junior national teams. Her most recent event was the 2017 FIBA U19 World Cup for Women in which she helped Australia place sixth, averaging 11 points and 7.4 rebounds per game playing alongside Ezi Magbegor (Melbourne Boomers, WNBL), Jaz Shelley (Oregon) and Anneli Maley (Southside Flyers, WNBL).
In the first week of April, Bibby announced via social media that she was leaving the Bulldogs.
"After long discussions with my family, I have decided to enter into the transfer portal, to explore all my options moving forward," outlined Bibby in a heartfelt message to her followers.
Bibby, who is believed to one more year of eligibility, will not be able to play in the 2020/21 season based on current transfer rules. However the NCAA Division I council is considering relaxing the transfer rules due to the COVID-19 global pandemic situation. A ruling is expected next month as to whether a on a one-time waiver that would grant transfers immediate eligibility for the 2020-21 season, a decision that will suit both Bibby and the Terrpins perfectly.