Discover more from The Pick and Roll
We're all about Aussie hoops. Independent, objective analysis and commentary. Insightful narratives built around Australian basketball. Read about our men and women in the NBA, WNBA, NCAA, Europe, national teams, NBL, WNBL, NBL1, prospects and more.
Over 2,000 subscribers
Chantel Horvat on staying positive, looking ahead to Geelong and UCLA
After captaining the Australian U18 side at 2016's FIBA Oceania tournament, it certainly came as a shock to many in the basketball community, when Chantel Horvat's name was not on the list of twelve players to represent Australia at July's FIBA Under 19 World Championship in Italy. However, with a SEABL season at Geelong to complete before heading over to UCLA later in the year, the emerging star still has plenty to look forward to.
The Pick and Roll caught up with Horvat to discuss her omission from the national team as well as what the future holds.
Selection camps are often cut-throat, but it would be fair to say that most people in the know would have penciled Horvat into their squad for the upcoming FIBA U19 Women's World Championship. Captaining the U18 team at the 2016 FIBA Oceania tournament, the Victorian led the team in scoring with 18.6 points a game and was also third on the team for rebounds with 6.3 per contest, with Australia dominating the opposition on their way to securing an Under 19 World Championship berth. However, when the final squad was named from the group of 15 players at the final selection camp, the Geelong star's name was not among those called, ending Horvat's chance of a second Under 19 World Championship medal following a bronze in the 2015 tournament.
https://twitter.com/OlgunUluc/status/872019921261150208
Whilst it was certainly a shock and no doubt a setback, Horvat remains philosophical in the wake of the initial surprise.
"I think everyone was a little bit shocked, especially with the feedback I've been getting from coaches, but what can you do?" Horvat explained. "The coach obviously didn't want me in the team; there's not much I can do."
Perhaps in the short term it is true that there is not much Horvat can do about the decision, but the future is bright for the young Victorian, who has plenty of basketball to look forward to in both the short and long-term.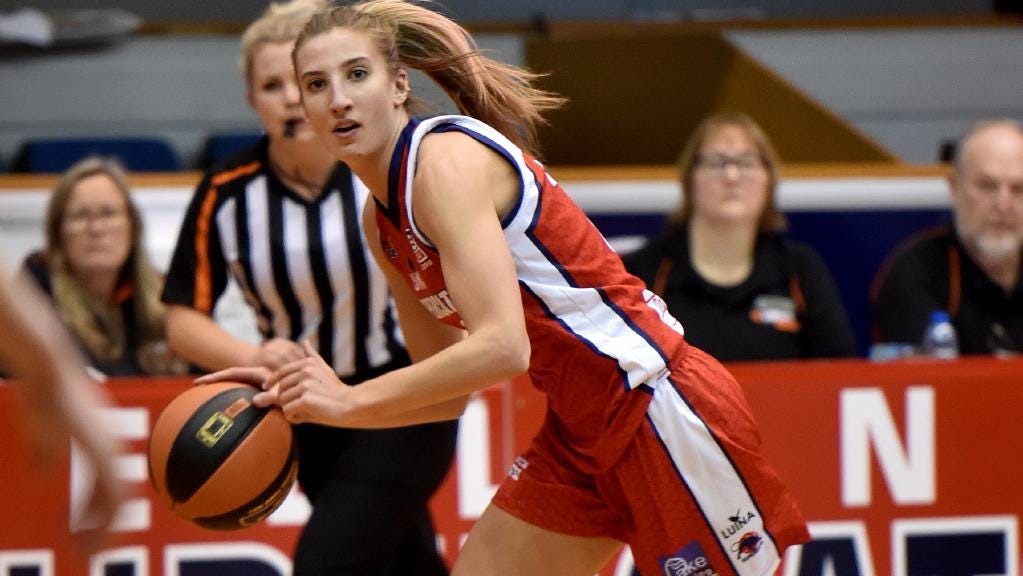 "I'm just really lucky that I have a great team back in Geelong that I can focus on, helping them win games, get towards the finals, and also this awesome opportunity at UCLA," Horvat said. "So, as much as it was a bit of a blow, there's not much I can do so try not to get too down about it, and just keep working hard and hopefully try and prove them wrong on the court."
Whilst Horvat takes a calmer view about the process now that a few weeks have passed, it would be unfair to expect her omission not to have stung in the immediate aftermath. With that said, the UCLA commit chose not to dwell on an outcome that she had no control over.
"After the camp, I just wished we had a SEABL game the next day so I could just get back on the court, to try and boost my confidence and get back out there and play again," Horvat revealed.
"But it hasn't at all affected my love of the game or got me down too much. I've got other things to look forward to and I'm really happy for the girls that have made the team and wish them well."
With a World Championship campaign no longer in the picture, Horvat's focus turns to the SEABL season with Geelong, before making the move to UCLA in August, with the college basketball season commencing in November. The SEABL season has provided Horvat with a real opportunity to showcase her wide-ranging skill set to this point. In her 15 appearances, only once has she not scored in double figures, and capped an outstanding campaign with two outstanding performances in the Supercats' Tasmanian road trip. A 33 point, 11 rebound performance in a tight 97-92 loss to Hobart was followed up by 15 points, 11 rebounds, 5 assists, and 4 steals in Geelong's 84-65 victory over Launceston, earning Horvat a Team Of The Week nomination in the process.
Once Horvat reaches UCLA, she will be the seventh member of the 2015 Gems side that won World Championship bronze to play in college. Horvat will join Kristy Wallace, Alicia Froling, Alanna Smith, Alex Sharp, Maddy Dennis, and fellow freshman Anneli Maley, who will be lining up against Horvat in conference play for the next four years, when UCLA take on Oregon.
UCLA has been a prime destination for Australians in a number of sports in recent years. While recent NBA draft pick Jonah Bolden's year with the Bruins will stand out most in the minds of Australian basketball fans, the school has also lured, among others, national water polo representative Bronte Halligan and former W-League soccer goalkeeper Teagan Micah to Westwood in the last 12 months. UCLA may be the most successful college in NCAA Division I history with 113 team championships, but that was far from the only reason that Horvat was enamoured with the program.
"I love the culture of the team, the way that it's a program where they work on the holistic approach," Horvat commented. "They want to develop the athlete on and off the court. It's a good academic school, with a basketball program on the rise, and I really connected with the coaches; I loved what they were about."
https://twitter.com/ChantelHorvat/status/796932841766457344
That rise that Horvat mentions is only set to continue for UCLA in the upcoming seasons. Since finishing with a 13-18 record in 2013/14, the Bruins have won a WNIT title in 2014/15 and then reached the NCAA Sweet Sixteen in the last two seasons. With the Bruins returning four starters from last year's side, UCLA bring back not only a squad with a number of WNBA-bound players, but one that Horvat clicked with on her visit to Westwood.
"All the girls are so awesome, and that's another thing, I never heard a bad word about that school from anyone," Horvat added. "They've got some amazing players over there and I'm super excited to get to play with them and work with them."
As with any player considered a five-star recruit, Horvat had a number of teams chasing her, including the most storied program in women's college basketball: the University of Connecticut. With a veritable smorgasbord of programs to choose from, in the end it came down to one question that secured her decision to play at UCLA.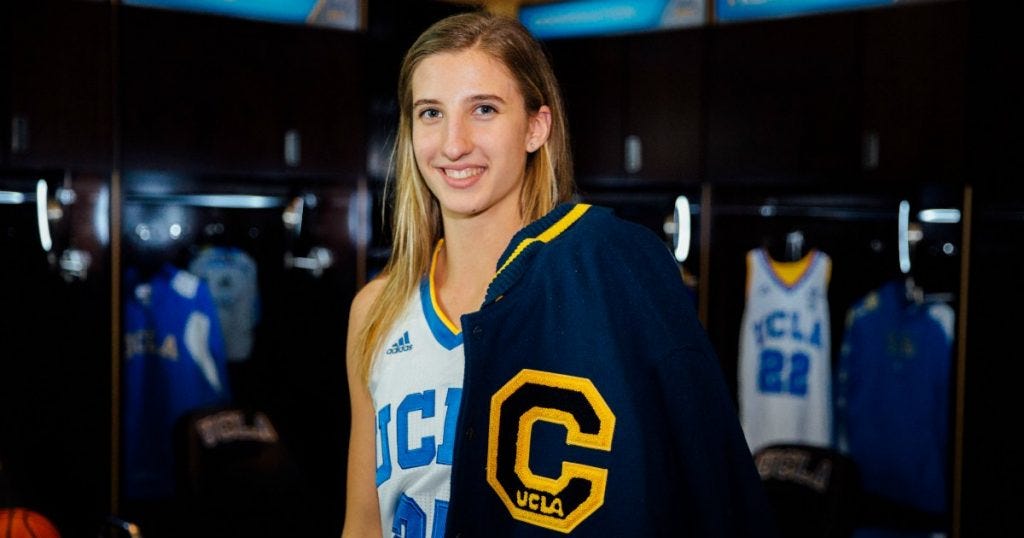 "Someone asked the thing that really cut out all the schools: if one school all of a sudden lost interest in you, what school would you be most disappointed about with that happening?" Horvat recalled. "I knew the answer straight away, it was UCLA. And for me, that was just the light bulb moment."
"Ever since then, everyone's been like 'We knew you were going to choose that school.' I think I knew in my heart that UCLA was the place I wanted to be, and just going on the visit there, it was everything and more than I expected."
With her National Letter of Intent signed and the decision locked in, focus for Horvat now turns to her career at college. With UCLA returning so many players from last season, it will take a lot for any of the freshmen to play extended minutes in the early stages, but Horvat is determined to showcase her talents from the outset.
"I think I'm just hoping to shock them, that I can get out there and show them what I can do," said Horvat. "But really, I just want to be a good teammate, want to get better, and hopefully help them get some wins and get a title."
Horvat and UCLA will have the chance to test their mettle in the early stages as national powerhouses Baylor and Connecticut make their way to Pauley Pavilion within the space of a week in what will be blockbuster match-ups against two of the top programs in the nation.
"I'm super-excited! Hopefully I get a chance to get on the court," Horvat laughed. "I love a good challenge, especially a challenging game, so it would be awesome to hit the floor in one of those games. I'll get to see one of my good friends (Baylor's Kristy Wallace), so that would be good."
Looking to the future, Horvat and other Australian college players will no doubt be buoyed by the fact that selectors' eyes are on college players following the news that Stanford's Alanna Smith and Baylor's Kristy Wallace recently received call-ups to the Opals camp in Phoenix. As a player in one of the top conferences in women's college basketball, is receiving a Opals call-up in the future something that's on Horvat's mind at the moment?
"I haven't really thought about that, but I'm not sure, I hope so," Horvat pondered. "I joined in the last Opals camp, that was an amazing experience, so I'm thankful to (former Opals coach) Brendan Joyce for putting me in there."
"But you know, hopefully I get a look-in at some stage. I'm so happy for Alanna and Kristy that they get an opportunity, I'm so stoked for them."
It is certainly promising to see Horvat still with her eyes fixed on her pathway to the very top of the basketball chain. With a father, Steve, who represented Australia in soccer at two Confederations Cups and the 1996 Olympics, Horvat certainly has someone who knows exactly what it takes to play at the highest level in her corner, but the freshman also recognises just how important it has been to have some outstanding coaches guiding her through the process. UCLA coach Cori Close has already noted Horvat's desire to learn on the court, and it will be Close and her team who will be tasked with building on the groundwork that Horvat has laid with help from her coaches in Australia.
"I've been so lucky to work with a whole bunch of amazing coaches that have really helped me get to where I am today," Horvat remarked gratefully. "I guess, just to name-drop, (former Opals coach) Brendan Joyce, (BA Centre of Excellence coaches) Paul Goriss, Brad Davidson, Kristen Veal, Melissa Downer, David Herbert now who's my Supercats coach, and a lot of coaches back in juniors that helped me get started. I'm really thankful to them.
"Obviously they're part of the reason I am where I am today."
Whilst that may not include a second Under 19 World Championship chance, Horvat remains in a position that very few Australian players find themselves in: with an opportunity to play major college basketball for four years. Come what may in the future, one thing is certain: Australia's newest Bruin will certainly give herself every chance to succeed.