Discover more from The Pick and Roll
We're all about Aussie hoops. Independent, objective analysis and commentary. Insightful narratives built around Australian basketball. Read about our men and women in the NBA, WNBA, NCAA, Europe, national teams, NBL, WNBL, NBL1, prospects and more.
Over 2,000 subscribers
Champions League trend set to disrupt international basketball?
The concept of a "Champions League" for basketball was first thrust into the public spotlight in June earlier this year when a Melbourne-based consortium launched their Champions League Basketball (CLB) brand. Their competition is planned to commence in May 2017 with an aim to connect with fans and provide elite basketball in Australia all year round.
In the last few weeks, there have been a number of other eerily similar concepts pop up across the world. So I pose the question: is the Champions League trend set to reinvigorate international basketball?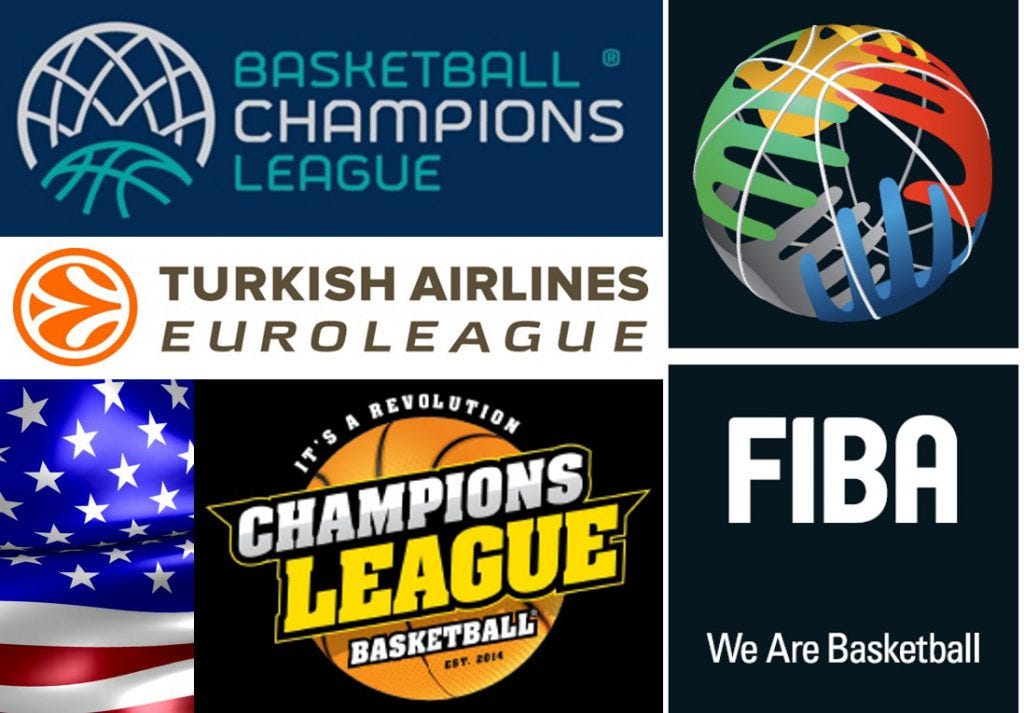 USA
Over in the US, The Champions League was announced just in the past 2 weeks. Reportedly set to commence in mid 2016, the new 16-team competition which is not affiliated with the NBA (or FIBA), is hoping to provide family-friendly and affordable entertainment during the NBA's downtime. Sound familiar? It should, as this is nearly identical to the vision and mission of CLB here in Australia.
It is the same league that former NBA player, Al Harrington - most recently of the Sydney Kings in the NBL - has signed to play in next year. The new US league is well backed, and promises to be loaded with NBA-level talent, including other signed players such as Keyon Dooling, Rasheed Wallace and Maurice Ager.
While the new league in the US gains momentum, similar, albeit different and more elitist-based concepts are also unfolding in Europe.
Europe
Widely considered the best league outside of the NBA, the Euroleague has been planning a revised competition of their own. Their planned changes were announced on 10 November; a 16-team competition comprising of 11 permanent teams who currently hold A licences, plus a further 5 selected based on qualification via the Eurocup.
Despite the plans of the Euroleague, FIBA - the governing body for basketball globally - had also been working in plans of their own for a revamped Euroleague competition they had named "Basketball Champions League" as announced on 3 November. FIBA's proposed changes also included a 16-team competition, but featuring 8 guaranteed spots for Euroleague A license clubs and the national champions of France, Germany, Italy and Lithuania. Financial structure and governance models are vastly different for both proposed leagues.
Despite the Euroleague's recent announcement of their plans, FIBA was able to gain the support of their European member federations, and on the 26 November they confirmed their own plans for a new competition set to commence for 2016/17. With no consensus agreement, a revolution is brewing in European hoops.
So what does all this mean?
Innovate and Reinvigorate
Clearly, there is considerable disruption across major basketball competitions and calendars across the globe as both new and old players look to innovate and reinvigorate. However it is a mere coincidence that the name "Champions League" appears across three continents as new competitions within months of each other? Maybe. Maybe it is just a good idea. While the European version appears to have vastly different drivers, there is no doubting the synchronicity between the planned US and Australian versions and their alignment of vision and mission. It is worth exploring further.
When approached by The Pick and Roll, CLB's General Manager Matt Hollard acknowledged he was aware of the new US league and expressed some surprise about the planned changes in Europe. However he was unwilling to comment at that time.
With three continental leagues set to boast a "Champions League", is there an opportunity to go global? Absolutely. Will it happen? I guess we all have to wait and see what unfolds.