Central ABL Round 7 - Flames Shoot Down Eagles
Eastern Mavericks v South Adelaide Panthers
Women's: Eastern Mavericks 56 – 84 South Adelaide Panthers
The Panther women are back in the women's column after handing the Mavericks a 28 point belting in the Adelaide Hills. South dominated the 1st period, up 17 points at the first break, but the Mavericks fought back to only be down by seven at the half. An exceptional 3rd period put the game out of question for Eastern, South cruising in the last quarter.
South's league leading scorer Janae Howard (31 points and 10 rebounds) was exceptional yet again, and would have to be the front-runner to take out this years women's MVP Halls medal. Leading assist maker Jess Mahony rebounded from last weeks shocker, to support Howard with 15 points, 8 rebounds and 7 assists.
League leading rebounding machine Emma Hooley was Eastern's best player on the night, taking home 13 points and 11 rebounds, with no other player hitting double figures.
South move a game clear of the Eagles in 3rd place, whilst the Mavericks remain in 9th position.
Men's: Eastern Mavericks 77 – 90 South Adelaide Panthers
The Mavericks men once again pushed another contender in South, trailing by only 6 at the main break, before the Panthers stayed strong and built on their lead, winning the last quarter by 6, and the game by 13-points.
Curtis Scipio (19 points) continues to be the floor general for the Mavericks, and Daniel Lean (16 points) doing a good job playing off of Scipio's penetration. Outside shooting hurt the Mavericks, making only 2 of 16 from deep yet going 29 of 58 from the field.
South did a tremendous job of getting to the line, with 35 attempts for the game. Shane Boal continues to impress with 27 points and 12 rebounds, whilst dominant centre Bradley Reid had a monstrous double-double of 20 points and 17 rebounds. South smashed Eastern on the boards, with no-one to contend with Reid inside.
Eastern remain in 10th place with just the one win, whilst South find themselves in a log jam in 7th place with 4 other sides equal on games won, up to the 3rd place Flames.
---
Norwood Flames v Forestville Eagles
Women's: Norwood Flames 87 – 74 Forestville Eagles
The Flames would have been wary of their bogey team, the Eagles, leading into Round 7, however the well-drilled Norwood women simply proved too much for their counterparts, up by 19 at the final break on their way to a 13 point victory.
Norwood gun Amy Lewis continues her consistently great form, going for 24 points, 6 rebounds and 7 assists, and Jessica Good having a ridiculously efficient and unstoppable game, taking home 24 points at 91.7% and 9 rebounds, in only 23 minutes of game time.
For the Eagles, Samantha Defrancesco was their best on the night, with 21 points at 80%, and Jess Fergus (18 points) along with Jade Johnson (16 points and 6 rebounds) providing some options on offense.
The Flames racked up 22 assists to 10, and had a +7 count on the boards, in a sign that they are playing the better ball as we reach the midway point of the season.
Norwood remain unbeaten on top spot, while Forestville drop to 4th place.
Men's: Norwood Flames 114 – 94 Forestville Eagles
Now I don't want to say I was writing off the Flames, however I was writing off the Flames, and I should have known better. Norwood piled on a ridiculous 75 first half points against the known solid defence of the Eagles. Before cooling down in the second half, to still take home a 20 point win against the struggling Forestville.
The Eagles were kept alive by the game of play and bucket maker Jake Rios, who had a game and season high 42 points at 53%. Trent Fildes form has dropped off, however he still managed 18 points, and Kyle Howe-Tipene had 13 points, 6 rebounds and 6 assists.
The Flames filthy first half was on the back of former Irish national player and sharp shooter, Ian O'Boyle, leading with 26 points, going 7 from 13 from range. The usual suspects in Keith Krause (15 points and 8 rebounds), Todd Matthews (8 points, 8 assists and 6 steals), Andrew Webber (17 points and 5 rebounds) and Matthew Lycett (13 points and 9 rebounds), were all outstanding.
These two sides have a storied history in recent times, and this game adds another notch on the belt of spectacular performances they manage to have. Their late season rematch will be one not to miss.
The Flames launch themselves into 3rd place on percentage, tied on wins with the 4 teams below them, whilst the Eagles slump to 8th place and on a 4 game slide.
---
Southern Tigers v Woodville Warriors
Women's: Southern Tigers 64 – 69 Woodville Warriors
In a tightly contested game from the tip off, the Tigers and the Warriors were battling for pride, and a small glimmer of hope keeping their season alive. The Warriors have lost a number of close games this year, but their ability to get to the line in the 4th, a total of 16 times, saw them secure a slim 5 point win.
For the Tiger's, young gun centre Shayde Quintrell dominated the boards, with a huge 22 rebounds to go along with 12 points as Southern's best. A handful of players made double figures, but the Tigers lacked ball distribution, and threw far too many turnovers.
Woodville were taken home by Ashleigh White (18 points), Carmen Reynolds (17 points and 9 rebounds) whilst Katherine Perkas could only manage 19 minutes of game time after being fouled out, but still racked up 12 points and 9 rebounds.
It was a scrappy, uncontrolled contest, with both teams throwing the rock away 27 times each, and neither side shooting above 35%. Considering these teams aren't known for aggressive team defence, there are some worrying signs for both teams in the second half of the season.
The Tigers have now lost 4 in a row, and are a game behind in 8th place, whilst the win puts the Warriors in 6th, and one game behind the Sabres.
Men's: Southern Tigers 52 – 75 Woodville Warriors
The Warriors have comfortably beaten the undermanned Southern unit, by 23 points in a feisty game that will surely have some people taking coming game 2 of their series.
Woodville started slow out of the blocks, only managing 8 points in the first period, before turning on the after burners in the second landing 28-points at 58%. The Warriors had an even contribution from a number of players with Luke Stanbridge (14 points and 9 rebounds), Alexander Starling (17 points and 8 rebounds) shouldering the load, whilst playmaker Daniel Sims had an inefficient 16 points at 33%.
Southern were missing go to players Sam Johns and Sam McDaniel, and it showed as their offense stagnated and seemed out of rhythm. Michael Florance showed why he has been considered a talent for many years, taking home 23 points at 64%, whilst gun forward Codey Ellison had 13 points and 11 rebounds, in a game that showed he has lost some confidence since last season and needs to find it again to be the force he is capable of.
Woodville take out top spot, a game ahead of the pack and in front on percentage, whilst the Tigers sit in 4th in the middle of the ladder log jam.
---
Sturt Sabres v West Adelaide Bearcats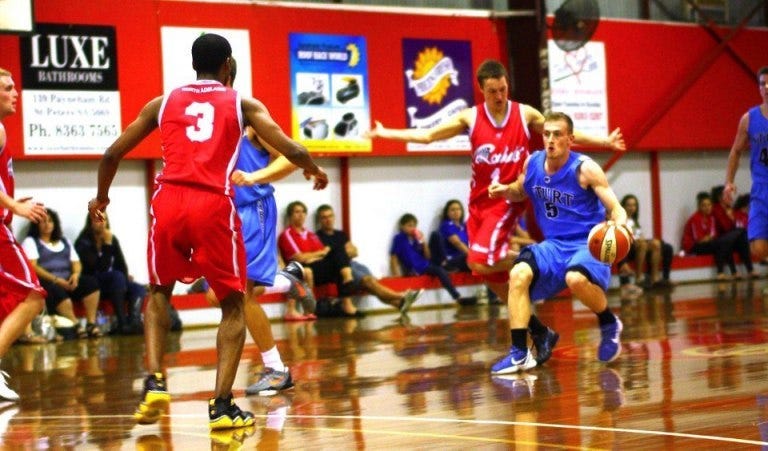 Women's: Sturt Sabres 59 – 71 West Adelaide Bearcats
The Bearcats have scored the shock upset of the Round, taking care of the highly fancied Sabres by 12 points, on the back of a 25-13 last period. Sturt saw the anticipated return of point guard Angela Marino, and most would have had the Sabres taking the easy win, but this game shows that any team can beat any team (maybe except for the flames) on any given night.
West Adelaide had very much a team performance, with only one player failing to trouble the scorers. Megan Mcleod top scored for the Bearcats with 18-points, however Kate Shierlaw was once again their best with 14-points at 60% and 9 rebounds. West finished the night shooting at 48%, and had 12 extra attempts at the line.
Sturt had a horrid second half shooting the ball, making only 10 from 33 attempts, and sending the West to the line 21 times. Natalie Novosel was the Sabres best, with 19 points, 7 rebounds and 9 assists, whilst Lucy Spalding (8 points and 7 rebounds) and Hannah Richards (8 points and 9 rebounds) provided support, but were below their usual output.
I had Sturt pegged as a real contender to the Flames throne, and everyone has an off night, but this would certainly help Norwood sleep at night. Sturt hold onto 5th spot by a game, and West sit a game back in 7th on percentage.
Men's: Sturt Sabres 83 – 93 West Adelaide Bearcats
A game in which the imports took battle, going toe to toe racking up the points, the Bearcats 29 to 17 dominating first quarter was all they needed to secure a win over the dangerous Sabres side.
The Sabres import Dexter Moore had a night out, scoring 48-points at 66%, with Tim Klaosen racking up 16 points and 10 rebounds, however it wasn't enough to stop the potent Bearcats. The Sabres won the last three quarters by 2 points, but their shocking first quarter rebounds, turnovers and defence let them down in the long run.
League leading scorer Jason Dawson hit 34-points, and whilst inefficient from deep converting on 11%, Dawson's work from the line with a perfect 13 from 13 saw him trouble the Sabres defence. Leading rebounder Blake Truslove smashed the boards, grabbing 20 on the night to go with 18 points, whilst the previously struggling shooter Tristan Braithwaite finally found the bottom of the net, for 21 points going 5 from 9 from deep.
With the win the Bearcats take 2nd place behind on percentage only, whilst the Sabres are in 6th place tied with a bunch of teams on wins.
---
Central District Lions v North Adelaide Rockets
Women's: Central District Lions 46 – 87 North Adelaide Rockets
The Rockets didn't miss a step, dismantling the Lions by 41 points in Gawler. North took their foot of the pedal in the fourth, affording the Lions a slimmer margin than what could have been.
The Lions woes continue, in what is a season all too reminiscent of recent times. Aimee Herriman (13 points) again proved her worth, with only Cody Rodda (11 points) the only other player in double figures.
North were anchored by star centre Jamie-Lee Peris (10 points and 15 rebounds), whilst guards Shannon McKay (15 points) and Kirsty Williams (12 points) feasted on their extra minutes. Jo Hill (14 points and 8 rebounds) was ever reliable, taking the game away from Centrals in the first half.
The Rockets stay in 2nd place, just one game behind the Flames, whilst the Lions remain winless in 10th place.
Men's: Central District Lions 68 – 55 North Adelaide Rockets
North Adelaide men have slumped to one of their worst starts in recent history, and don't look like recovering anytime soon. The Lions have turned their fate around in the past two and a half games, this Round taking care of the Rockets in a first half dominant display, leading 36 to 18 at the main break. North won the second half, but the damage had already been done.
North captain Pero Vasiljevic top scored for the Rockets with 13 points and 8 rebounds, but racked up 6 turnovers in the process. Brett Collins was the best for the Rockets on the night, with 10 points, 6 rebounds and 5 assists. North need to find better production from their veteran players, the likes of Luke Mapunda (8.5ppg 6.5rpg) having his worst season since 2005, Tom Rowe (5.5ppg and 3.2rpg) having his worst season since 2006, and Ryan Franceschinis (3.6ppg and 3rpg) having his worst season since before 2005. The Rockets have the personnel to compete, and something has got to give.
For the Lions, gun guard Kyle Miller landed 21 points and 7 assists, finding his tempo and controlling Centrals pace. Kye Williams contributed well with 18 points, whilst the usually dominant Chris Clausen wasn't as productive as he has been, but still managed to go home with 10 points and 9 rebounds.
North are in a funk, sitting in 9th place, and on a 2-game slide, whilst the Lions have leaped into 5th place on percentage, looking to continue their momentum.
---
For more information regarding the Central ABL, please visit their website, here.