Discover more from The Pick and Roll
We're all about Aussie hoops. Independent, objective analysis and commentary. Insightful narratives built around Australian basketball. Read about our men and women in the NBA, WNBA, NCAA, Europe, national teams, NBL, WNBL, NBL1, prospects and more.
Over 2,000 subscribers
Cayla George's latest program drives positive change for aspiring female pro basketballers
George likely still has a of of basketball left in her, but appreciates that the foundations she lays now will ensure a successful career when she finally does hand up the hi-tops.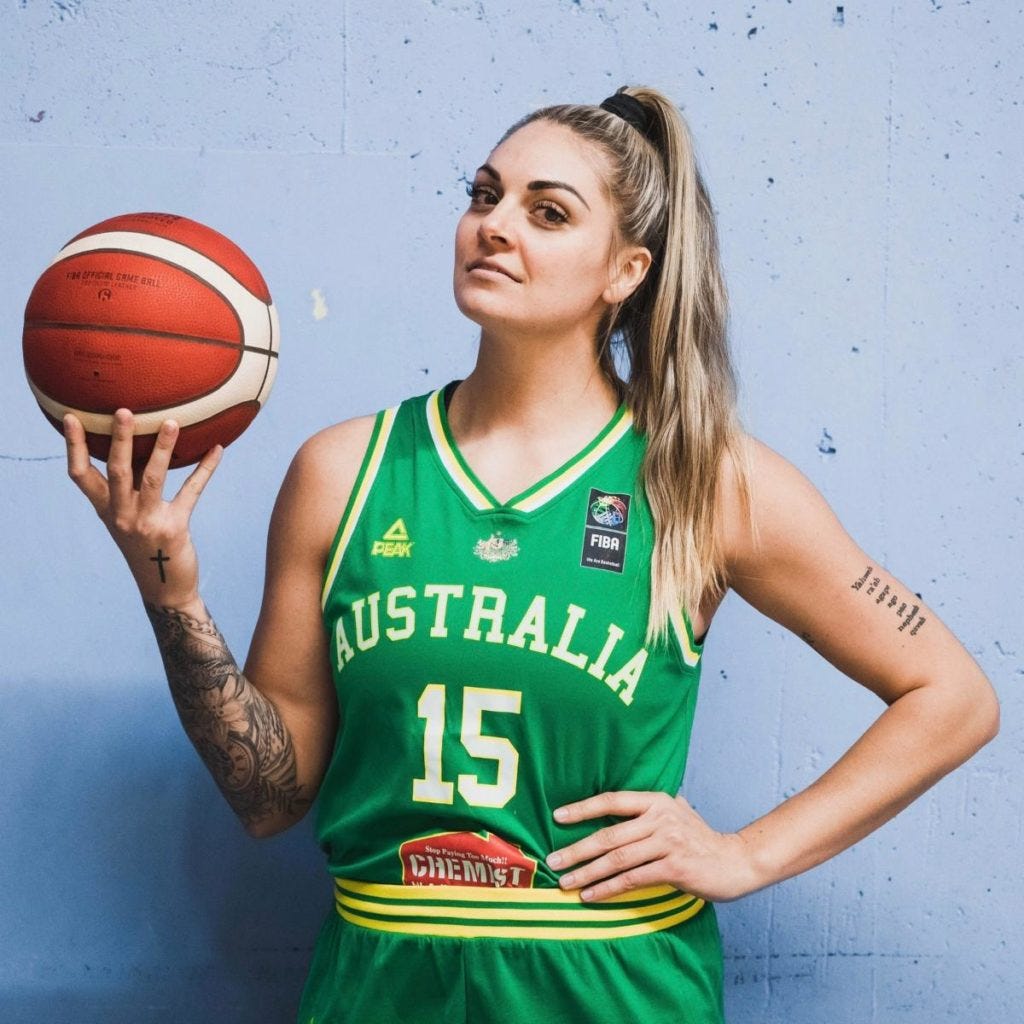 Credit: Lauri Jean Photography (via Cayla George)
---
Two months ago, Cayla George was focused on her Olympic dream. All that changed when the Tokyo games were rescheduled for 2021. It was a devastating outcome for all professional athletes, including that of the Melbourne Boomers star who had been busy preparing for the Opals charge towards an elusive Olympic gold.
"It was devastating," shared George in speaking with The Pick and Roll. "My entire focus was on playing at the Olympics and trying to win gold. I'd been training hard for the past two months, and now it feels as though it has been pulled out from beneath us. I guess that everyone else is also in the same position.
"Self motivation has become hard, I loved the routine and structure. The 2020 Olympics had been a focal point, right from the time the countdown to one year to go started. But I am a glass half-full girl, and now I have more time for my basketball programs. "
While George is at the back end of her playing career --something she advised is nowhere near finished just yet-- the entrepreneur in her has been hard at work, establishing various business interests, that includes an online store.
George has also been engaged in imparting her knowledge and experience as a pro, to help inspire the next generation of Australian female basketballers, which started with a mentorship program for girls in November 2019, and included workouts, team sessions along with holiday camps. The next phase recently launched, and looks to fit into the current isolation-centric landscape well: a 12 week, online training program that promises a look into the life of a pro athlete, with insights available 7 days a week.
Alanna Smith, who was drafted in the WNBA last year just like fellow Opal Ezi Magbegor, agrees on the value of the program and what it represents for young girls aspiring to higher levels in basketball. "Cayla is the perfect role model for young female athletes and her passion and energy is contagious. I wish I had access to a program like this growing up as a girl in sport!"
The excitement and enthusiasm George has for her new program is evident, and it promises a holistic approach with activities that range beyond basketball - from a segment titled Cooking with Cayla, to home workouts, goal setting and Q&A sessions with a star-studded list of basketball names. The list ranges from legends Michele Timms and Lauren Jackson, to current Opals like Liz Cambage, Maddie Garrick, Ezi Magbegor, Tessa Lavey, and Opals head coach Sandy Brondello.
It's not just basketball either. Pros from other sports will be involved as well, including Erin Phillips (AFLW), Gretel Tippett (basketball, netball), Ellia Green (rugby) and Lydia Lassila (Olympic aerials gold medallist).
Mental health and well-being is high on the list, and George has enlisted good help.
"For mental health, I've also been really fortunate to have input from Greg Hire. It's an area he is really passionate about and so important for athletes, but especially young girls. The youth often struggle [with mental health], including here in Australia. I really want to help encourage a good culture and help put strategies in place to help grassroots sport."
"A Stitch in Time is excited to announce the signing of a partnership with Cayla George to support her athletes and community," Hire affirmed. "This exciting new partnership provides an opportunity to commence working with athletes mental fitness at the beginning of their high performance journey. Providing mental skills training at this early stage in of your career has great long-term benefits. We all know that sport can be a mental game as much as a physical one and with the pace of our lives these days maintaining our mental health is just as important as our physical health. We look forward to working with Cayla's athletes!"
The program might be George's brainchild, but it's been a collective effort that has received firm endorsement from others in the landscape, starting with Lauren Jackson.
"The work Cayla is doing in the community and off the basketball court is inspiring," Jackson says. "Seeing her develop her brand, which is so authentically her is impressive and representative of the drive and passion she has in everything she does."
"Cayla has created an amazing program for young female athletes where she gives them exposure to learn her tendencies, knowledge, skills and her ability to bounce back on and off the basketball court," Opal teammate Ezi Magbegor shared. "Her program signifies what she as an individual is all about, which is creating a culture that allows others to thrive and pursue their dreams, whilst being in an enjoyable environment."
While George explained that the program was targeting young girls aged between 8 and 20, she explained others may also find value in the program.
"I've tried to keep it as cheap as possible, for the cost of a cup of coffee each week. Anyone can join in if they want, I am sure there is something for everyone. The program starts on May 4 and runs all the way through to July 24. At no stage is anyone locked down either. Each session will be run after school each day, and as it's on Instagram, you can always go back at watch any missed sessions. I have some incredible prizes and giveaways too!"
George likely still has a of of basketball left in her, but appreciates that the foundations she lays now will ensure a successful career when she finally does hand up the hi-tops.
"It's not just about [leaving] an on-court legacy as a great team mate, but my off-court legacy too. I want to make a big impact on the grassroots, something that is far bigger than me."
The CG 12-week program starts 4th May and ends 24th July 2020. More details on pricing and sign up available on her official website.