Cameron Bairstow sidelined by dislocated shoulder
The Australian Boomers dominant group stage showing at the 2016 Rio Olympic Games hasn't come without a cost.
In their victory over Venezuela, forward Cameron Bairstow suffered a dislocated shoulder, which would be popped back into place. Bairstow wouldn't return to the game, as he was taken to hospital for scans, and his status has been updated as day-to-day.
If Bairstow were to compete in the knockout games, it would be considered a miracle. The Boomers' next game is on Thursday morning and a two-day turnaround from a dislocated shoulder is highly unlikely.
Bairstow's injury occurred midway through the third quarter, as he went up for a hook shot. In what seemed like a harmless action from the Venezuelan defender, Bairstow's shoulder awkwardly popped out-of-place.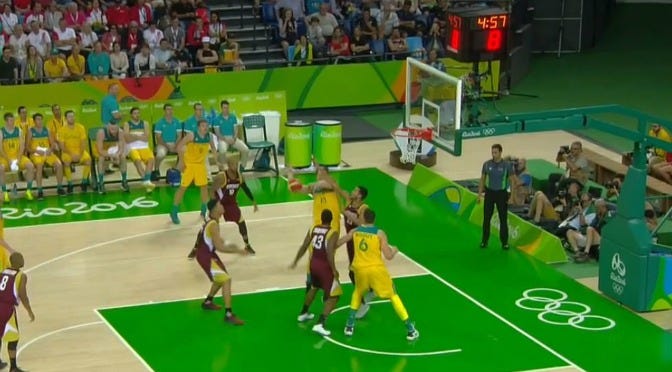 The former Chicago Bull who was waived by the Detroit Pistons, has surprised many by earning himself a spot in Andrej Lemanis' rotation after not playing much in the lead-up games.
Recently signing with the Brisbane Bullets for the 2016/17 season, is averaging 13.4 minutes, being Lemanis' preferred choice over Brock Motum as the fourth big man, playing behind Andrew Bogut, Aron Baynes and David Andersen.
Bairstow is contributing 5.4 points, 4.4 rebounds while shooting 50 per cent from the field at the tournament. However Bairstow's impact has been larger than the numbers. With Bogut, Baynes and Andersen scoring proficiently, the Boomers haven't needed Bairstow to score, which is probably a smart decision, considering his limited offensive capabilities.
Instead, Bairstow has been able to play adequate defense, including showing his ability to switch onto smaller guards, compete hard on the glass, run the floor, screen effectively and play with energy. His impact has been felt, as he has an efficiency rating of 6.2 and is a +4.8 across the five games, and top-scored for the Boomers with 17 points and 9 rebounds in their win against China.
https://twitter.com/BasketballAus/status/765025908717531136
What Lemanis decides to do now with his big man rotation becomes intriguing.
Entering the knockout stages, one would think the minutes of Bogut, Baynes and Andersen would increase. The more important the game, the more you want your best players out there. That begs the question, will there be even be enough minutes for Motum to make a considerable impact? If there is, Motum will simply need to do what Bairstow has provided.
Play with an edge, stay within the offensive structure of the team, rebound and play tough defense. Motum has a more rounded offensive game than Bairstow, so he may be able to provide some more scoring.
Whatever the case may be, Bairstow's injury is no doubt an unfortunate turn of events for a player who was impressing at the Olympics.