Pre-Season All-Australian First Team #1 - Cameron Bairstow, New Mexico
In the lead up to the 2013/14 NCAA division 1 college basketball season, Damian Arsenis wraps up his pre-season selections to The Pick and Roll All-Australian First Team in a series that included interviews with all five players.
Securing a forward position and the final place in the pre-season All-Australian First team is a second Lobo in Australian Boomer Cameron Bairstow of New Mexico.
#1 | Cameron Bairstow, New Mexico
Position Forward Height 6'9"/ 206cm Weight 113kg Year Senior Hometown Brisbane, QLD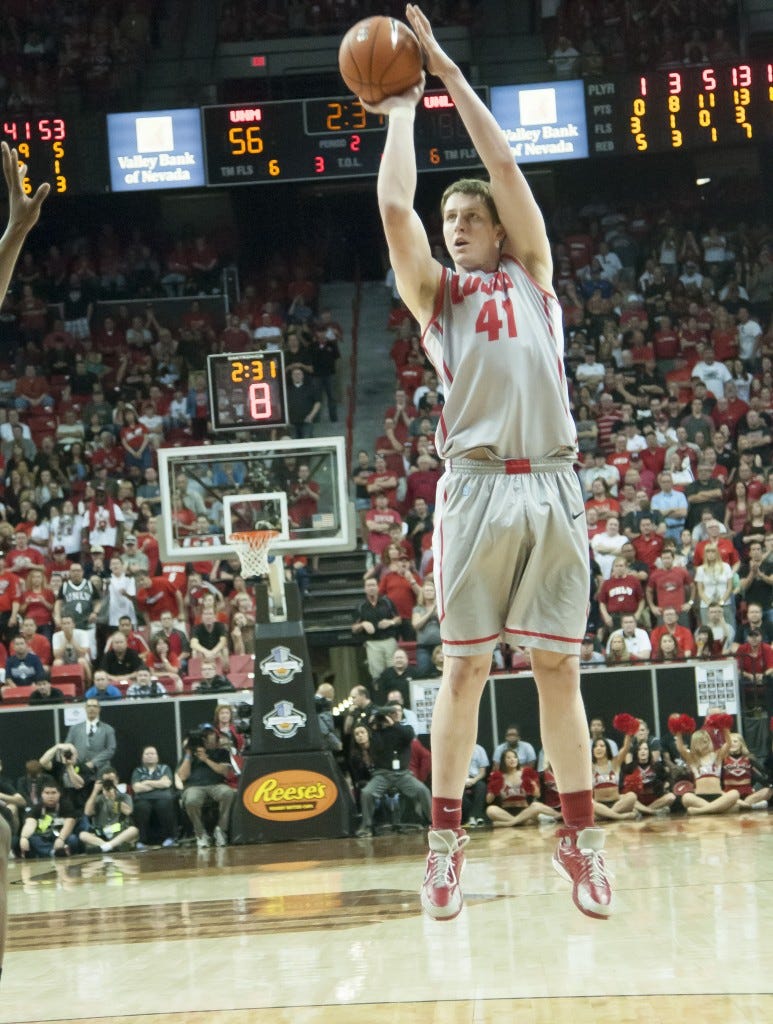 Bairstow in action - Courtesy of New Mexico Athletics
No Australian-centric pre-season college team would be complete without power forward Cameron Bairstow, especially after having represented his country with aplomb on the world stage during the off-season!
Like his fellow Aussie team mate Greenwood, Bairstow attended the famed Australian Institute of Sport (AIS) before landing with the Lobos. He experienced a slow start to his collegiate career and averaged only 9.7 minutes per game as a freshman in playing a limited role off the bench. He turned that first year of adjusting to the college game into becoming a bona fide rotation player as a sophomore, increasing his output to 15.4 minutes, 3.7 points and 3.6 rebounds per game. With his good size and strength coupled with a reliable jump shot, Bairstow was primed for a breakout season.
It's no coincidence that the Lobos dominated the Mountain West Conference (MWC) in 2012/13 thanks to the contributions of Bairstow. He elevated his game to a new level and ended the season by starting the last 15 games to help him achieve career highs of 24.1 minutes, 9.7 points and 5.7 rebounds per game. As a starter his playing time increased and so did his output. Over the last 7 games of the season he averaged an impressive 13.8 points and 8.3 rebounds per game and had begun to show glimpses of the talent and potential that was still yet to fully blossom. He was duly recognised for his steady improvement and on-court exploits, being named to the All-MWC tournament team and All-MWC honorable mention.
In the off-season, Bairstow's star continued to rise as he not only starred at the World University Games in helping Australia to a silver medal (scoring 21 points in the gold medal game against Russia), but he then carried his scintillating form across to the Boomers in a winning FIBA Oceania series against New Zealand. Bairstow has managed to improve his game each year, and its obvious he has sent considerable time in the gym to take the next step forward. Given his level of play for Australia on the world stage during the off-season, he and the Lobos are set for big things.
---
The Pick and Roll's exclusive interview with: Cameron Bairstow
Damian: Thanks for joining me from the other side of the world. Given I am from Melbourne, I really know very little about your junior career in Queensland (QLD). What led you to taking up basketball in the first place and who did you play with?
Cameron: It was a family thing. I'm one of 7 kids and both my mum and dad coached us all. So it was pretty much something that I was always going to do. I started out pretty young at Southern Districts and played 'Biddy Ball' and then my mum helped start up a new Association, the South West Pirates. So the whole family moved across there, and that is where I played up until top-age U18 before moving to the Brisbane Capitals and playing there up until I went to the Australian Institute of Sport (AIS). I did get to play one season in the South East Australian Basketball League under Coach Bruce Palmer and they were good to me there. In terms of state representation, I did not make one until I was in top-age U18, a year in which we had a stacked team and ended up finishing third. The QLD state team that year featured Brock Motum (Washington State), Mitchell Young (Saint Mary's), Jorden Page (Saint Mary's) and Christian Salecich (Saint Louis / Missouri Southern / SIU-Edwardsville). Pretty much everyone on the team had been at the AIS or had taken part in Australian camps. We then followed up the following year in the U20 National Championships by winning the gold medal, and that was the year I went to the AIS after finishing high school. I just missed out on making the national team for the 2009 U19 FIBA World Championships, so I stayed an extra year, and then got offered to attend New Mexico and then I made the trip over here.
Damian: Wow - thanks for the big overview. An Australian U20 National Championship is a great way to end a junior career. On the topic of the AIS, what was your experience like?
Cameron: It was good; I really enjoyed it and the whole aspect of playing basketball even though I was no longer at high school. We used to train 4 hours a day, 6 days a week and it was something that I really did enjoy. It was not a free ride, as obviously living in Canberra it was nowhere near the beach after coming from Queensland. Some people didn't necessarily enjoy that, but I personally really loved it. It was a really good stepping stone to get the recognition and contacts to come over to play college, but also move forward with the Australian program. It was really good for me personally and from a basketball perspective for the year and a half that I was there.
Damian: So after a stint with the AIS, you had the scholarship offer from New Mexico that you ended up accepting. But did you have any other schools interested in you as well?
Cameron: I visited Middle Tennessee State and Cal State Bakersfield along with New Mexico. I did like what Middle Tennessee State had to offer, but New Mexico really was just a step above those programs. For me it was not a matter of playing right away, it was more of where I was going to be by the end of my college career. I saw it as a stepping stone to a professional career. So New Mexico was the right place for me in taking the next steps and developing my career over four years. When I saw the facilities, met the coaching staff, and then you see The Pit, it was pretty hard to turn down. New Mexico also did have that history with Australians Luc Longley and Ryan Kersten, and knowing that they were successful here also did help in making my decision.
Damian: Well after 3 years of continued improvement so far, it looks like you made the right decision! So you had been away from home for over a year whilst at the AIS, and now a further 3 years so far at New Mexico with one more year to come. So how have you found living for so long away from home and now living and breathing basketball in Albuquerque?
Cameron: It was definitely an adjustment after coming from Brisbane and living at the beach and then first moving to Canberra, but we were only an hour or so away from home and when needed it was just a short flight home for the weekend. Whereas now living overseas you can't just get on a plane to visit your family so that was probably the biggest thing. In terms of culture, there is not a huge difference between Australian and America really. Being a part of a great team also really helps, and we have a great network of people to help adjust. It really wasn't too bad and not much of an adjustment.
Damian: That's good to hear, but that is not always the case for everyone, and it definitely depends on your own individual situation. It is not always easy, especially if you are not getting any playing time or battling injury.
Cameron: Yeah. I've had some down times. Your family is the biggest support network but when they're not around and things are not going your way it can be tough. It's something you have to deal with if you want to pursue basketball and choose this path.
Damian: So, entering your fourth year in playing in the Mountain West Conference, which has become one of the strongest in the nation with New Mexico on the rise.
Cameron: We are playing in a very strong conference. In my freshman year we had BYU in our conference who was a top 10 team at that stage, although we had a top-heavy conference. As a team we didn't have a great year and it was pretty tough. But since then, everyone has been saying that the conference will have a down year, but it keeps just getting better and better, as has our team. We had 5 of our conference's teams I think ranked nationally during last season out of just 9 teams, and that's a pretty high percentage. Our conference doesn't get enough credit for being as tough as it is. We don't get the kind of media exposure that the power conference generally do, but it is a really tough conference and a good one to be playing in in terms of the competition.
Damian: You must have played against some pretty good teams and NBA caliber players in your time with the Lobos to date. Who would you consider to the toughest team you have faced, and the toughest player you had to go head to head with?
Cameron: As for a team, I would have to say that San Diego State in my freshman year was probably the toughest. They were ranked in the top 5 for most of the season. They were a team that once the game started, then you realised that you were pretty well out-matched! As for a player, in playing internationally I have played against men, and some really tough guys - you don't really get to play against guys like that in college. However I did get to play against Anthony Bennett last year who is a really good player. However with him, his game was more about his athletic prowess rather than trying to keep up with him from a skill standpoint. I'd say that even on our team we had some serious talent, like Drew Gordon. That is what one of the reasons why I came here (to New Mexico), as I get to play against guys and teams at that level just about every day.
Damian: You have had some great experiences by the sounds of it, that's for sure. So now to you as a player; you are now well and truly on the Boomers' radar after having played in the recent FIBA Oceania Championships in which you were able to win. Can you describe your game, and who if anyone do you model your game on?
Cameron: It's pretty hard to model yourself and your game on any one player. The guys that I have liked include Tim Duncan and Kevin Love, guys that are very smart players and have made a career out of being not necessarily the most athletic or the fastest guys out on the court. They are guys that have a very good skill level and play with a great deal of smarts, and are basically able to outwork others and be consistent every single year. They are two players that I'd like to think that I could try and emulate on the court, but it is really tough to compare yourself to guys of that caliber.
Damian: Two very good players right there. So to help you get there, what are your strengths and what do you need to work on before you leave New Mexico?
Cameron: It really depends on what level. The US brand of basketball has a lot to do with their athleticism; it's a lot more up-tempo, fast-paced and above the rim. The European game is a lot more skilled, smart and physical. When people say there is not a lot of difference internationally compared to US style basketball, it is just not true. In college I have a size and strength and strength advantage over a lot of guys we play against, whereas internationally they play a lot bigger and a lot more physical and therefore I generally have quickness and leaping advantage. I've just got to put it all together depending on the situation, as you have to be able to adjust.
Damian: I appreciate the difference between the two different styles of basketball in the US and in Europe; they certainly do contrast. So in being selected to the Australian Boomers, how did you find the overall experience?
Cameron: It was really good! I didn't really expect much going into the first camp; it was great to be invited and get along to that. I then get invited to the following camp after a good University Games. It was great getting to work with Luc Longley and the coaching staff as they really helped me out. It was great to have a chance to identify a number of things that I struggled with at that level. For example the high level of intelligence that all the players have, as some of them may not be the quickest guys, and heading into their 30's; they just use smarts to beat you. I just realised that there were a whole lot of other aspects of my game that I could work on.
Damian: So you gained a lot of insight into what you need to work on to get back to that level? Is the 2014 FIBA World Cup a realistic goal?
Cameron: Yeah - at that level I am a fairly small power forward, so I need to improve my ability to help bring the ball up the court. I need to also stretch my game all the way to the perimeter. They are the two biggest things that I got feedback from, including making decisions under pressure. As for the World Cup, I honestly have not put too much thought into it as I'm really just focusing on the coming season. It really depends, as I didn't think I had any chance for the previous opportunity that came up. But I guess they saw something in me and I was lucky enough to make it. I will head into it with a positive mindset, but it will be a very tough team to make, especially with all the NBA quality type guys that will be available. It's something I will strive for, but I wouldn't say there are huge expectations at the moment. I don't think I am quite where I need to be and it will take a lot of work moving forward.
Damian: Whilst I missed you on court at Kilsyth as part of the Lobos tour Down Under, I did manage to catch your games for the Boomers on television and thought you acquitted yourself quite well! In watching your games with the Lobos, you have a very reliable mid-range jumper.
Cameron: That's something I do have, with range out to the three-point line. But for me with the Boomers it was not so much about what I could provide offensively as opposed to making the right plays. We have plenty of scoring and plenty of guys that can put the ball in the hoops. It was more about doing the little things and contributing without taking up shots.
Bairstow has a consistent mid-range jumper - Courtesy of New Mexico Athletics
Damian: Now back to your career with the Lobos. Every year you have improved which is what everyone wants to see. Every time you received an opportunity, you appear to have grasped each one with both hands and you have not looked back!
Cameron: I think I had a couple of opportunities at the start, but it was not until last season that, I'm still not sure why, but the coaches decided to play me alongside our starting centre Alex (Kirk) on court together. After a couple of games we really got into a groove together, and as a team we finished off the year pretty strongly.
Damian: From my perspective, with you and Kirk there, the Lobos front court is looking pretty imposing. The back court is also looking pretty good (Greenwood and Williams), and I would think the expectations for the Lobos are pretty high this season. You also have a new coach. So what has he brought to the team following the departure of Steve (Alford)?
Cameron: Yes. You see it all over Albuquerque in terms of the expectations. Having said that, we had a pretty phenomenal year last season. We had the second most wins in school history at 29, and it was unfortunate that we did go down in the tournament. But we did the Paradise Jam, the Mountain West Conference, and the conference tournament. The competition we were playing against was pretty high all year. But I think we are posed for a very good year, but it does all depend on how the team comes together, but I do foresee good things in store for this year. Not a lot has changed technical wise (with a new coach), its more so player management wise as it is a different personality and a different voice in the locker room that you are hearing. As an assistant coach, he has already had a lot of input over previous years. It is just good to have a different voice in the locker room.
Damian: Change is as good as holiday some may say. Now to off the court; what are you studying and where do you see yourself in life after basketball - just in case it does not work out?
Cameron: I'm pretty sure physiotherapy, but I will probably need to study a few more years once my playing career is over. I should be graduating with a degree on exercise science. I should be able to do further study when it is all said and done, so I'm not really thinking a lot about it right now as I'm hoping to play plenty of basketball for now. That's the plan at the moment.
Damian: My wife is a physiotherapist, and I can honestly say that if you can manage to get a pay check out of basketball for as long as you can, then you may find it pays a bit better!
Cameron: Well that's the plan! Maybe I'll open a private practice down the track.
Damian: Well hopefully that's more than 10 years away and we get to see a lot more of you on the court for now. So after New Mexico, where do you see basketball taking you next? Is Europe on the radar, are you thinking of heading home to play in the National Basketball League (NBL), especially given there is talk of a Brisbane team back in the league soon?
Cameron: I'm not really sure. I have not put too much thought into it at this stage. It will probably depend on what type of season I have, and what opportunities are available after that. It is not something I'm leaning to either ways in terms of the NBL or Europe. It just depends on my own individual development to help me get to where I need to be in the future.
Damian: There is a lot of Aussie talent coming through the college ranks within a year or so of each other; Hugh (Greenwood), Motum, Ryan Broekhoff (Valparaiso) and of course yourself (just to name a few). There are many basketball fans back home in Australia looking forward to following your careers that may hopefully extend to the Boomers for many years ahead. In saying that and projecting well into the future to the day you finally retire from hoops, how will Cameron Bairstow be remembered?
Cameron: Just someone that was able to reach their utmost potential as a basketball player. I may never be the most athletically gifted player, the top player out of juniors, and work hard to where I am at the moment. So I guess, just someone who made the best of what they had. I know I am 6'8", and that's not given around to everyone. But making the most of what you have and to be successful in what I want to do. Just someone that chased their dreams and was able to achieve success in those things.
Damian: Hopefully you are able to do just that! Now, I want to identify something that most people may not know about you. What can you share?
Cameron: Umm, hmmm.
Damian: Come on now. There has to be something. It was so much easier to get stuff out of Anthony Drmic!
Cameron: Yeah, okay. Hugh and I are both big fans of Halo.
Damian: So you guys are online gamers as well?
Cameron: It's a bit tough with scheduling between school work and basketball, and it is tough to find the time. But when whenever we do get a chance, Halo has always been our things since back in the AIS. As Hugh says, we were the best one-two punch at the AIS! You can quote us on that too to Drmic - the best one-two!
Damian: I'm not quite sure that he would appreciate that. So you go head-to-head with Drmic and Iggy (Hadziomerovic) online too?
Cameron: Yeah, but we beat them every time though! We beat them every time, so it's not too bad.
Damian: Okay - I'm quoting you on all that. So can you dish up anything on Hugh?
Cameron: He's just a bit of a ladies man. He's a bit of a fan favourite over here in Albuquerque! He's got the Aussie surfer look going. He's got the Heath Ledger crossed with Thor, so he's pretty good with the ladies.
Damian: With Halloween coming up, is Hugh going to dress up as Thor?
Cameron: Yeah - he'll have to as he has got the hammer!
Damian: That's gold and a great way to end the interview. I look forward to staying in touch during the season.
Cameron: Thanks Damian. It's been a pleasure.
---
The Pick and Roll's
pre-season All-Australian First Team
#5 | Centre: Angus Brandt, Oregon State
#4 | Forward: Venky Jois, Eastern Washington
#3 | Guard: Hugh Greenwood, New Mexico
#2 | Guard: Anthony Drmic, Boise State
#1 | Forward: Cameron Bairstow, New Mexico
Has Damian got it right with his pre-season selections? Who was unlucky to miss out? Share your thoughts on the selections to The Pick and Roll's pre-season All-Australian First Team.