Discover more from The Pick and Roll
We're all about Aussie hoops. Independent, objective analysis and commentary. Insightful narratives built around Australian basketball. Read about our men and women in the NBA, WNBA, NCAA, Europe, national teams, NBL, WNBL, NBL1, prospects and more.
Over 2,000 subscribers
Sharpshooter Brody Nunn commits to Seattle Redhawks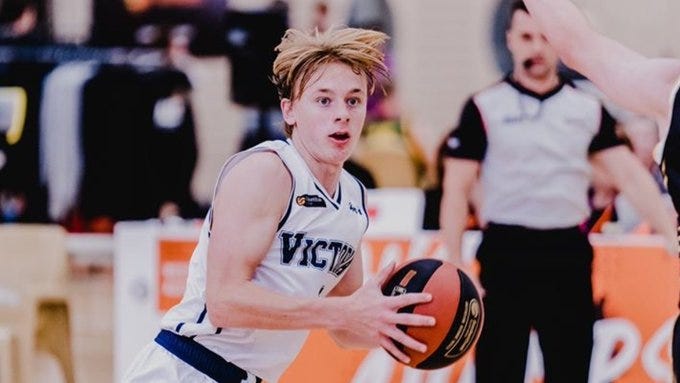 Source: Supplied
After receiving interest from multiple division 1 programs, Victorian Under 20 state team and Basketball Australia Pathways athlete Brody Nunn has committed to NCAA Division I program University of Seattle who compete in the Western Athletic Conference (WAC).
Nunn is a product of the State Development Program in Victoria for which he took part in across the past 2 years and was a standout point guard in the recent Under 20 Australian national championships. He shot a remarkable 63% from the 3-point line and was fourth in three's made for the tournament. On a deep and talented Victorian team, Nunn managed to provide 12 points, 2 rebounds and 2 assists in 23 minutes per game. Victorian Under 20 assistant coach Ash Arnott spoke glowingly of Nunn and his perimeter shooting.
"He had a massive tournament for a bottom age player and cemented himself as the top 3-point shooter at the Nationals," shared Arnott.
Seattle finished the 2019-20 season with a 14-15 overall record and were 7-7 in conference play, good enough for fifth in the WAC. They are led by head coach Jim Hayford who is no stranger to recruiting international athletes, starting the pipeline of Australian players when he was in charge at Eastern Washington, with Nunn his second signing with the Redhawks, with Kobe Williamson joining the team for the 2020/21 season.
"I'm excited to head to Seattle and to play for coach Hayford, and intend to head there in July 2021," the class of 2021 prospect explained on announcing his commitment.
Darren Smith, CEO of BA Pathways has worked with Nunn to expose his talents to the US college coaches and consult on his academic preferences.
"It's important that athletes looking to go into the USA college system prepare themselves whilst entering year 11 studies," Smith explained. "We currently have a huge level of inquiry and demand from USA coaches and are assisting both female and male athletes at all levels from NAIA, junior colleges, D1, D2 and D3 level schools to obtain scholarships. If you are still looking at finding a place for 2020 or 2021 please contact us immediately."
The current COVID-19 coronavirus global pandemic has proven a challenge for athletes and coaches alike when it comes to recruiting athletes. Smith suggested that the current scenario is perhaps more helpful to players from a distant country like Australia than others.
"We believe that the COVID-19 impact on recruiting has actually helped when it comes to the exposure of Australian athletes which is normally limited to video," added Smith.
"Currently, coaches are more willing to take Australian athletes sight unseen, which is now exactly the same scenario when it comes to recruiting US-based athletes with the cancellation of various AAU recruiting tournaments."