Discover more from The Pick and Roll
We're all about Aussie hoops. Independent, objective analysis and commentary. Insightful narratives built around Australian basketball. Read about our men and women in the NBA, WNBA, NCAA, Europe, national teams, NBL, WNBL, NBL1, prospects and more.
Over 2,000 subscribers
Brendan Joyce on life after the Opals
Brendan Joyce has experienced both the highs and lows in professional basketball as a player and coach. He has won championships in the NBL and SEABL, while being involved with both Australian men's and women's national programs.
After being in charge of the Opals from 2013 through to the 2016 Rio Olympic Games, Joyce is now firmly focused on polishing some of Australia's next crop of 'hidden gems'. He was recently named Head of Basketball with the Sandringham Sabres, but also now announced as the Basketball Director for Chisholm Institute's recently launched Sports Academy Basketball Program.
"After 22 years living away from Melbourne, I am glad to be heading back home," explained Joyce in speaking with The Pick and Roll.
---
Proud of his role with the Opals
Many may not have been aware, but Joyce's role with the Opals was far greater than just coaching the Opals. He was tasked with something far bigger and much more strategic than 'just' winning a medal at the World Championships or Olympic Games.
"My role was to coach the Opals, but also oversee the National program for women across the board," explained Joyce.
"I was responsible for leading the technical direction of the CoE [Basketball Australia Centre of Excellence], the U17 [Sapphires] and the U19 [Gems] teams, all the way through to the Opals. This included identifying talent, and appointing and assisting the coaches. That included bringing in Paul Goriss with the Gems and Shannon Seebhom with the Sapphires. My aim was to implement a style of play that would be competitive against the USA."
While Joyce has had some critics at times during this tenure as head of the Australian women's basketball program, there is no denying the results that Australia has achieved in international competition across all levels since he took over the reins in May 2013.
"We [Australia] had never before medalled at the U17 world Champs," outlined Joyce. "We ended up winning gold with Shannon at the helm last year, including a win over the USA in the semi-finals. We also won bronze at the U19 World Champs in 2015 which was a great achievement. Looking back at the 2014 FIBA World Championships in my first major campaign with the Opals, we won bronze, and that remains a clear highlight of my career."
Joyce was understandably proud of what he achieved in his time with Basketball Australia.
"I am very proud of what we achieved with the program overall," further added Joyce. "I finished with a 14-2 international record with the Opals at two major events - at the World championships and at the Olympics. Our only two losses were by 12 points to the USA - which is the closest we had ever got to them - and the 2 point loss to Serbia in Rio.
"We did fail to win a medal at Rio, and if you look at our KPI's for that game, we did succeed with 4 out of 5. The 23 turnovers we had in that game against Serbia was the difference, and Serbia would go on to win the bronze."
Much was made of star centre Liz Cambage's place on the Opals roster and whether she had a disruptive influence on the team. Joyce was quick to quash any speculation.
"Lizzie had an excellent Olympics," said Joyce. "There were no issues with her and the team. Any previous issues that existed had since been dealt with."
Joyce did acknowledge that the up-tempo style of play that was employed so successfully in their 2014 World Championship campaign was not always able to be replicated in Rio when Cambage was on the court.
"We just could not do what we did in 2014 when Lizzie was on the court," explained Joyce.
"She is a different type of player, and we adjusted to her strengths. But when we did push the ball up the court, she was always going to be in that trail spot. We had to adjust and I think that overall we did a great job.
"Offensively we were efficient - the second most efficient offense behind the USA. However were not as good defensively as we were at the World Champs. I am not critical of anyone - that was one area we needed to do better compared to our bronze medal Worlds campaign."
Despite a disappointing end to what was shaping up as a likely medal, Joyce is confident the women's program is in great shape, rebuilding the team with many new and young players and increasing the depth and that will lead to ongoing success on the world stage.
"We are highly respected across the world," enthused Joyce. "We have created depth across all levels. We developed some very talented kids this past 4 years, and I am confident we have built the foundations for the future to enable our national women's teams to continue to compete for and win medals."
Joyce also explained that Basketball Australia's changes to the National men's and women's head coaching positions meant that his role was no longer going to be full-time, paving the way for his new challenges.
"With the changed structure of the Basketball Australia women's program, it was no longer going to be a full-time role," said Joyce. "I am very grateful for the opportunity and know that I leave the program in a great position."
---
Educating the next generation
Sensing an opportunity with the changes occurring at Basketball Australia, Sandringham were quick to get in touch with Joyce to secure his services to help align their programs.
"Sandringham reached out to me while I was still employed by Basketball Australia," Joyce would explain.
"They got wind of the changes that would see my role become part-time. It was great timing, and now I am the Head of Basketball, and charged with the task of aligning and developing coaches and players in all their programs. This includes their representative programs from U12 through to U20, but also assisting with the development of the domestic programs too, including coach and player development."
With his return to Melbourne and a strong belief in quality education, Joyce also accepted the Basketball Director position of Chisholm Institute's new Sports Academy Basketball Program.
"When I was a professional player, you often had a lot of down time - you can only train so much," explained Joyce. "So, I took up the opportunity to study Recreation Management at university back in 1985/87. I would not be as a good a coach if I did not undertake any study, as the leadership and management skills I learned proved invaluable."
It is the chance to help create an opportunity for aspiring players, coaches and administrators to develop their on-court skills alongside those off the court that has him excited about Chisholm Institute's sports academy program for basketball.
"Chisholm is a well-respected TAFE that provides a quality education," shared Joyce. "We are aiming to legitimately help improve their performance on the court but also help them build their skills to work within the sports industry."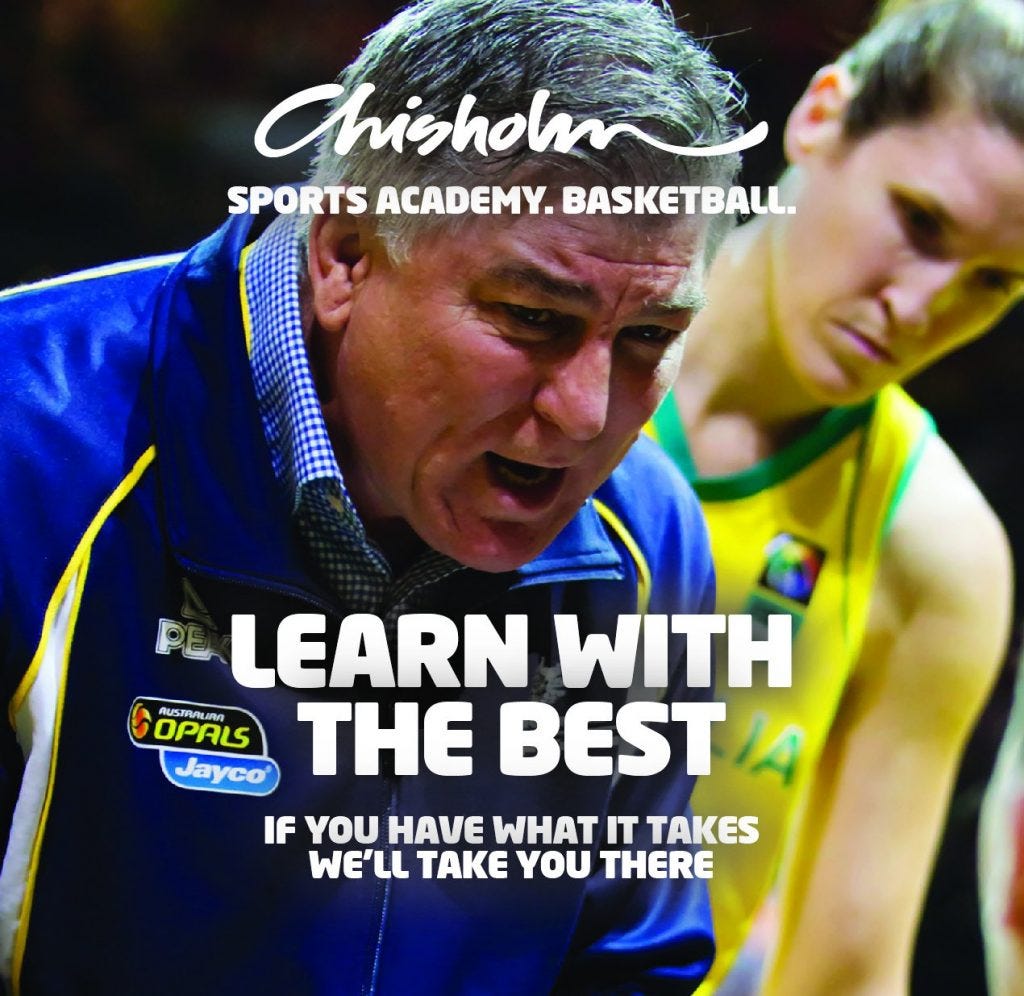 Phil Shelley, Chisholm's Sports Academy Program Manager, was not only excited about the program they are offering, but the fact that a coach the calibre of Joyce was going to be leading the way.
"Chisholm Sports Academy offers male and female, aspiring high performance athletes and coaches the opportunity to combine their sporting career goals with their educational aspirations," explained Shelley. "The Academy provides nationally accredited, industry recognised qualifications with pathways to sporting industry careers and/or higher education.
"Chisholm is extremely excited to welcome Brendan Joyce as our Basketball Director. Having forged a successful career spanning over 25 years at the elite level, Brendan is one of Australia's most accomplished and experienced professional basketball coaches, and our students/athletes and student/coaches will benefit immensely from Brendan's coaching and mentoring."
Joyce will be supported by current Casey Cavaliers Big V head coach Eric Minerve who was also recently appointed Chisholm Sports Academy Basketball Program head coach.
"Eric is a highly skilled and experienced development coach, having assisted over 40 athletes to further their basketball in the USA Collegiate system, and has earned a reputation as one the leading, and most trusted basketball development specialists in the country," added Shelley.
Given his success achieved with Australia's national women's teams, the NBL and SEABL Championship programs, and the 7 years' experiences with the Boomers as an assistant coach, Joyce is looking forward to the new challenges ahead.
"I have a great knowledge and experience to bring to both Sandringham and Chisholm," added Joyce. "My success in aligning the programs at Basketball Australia and at many other levels have me perfectly placed to deliver success in my new roles."
Joyce is sure to give his all towards achieving success, just like he has done throughout his entire playing and coaching career.
---
Thanks to Brendan Joyce and Phill Shelley for making the time to speak with The Pick and Roll.
You can find out more information relating to Chisholm's Sports Academy Basketball Program on their official website, and follow Joyce on Twitter at @Brendan_Joyce12